Are Hart Power Tools Any Good? An In-Depth Review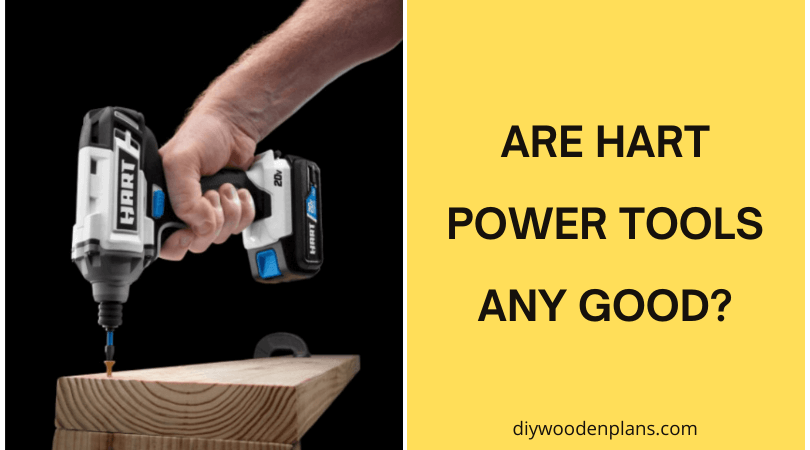 Disclosure: If you click on some of the links, we may earn a small referral fee. Please know that we only recommend products that we use and believe will add value to our readers.
Hart Power Tools
They offer a wide range of power tools that are designed to be user-friendly. The company offers good customer service, which is a plus if you ask me. Overall, Hart Power Tools are a solid choice for those looking for reliable tools for their DIY projects.
A great choice for woodworkers and DIYers
Features a large selection of long-lasting, easy-to-use power tools
Battery types are interchangeable with their respective systems
Affordable price point
Owned by the well-known Techtronic Industries
Mostly available on Walmart
Still relatively unknown among professionals
Out of various brands of tools, Hart has occupied a big space in the hearts of woodworkers, DIYers, and homeowners because of its accessibility and cost-effectiveness.
But, are Hart power tools any good?
As a matter of fact, Hart makes better hardware tools than most brands in the market. Whether it's for lawn and gardening, automobiles, home renovation, wood projects, or even cleaning, Hart tools can accomplish almost anything.
If you're wondering whether these tools are worth investing in, stay till the end to discover everything about this unique brand.
Overview of Hart Power Tools
Hart Tool Co. is an American power tool brand that has been in the business since 1983. It was first set in motion in Los Angeles, California, and has been going strong for the past three decades.
Sponsored*
Hart belongs to the company Techtronic Industries, TTI, which also runs leading brands like Milwaukee Tools, Ryobi Tools, Hoover Vacuums, and Oreck. Since they've been in the market for quite some time, you can expect impeccable professionalism from them.
Hart Tool Co. initially started with framing hammers and gradually bloomed into a large brand that designs tools according to user needs. From automotive to hand tools, Hart has an amazing product line today. They've got everything a DIYer or a woodworker might need to complete their projects.
With more than 25 types of outdoor power equipment tools, 45 types of core power tools, 200 types of hand tools, and almost 100 types of power tool accessories, Hart has earned the fame of being one of the leading hardware tool brands out there.
You can also find specialty tools like a sander, rotary tools, buffer, and blower in the Hart power tool product line. With so many options to choose from, and that too at an affordable price, Hart will never disappoint you.
What Are Their Top Tools?
There's no doubt that Hart designs amazingly strong and durable hardware tools. Their entire product line is pretty incredible, with some stunning features and smart design.
Let's have a quick glance at some of their top power tools—
This is a perfect 5-tool kit for beginners who want to start with something simple yet effective.
The combo kit includes a ½-inch drill that allows users to adjust the torque with variable position clutches. A 1/4″ impact driver that offers multiple speed trigger settings and the ability to fasten up to 1700 in/lbs of torque is the highlight of this combo kit.
You can also find a reciprocating saw with excellent control, a hand vacuum with strong suction, and an LED work light for maximum visibility. There is a 1/4″ quick connect chuck that offers quick changes when necessary.
In addition to the hand vacuum, you also get 1.5Ah Lithium-Ion batteries and a fast charger included with the combo kit. The 20-V batteries do a great job of delivering maximum performance for a long time.
Overall, this is an interesting power tool kit to make your everyday life easier and less challenging.
Get this HART 20-Volt Cordless 5-Tool Combo Kit available at: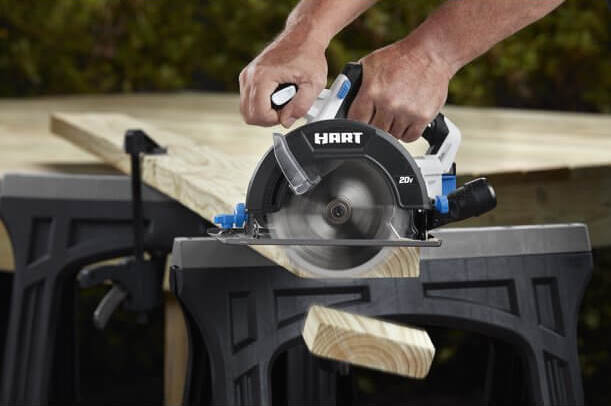 The HART 20V 6 ½-inch Circular Saw Kit is one of the best power tools you'll find on the market. From professional handymen to DIYers, this tool is one of the most convenient power tools one can have. In fact, you will find this tool in the toolbox of most professional woodworkers.
With an incredible 4700 RPM motor to back the tool, you can't be disappointed with this beast. Even with a strong motor, this tool is pretty easy to handle. There is a 24T thin kerf blade that ensures intricate cuts with perfect edges. The finish of the cuts is very smooth, and it only takes a few minutes to achieve the perfect cut. It allows cuts as deep as 2-1/16″, which is pretty interesting.
This tool's performance beats that of the most expensive saws out there. If you want to explore angled cut options, this tool has got you covered in that section as well. The 0-50-degree bevel covers the angle cutting option.
With so many remarkable features, this tool is definitely a must-have in every DIYer's power toolbox.
Get this HART 20-Volt Cordless 6 1/2-inch Circular Saw Kit available at:
The HART 20V Impact Driver Kit is another popular tool from the Hart 20V product line. Especially with DIYers and homeowners who struggle to get fastening done swiftly, this tool can be a lifesaver.
It is designed to offer powerful performance with the delivery of 1700 in/lbs of torque. You get a 20V battery and a fast charger included with the impact driver kit.
There is a built-in LED work light that provides maximum clarity and distinctness, so you can be more confident in your fastening game. It also comes with a variable speed trigger that offers precise control in driving the screws.
There is a ¼-inch metal chuck that allows easy and fast driving of several screws. You can save a lot of time with a chuck like this.
Another notable feature of this kit is the onboard bit storage. This is a very convenient storage option that ensures easy bit access.
All of these features make this power tool kit a reliable and helpful tool to take care of all kinds of fastening requirements.
Get this HART 20-Volt Cordless Impact Driver Kit available at:
The HART 20V Cordless Power Tool Series
The 20V Cordless Power Tools Series from Hart is one of their bestselling product lines.
Designed to make life easier for homeowners, woodworkers, and hobbyists — the 20V cordless power tool line is one of a kind. Among the 20V line, the 20V 1/2″ Hammer Drill and 1/4″ Impact Driver are noteworthy.
HART's hammer drill comes with 24 position clutch, chuck, gearbox, and LED work light. An auxiliary handle helps to obtain precise control. The hammer drill has been designed with the ability to drill through brick and concrete effortlessly.
On the other hand, the impact driver does an amazing job at driving fasteners. It comes with a Spartan design that looks stunning, this impact driver also offers the options for selecting the required mode and speed.
The most interesting feature of this cordless power tool line is the 20V battery. This 20V battery is definitely one of the best features in Hart power tools. It is compatible with the power tool drills and delivers a flawless performance.
Built with a clip-on design, this 20V battery performs smoothly until it requires a recharge. You can use the battery with all of your Hart power tools, and it won't affect the performance of any of your tools.
Shop HART 20V Cordless Power Tools available at:
Who Are Hart Power Tools for?
Hart power tools are designed to target a large audience, the majority of which comprise DIYers, homeowners, woodworkers, remodeling contractors, deck builders, a professional handymen to even hobbyists.
Woodworkers can explore a lot of options with Hart power tools to create interesting wood projects. Hart power tools can help woodworkers achieve excellence in grinding, sanding, polishing, and shaping.
Sponsored*
DIYers can also take charge of their creative projects with the help of Hart power tools. Since DIY projects mostly involve cutting, routing, and drilling, Hart power tools can help achieve smooth finishes in every project.
Since Hart power tools are very compact and user-friendly, homeowners can use these tools to get a lot of odd jobs done at home.
Starting from home renovation, repairing old floors and ceilings, giving the outdoor space a change, installing shelves to constructing decks — Hart power tools can be a blessing in disguise for homeowners.
Where to Buy Hart Power Tools?
Hart Power tools can be purchased in good deals from Walmart, but there are interesting deals on Amazon as well. Walmart has improved its game with swift delivery and abated prices, making it easy for customers to get their favorite tools in a short time.
Amazon is also another amazing platform to get all your power tools at discounted prices. From free shipping on domestic orders to discounts for combo kits– Amazon is the perfect place to shop your power tools.
Final Thoughts
So, are Hart power tools any good?
Of course, they are, thanks to their longevity, durable build, convenient design, and affordable price. By going with Hart tools, you can definitely obtain a win-win deal. In terms of features and design, there's no brand that can provide you with such amazing hardware tools as Hart.
Pinterest Image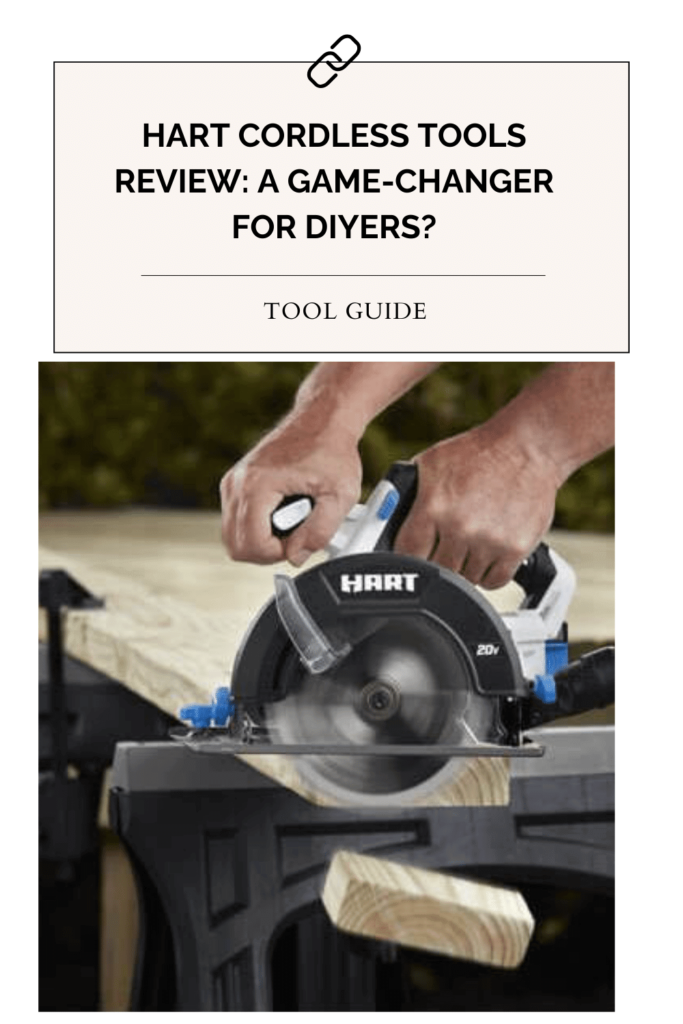 Enjoy our articles? You can follow us on Pinterest for more woodworking power tools tips and tricks.
Save on selected power tools from top brands - Shop Now on Zoro.