Band Saw or Scroll Saw: Which Is Best for Woodworkers?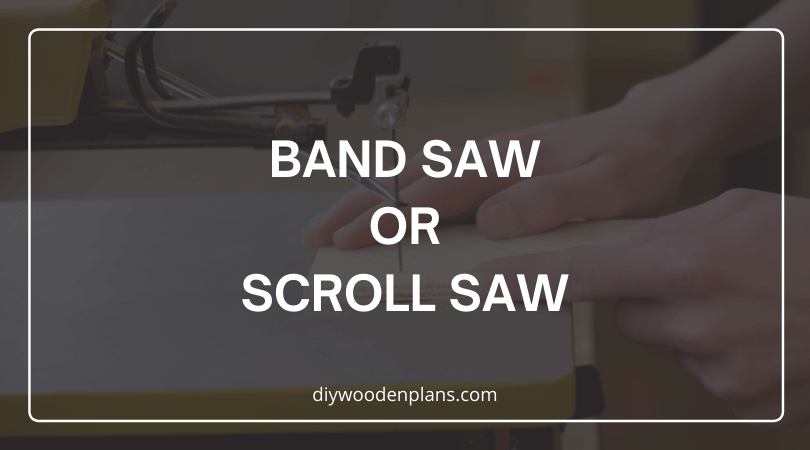 Disclosure: If you click on some of the links, we may earn a small referral fee. Please know that we only recommend products that we use and believe will add value to our readers.
I must admit, both the scroll and band saws look the same. They even operate on the same principle.
Nonetheless, as you are reading this article, I guess it will be safe to assume that you are in a dilemma. Well, the question of whether a woodworker should choose a band saw or scroll saw is pretty common. So, you are not the only one!
But the good news is that you just stumbled upon the right source to get out of the predicament. I will use the things I learned from the years of experience I have with these saws to guide you through and make it easier to make the right choice.
Overview of the Band Saw
Let's start with the band saw. At its core, it is a type of specialty saw. However, it is not that rare. You will find almost every woodworker utilizing a band saw for their project.
That said, this type of saw is mainly of a single long band of metal. This long metal will be between two wheels, which will drive the blade to cut through materials.
Sponsored*
There are basically two different versions available. One is them is the vertical band saw, which works pretty similar to scroll saws. The user would need to move the material instead of the saw to make a cut with that.
On the other hand, there are the horizontal band saws. And these are the complete opposite of the one I just described. The user would need to use the rotating blade to feed it against the fixed workpiece. In other words, the material will remain stationary.
Now, when it comes to the price range, the entry options can be around $250. But do note that the high-end options can be $1400+.
Check out this article for a complete overview of the band saw woodworking power tool
Strengths and Weaknesses of the Band Saw
If you really want to know about the strengths of the band saw, you need to take a look at its use cases. The band saws are applicable for various woodworking tasks.
Strengths
Firstly, the vertical units are ideal for making curved and accurate cuts. They can offer such a type of cut because the user would need to maneuver the material, not the saw. And if you have operated a tool that makes you move the workpiece around, you probably know that it offers a higher overall precision.
On the other hand, factories and professionals value horizontal band saws more than the others. These are highly powerful and are not suitable for amateur DIYers. Why? These can cut through materials at a fast rate. So, these are ideal for handling a large batch of materials.
Weaknesses
A bandsaw will have a limitation in terms of the shape of the cut. The nature of the blade will only make sense if you want to make tight curves or straight lines.
Additionally, you would need to prepare the workpiece properly before working. The maintenance process of the band saw is pretty demanding as well.
My Top Band Saw Recommendations
So, I have handled a lot of bandsaws in my projects. In fact, I have even rated the top 5 portable band saws in one of my articles. Nonetheless, among all of the band saws I worked with, I can stand behind these two:
When it comes to power tools, Dewalt never seems to disappoint. And this portable band saw tells the same story.
The tool has a cutting capacity of 2-1/2 inches and can even cut through 2 inches SCH 40 pipe. It features a centered handle, which will make it easier to operate the tool while you are working with the workpiece. And as the handle is ergonomic, balance will not be an issue either.
There is a blade tracking adjustment mechanism. That will make the blade last for a prolonged time. Also, you will find a tool-free blade changing mechanism on the unit.
The dual-bearing blade guide is reasonably durable, and it will ensure that the blade offers a stellar overall performance. The saw even has an LED light on the front, which properly illuminates the work surface.
Pros
Has a cutting capacity of 2-1/2 inches
Features a centered handle
The handle is ergonomic
Supports a tool-free blade changing mechanism
Boasts a durable dual-bearing blade guide
Cons
The safety button can be a bit annoying
A bit large in size
Get the Dewalt 20V MAX Portable Band Saw available at:
If you are on the lookout for a compact yet mighty band saw, you should really stop your search right here. WEN brand is offering precisely the thing you have been looking for all this time!
This WEN bandsaw packs a 3.5-amp motor that can create cuts up to 6 inches deep. You can get up to 9-3/4 inches wide cuts with the motor as well. It is compatible with the 72-inch blades that are from 1/8 inches to ½ inches in size.
Other than that, the worktable is quite spacious. It is 14-1/8 x 12-1/2 inches in size. And the best part is that the table bevels up to 45 degrees. You will even have complete control over the speed. It operates at 1520 FPM or 2620 FPM.
Moreover, there is a flexible work light on the unit. You will also find an onboard measuring guide, which will make tasks much more manageable.
Pros
Utilizes a 3.5 amp motor
Can make up to six inches deep cuts
Compatible with 72-inch blades
Features a spacious worktable
Has a speed switch
Cons
Not that easy to precisely adjust the blade or table
Does not have a proper dust collector
Get the WEN 10-Inch Band Saw available at:
Overview of the Scroll Saw
With the band saw aside, let me now get into the second star of the show, which is the scroll saw. Unlike the other types of specialty saws, the scroll saw will specifically come with a flat worktable. Even though the base might be fairly large, the blade will be comparatively small in size.
Additionally, the scroll saws will not primarily depend on switches. Instead, some will utilize a foot pedal, which can give you much better control during the cutting process.
Now, when it comes to getting a cut with a scroll saw, you will need to maneuver the material, not the tool itself. And there are different types of scroll saws available. Each one of them is for a specific type of cutting task.
When it comes to the price range, you can expect to pay at least $150 if you want to pick a proper scroll saw on a budget. And the high-end options can cost you more than $1000.
Strength and Weaknesses of the Scroll Saw
Strengths
The part where the scroll saws shine the most is in terms of making intricate curves. Projects that require more than just a regular tight curve call for scroll saws. These units are really good at cutting complex joints as well.
Other than that, the level of accuracy these saws offer is quite impressive. You will even be capable of completing your cutting tasks in a small amount of time as these operate pretty fast.
Weaknesses
Like any other saws, scroll saws associate with some drawbacks. The most crucial disadvantage is that you can not work with thick materials. These are primarily for handing workpieces that are under 1 inch. Anything thicker will put a lot of strain on the blade.
Furthermore, you will not get a high overall accuracy if you want to make straight cuts with these saws. The small size of the blade is mainly for curves and joints.
My Top Scroll Saw Recommendations
Like band saws, I have operated multiple scroll saws. While most offered good overall performance, there are two that stood out the most. And they are:
The manufacturer Dewalt impressed me again with this scroll saw. It has basically all that you can ask for from a scroll saw.
Firstly, there is a double parallel link arm design. It reduces the noise and vibration dramatically. As a result, the cuts gain more accuracy. The tool-free blade clamps are amazing too.
The depth of cut that this tool can offer is up to 2 inches. It also comes with a variable speed button, which will allow you to take total control over the blade. There is a flexible dust blower to keep the work table clean.
Lastly, you can expect a smoother and quieter operation thanks to the short arm movements.
Pros
Features a double parallel link arm design
Offers a high overall accuracy
Supports tool-free blade clamps
Has a variable speed button
Flaunts a flexible dust blower
Cons
Installing blades is a bit difficult
Might ship with missing items
Get the DEWALT 20-In Variable Speed Scroll Saw available at: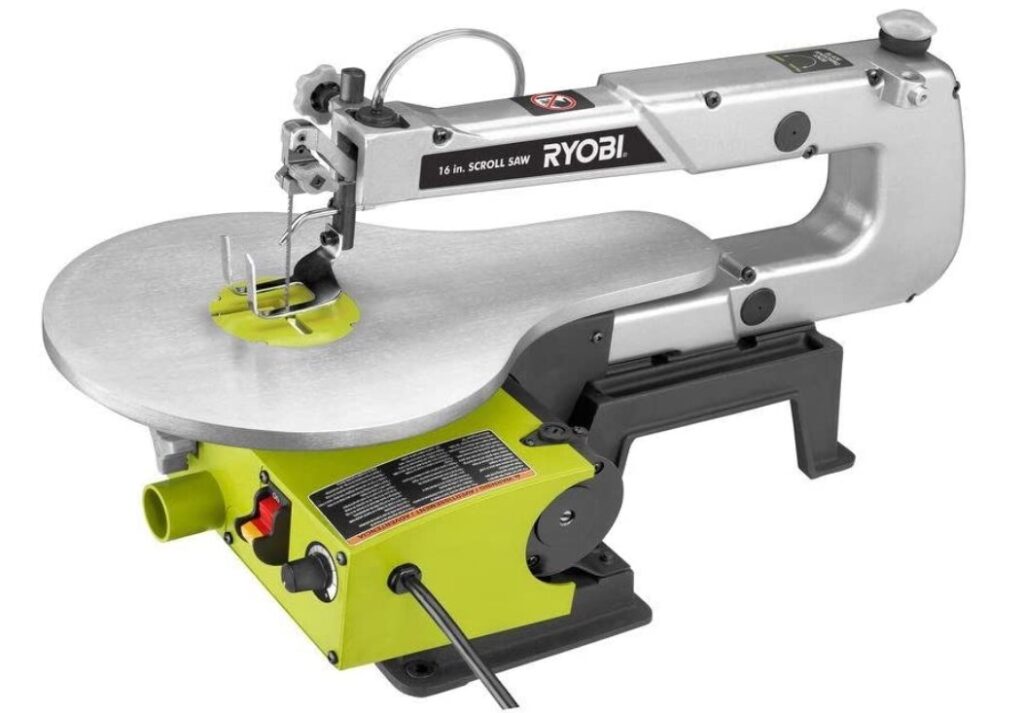 Another great pick would be this scroll saw from Ryobi. It features a 16 inches throat depth, which will offer you maximum capacity. But that is not all!
The unit also has a tool-free blade clamp. That will make the task of changing the blades an effortless task. Also, the table is of cast aluminum. It tilts from 0 degrees to 45 degrees.
Additionally, there is a variable speed knob. With that, you can switch from 550 SPM to 1600 SPM. Thanks to the cast iron base, vibration will not be something you would need to worry about.
Finally, it supports an integrated dust port. You can use that port with a wet/dry vacuum to keep the work area free from annoying wood dust.
Pros
The throat depth is at 16 inches
Features tool-free blade clamp
Comes with a tiltable table
Has a variable speed knob
Boasts a cast iron base
Cons
The blade retention screw feels a bit flimsy
Does not come with a durable blade
Get the Ryobi 16 in. Corded Scroll Saw available at:
Band Saw or Scroll Saw: Which One Should You Pick?
To make the right choice, you need to keep a couple of factors in your mind. And they are:
Workpiece
Whether you should choose the scroll saw or band saw will depend on what you are cutting. The scroll saw will be the right pick if the workpiece demands intricate cuts and higher detailing.
On the other hand, if your project demands straight or tightly angled cuts, the band saw will be a perfect pick. You can even make some round shapes with it if the tool is that versatile.
Skill Level
Another thing that should be in your consideration is your skill level. If you are just getting into saws, the scroll saw will be the right choice considering the learning curve.
However, if you are already accustomed to powerful and large saws, do not hesitate to pick a band saw.
Pricing
You should mainly consider the type of the project and your skill level to choose your saws.
However, if you compare the high-end options, the band saws will be more expensive than scroll saws. Even the entry-level scroll saws will be cheaper than band saws.
Space Restrictions
Lastly, consider how much space you have to accommodate the tool. If you have ample room, go for the band saw. But if you have space limitations, opt for the scroll saws.
Frequently Asked Questions
What's the main difference between a band saw and the scroll saw?
The main difference lies in the blades. For band saw, the blades will be thicker and usually more reliable. But that restricts the saw from making super tight turns, which the scroll saw shines at.
When should you pick a band saw over a scroll saw?
Sponsored*
The band saws are mostly for carpenters, metalworking shops, general woodworkers, and the meat industry. If you fall in one of these, you should pick the band saw.
Who is the scroll saw for?
If you are an artist, pattern maker, hobbyist, or work with wood sculptures, the scroll saw is for you!
I have the budget for one, which one should I buy?
Overall, I think that the band saw is a better pick. It has a higher cutting capacity, power, and is reasonably versatile.
Final Thought
So, when it comes to whether you should pick the band saw or scroll saw, you need to consider your skill, the use case, and space limitation. However, if you really have the budget and space for the band saw, I suggest picking it up over the scroll saw.
Now, if you want to get a further idea regarding woodworking power saws, I recommend going through this article.
Enjoy our articles? You can follow us on Pinterest for more woodworking power tools tips and tricks.
Save on selected power tools from top brands - Shop Now on Zoro.