Band Saws For Woodworking | Types | Comparison With The Jigsaw
Disclosure: If you click on some of the links, we may earn a small referral fee. Please know that we only recommend products that we use or believe will add value to our readers.
There are different types of saws available on the market, and it's normal for you to think you can substitute one for the other. While it's somewhat true for band saws, the question is can you use a jigsaw the same way.
Band saws are beefy enough to ace most jobs. It cuts straight, rips wood and makes round shapes at the same time. A jigsaw is used for the more intricate jobs where curved cuts are particularly necessary.
Today, we'll be talking about the differences between band saws and what will ultimately work for day-to-day woodworking. Plus, we've also shared our experience with the top three band saws that worked for us. So, keep an eye out for that.
If you are on the fence about which to get; a band saw or a scroll saw, I have got you covered in this article.
What Is a Band Saw and Why Is It Necessary for Woodworking?
The band saw is one of the best-loved power tools of a woodworker. It's easy to use and lays neat cuts in thick planks. You can adjust its blade angle, depth, and speed for landing straight and curved cuts on your workpiece.
Sponsored*

Expert woodworkers often refer to the band saw as the only saw you'll ever need. Alright, then. It's time for us to show you five reasons as to why you need a band saw for your coming project.
Bandsaws Are Great at Ripping Wood
This power tool here has a thin blade and a wide cutting surface. You can remove materials much faster and rip huge blocks of wood.
So, if you're wondering- "How do you make rip cuts with a band saw?" You have nothing to worry about.
Regular band saws can rip lumber up to four inches thick. At the same time, you can cut 4×4s for your DIY carpentry projects.
You Can Use a Bandsaw as a Circular Saw
This is something your supermarket salesmen will never tell you. But yes, a bandsaw can be a pretty good substitute for a circular saw. You just have to know the tips and tricks to make circular cuts with your saw, and that's it. Give yourself a pat on the back because you just got two power tools in one.
It's a Comparatively Safe Power Tool
Let's face it; there will always be some risk associated with using a power tool. But when it comes to the band saw, those risks are minimized. For example, the blade of a band saw cuts downward.
So, you have the advantage of pressing the workpiece down on the table. In fact, a band saw is considered a safer power tool than the big old table saw.
Top 3 Band Saws for Woodworking
Using band saws for the first time is hard enough. But choosing a safe, heavy-duty band saw at a good price is definitely not easy. In our line of work, we're constantly researching woodworking power tools. And we must say, these 3 band saws are on another level.
1. DEWALT 20V MAX Portable Band Saw (DCS371B)
We recommend this band saw for three reasons. Number one, it's a battery-powered band saw. You can move around with it from one spot to another- a pretty good deal for homeowners if you ask us.
Related Article: 5 Top Portable Band Saw For Woodworking | Pros & Cons
Plus, it comes with a sharp, 18 TPI blade. It's the perfect tooth pitch for ripping wood and producing a clean kerf at the same time. Last but not the least, its blade-tracking adjustment is impressively accurate.
This is an affordable and compact saw designed for small-scale cutting projects. With a 2.5-amp motor, it can cut through wood, metal, and other materials up to 3-1/2 inches deep and 9 inches wide. It comes with a miter gauge, blade tracking window, and adjustable blade guide for accurate cuts, and a built-in dust port for easy cleanup. Its lightweight design makes it ideal for woodworkers with limited workspace.
Additionally, the saw features a metal frame with a plastic base for stability, and a 59-1/2 inch blade that can be adjusted to different angles for making angled cuts. It also includes an LED work light to illuminate dark workspaces.
3. WEN 3962 Two-Speed 10-inch Band Saw with Stand
This is a high-powered, professional band saw. It accommodates cutting angles up to 45 degrees and comes with its own fence and miter gauge. Since it's a two-speed band saw, you can work at your own pace.
Additionally, this speedy power tool puts forward 2620 FPM. It can cut materials up to 6 inches thick, and it will do it in a single pass. The work table is spacious enough for standard applications. Plus, you get a stand, a dust port, and a handy work light.
Types of Woodworking Band saws
Like many other saw models, band saws are also available in two common configurations. First, there's the floor-standing model. It's a powerful band saw with good speeds and motor backup. Then, there's the benchtop band saw for when space is limited.
Benchtop Band Saws
If you're working in a small workshop, you may not afford a floor-standing unit. Fortunately, these benchtop models are easy to use, and they put forward a great performance indeed. There's a slight drop in the horsepower since it's a compact unit, after all. But it's nothing compared to cordless band saws that run on a battery.
Floor-Standing Band Saws
There are many benefits of a floor-standing band saw. For example, the motor power and blade length are significantly increased. They have a mighty resaw capacity which allows you to work with big chunks of wood when you need to. Moreover, you can double the work area with blade guides and a rip fence.
A Band Saw vs Jigsaw: Which Should I Buy for My Workshop
If you're confused between a band saw and a jig saw, we can help you choose. We have lots of experience with both power tools, and this is what we found.
Accuracy
The band saw power tool is typically used for making straight cuts. And it comes with its own rip fence for more control. Jigsaws are good for making complex cuts in wood. So, as far as accuracy is concerned, both saws are pretty great.
Winner: Tie
Depth of Cut
This is where the band saw has the upper hand. Because first of all, jigsaws are made for delicate applications. Their depth of cut ranges from 10mm to 40mm. Secondly, their blades tend to wear fast when cutting larger boards.
Winner: Band saw
Versatility
Jigsaws are not as versatile as band saws. They have a weaker blade and motor backup. Most importantly, they're handheld power tools. So, the number of cuts you can get is very limited.
The most common uses of a band saw include making cabriole legs, cross-cutting wooden boards, and ripping hardwood. So, the next time you ask yourself, "What is a band saw good for?" The answer is- pretty much everything.
Winner: Band saw
Woodworking Applications
Other than resawing lumber, you can use your band saw for all kinds of things. It's a versatile tool that offers you straight, curved, and circular cuts under one roof.
For starters, you can make long, straight cuts on a mahogany board and shape it for the new armoire. Or, you can cut tenons with the band saw including a variety of other woodworking jigs.
Winner: Tie
Related Article: Top 10 Best Jigsaw for Woodworking (+Types of Jigsaws)
Things to Look out for When Buying a Bandsaw
If you're thinking about buying a band saw, we strongly recommend you to read this entire section. The quality of a band saw depends on these things, and you want to make sure that you get the best product at a bargain.
Frame Quality
Band saws with cast-iron frames can be heavy, but they're also very durable. If you want your band saw to hold up against that 6-inch-thick wood, a cast-iron frame is a smart choice. The next best option would be welded steel. It's affordable and doesn't run hot too fast.
Throat Capacity
Well, throat size is basically the distance between the saw blade and the frame. It determines how wide your workpiece can be, so it can be effortlessly fed through the band saw. For professional woodworkers, 14" is a good capacity. Or you can start with a 10" band saw like the WEN 3962 we talked about earlier.
Motor Strength
To use the band saw power tool for woodworking, you want to pay attention to its motor. A 0.8 HP motor will suffice for small applications. But 1.5 HP covers all your needs. A higher motor power also means better resaw capacity.
Rip Fence and Miter Gauge
The rip fence parallels the saw blade and guides the workpiece in the right direction. And the miter gauge helps you make neat crosscuts. It's important that your saw comes with these two bars. And they must be of good quality.
Related Article: Where is the Best Place to Buy Power Tools | 14 Top Power Tool Stores
Safety Precautions to Consider When Using Band Saws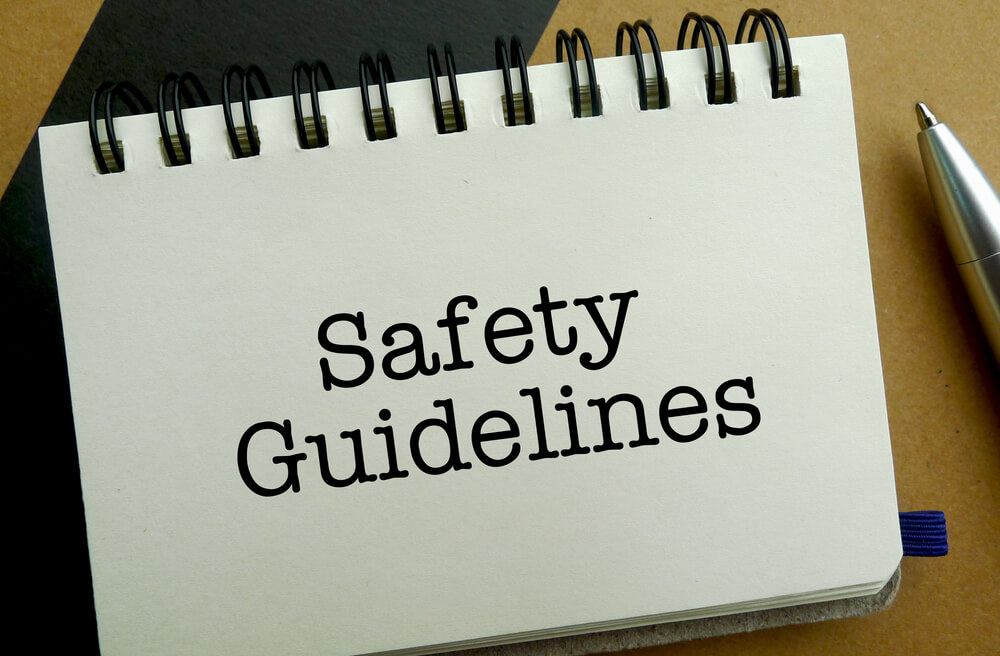 For new woodworkers, the best thing about band saw is there's literally no kickback.
If you have some experience with other saws, you'll know the work that goes into keeping the workpiece steady on the table.
As great as that sounds for band saw users, you still should follow these tips to stay confident with your tool.
Wear a face shield to protect your eyes from sawdust
Never stand in the line of the saw blade
Take the help of blade guides while feeding the workpiece into the saw
Use appropriate blades for each application
Keep your hands at least 5 inches away from the blade
We've just given the main pointers because, with these safety precautions to take when using power tools, you can improve your safety and use the band saw any way you want.
Sponsored*
How Much Do Band Saws Cost?
While there's no straight answer to this question, we can still give you an idea about the average price of bandsaws. A decent band saw will cost you anywhere between $250 to $350 dollars as we speak.
Top-tier benchtop band saws can be well over the $350 mark. But they're for professional use and are something you probably shouldn't meddle with when you first start out.
However, you can find portable band saws from Dewalt, Milwaukee, WEN, and other big-name brands for under three hundred bucks.
We liked the 20V MAX portable band saw by Dewalt. It's a powerful little thing and is priced at around $220 bucks for a limited time.
Frequently Asked Questions
What is a good speed for a band saw?
You can cut wood with a band saw over 5000 feet per minute, but that might be too risky for you. To keep it simple, a good speed for a band saw would be 1000 FPM. Keeping it a bit slower will keep you safe, so why take the risk?
How thick can a 9-inch band saw cut?
Band saws excel in cutting through curves and thick slices of wood. There are different sizes of band saws with different abilities. If we're talking about 9-inch band saws, then in general, they can cut through 2 ½ inches of thickness. It varies from one saw to another, though.
Conclusion
We hope we could answer your questions regarding the band saw power tool. All there's left for you to do is to buy the band saw and get your woodworking projects off the ground. Best of luck!
Enjoy our articles? You can follow us on Pinterest for more woodworking power tools tips and tricks.
Save on selected power tools from top brands - Shop Now on Zoro.