6 Best Angle Grinders for Wood Carving (Top Recommendations)
Disclosure: If you click on some of the links, we may earn a small referral fee. Please know that we only recommend products that we use and believe will add value to our readers.
Carving out wood can be pretty difficult if you don't have the right tools. Getting the right consistency and cleanliness in your cuts is almost impossible without an angle grinder. Featuring interchangeable attachments, you can cut or polish your wood project.
Since these tools were mainly made to cut metal, choosing one for wood can seem a little difficult. On top of that, there are many kinds of angle grinders, ones with cords and ones without cords.
So today, we will be looking into some of our top picks for the best angle grinders for wood carving. These products have been assessed based on their durability, motor power, and cutting consistency.
6 Best Angle Grinders Reviews
We have put in extra hours into our research to bring you a list of our top 6 picks. They have been shortlisted based on durability and their ability to carve out wood delicately.
| Model | Image | Remark | Price |
| --- | --- | --- | --- |
| Makita 9557PBX1 Angle Grinder | | Best for home projects | Check Price |
| Bosch 4-1/2-Inch Angle Grinder 1375A | | Best overall | Check Price |
| DEWALT Angle Grinder Tool, 4-1/2-Inch (DWE402) | | Best for heavy tasks | Check Price |
| Metabo HPT Angle Grinder G12SR4 | | Most affordable corded | Check Price |
| Black+Decker BDEG400 4-1/2 Inch Angle Grinder | | Best for light duty | Check Price |
| PORTER-CABLE PCC761B Angle Grinder | | Most affordable cordless | Check Price |
The first grinder on our list is the Makita 9557PBX1 which is perfect for DIY wood carving. This tool features a powerful 7.5 amp motor allowing you to get all your little details right.
Sponsored*
What we love most about the Makita grinder is that it weighs only 4.5 pounds! In fact, it is actually lighter than most grinders out there. When combined with its barrel grip, maneuvering this tool becomes easy and effortless.
What's more, the grinder features an AC/DC switch to cut through different surfaces. That prevents the tool from overheating and helps maintain a consistent motor speed. You could be grinding wood one moment and cutting metal in the next; this power tool will do it all.
Furthermore, Makita put in a lock-on feature that lets you cut or grind for prolonged time periods. The tool's body has a strong protective seal that shields out shavings and dust from the internal components.
Ergonomic barrel grip helps with maneuverability
The lock-on feature allows uninterrupted use
Lightweight and compact body aids portability
Grounded cord traps electric current to prevent accidents
Motor needs to be cleaned frequently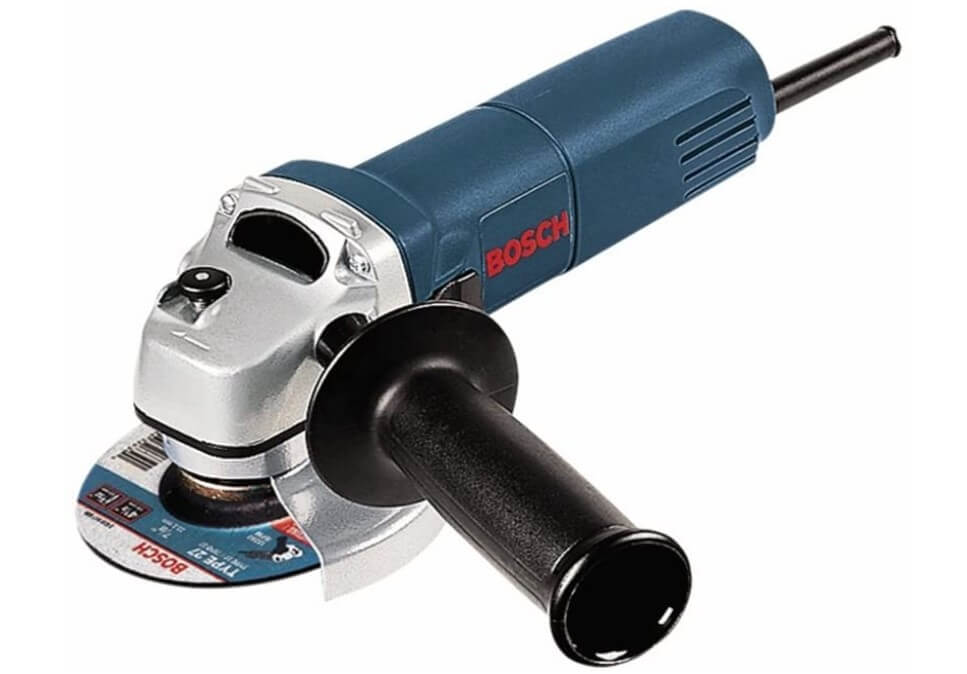 There is one brand that even the newbies know of when it comes to power tools, Bosch. With years of experience in the industry, they have a knack for making quality power tools that last you for a long time. The 4.5-inch angle grinder is no different.
Weighing a little below 4 pounds, the Bosch 1375A makes DIY projects seem fun and effortless. The combination of its lightweight properties with the easy-to-grip design makes this one a best angle grinders for carving wood.
Also, the compact design tends to take up less space on your shelf when you put it away after work.
Not only that, the device comes with a 6 amp motor for precise cutting or carving. Since the power tool needs to be versatile, the motor spins at 11,000 rpm, enabling it to cut through metal or grind wood easily. If you're looking for competitors in this size and power range, let's say there aren't any.
What makes this whole package even better is Bosch's signature epoxy coated paint. The grinder's body is painted entirely with a layer of epoxy paint which keeps it looking good as new for many years. The paint also acts as a protective layer against rust which protects the metal surface of the grinder.
The rust-resistant epoxy coating ensures durability
Easy to grip contoured handle eases maneuverability
Lightweight and compact design for easy storage
It has a powerful motor that can cut through most surfaces
It isn't suitable for cutting thick or heavy surfaces
If you don't want to be limited in terms of power, then this next grinder should grab your attention. The Dewalt DWE402 has an 11 amp motor that spins at 11,000 revolutions per minute (rpm). This makes it the ideal choice for both lightweight and heavy-duty wood carving projects.
The grinder packs a set of unique features, which secures its spot on our list of top picks. For instance, it comes with a paddle switch along with a lock-on button.
While the paddle switch makes it easier to operate with one hand, the lock-on button will keep the grinder on for a long time. This combination works wonders when you're taking on a heavy-duty DIY project.
Moreover, this one has a set of safety features that help prevent accidents. It comes with a 360-degree rotatable guard to protect your fingers from the blade. The rotating feature of the guard lets you tilt the grinder at a difficult angle while still being protected.
Also, the grinder now comes with overheat protection. This prevents the internal components from damage when you're putting the grinder in overdrive.
6 foot long power cord for easy maneuverability.
Overheat protection prevents damage to internal components.
High speed motor can take on light and heavy applications.
Dust ejection systems clean out the insides of the grinder.
The lock-on button is a little tricky at certain angles.
The HPT Angle Grinder from Metabo is considered to be a value-providing model. It doesn't get any better than this for someone looking to get the most bang for their buck. This grinder is strong and durable enough to take on any DIY project (even heavy-duty ones).
Featuring a powerful motor (6.2-amp) that spins at 10,000 rpm, the blade is bound to cut through whatever surface lies beneath it. With a power output of 980W, this is a good option for most beginners and professionals.
The 4.5-inch blade is a good fit for most projects, but it comes with 5 other accessories if you need more flexibility.
What's more, the angle grinder has a compact size and is also exceptionally lightweight. The low-profile grinder, weighing 4 pounds, is perfect for getting details right in the tightest of positions.
It comes with a detachable side handle that can be employed on either side of the machine. This makes maneuverability far more manageable as the handle won't be blocking your way anymore.
Ease of usage for long durations is ensured by the lightweight body design
It comes with a hard carrying case and additional accessories
Removable side handle aids maneuverability
The spindle lock system allows for quick blade changes
The plastic spindle housing is not as durable as the rest of the components
If the Metabo didn't cut it for you, then we have another budget-friendly option on our list. The Black+Decker BDEG400 is the right fit for any beginner in the wood carving business. This angle grinder featuring a 4.5-inch blade is all you need to get a clean DIY carving project.
One of the most prominent characteristics of the grinder is its three-sided handle. It allows you to easily move around your project and work at the best possible angles. While it might be a little difficult to work on certain tilted angles, we assure you the three-sided handle does its best to minimize the trouble.
Furthermore, this angle grinder has an unusually slim profile, giving you a stronger grip. For people who don't have steady hands, this is a blessing. Having a firm grip on the grinder will let you get all those little details on your project right.
Also, DIY projects require hours of extensive work, and the handle design is perfect for this. The narrow handle is easy to grip and maneuver, so you're essentially putting less stress on your wrist even when working for long hours.
Affordable option without losing out on performance
The 3-sided handle makes it flexible
Firm grip for better maneuverability with the narrow handle
A long power cable allows you to move around without getting tangled
Power cable is made from low-grade materials
With so many different corded options, we just had to include a cordless angle grinder. This option is round for cutting metal or grinding wood. The Angle grinder from Porter Cable is entirely tool-free, meaning that you won't need a wrench or screws to change blades.
Sponsored*
In addition, this portable device packs quite a punch. The built-in motor is able to reach a maximum of 8500 rpm, which makes it perfect for woodwork and also cutting metals.
You'll be glad to know that the Porter-Cable grinder blade is housed in a specific way to reduce noise levels. As a result, you can engage in your woodworking projects in the comfort of your own home without bothering your neighbors.
Moreover, the grinder's body has over-molded padding, which aids comfort when working for long durations. While it is much heavier than most models (7.4 pounds), the padding helps grip the tool firmly.
It also features a three-sided handle that takes away some of the load from the grinder's weight. The handle lets you work in various tilted angles at ease without changing your position.
Versatile as it cuts through metal, cement, and wood
Cordless design makes it portable
No extra tools are needed for changing accessories
It runs on battery power, so you don't need an electrical source
It is considerably heavier than most power tools
Final Words
Deciding on the best angle grinder for wood carving isn't easy, especially because they were made to cut metal. A solid 4.5-inch blade and a suitable powered motor is good place to start when looking. Safety features, cord or cordless, these all depend upon your personal preference.
We ardently hope our in-depth review has helped you in your search for the right angle grinder.
Need more tools for wood carving? Here are 7 Types of Power Tools Used for Carving Wood
Enjoy our articles? You can follow us on Pinterest for more woodworking power tools tips and tricks.
Save on selected power tools from top brands - Shop Now on Zoro.