6 Best Band Saw Under $500 (Updated For 2023)
Disclosure: If you click on some of the links, we may earn a small referral fee. Please know that we only recommend products that we use or believe will add value to our readers.
Hunting for a budget-friendly band saw for upcoming woodworking projects? If you are, you have come to the right place. The market is flooded with several premium band saws, this can make it a bit confusing and difficult for you to pick one if you are on a budget.
In this article, I have shortlisted some of the best band saws that are affordable and durable. I have also included the pros, and cons of each thereby making it easier for you to make an informed decision.
2 Factors To Consider Before Buying a Budget Friendly Band Saw
The two most important features of a band saw are its cutting capacity and cutting power.
When it comes to cutting power, DIY grade/budget friendly band saws are generally not as powerful as Industrial band saws. Having said that, they still have decent cutting power and can cut through most materials, be it wood, pipe, etc.
In terms of cutting capacity, these band saws generally have a smaller cutting capacity than high-class ones. This is because they come with smaller throat capacity and cutting depth, which limits the thickness and size of the materials they can cut through. However, for everyday woodworking projects, they are more than sufficient.
Sponsored*
Here are the top 6 band saws under $500 for your wood shop.
Top 6 Band Saws Under $500
| | | | |
| --- | --- | --- | --- |
| Image | Product | Verdict | Price |
| 1 | WEN 3962 Band Saw | Best overall | |
| 2 | RIKON 10-3061 10″ Deluxe Band saw | Most powerful | |
| 3 | Ryobi 2.5A 9 in. Band Saw | Most accessories | |
| 4 | DEWALT (DCS371B) Portable Band Saw | Best cordless | |
| 5 | Cordless Makita Band Saw XBP02Z | Most portable | |
| 6 | Milwaukee 2429-21 XC Portable Band Saw | Most affordable | |
WEN is a reputable brand and has been producing different types of power tools for decades. In its collection of band saws, the WEN 3962 band saw is one of the cheapest. It boasts some significant features as well, which include a solid build made of aluminium and steel. In addition, this band saw comes with a good fence and miter gauge.
When it comes to cutting, it cuts up to 6 inches deep and 9-3/4 inches wide, which is decent for a less-expensive band saw. Apart from this, it comes with a spacious 12-¼ " x 11-⅞" workspace, which makes it easy to perform intricate cuts.
Affordable for DIYers.
Offers a spacious workspace.
Compact and easy to store in a small workshop
Easy to setup use.
It comes with a plastic blade guard.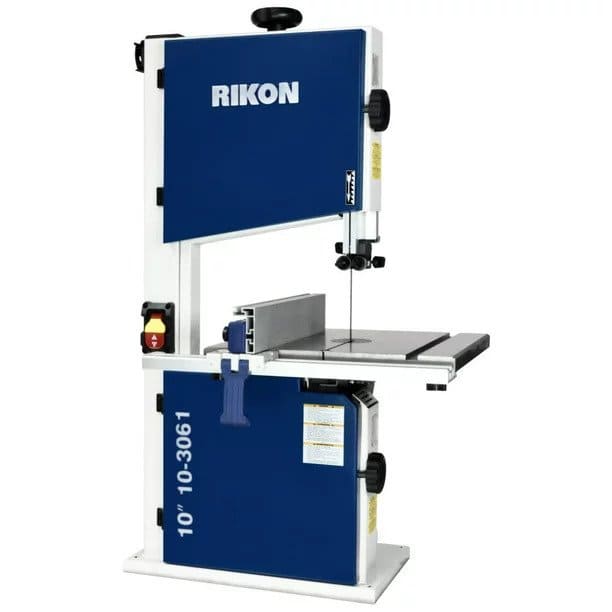 The highlight of this RIKON band saw is its variable blade speeds, which allow you to make smooth cuts in different materials including wood, aluminum brass, etc. In addition to this, it comes with a powerful ½ hp 5.5A motor that can cut through any material effortlessly.
It includes a sturdy cast iron table that that keeps the material in place when cutting. This table is spacious and tilts from 0 to 45 degrees, providing comfortable angles to cut. The best part of this band saw is that it is lightweight and doesn't make noise while running.
The blade adjustment is outstanding.
The most powerful and stable on our list
Easy-fitting dust port
Comes with a safety paddle on/off switch.
You are secured with 5 year product warranty
A little bit expensive when compared to other band saws under $500
The Ryobi 2.5A 9 in. Band Saw is probably the cheapest on our list. It is a compact and lightweight saw that is designed for small-scale cutting projects. It comes with a 2.5-amp motor that delivers enough power to cut through wood. This saw can make cuts up to 3-1/2 inches deep and 9 inches wide, which is suitable for many DIY and home improvement projects.
The saw features a metal frame with a plastic base that offers good stability during use. It also comes with a built-in dust port that allows you to connect a vacuum for easy cleanup.
In terms of accessories, This Ryobi Band Saw comes pre-loaded with a miter gauge, blade tracking window, and adjustable blade guide. The blade guide helps to keep the blade aligned during the cutting process, ensuring accurate cuts every time. The miter gauge is useful for making angled cuts, while the blade tracking window allows you to monitor the blade's position.
A great option for DIY enthusiasts on a budget
Can be moved around easily and stored in small workspaces.
Comes with a bunch of useful accessories
Has built in dust ports
Easy to use and comes with a clear instruction manual
Has a limited cutting capacity
Not designed for heavy-duty use
The DEWALT (DCS371B) 20 V Max Band Saw is a well-designed saw that offers excellent ergonomics and balance thanks to its centered handle positions. This makes it easy to handle and maneuver, allowing for accurate cuts.
The saw has a 2-½'' cutting capacity, which is suitable for a variety of cutting tasks. It also features an LED work light that illuminates the workspace, making it easier to see and perform accurate cuts. Additionally, the saw has blade tracking adjustment and dual-bearing blade guide rollers, which help to keep the blade aligned and ensure consistent cuts.
These features make it an ideal choice for DIY enthusiasts who require a versatile and affordable band saw.
It features a dual-bearing blade-guide roller for enhanced durability
Comes with a tool-free blade-changing lever
Has a soft comfortable grip
3 year warranty
Doesn't include blade covers.
The Makita Cordless Portable Band Saw is built with a high-torque motor to perform cutting tasks on a variety of materials. Its motor delivers variable speeds between 275 and 530 ft per minute, providing a faster cutting experience. In addition to this, its Toboggan-style base allows users to adjust the height to that of the application, thereby allowing for smooth and consistent cutting. It is lightweight and comes with a soft rubberized grip that enables you to comfortably operate the machine.
Sponsored*
Saw was built with high quality materials
Comes with a thick protective rubber bumper.
Includes a toolless blade changing system
Batteries can run for a long time.
Machine can be loud sometimes
The Milwaukee 2429-21 XC Band Saw is a lightweight tool that can be carried anywhere. It is a well-built tool and comes with a powerful motor. The machine can cut ¾'' EMT in just 3 seconds. When an XC battery is used, it can perform up to 150 cuts per charge. This band saw has a cutting speed of up to 175 inches per minute and the capability to cut 1 inch deep. It comes with a 5-year warranty.
Has excellent battery life
It is easy for beginners to use and handle
Includes an adjustable Blade Tracking system
It is lightweight and can be transported easily
Includes dual-actuation trigger, providing enhanced control of the machine.
The blade can die quickly when performing a cutting task
Frequently Asked Questions
How Much Power Can Be Expected From A Band Saw Under $500?
You can expect band saws under $500 to produce an output power from ½ hp to ⅔ hp and 1.5 amps to 3.5 amps.
Can A Band Saw Under $500 Be Used For Professional Woodworking?
Yes, a band saw under $500 can certainly be used for professional woodworking. But keep in mind that their cutting power and capacity might be limited.
Final Verdict
There are many great options available for those looking for an affordable band saw. From the WEN 3962 with its spacious workspace and decent cutting capacity, to the Milwaukee 2429-21 with its easy-to-use features and adjustable blade guide, these saws offer a range of specifications and benefits that can suit different needs and preferences.
Fan of portable band saws? See our review on the 5 top portable band saws for woodworking
Enjoy our articles? You can follow us on Pinterest for more woodworking power tools tips and tricks.
Save on selected power tools from top brands - Shop Now on Zoro.