7 Best Budget Router Power Tool for Woodworking | Router Buying Checklist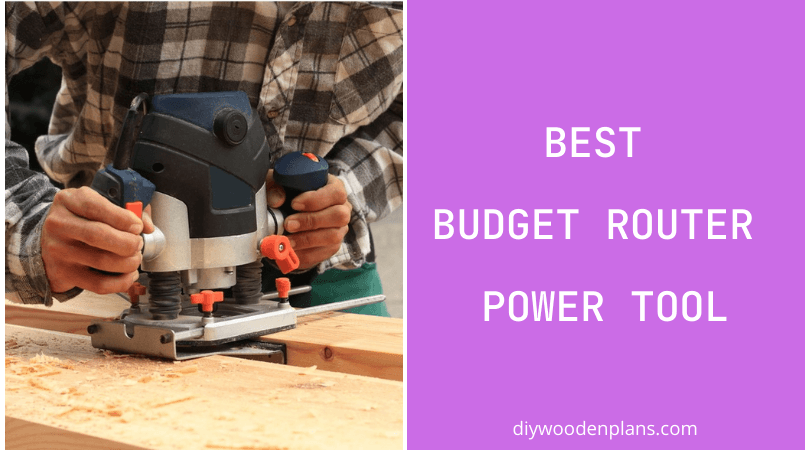 Disclosure: If you click on some of the links, we may earn a small referral fee. Please know that we only recommend products that we use and believe will add value to our readers.
A craftsman's workroom is incomplete without a router. No work gets done without this power tool, which is why woodworkers and DIY enthusiasts can't function without this. With only a router, you can accomplish a lot of operations without opting for any other tool.
Since routers are an essential part of any workshop, they must be chosen carefully and meticulously. Although the task seems unnerving, don't worry because we've got you covered. By the end of the article, you'll surely find the best budget router power tool that will work perfectly for you.
Related Article: 8 Best Plunge Routers For Woodworking (From Beginner to Pro)
7 Best Budget Router Power Tool for Woodworking
Are you looking for a router that will make your life easier? Here are 7 options that you can choose from;
| Product | Preview | Comment | Shop Now |
| --- | --- | --- | --- |
| Bosch PR20EVS Colt Router | | Best palm router | Check Price |
| Makita RT0701C Compact Router | | Best overall | Check Price |
| Enertwist Variable Speed Router | | Best variable speed | Check Price |
| WEN RT6033 Variable Speed Plunge Router | | Best plunge router | Check Price |
| PORTER-CABLE PCE6430 Router | | Best laminate trimmer | Check Price |
| DEWALT 20V MAX Cordless Router | | Best cordless router | Check Price |
| Avid Power Compact Router | | Best price | Check Price |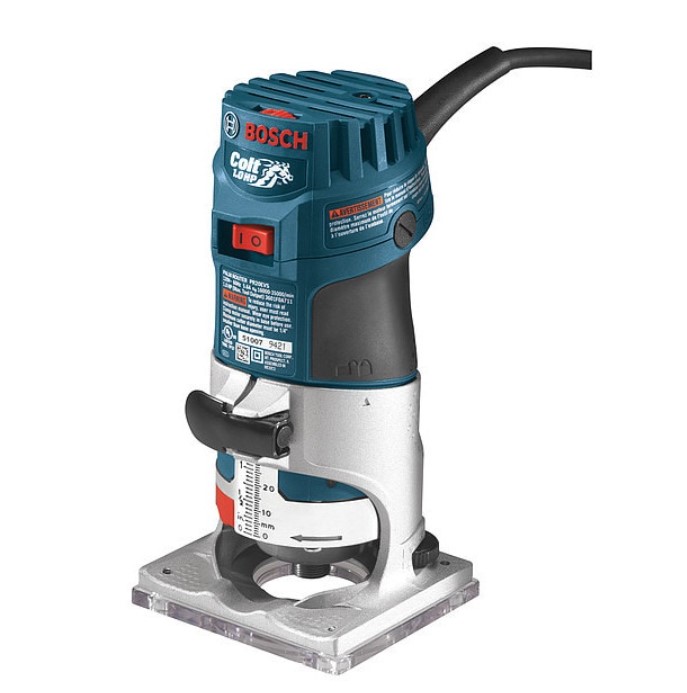 The Bosch PR20EVS Colt router is a palm-grip router, making it easier to work in different settings. You can control it with a single hand, and the results are similar to any expensive and deluxe router. This router will help you achieve intricate detailing in your furniture projects in a short time span.
Sponsored*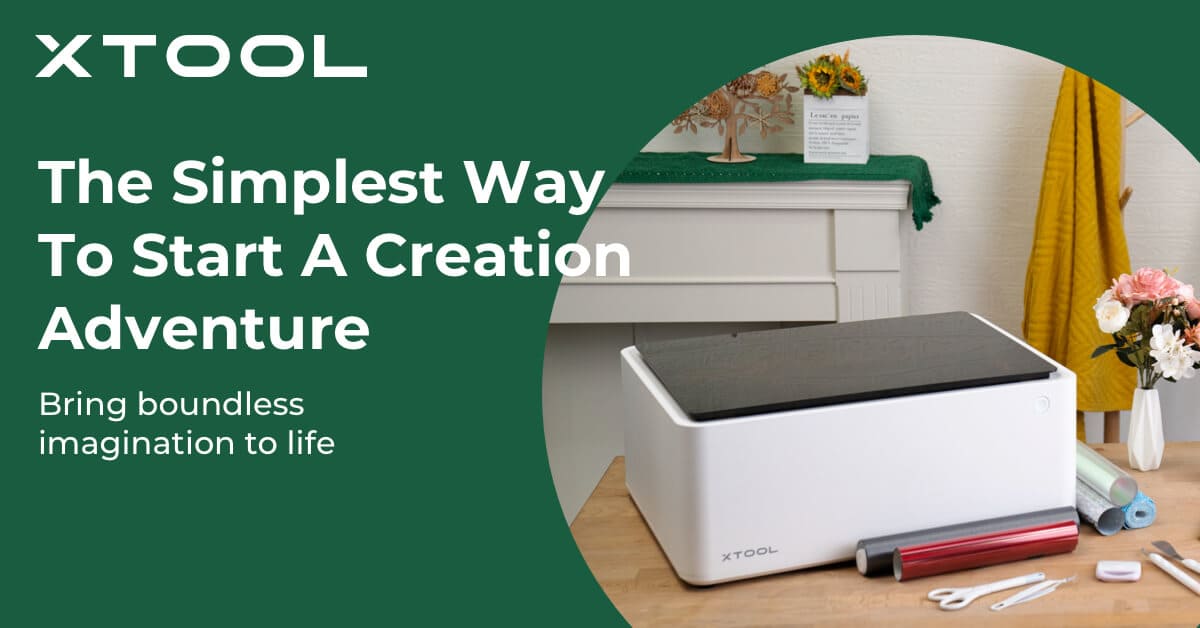 It is built with a mobile motor that allows you to choose your preferred speed between 15,000-35,000 RPM, depending on your work mode.
The router comes with a clear-cut depth adjustment system that allows you to make both macro and micro adjustments to obtain maximum accuracy. It also offers intensified bit capacity as well as an adjustable bit changing system that helps in trouble-free working facilities.
It offers a linear guide for smooth routing around the edges
Bears a tilted cord vent to provide safety during working
The base is of solid and long-lasting aluminum
Built with support patches for maintaining balance during edging
Comparatively small motor design
Requires frequent cleanup and lubricating of the motor parts
With a portable and lightweight design, this router from Makita has our heart. Aside from its solid design, this router has a 6.5 amps power motor that performs minute functions smoothly. From depth adjustment to performing profile cuts, there's nothing you can't achieve with this router.
It comes with a quick-release cam lock that allows fine depth adjustment for various projects along with an effortless installation. The variable speed dial on this router helps operate the router according to the size of the bits.
Depending on your bit size, you can go with a higher or a lower point with this setting. You can choose from a range of bases with this router- be it a tilt base, a plunge base, or you can even opt for a fixed base for getting your job done.
Heavy-duty aluminum construction provides long term stability
Double insulation of the router offers maximum durability
It comes with multiple base options
Offers fine and clarified depth adjustments
The bit may be detached with each use
It does not come with collet or collet nuts
In terms of price, you can't find a router as cheap as Enertwist. With a 1.25 HP motor and an ergonomically designed body, there's nothing that can disappoint you about this router. And the best feature about this? It has 6 variable speeds for you to choose from, making it a versatile router for woodworkers.
This router is built with a soft start moto and offers enhanced durability in the long run. One of its notable features is the quick-release bolt system that helps install and detach the base without any difficulty.
The overloaded protection feature in this router keeps it safe from frequent interruption and hindrance. It is also equipped with firm and steady handles that offer high control along with a pivot lock for rapid adjustments in a short time.
It comes with a heavy-duty cast aluminum construction
Bears a dust removal port for providing a clean experience
Variable speed control settings for precise cuts
Easy base installation and removal settings
Clamp loses its tightness over time
Difficult to use in laminating projects
WEN RT6033 router allows you to explore all the fine and detailed finishing on a wide range of projects. You can achieve high-quality carving on different types of wood designs with this router.
Its versatility allows you to obtain the same results that you would with a bigger router or even a palm-size one.
The combination of a 2 1⁄2 horsepower motor and smart design helps you attain the finest outcome with your projects. The router is built with a knob that allows you to use this router in different ways.
You can keep it as an anchored router and handle complicated designs or use it as a plunge router for more dense designs. It is built with a soft-activated design that offers simple, effortless operation and keeps your working project safe and secured.
Provided with a variable speed setting between 8,000 to 23,000 rpm
Bears an aligned fence for constructing different designs
Capable of creating linear, rectangular, and grooved cuts
Equipped with a depth adjustment key for precise cuts and smooth edging
The plunge function is not very smooth
Porter-Cable has always been ahead of its game when designing high-quality routers, and this one with a 4.5-amp motor is no exception.
The Porter-Cable PCE6430 router is designed to produce up to 31,000 RPMs. This router is the perfect tool to get your intricate projects done. With a power tool like this, you can efficiently perform small-scale to large-scale workpieces.
It comes with a strong cast aluminum housing that ensures the maximum durability and longevity of the product. This router operates in a smooth working direction due to the solid base design and heavy-duty construction.
You also get large locking clips that offer easy and effortless adjustments with no complications involved. It is equipped with a smart spindle lock that allows you to adjust the bits as per your requirement without making any changes to the working piece.
Strong and durable cast aluminum construction
Offers precise cuts and depth adjustments
Capable of adjusting bits according to convenience
Ideal for intermediate and large-scale wood projects
It does not come with a speed adjustment setting
Frequent maintenance of the base is necessary prior to form a connection
This is a fixed-base router that allows fine depth adjustments and a flat top motor providing a smooth operation. If you're looking for a router that will work for intermediate work projects, you can go for this one.
Equipped with an 11-amp motor that runs with 1-3/4 HP, this router is an ideal choice for woodworkers and crafters.
It comes with a cam lock and micro-fine adjustment ring that allows making comprehensive adjustments within different projects. In terms of depth, this router ensures maximum accuracy.
The bit depths can be punched easily within the lock system, and the added motor latches ensure effortless changing of the bits. It is built with a solid sub-base which promotes the clarity of the bit and improves the strength of the base itself.
The motor is housed with a nickel plating that offers maximum strength and resilience to the router.
High-quality lock system for precise depth adjustment
Powerful and dynamic 11-amp motor design
Bears an improved and resilient sub-base
Equipped with durable and long-lasting nickel plating
Devoid of speed adjustment setting
The switch is not located at a convenient spot
Last but not least, we have the Avid Power 1.25 HP compact router, which is another powerful tool for getting your wood projects done effortlessly.
Backed by a 6.5-amp motor, this router offers the best service for all your applications. From depth adjustment to variable speed settings, there's nothing this router can provide.
Unlike traditional lock systems, this router comprises a metal locking mechanism ensuring maximum stability and safety. It also comes with variable speed control that allows crafters to work with speeds ranging from 10000-32000 RPM.
The router is housed with heavy-duty aluminum construction offering maximum resilience, strength, and durability.
Allows easy transfer of design on woodworking projects, floors, tiles
It does not compromise the quality of the original coating
Bears a solid contour gauge duplicator for maximum accuracy
A strong metal lock system provides utmost security
It comes with a loud run time and gets hot pretty fast
Produces vibration with increasing speed which can be inconvenient during working
Things to Consider When Choosing Routers – Your Router Buying Checklist
When you're buying a router, it's important that you pick the one that will suit your needs. Here are some necessary features you should look for before buying a router;
Motor
The best routers are defined by their high-quality motors. A motor with adequate horsepower can handle thick materials and get through a dense piece quickly.
So, before choosing a router, make sure that its motor has a strong horsepower rating. You can settle for motors with 1.25 HP, but for the best results, we recommend going for 1.75-2 HP.
Adjustable Speed Settings
The speed of a router can have a vital role in the outcome of your projects. With an appropriate speed setting, you can do the job in a shorter time, and you don't have to worry about searing through the wood.
Each project requires a definite speed to achieve the result, which is why we recommend opting for routers with adjustable speed settings.
For the best results, look for a router that has a variable speed control ranging from 10,000- 20,000 RPMs.
Strong Handle
If you're working with a router for hours, your grip must stay firm and strong. This is why handles are very important. With a rough handle, you can't maintain a consistent grip, and it can hinder your work.
Sponsored*
So, before picking a router, make sure that the handles are of good quality, made with wood or soft rubber, and ensure a solid grip.
Dust Collection System
When you're working with a router, there's bound to be a lot of dust. This is why a dust collection system can make things easier.
With a system like this, you don't have to clean up the mess for hours, and the workspace remains neat as well. So, before choosing a router, make sure it comes with an attached port or vent for collecting dust and wood chips.
Final Words
Finding the best budget router power tool can be challenging for both beginners and professionals.
Although all the options we've provided are pretty great, we still recommend getting the Makita RT0701C 1-1/4 HP Compact Router due to its excellent depth adjustment and variable speed control setting. It is definitely one of the best budget-friendly routers to have in your collection.
Also, see our in-depth guide to router table accessories and jigs
Enjoy our articles? You can follow us on Pinterest for more woodworking power tools tips and tricks.
Save on selected power tools from top brands - Shop Now on Zoro.