6 Best Cordless Nail Gun for Framing in 2022
Disclosure: If you click on some of the links, we may earn a small referral fee. Please know that we only recommend products that we use or believe will add value to our readers.
If you've ever worked with a corded nail gun, you know the pain of trying to maneuver around a construction site with an unwieldy power cord.
In contrast, cordless nail guns offer the freedom of mobility without sacrificing power or precision.
Now, the ideal cordless nail gun for framing should have enough power to drive nails into thick lumber, alongside long battery life and depth-adjustment mechanism.
With so many factors to consider, choosing the best cordless nail gun for framing can be a daunting task. But with our detailed guide, you can find the perfect nailer for your next framing project.
Overview of Framing Nailers
A nail gun is a power tool that drives nails into wood or composite materials with much more force than a hammer. A framing nailer is a type of nail gun that is specifically designed for use in structural/building projects. They can also be used for construction and other general woodworking projects. Framing nailers are available in both cordless and pneumatic models.
Sponsored*
Cordless models tend to be more expensive but are much more convenient to use as they do not require an air compressor. Pneumatic models are less expensive but require an air compressor in order to operate.
Both types of framing nailers are very powerful and can shoot nails at high speeds. When choosing a framing nailer, it's important to consider the types of projects you'll be working on.
For example, if you plan on doing a lot of construction work, you'll need a more powerful framing nailer than someone who plans on only doing light carpentry work. It's also important to consider the size and weight of the nailer, as this will affect how easy it's to use.
Best Cordless Nail Gun for Framing Reviews
Here, we'll take a look at some of the top cordless nail guns for framing and discuss what makes them so great.
| Model | Image | Power Source | Remark | Price |
| --- | --- | --- | --- | --- |
| DEWALT 20V MAX Nailer Kit (DCN692M1) | | battery based | Best for professionals | Check Price |
| Paslode 30 deg. Framing Nailer Kit 906300 | | battery based but compatible with fuel cells | Best lightweight | Check Price |
| Metabo HPT NR1890DRS Framing Nail Gun | | battery powered with pneumatic performance | Best pneumatic feel | Check Price |
| BOSTITCH MAX 20V Framing Nailer (BCF30PTB) | | battery powered | Best 20V cordless | Check Price |
| Milwaukee M18 FUEL 30 deg Framing Nailer | | Battery and compressed nitrogen | Best 30 deg cordless | Check Price |
| SENCO F-35XP Cordless Pneumatic Framer | | Fusion cordless air-power technology | Best for hard substrates | Check Price |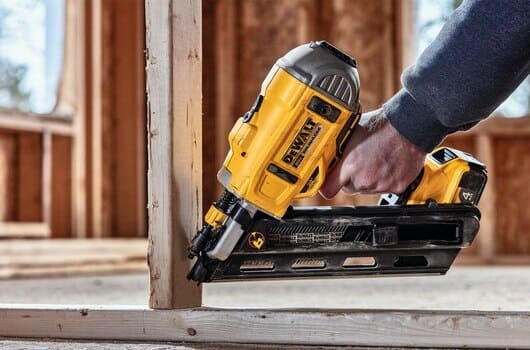 Since it comes with a battery and charger, you're good to go right out of the box. With this DeWalt Nailer Kit, you can use either sequential or bump mode for your projects. The sequential firing mode means that you can fire one nail at a time. However, with some practice, you can do it really fast.
The bump mode is a good feature if you're working on a project that requires a lot of nailing, like building a deck or fence.
Its battery-based design means that you don't have to worry about an air compressor, making this an ideal choice for job sites where space is limited. And since it's from DEWALT, you know it's built to last.
Also, it's easy to use and has a tool-free depth adjustment, so you can get the nails in the right place every time.
Moreover, it has a dry fire lockout, so you don't accidentally shoot nails into your wall. The only downside is that battery doesn't last for an entire day, but it's still worth it for the convenience and accuracy.
Battery and charger included
Sequential firing mode for accuracy and bump mode for quick jobs
Compact, battery-based design perfect for job sites with limited space
Durable construction from a trusted brand
Easy to use with tool-free depth adjustment
Dry fire lockout prevents accidental firing
The battery life could have been a bit longer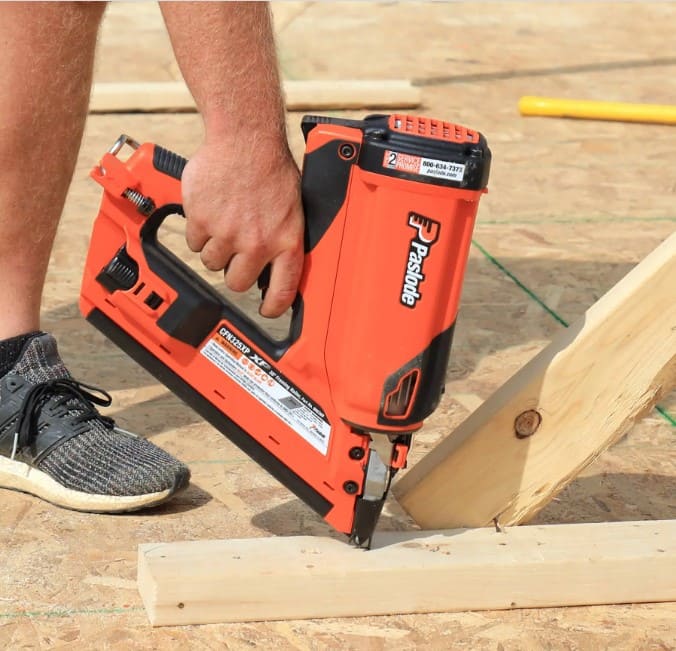 This one's a battery-based nail gun that is also compatible with fuel cells. However, it derives most of the power from the fuel cells.
It can shoot 500 nails per fuel cell and reportedly 9000 nails per charge with the new battery. This makes it a great choice for heavy-duty applications or for those who simply want the convenience of not having to deal with cords.
The Paslode XP is also one of the lightest cordless nailers at only 7.2 pounds, making it easy to maneuver around the job site.
It also has a nail lockout safety feature that prevents accidental firing. Moreover, this nailer is designed for use in tight spaces.
The thing's got 15% additional power making it ideal for driving nails through LVL and harder woods.
Able to shoot 500 nails per fuel cell
Can shoot 9000 nails per charge with a new battery
Nail lockout safety feature
Designed for use in tight spaces
15% additional power for using on harder wood
You will need to use ear protection
Whether you're a professional contractor or a DIYer, this Metabo framing nail gun is a great choice for your next project. It's got all the power and performance of a pneumatic gun.
This one can handle up to 400 nails per charge, making it ideal for large projects. And since the motor is brushless, it runs cooler and more efficiently, meaning you'll get longer run times between charges.
The nail gun can switch between sequential and bump fire mode. You can use sequential mode when you want to be precise and not waste any nails. This feature is invaluable when you're doing something like crown molding where every nail has to be perfect.
Bump fire mode is awesome when you're in a hurry and just need to get the job done.
Moreover, the gun is powered by a battery, which is included in addition to the charger.
Powerful and can handle 400 nails per charge
A brushless motor allows for a better runtime
Has both sequential and bump fire mode allowing both precision and speed depending on the situation
The battery is included with the purchase of the gun
It has a brushless motor that delivers enough power to drive 3-1/2″ fasteners into even the hardest of woods. The 28-degree point makes it perfect for use in a wide variety of applications. This Bostitch nailer also comes with a built-in rafter hook, making it easy to keep your tools close at hand when you're working on a project.
Also, this model is battery-powered, which makes it convenient and easy to use. However, it's a bare tool meaning the unit doesn't include the battery, and you have to buy it separately.
It has both sequential and contact-actuation modes. Contact-actuation mode means you just have to touch the nose of the nailer to any surface, and it will fire a nail. So if you're in a hurry, you can just smack the nailer on the wood, and it will do its thing.
The contact-actuation mode is especially convenient if you're in a hurry
28-degree point is versatile for a wide range of applications
Comes with a built-in rafter hook
Has Sequential mode for accuracy
This Milwaukee M18 faming nailer features both sequential and contact actuation firing modes. You can use the sequential mode for precision placement and the contact mode for rapid firing. The design enables the user to change between modes without any tool.
I especially appreciated the fact that there is zero ramp-up time; as soon as you pull the trigger, the nailer is ready to fire. This makes it very easy to work quickly and efficiently.
It has the ability to drive nails into dense engineered lumber and can fire up hundreds of nails per charge.
With its compact design, this framing nailer is perfect for working in tight spaces. Also, the 30-degree angle gives you a clear advantage over other models.
Sponsored*

It also features a depth-of-drive adjustment that allows you to control the depth of each nail, and its dry-fire lockout prevents accidental firing.
Features both sequential and contact actuation firing modes
Zero ramp-up time allows you to get started immediately
Can shoot nails into dense engineered lumber
Compact design and has a depth-of-drive adjustment
Dry-fire lockout
The noise could have been a bit less
Senco nail gun is a great choice for anyone looking for a reliable and powerful framing nailer. This battery-powered model features air-power technology for pneumatic performance, meaning it can handle even the toughest projects. The 34-degree angled tool provides ample power and precision.
The tool also includes an adjustable depth control for added versatility. Plus, it's packed with features that make it a pleasure to use, like a pressure relief valve and a refillable air port to make maintenance easier.
One of the most interesting features of this nailer is the ability to switch from sequential to bump fire mode effortlessly. The sequential mode will come in handy for precise work. And in bump fire mode, the nailer can fire multiple nails in quick succession for urgent projects.
A versatile and powerful tool for tough projects
Maintenance is a breeze
The depth control feature gives you additional versatility
Air-power technology for pneumatic performance 
Battery life is quite short
Conclusion
Cordless framing guns are all the rage, and for a good reason. They offer great freedom of movement and can save you a lot of time when carrying out framing tasks.
We've looked at six of the best cordless framing nail guns on the market and found that each one has its own unique benefits. So, which is the right tool for your framing project?
It really depends on your needs. If you need a gun that is powerful and versatile, then we recommend the Metabo HPT 3-1/2 in Nailer Kit. But if you're looking for something more lightweight and compact, then the Paslode XP Cordless 30 deg. Framing Nailer Kit will be a better fit.
Enjoy our articles? You can follow us on Pinterest for more woodworking power tools tips and tricks.
Save on selected power tools from top brands - Shop Now on Zoro.