7 Best Cyclone Dust Collectors for Small Shops (Reviewed For 2023)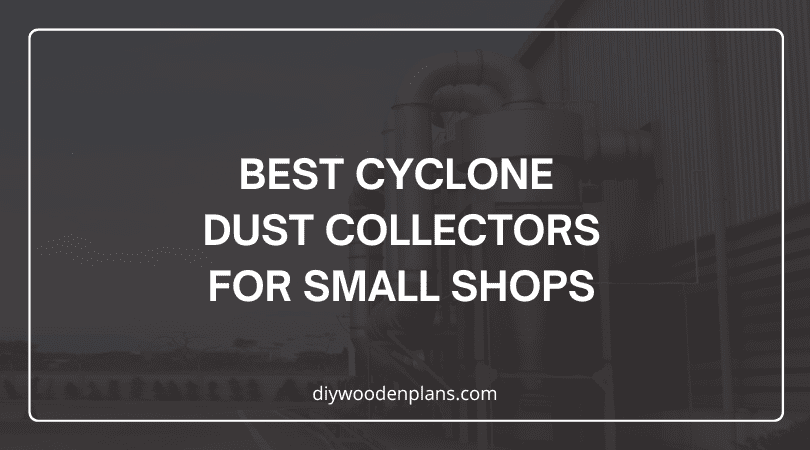 Disclosure: If you click on some of the links, we may earn a small referral fee. Please know that we only recommend products that we use or believe will add value to our readers.
Working in a workshop often means dealing with dust and debris generated by various tools and machines. Not only does this create a messy and uncomfortable environment, but it can also pose serious health risks.
To combat this problem and maintain a clean and safe workspace, investing in a cyclone dust collector is a smart choice. Cyclone dust collectors are specially designed to effectively remove dust and large debris from the air, keeping your shop environment dust-free and your lungs protected.
In this article, we will explore the best cyclone dust collectors available for small shops in 2024. We will review their features, advantages, and limitations. So, whether you are a DIY enthusiast, woodworker, or metalworker, this article will provide you with the necessary information to choose the best cyclone dust collector for your small shop.
Brief Overview of Cyclone Dust Collectors
Cyclone dust collectors are powerful tools that effectively remove high-volume and large dust particles from the air in your workshop. By utilizing centrifugal force, they separate heavy chips and fine dust, preventing clogging and ensuring efficient dust collection. These versatile machines can be used in various industrial applications and small workshops to keep your workspace clean and your tools in optimal condition.
While a shop vac can handle small amounts of dust, a cyclone dust collector is unmatched in convenience and efficiency for large-scale cleanups.
Sponsored*
When choosing a cyclone dust collector, there are several factors to consider. Size is an important consideration to ensure the collector fits properly in your workshop. Versatility is another factor, with some models allowing you to connect multiple hoses for simultaneous cleaning in different areas of your workshop. Drum capacity is also important, as it determines how much dust and debris the collector can hold before requiring emptying.
For full details, see our article on cyclone woodworking dust collection systems (an ultimate guide)
Our Top Cyclone Dust Collectors for Small Wood Shops
| | | | |
| --- | --- | --- | --- |
| Image | Product | Remark | Price |
| 1 | JET 717530K Cyclone Dust Collector | Best overall | |
| 2 | Oneida Air HEPA-GFM Dust Collector | Runner up | |
| 3 | Mullet High-Speed Cyclone Dust Collector | Budget-friendly solution | |
| 4 | Grizzly G0860 Cyclone Dust Collector | Most portable | |
| 5 | Baileigh (DC-1450C) Cyclone Dust Collector | Least noise | |
| 6 | Festool 204083 CT Cyclone Dust Separator | Good warranty | |
| 7 | Dust Right – Cyclonic Dust Separator | Shop vac accessory | |
The JET 717530K Cyclone Dust Collector is a reliable and durable option for small wood shops. With its excellent build quality, it surpasses even more expensive models in terms of sturdiness. To provide peace of mind, JET offers a generous 5-year warranty.
Featuring a 3 HP electric motor, this dust collector offers a decent airflow rating of 1240 cubic feet per minute (CFM). The large 66-gallon collection bin capacity is the highest among the dust collectors reviewed in this article, allowing for longer cleaning periods without needing to empty the bin frequently.
What we like about the JET JCDC-3 is its inbuilt wheels. These make it easy to move the dust collector around your workshop, ensuring flexibility and convenience.
Offers excellent build quality and durability
Comes with a 5-year long warranty
Inbuilt wheels for easy mobility
Large 66-gallon collection bin capacity saves time on frequent emptying
Efficient and silent 3 HP electric motor
Airflow rating of 1240 CFM may not be sufficient for larger-scale operations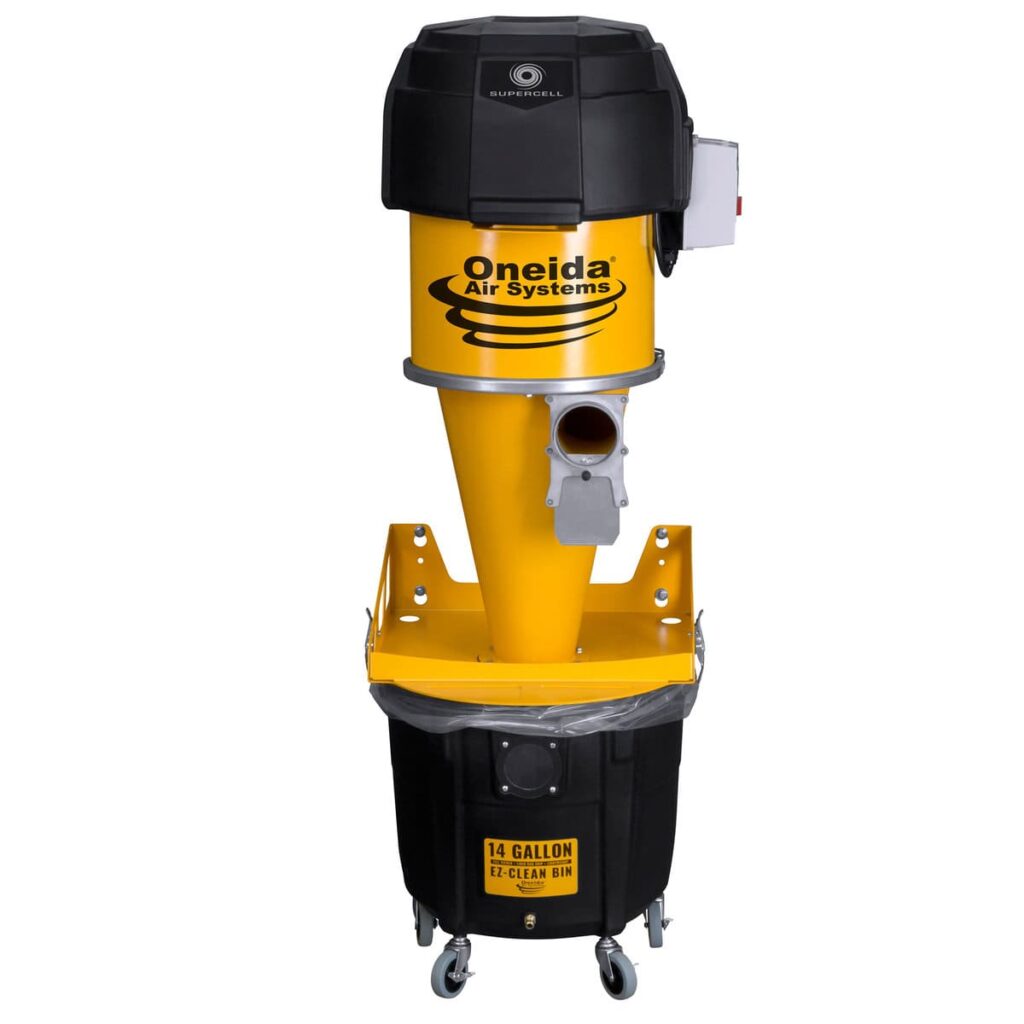 Oneida's Supercell HEPA-GFM Dust Collector is a top pick for cyclone dust collectors and offers exceptional performance. With extremely high suction power, it creates sufficient static pressure and airflow to work with any tool in your shop that has a 1″ to 5″ dust port.
This cyclonic dust collector has a flexible and innovative design, making it a versatile option for small wood shops. It comes in different sizes, including 14-gallon, 35-gallon, 55-gallon, and wall-mounted solutions, allowing you to choose the one that best fits your space and needs. The Supercell can be operated remotely with its wireless remote control and has the ability to extract dust from up to 100 feet away with a 4″ hose.
With three fan blower motors generating a combined 5 HP, we were impressed by its performance. It handled up to three tools with 1″ to 2.5″ dust ports simultaneously. The HEPA filtration system rated at 99.7% efficiency at 0.3 microns, ensured excellent air filtration. Also, the unit features an internal pulse filter that removes dust without requiring filter removal. Overall, Its compact design makes it ideal for shops with limited space.
High suction power and static pressure for effective dust extraction
Wireless remote control for convenient operation
Impressive airflow performance and capability to handle multiple tools simultaneously
HEPA filtration for excellent air quality
Compact design ideal for limited space
Low noise levels during operation
Higher price point compared to other options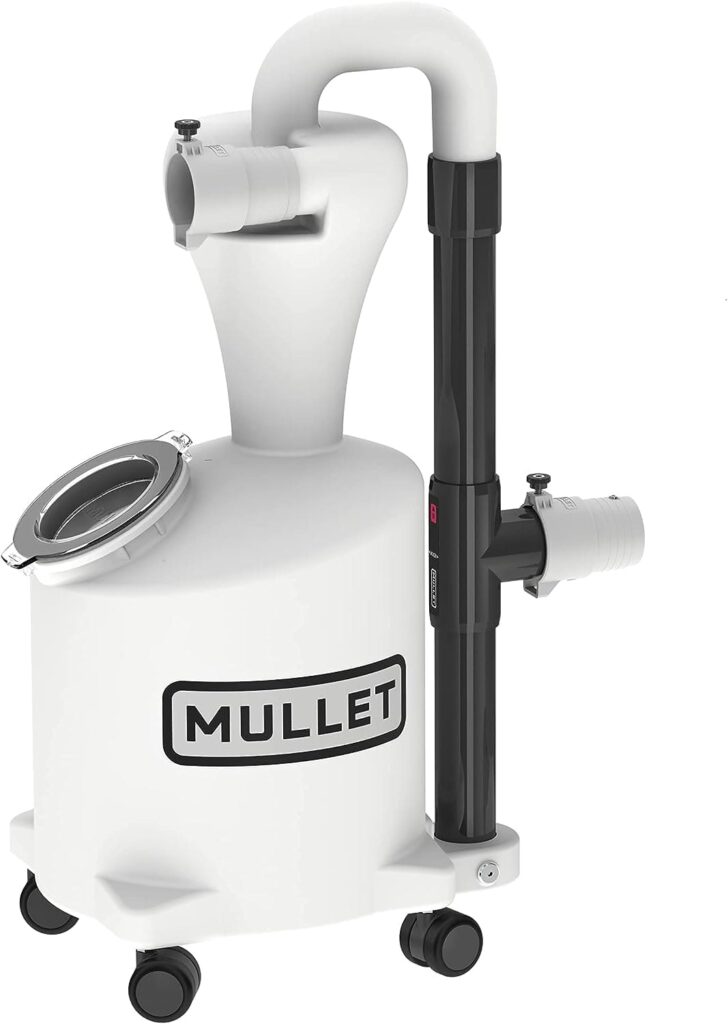 This Mullet Cyclone Dust Collector is an excellent choice for small wood shops with limited space. Its compact design and low noise levels make it attractive for those with smaller shops, while still maintaining high-powered dust collection capabilities. Despite its smaller size, it offers efficient dust extraction, capable of removing sawdust, drywall dust, and even water.
One of the notable features of the Mullet High-Speed Cyclone Dust Collector is its unique curved shape. This design allows it to remove almost 99% of dust from the vacuum cleaner before it reaches the filter. With a rigid PVC connection, this dust collector offers easy installation and mobility.
We noticed it doesn't come with bungees or straps but instead, a connection system is provided to allow you to roll the collector around on the floor.
Compact design, suitable for small shops with limited space
Removes almost 99% of dust before it reaches the filter
Capable of handling different types of dust, including sawdust and drywall dust
Easy installation and mobility with a rigid PVC connection
Does not come with bungees or straps
The Grizzly G0860 Dust Collector features a 1-1/2 HP motor, which offers a decent airflow rating of 868 cubic feet per minute (CFM), ensuring effective dust extraction from your tools. The 1-micron filtration system filters out fine particles, improving the air quality in your workshop and reducing health risks.
What we like about the Grizzly G0860 is that it's highly portable. It comes with a rolling base, making it easy to move around and adapt to the limited space in your shop. This allows you to position the dust collector where it's most convenient for your workflow.
868 CFM airflow rating for effective dust collection
1-1/2 HP motor for sufficient power
Comes with a rolling base for easy mobility
1-micron filtration system for improved air quality
Portable and adaptable to small spaces
May not be strong enough for some power tools
Smaller collection bin may require more frequent emptying
The Baileigh DC-1450C Cyclone Dust Collector features a 2 HP motor that provides a decent airflow rating of 1450 cubic feet per minute (CFM), making it suitable for handling dust from multiple machines simultaneously.
One of the standout features of the Baileigh DC-1450C is its quiet operation. Despite its power, this dust collector operates at a low noise level, ensuring a comfortable working environment. We also love the convenient radio frequency remote control that allowed us to control the collector from a distance.
The 28-gallon drum capacity is sufficient for small shop needs, and the 1-micron filter ensures that small particles are effectively captured. The rolling base adds to the convenience by allowing easy mobility around the workshop.
1450 CFM airflow rating for effective dust collection
2 HP motor powers multiple machines simultaneously
Quiet operation for a comfortable work environment
Includes a radio frequency remote control
1-micron filter captures small particles
Features an easy barrel release mechanism
Does not have dual filters
May not be strong enough for certain power tools
This Festool Cyclone Dust Separator is a budget-friendly option for users looking for an affordable cyclone dust collector. While it may have a lower price tag, it still offers several features and options, making it a great value-for-money.
Designed for home applications, the Festool CT Cyclone Dust Separator has a 5.3-gallon collection bin capacity. It is ideal for smaller and simpler requirements. Although Festool does not provide a specific airflow rating, we found the electric motor to be more than sufficient for most home users.
The build quality of the Festool CT Cyclone Dust Separator is decent and should last for a long period of time without any issues. It also comes with a commendable 3-year warranty, providing peace of mind.
5.3-gallon collection bin capacity for smaller requirements
3-year long warranty for peace of mind
Great build quality for the given price
Easy-to-use design for first-time users
Affordable price tag for budget buyers
Hose outlets may require adapters or modifications to be compatible with all dust collection systems.
The powder-coated finish shows signs of wear over time.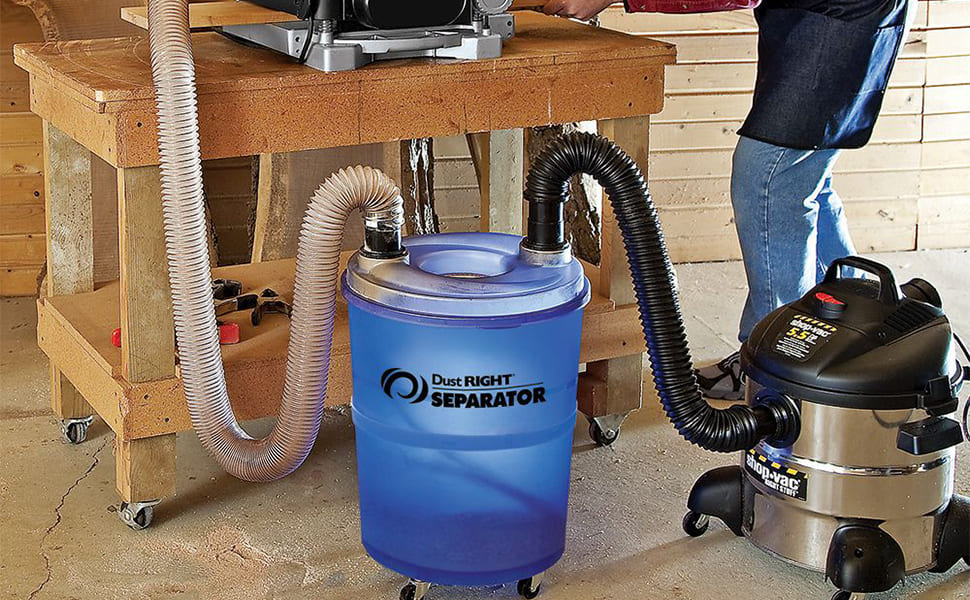 The Dust Right Cyclonic Dust Separator is designed to separate sawdust, wood chips, and debris before it reaches your shop vac, preventing clogging and maintaining suction power.
What made this system stand out to us is the 10-gallon translucent bucket, which is easy to empty and allowed us to monitor the fill levels.
With its five-caster base, the Dust Right Dust Separator provided stability and easy maneuverability around the shop. The in/out ports securely connected to our vacuum hoses, preventing unintentional disconnections during operation.
Efficient dust collection and separation for small wood shops
Prevents loss of suction caused by clogged filters
Stable and maneuverable design with a five-caster base
Connects securely to vacuum hoses
10-gallon translucent bucket for easy monitoring and emptying
Some users complained of leaks which affected performance.
Fragile tabs connecting the waste intake could lead to messy situations
Frequently Asked Questions (FAQs)
What is the difference between a cyclone dust collector and a regular dust collector?
A cyclone dust collector and a regular dust collector differ in their working mechanisms. Cyclone collectors utilize centrifugal force to separate dust and debris from the air, while regular dust collectors often rely on filters to capture dust particles. Cyclone collectors are generally more efficient in handling larger debris and can prevent clogging in the filters, resulting in better suction and longer filter life.
See our top list of regular dust collectors for small wood shops
Do I need to use a cyclone dust collector if I only work with hand tools in my small shop?
Sponsored*

Yes! Hand tools can still generate dust and debris that affect air quality and pose health risks if inhaled. A cyclone dust collector will help to capture and contain these particles, creating a cleaner and healthier workspace.
What is the best way to connect a cyclone dust collector to my machines?
This depends on their individual dust port sizes and configurations. It's best to use appropriately sized hoses and fittings to ensure a secure and airtight connection. Additionally, consider using blast gates or inline shut-off valves to control airflow to specific machines and optimize dust collection efficiency.
Is a cyclone dust collector better than a shop vac?
While shop vacuums are suitable for small-scale dust collection, cyclone dust collectors are generally more efficient for larger shops or when dealing with greater amounts of dust and debris. Cyclone dust collectors have higher airflow capacities, better separation capabilities, and larger collection bin capacity, making them ideal for heavy-duty dust collection needs.
See our full comparison of shop vacs to dust collectors
Final Verdict
Among the options reviewed in this article, the Jet JCDC-3 Cyclone Dust Collector stands out as the most reliable and durable choice. It offers an excellent build quality and comes with a 5-year warranty, providing peace of mind.
Enjoy our articles? You can follow us on Pinterest for more woodworking power tools tips and tricks.
Save on selected power tools from top brands - Shop Now on Zoro.