Top 10 Best Jigsaw for Woodworking (+Types of Jigsaws)
Disclosure: If you click on some of the links, we may earn a small referral fee. Please know that we only recommend products that we use or believe will add value to our readers.
When it comes to buying a jigsaw, you need to consider its blade, power source, motor, weight, safety, speed, and form factor. If that sounds like too much work, you can confidently leave the decision in our hands.
First, we have plenty of experience with woodworking power tools. We know which jigsaw is going to be the best for carving wood and which one will chip it straight out.
You only get one chance at making bevel cuts, so you better ace it! Turns out, the best jigsaw for woodworking is equally amazing at straight and angled cuts. It offers you multiple orbital settings for taking your woodworking to the next level! Keep reading to know what it is!
Types of Woodworking Jigsaws
Jigsaws are used for carving wood, making angled cuts, and ornamental changes to furniture. But then again, many types of jigsaws do all different things! Here we'll briefly talk about four main jigsaws and their uses.
A. Straight-Reciprocating Jigsaws
This is a basic jigsaw that comes without the bevel functions. Most older jigsaws and newer affordable models are straight-reciprocating jigsaws. Their blade only goes up and down in a straight line.
Sponsored*

The latest orbital settings and bevel stops may not be available in these jigsaws. Moreover, they cut much slower compared to table saws and circular saws.
B. Orbital-Reciprocating Jigsaws
Here, the blade slightly tilts forward and gets rid of more wood with each upstroke. An orbital-reciprocating jigsaw is faster than a straight-reciprocating jigsaw. To turn on the orbital motion, you'll have to flip a switch. It's usually on the other side of the handle and can be positioned into four settings.
This type of jigsaw arguably has less accuracy than straight-reciprocating jigsaws. There could be more chipping and tearing along the cutline. But it eventually depends on the jigsaw brand and quality.
C. Top Handle
This jigsaw form factor is the most common among DIYers. It makes carving wood a bit easier. Your hand is positioned above the motor, which means you get to see the cutline just fine. They're great for users with small hands too. Be careful, though. If you have a shaky hand, the jigsaw blade might stray away from the line.
D. Barrel Grip
Most budget-friendly jigsaws are top-handle. But barrel grip happens to be our favorite form factor. To begin with, you can use it in any position, even upside down! It keeps a low profile which allows you to carve the wood in tight corners of a workpiece. You get to have better control over your cutting and blade travel.
Ever wondered how the band saw compares to the jigsaw? We wrote an informative piece on the bandsaw and its uses.
Our Top Picks of Jigsaws for Woodworking
If you haven't had any luck finding a good jigsaw, then welcome aboard! We've reviewed ten best-selling jigsaws in different strengths, capacities, and form factors. Have a look!
| Jigsaw Model | Image | Type | Corded or cordless | Remark | Price |
| --- | --- | --- | --- | --- | --- |
| DEWALT 20V MAX XR Jig Saw (DCS334B) | | Orbital-Reciprocating | cordless | Best cordless overall | Check Price |
| Bosch Variable-Speed Jigsaw (JS470EB) | | Barrel grip | corded | Best barrel-grip | Check Price |
| DEWALT 6.5 Amp Jig-Saw (DW331K) | | Top handle | corded | Best for professionals | Check Price |
| BLACK+DECKER BDCJS20C 20V MAX* Jigsaw | | Orbital-Reciprocating | cordless | Best for woodworkers | Check Price |
| Ryobi One+ P5231 Jigsaw | | Orbital-Reciprocating | cordless | Most affordable | Check Price |
| Makita JV0600K Jig Saw | | Top handle | corded | Best light-weight | Check Price |
| SKIL 6 Amp Jigsaw- JS314901 | | Orbital-Reciprocating | corded | Best precision | Check Price |
| PORTER-CABLE PCE345 Jigsaw | | Orbital-Reciprocating | corded | Best for beginners | Check Price |
| Milwaukee 2737-20 M18 FUEL Jigsaw | | Top-Handle | cordless | Best battery life & performance | Check Price |
| Bosch JS470E Jigsaw | | Top Handle | corded | Best corded overall | Check Price |
This cordless, air-powered jigsaw is our favorite one of all. It comes with a brushless motor for longer periods of service. The jigsaw itself is lightweight, allowing you to carve heavy pieces of wood like a professional.
We like this jigsaw for a lot of reasons. It offers an all-metal keyless blade change. You also get an LED on the jigsaw, which can help you work in poor light conditions. There's a built-in dust blower for keeping sawdust out of your line of sight.
Professional carpenters trust this cordless jigsaw for its high-speed settings and precise control. Its blade can be tilted, and you can customize wooden projects with bevel shapes quite easily. Its orbital action makes it one of the best-value cordless jigsaws on the market.
20V brushless motor is super-efficient and durable 
Multiple bevel stops for extra versatility 
Keyless blade change for better productivity  
A built-in dust blower for removing sawdust 
Not as speedy as corded jigsaw models 
A powerful jigsaw is a woodworker's best friend. We came up with a barrel-grip jigsaw that's not only speedy but also surprisingly precise! It's a little on the expensive side, but the tool is worth every penny.
We have plenty of good things to say about Bosch jigsaws. This tiny one exceeded our expectations with its accuracy, comfort, and speed. For starters, this corded electric jigsaw has a variable speed dial.
If you want to remove a lot of material fast, or land smooth curves on a cabinet, use this brilliant jigsaw for the best results! Since it's a barrel-grip jigsaw, it helps you have a clear line of sight and strong blade control.
Its 7-amp motor kicks out up to 3,100 strokes a minute! This jigsaw is extremely reliable, considering it comes with a Constant Response circuitry. It allows a safe start and accurate speeds for the users.
A powerful 7-amp motor for cutting thick wood   
Consistent performance and low vibration 
Soft-start motor and tool-free blade change
No-mar overshoe for clean results 
Takes a bit of getting used to for people with small hands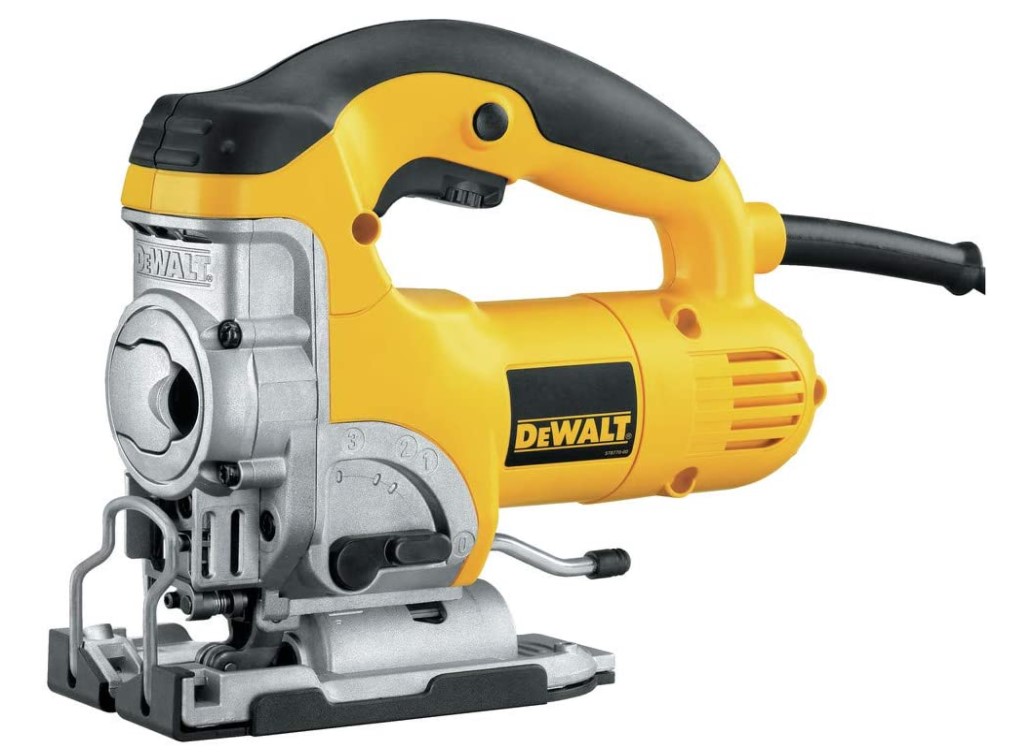 Top-handle jigsaws help you cut thick wood and framing boards. Dewalt DW331K delivers the optimal cutting speed; now available at less than 250 bucks. It's got an all-metal gear and bevel detents at four different positions.
Cutting heavy materials is easier with this top-handle jigsaw because your hand stays conveniently above the motor rather than behind it.
You can operate the saw at very high speeds. We're talking about 3,100 strokes per minute. When necessary, you can dial down the speed to a more controllable 500 strokes a minute. Its adjustable speed allows you to use the same jigsaw for different kinds of applications.
The most common angles in carpentry are 0°, 15°, 30°, and 45°. Dewalt was smart enough to put bevel detents on each of them in this incredible jigsaw. We also like the comfy rubber grip and the overall design of this power tool.
Non-marring plastic shoe for protection 
All-metal blade and tool-free blade change 
Comfortable rubber grip for low vibration 
Ability to cut thick wood with zero deflection  
Product may come with spots of grease
This cordless jigsaw features a heavy-duty battery, an ergonomic body, and variable speeds. It produces neat cuts and aces all wood-carving jobs for the average woodworker. But the best thing about the BLACK+DECKER jigsaw is versatility.
First off, this jigsaw accepts both T-shank and U-shank blades. So, it's great for curved cuts and plunged cuts. It also has a 45° bevel shoe for better accuracy. You can buy it as a single tool or buy their jigsaw with a workbench/inflator combo.
We like this battery-powered jigsaw for its ease of use, strength, and portability. It happens to come with a wire guard that keeps your line of sight open and accessible. This jigsaw is ideal for detailed cuts. It can drive its speed up to 2500 RPM and comes with its own dust blower. What's there not to like?
Allows both T shank and U shank blades 
Wire guard allows a clear line of view 
Integrated dust blower for keeping your workpiece clean 
Suitable for straight and bevel cuts
Comes without an LED light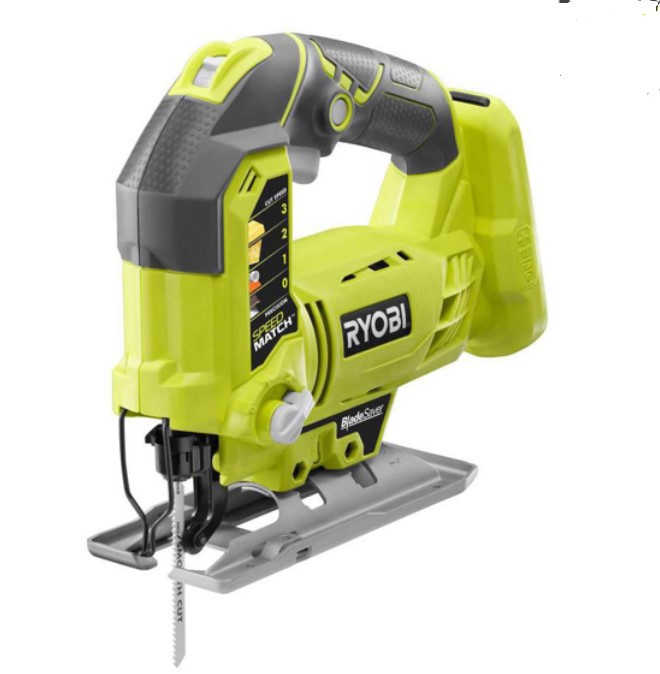 This is one of our favorite cordless-electric jigsaws. It's a T-shaped jigsaw and is suitable for precision cutting applications. Ryobi One+ P5231 Jigsaw also comes with four orbital settings, an integrated dust port, and an LED light.
Thanks to its variable speeds, you can not only carve wood but also shape them to size. The higher settings are perfect for cutting lumber into smaller, straight pieces. Similarly, the lower-speed settings are ideal for making angled cuts.
We're in love with the blade quality. It's an all-metal T shank blade and cuts cabinet materials with ease. You can also carve small pieces of oak and maple with this jigsaw.
Its blade-saving base makes the best use of your expensive saw blades. It allows you to utilize the unused blade portions on your jigsaw, even when one side has completely worn out.
By the way, if you're interested in woodturning, don't forget to check out our essential wood lathe tools and accessories!
The trigger lock mechanism is ideal for prolonged use 
Multiple speed options and precise controls 
Comes with an LED work light 
A removable blade-saving base
The blade might deflect if you use thick plywood 
If you have used a jigsaw before, you know how much it can vibrate. Lucky for you, this top-handle jigsaw by Makita comes with an innovative counterbalance mechanism. This way, you can keep your hands steady and make awesome DIY furniture at home!
To begin with, you get a die-cast aluminum case and a cutting-edge motor. It makes the jigsaw quite durable for professional use. You can adjust the die-cast base from 0° to 45°, left or right.
Additionally, there's an onboard wrench. It makes adjusting the bevel shoe easier. You'll also find a lock button somewhere around the handle. It helps people with small hands comfortably use the jigsaw.
Supports high levels of speed up to 3100 SPM
Counterbalance mechanism for decreasing vibration
An on-board wrench for quick adjustments 
Ideal for cabinet-making and wood carving 
The Jigsaw doesn't accept U shank blades 
Tired of cutting outside the line? Skil JS314901 is the only jigsaw on our list that comes with a laser guide. It's equipped with a robust 6-amp motor and 4-position orbital settings.
It performs incredibly well on these common hardwood materials for carpentry. Rest assured, this jigsaw doesn't deflect on softwood like cypress or cider.
The speed can be adjusted according to your task. Additionally, this corded jigsaw packs a 10 TPI all-metal blade. It's perfect for jigsaw applications that involve a 5-½-inch-wide softwood at best.
Lastly, it features a custom-moulded tool rest, helping the blade not damage the material by accident.
A powerful 6A motor 
Built-in laser guide for precise cutting 
Variable speed settings 
Custom-moulded tool rest 
The boot might become loose over time 
Are you a DIY woodworker who barely has any experience with jigsaws? You can consider this Porter Cable jigsaw for basic ornamental jobs and cabinet-making. It provides incredible runtime, accurate speeds, and precision.
It packs seven-speed settings integrated into the trigger. The 6-amp motor is decent enough for usual tasks. There are four orbital settings. It means you can choose your ideal cutting style and angle. There's an oversized moulding on the handle that helps reduce fatigue and vibration altogether.
Overall, it's an efficient jigsaw suitable for beginners, DIYers, and the occasional woodworker. It's not made for a certain group, but its keyless blade-change is useful to all!
Four orbital settings and seven-speed adjustments 
A lock-on button for focused cutting 
Easy to replace the blade 
Runs up to 3200 RPM 
Comes without a dust collection port
For a battery-powered jigsaw, Milwaukee makes cutting wood look like a cakewalk. We're impressed with its performance, especially more now because of the M18 REDLITHIUM XC5.0 battery and REDLINK PLUS intelligence.
Sponsored*
The M18 Jigsaw is capable of cutting a hundred-foot-long ¾-inch laminated board on a single charge. In fact, this jigsaw is so efficient that it cuts metal and hardwood!
Overall, this top-handle cordless jigsaw is a must-have for new and experienced woodworkers.
For new power tool users, Milwaukee M18 can be the safest jigsaw ever. It's a good deal considering you get a handy shoe guard, a hex wrench, a dust collection tube, dust cover, and an anti-splinter guard. The saw blade is great for general woodworking.
Delivers high and consistent blade speeds 
Cuts up to 105 ft. of wood per charge 
Perfect for a wide variety of soft, medium, and thick materials 
Heavy-duty jigsaw blade and overload protection
If you're looking for an affordable corded jigsaw, you can consider the Bosch JS470E. It's a little over a hundred dollars and is one of the most powerful jigsaws for cabinet-making.
This jigsaw is equipped with a 7A 120V motor. It's not a brushless motor, but it's durable nonetheless. It cuts up to 5-⅞ inches in wood. Next, we have a durable 10-foot power cord. It gives you enough versatility to work on a giant framing board and move from one cabinet door to another.
The jigsaw also has a blade change lever which allows you to replace the blade within a short time. You can choose any of the four-blade orbit selections. They help you land smoothly to aggressive cuts on a variety of materials.
Maintains a consistent cutting speed
Plastic overshoe for protecting the surface of your workpiece 
Cuts up to 5-⅞ inches in regular softwood 
A sturdy footplate for precise cuts 
Not suitable for sheet material and OSB 
Bottom Line
That's all about the latest jigsaws from us! We hope we were able to help you choose the best jigsaw for woodworking. Have fun carving wood and adding a personal touch to your furniture! The jigsaws we recommended come with an all-metal blade. So, blade deflection is most certainly off the table! Until next time, folks!
Enjoy our articles? You can follow us on Pinterest for more woodworking power tools tips and tricks.
Save on selected power tools from top brands - Shop Now on Zoro.