10 Best Miter Saw for Furniture Making (Reviewed)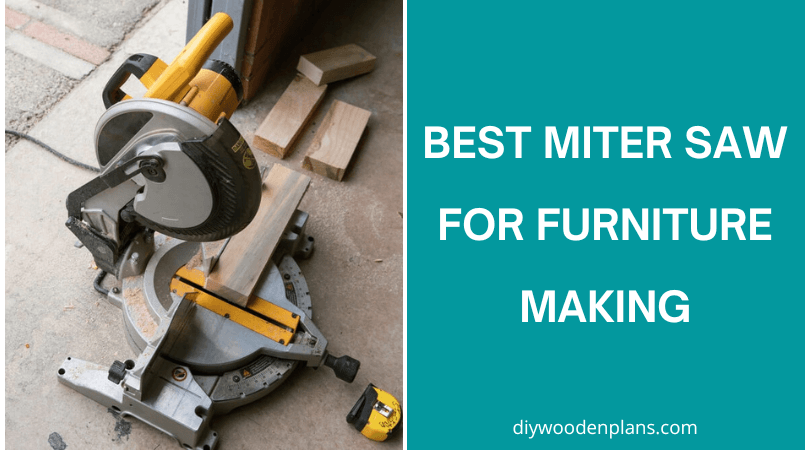 Disclosure: If you click on some of the links, we may earn a small referral fee. Please know that we only recommend products that we use or believe will add value to our readers.
Miter saws have powerful 15 amps motor and provide more than 3,000 RPM to cut through common furniture materials, like plywood and boards. The units also have adjustable features to cut at angles and create intricate shapes for table legs, frames, and more.
Safety elements like blade guards help you maneuver the machine safely, and the electric brake stops the blade quickly to avoid accidents. Furthermore, a miter saw is usually compact and lightweight, allowing you to transport it with ease.
If you need a saw for woodworking, stick around to find the best miter saw for furniture making. We reviewed a selection of the top models available to satisfy your demands and meet your expectations.
How We Evaluated Our Miter Saw Choices
For this review, we considered a list of factors that we believe are essential for any miter saw designed to make furniture.
Intended Use
Sponsored*
The miter saws listed here are suitable for many applications, including making furniture, frames, windows, and doors. These are also ideal miter saws for cabinet-making and general woodworking projects.
Cutting Capacity
A miter saw must have a set of features to enhance cutting capacity. For instance, depth stops allow you to cut materials to an exact depth, which is handy while cutting grooves. Adjustable fences fit wood pieces of different sizes, and the stand guarantees the machine remains steady for precision cuts.
Likewise, a miter saw must have a 10 or 12 inches blade. These blade sizes offer cutting capacity to work with 2×6, 2×4, 2×8, and 2×6 at 90 or 45 angle degrees.
Motor Power
Find the miter saws that excelled at motor power, usually with a 15-amp motor and over 3,000 RPM.
This power capacity is typically enough to spin the blade with enough force to cut through thin, thick, and dense wood pieces. Use it for working with the most common furniture materials like plywood, pine, oak, maple, walnut, and more.
Accuracy and Precision
Adjustable bevel and miter cuts are essential for precision work. Similarly, laser guides and dust collectors help maintain a visible workspace to avoid mistakes.
Extended rails also improve your accuracy while cutting large pieces. These are all elements we consider will increase your precision.
Ease of Use and Portability
Is the miter saw easy to assemble? Does it require adjustments before first use?
We address these elements to let you know how easy it's to use each unit. Portability is also something to consider, which is why the machines are mostly lightweight.
Safety
Blade guards and electric brakes are essential features for handling motorized saw machines.
So, we focused on finding the safest models to guarantee a secure workshop.
Additional Features
Miter saws are more than a motor and a blade. We also consider other features like the fence, rails, and additional elements that may help you.
Cost
A powerful miter saw can be an affordable purchase. Each unit reviewed here is the most valuable within the price range based on its capacity.
Our Top Pick of Miter Saws for Furniture Making
Check out our top selections of the best miter saws for DIYers, carpenters, and anyone who enjoys working on furniture projects.
Image

Product

Rating

Price

Best Overall

1

Runner-up

2

Best Value For Money

3

Metabo HPT C10FCGS Miter Saw

4

Festool 575306 Kapex Saw KS 120 REB

5

BOSCH GCM12SD Dual-Bevel Sliding Miter Saw

6

Makita LS1040 10in Compound Miter Saw

7

Genesis GMS1015LC 15-Amp 10-Inch Compound Miter

8

SKIL 3821-01 12-Inch Compound Miter Saw

9

HART 10-inch 14-Amp Compound Miter Saw

10

TACKLIFE 10″ 15A Sliding Compound Miter Saw
This DeWalt machine offers an efficient positioning system to guide the blade with impressive accuracy over the material. When you place plywood or boards over the table, you can see the cutting line and identify where the saw blade is going.
For this reason alone, this unit is ideal if you care about finesse in your furniture work.
The system features ten positive stops and a stainless steel miter detent plate that you can adjust for more accuracy.
Likewise, the unit is adjustable for miter cuts at 60 degrees to the right and 50 degrees to the left. This capacity makes the machine versatile enough for carpenters, woodworkers, and carpenters that need precision cuts.
This machine features a tall sliding fence to support crown molding 7-1/2″ nested and base molding 6-3/4″ while leaving room for bevel cuts.
Similarly, the blade cuts through dimensional lumber at 90 and 45 degrees (2×14 and 2×10, respectively).
The motor is 15 amps and offers up to 4,000 RPM. With this power, the miter saw cuts quickly and effortlessly through the usual hardwood and softwood used in furniture.
Also, the cutting is clean, and the machine doesn't produce excessive noise.
This miter saw weighs 56 pounds, which is a bit heavier. Weight is the only drawback of this unit. Everything else is top-notch.
Ideal light guide for beginners & amateurs
Remarkable accuracy for precise & detailed work
Consistent power to cut through plywood & boards
Adjustable features to cut large & small pieces
This machine from DeWalt offers up to 14 positive stops and outstanding precision with delicate and quick cuts.
The blade is 12 inches, made with stainless steel to put up with regular use. Whether you work on furniture projects sporadically or regularly, this miter saw can keep up.
The cutting variety makes this unit suitable for almost any woodworking task. This miter saw has a tall sliding fence that allows you to work on crown molding, base molding, cabinets, and more.
For example, the double-bevel design lets you tilt the blade to the left or right for intricate cuts, and the handle makes it easy to work on precise miter angles.
This miter saw is a bit heavy, weighing approximately 48 pounds. However, the sturdiness makes the unit capable of resisting heavy-duty work.
You can crosscut 2×8″ at 90°, or 2×6″ at 45° with this double-bevel compound miter saw.
Plus, if you need to move the machine around, the built-in handle helps distribute weight properly.
Overall, this miter saw is a valuable alternative for carpenters. The motor has plenty of power at 15 AMPS and offers stable speeds of up to 3,800 RPM.
While active, the blade cuts through firewood, plywood, and boards smoothly and produces almost no waste.
Sturdy construction can resist regular use
Stable motor offering decent cutting power
Cuts through wood cleanly
Quiet operation
The screw securing the blade needs adjusting after using the saw regularly
"Compact Power" describes this miter saw to perfection. The unit weighs only 24 pounds and has a 15-amp motor capable of delivering up to 5,000 RPM.
It has a large table for better material support and a clamp mechanism to hold the wood piece in place while cutting.
The mechanism allows you to set the bevel range between 0 and 45 degrees, improving cutting accuracy. With a horizontal handle design, you can control and maneuver the blade without putting your hand at risk.
Miter angles are adjustable between 0-52 degrees in both directions, right and left. This adjustment capacity lets you use the unit in multiple methods, whether to create cabinets, boxes, frames, and more.
For the price, very few other miter saws are as effective as this single-bevel compound miter saw. The cutting performance is excellent, with the blade cutting in perfect lines without going off the path.
Additionally, the machine helps keep the workspace clean by producing little waste and having a dust bag.
A mild inconvenience about this machine is the bolts holding the blade. They come too tight by default, requiring some effort to get them out and remove the saw blade when necessary.
Other than this issue, this one's a 10/10.
High power with a 15-amp motor
Spacious workspace on a large table
Comfortable handle with a horizontal design
Affordable unit, ideal for DIYers
The bolts to change the blade are not easy to remove
The following miter saw is one we liked due to its spacious work surface. This unit has a base with a rail-forward feature to increase material support and cutting precision.
Furthermore, the dual lasers effectively allow you to align the blade and cut small or large boards with improved accuracy.
Adjusting the bevel cuts is another surprising benefit of using this machine. There's a rotary knob on the front, which you can use comfortably to adjust the bevel angle.
Plus, the bevel scale and pointers are easy to read, guaranteeing you align the cut perfectly without missing the cutting line.
The motor is 13 amps and provides up to 3,400 RPM. While it isn't the most powerful unit on the list, this miter saw is still a valuable option for amateurs and professionals.
You get a durable high-speed steel blade for standard cuts and advanced trimming.
Like the durable blade, the other components are solid and suitable for heavy or light work.
One thing to consider is that Festool has limited locations in the United States.
Therefore, you might struggle if you need a repair or replacement component. Make sure there's one branch of this company nearby first before buying.
The miter saw can make precise & intricate cuts with ease
Spacious surface to fit diverse wood pieces
You can align cuts effortlessly
Sturdy & durable construction
Festool has limited locations in the United States
Precision and ease of use are essential for furniture making, and this sliding miter saw provides those two benefits.
For one, the stainless steel miter scales have visible marks to set the blade to the proper cutting angle. This design makes it easy to change settings without extending your arm behind the machine.
Likewise, the fence has a quick-release mechanism to adjust the table and a lock/unlock feature for more support.
The Axial-glide system also plays a role, guiding the blade and making smooth cuts. As a result, you can use the unit and its many blades for different cutting styles, whether to make cabinets, chairs, or tables.
This miter saw is also convenient, with an ambidextrous handle to suit your dominant hand. Plus, the compact design will allow you to carry it comfortably and set it up in a specific spot without consuming too much space.
Power is another outstanding benefit of using this sliding miter saw. The unit features a dual-bevel design, a 12-inch blade, and 15 amps to complete most tasks flawlessly.
Furthermore, you receive accessories like a wrench, clamp, and a dust bag with an adapter.
However, this unit only makes bevel cuts to the left, not the right. Consider this detail before purchasing.
Sturdy construction with stainless steel materials
Markings on the scale are visible & allow easy adjustments
High precision for fine cutting
Lightweight and portable
Only bevel cuts to the left
This compound miter saw features a direct-drive motor boosting 15 amps and an acceptable 4,600 RPM. It's adjustable, allowing you to make miter cuts up to 45° to the left and 52° to the right.
Similarly, the blade can make bevel cuts 45° to the left, but only in this direction.
The motor is efficient, loading up with a soft start and ramping up power consistently. There are no belts that may slip or need replacement either.
Additionally, the aluminum base keeps the machine stable to let you produce precise cuts.
This machine is lightweight and portable, weighing only 27 pounds. Carrying the unit won't be a hassle if you prefer working outside.
In indoor locations, the fluorescent light keeps the workspace illuminated to provide enough vision.
The blade is ten inches, good enough to work with softwood and slightly dense materials. If you need to cut larger pieces, the pivoting fence is easily adjustable to accommodate large-scale materials.
One minor flaw of this unit is the amount of noise it produces. It is not a quiet saw, and you will notice the noise if you have used other miter saws.
However, for the price, accuracy, and efficiency, this machine is still worth the noise.
Portable machine for indoor & outdoor use
Consistent motor power
Precise for miter and bevel cutting
Plenty accessories included
This Genesis miter saw is a compact unit suitable for smaller workspaces. After you set it up, the saw can adapt to different necessities with many adjustable features.
For example, you can use the blade to make bevel cuts up to 45° left, set miter cuts left and right, and place the cutting line in 9 positive stops.
The blade, for example, can be used to make bevel cuts up to 45° left, set miter cuts left and right, and place the cutting line in 9 positive stops.
The unit allows you to be as creative as possible while being safe. It has an electric brake to stop the blade in a few seconds and an "Arbor Lock" to change the blades without accidents.
Therefore, it doesn't take much time to change an all-purpose saw blade for a carbide-tipped one to cut wood.
Other than the saw, the package includes many other useful accessories. You receive a 60T carbide blade, a hold-down clamp, a pair of extension wings, and a blade wrench.
Additionally, you get batteries for the laser and a dust bag to keep the workspace clean.
This unit has everything you need to start your furniture projects as soon as possible. You may need to adjust the clamp a little to get it right, but this process doesn't take more than a few seconds.
Many accessories included for efficient work
Compact & powerful build
Multiple adjustment options for different cutting styles
Safe mechanism to change blades
The hold-down clamp needs adjustments before use
This miter saw offers up to nine positive stops, providing diversified miter angles for furniture, cabinets, and other woodworking projects.
Furthermore, the platform has rails capable of extending on both sides. As a result, you can place boards and plywood of different sizes without feeling uncomfortable.
The motor runs at 4,500 RPM and draws 15 amps. This power is easily controllable with the laser cutline, which accurately shows the blade location.
Likewise, the unit is easy to assemble on the stand, and adjusting the platform takes only a few minutes. As a result, you can quickly transition from working tabletops to table legs.
Overall, the unit is straightforward for amateur and intermediate woodworkers.
Each cut is precise, and the saw can produce single-millimeter cutting if necessary. Additionally, the machine is ready for use once you get it. The system's bevel comes adjusted, saving you work and time.
Other items you get are the blade and stand. However, the included saw blade is not sturdy. Removing it and installing a new one may be a wise choice.
Also, some versions don't have the stand included, and you will need to buy it separately. Make sure the package comes with everything in it to avoid frustrations.
The saw arrives almost ready for use
Adjustable side rails
The laser guide is easy to follow
Powerful motor with excellent RPM capacity
The blade included is only decent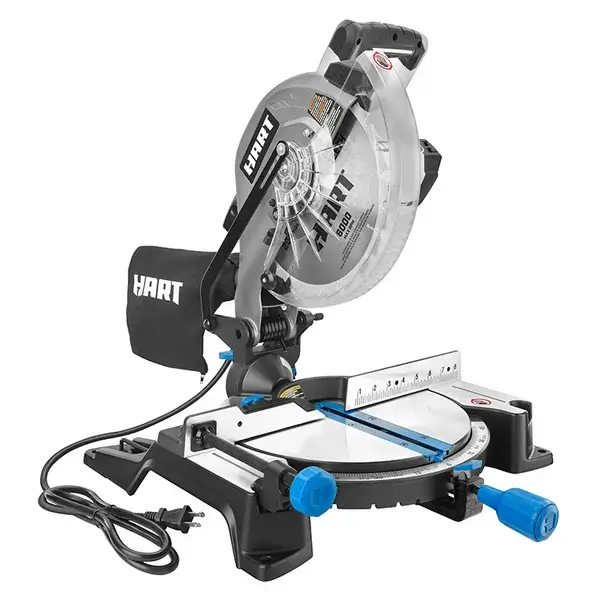 While this saw is one of our last picks, it is still a competitive choice.
This unit has a powerful 14-amp motor capable of rotating blades up to 5500 RPM. Maneuvering is also a breeze.
With stops at multiple degrees (0, 15, 22.5, 31.6, and 45), cutting through pine, rubberwood, and other materials is hassle-free.
The miter saw is compatible with most stands. Plus, features like the spindle lock and battery-powered laser guarantee that you can handle it safely and accurately.
This unit can also produce left bevel cuts at angles from 0 to 47°, offering the flexibility to cut furniture legs with precision.
This saw comes with an electric brake for safety measures. While this brake does not bring the blade to a sudden stop, it slows it down progressively.
DIY enthusiasts will like this machine for its well-made design. The motor offers incredible power, and the saw is not excessively heavy.
At 31 pounds, moving the unit outside or into the workshop is not a problem.
One thing worth considering is that seeing the laser is tricky sometimes. This problem can affect your work if you're getting into woodworking and need as much help as possible.
In some cases, the laser can feel slightly off.
Powerful motor to cut softwood and hardwood
Lightweight construction
Compatible with the majority of miter saw stands
Laser to guide cuts
There's no sudden blade stop mechanism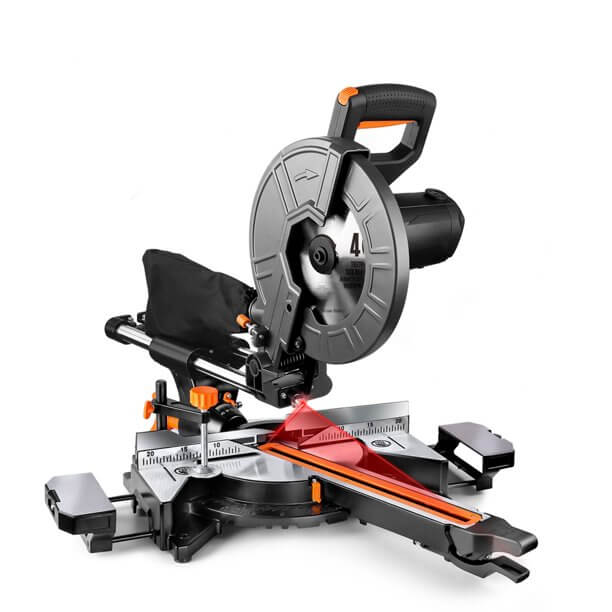 If you like versatility, the dual-speed settings offered by this saw may be for you. You can set the system to operate at 4,500 RPM to cut wood or plywood and at 3,200 RPM to work on soft aluminum and create add-ons for your furniture.
The different speeds also mean you can use the saw for other projects.
Additionally, the saw comes with three blades for multiple applications. You get a 10-inch multifunctional saw blade for general use and two 10-inch blades with a carbide-tipped design for wood.
These blades can cut boards of up to 13 inches, which the extensible table accommodates perfectly.
This saw has many features to let you operate it safely. First, the laser guide is red and visible, illuminating the cutting line for precise cuts.
There's also a solid iron guard to deploy and cover the blade's exterior to protect you from accidents.
Plus, the purchase includes a chip bag, which attaches to the saw's top section. Debris will not interfere with your vision, and cleaning up after work is a breeze.
While this saw has a decent 15-amp motor, the rotating speed is slower when compared to others. So, this unit is not the most powerful out there.
Different speeds are available
Multiple blades included for different applications
Multiple safety features
With a handle, it is portable and easy to carry
The unit is not too powerful
Frequently Asked Questions
Can I use a miter saw for other purposes besides furniture making?
You can use a miter saw for more than making furniture. This machine type suits other tasks, like cutting masonry and plastic materials. Miter saws are also better for general woodworking and other applications compared to chop saws.
What is the average price range for a good miter saw for furniture making?
Sponsored*
Decent miter saws to make furniture professionally start at $200 and can be as expensive as $800. Standard models are available for $100, but these don't usually have a dual bevel design or sliding blades.
Should I go for single-bevel unit or a double-bevel?
Actually, we have done the comparison and answered your question in our article Double Bevel vs Single Bevel Miter Saws
Final Thoughts and Recommendations
Everyone has their favorites, but convenience is also essential. However, a miter saw for furniture making must have decent power and adjustable features to cut the intricate shapes needed for tables, dressers, desks, and others.
If you work outside or need to transport the saw regularly, a lightweight saw is a necessity. On the other hand, a heavy-duty miter saw can be a perfect fit for stationary work in a workshop.
Ultimately, evaluating your needs and woodworking habits can heavily influence your decision. Consider what features benefit you the most, and choose the best miter saw for furniture making based on those conclusions.
Luckily, you don't have to look for miter saws anymore, as we've brought only the best to you!
Enjoy our articles? You can follow us on Pinterest for more woodworking power tools tips and tricks.
Save on selected power tools from top brands - Shop Now on Zoro.