7 Best Wood Lathe Chuck For Woodturning (+ Buying Guide)
Disclosure: If you click on some of the links, we may earn a small referral fee. Please know that we only recommend products that we use or believe will add value to our readers.
A wood lathe chuck is an essential tool for any woodturner. It is made to firmly hold the wood in place while you work on your craft. Woodturners who want to make excellent projects without fighting the piece will need a good wood lathe chuck.
The problem is that there are different types of chucks and their use cases vary. Often times, beginner woodturners usually end up using the subpar chucks that come with their lathe and this only makes it harder.
Knowing the right chucks to use on your wood lathe for a particular project takes skill. Hence, in this article, we've put together the best wood lathe chucks that will change how you work with wood. We will also provide a buying guide to help you choose the right one for your needs. Let's get started!
Factors to Consider Before Buying a Wood Lathe Chuck
Compatibility
Every chuck won't fit every lathe. Usually, a company will ensure its chucks work with its lathes, but they don't consider making them compatible with other lathes. Big companies use a few universal designs that might fit other lathes, but not all will be a perfect fit. Before purchasing a chuck, make sure it will fit your lathe.
Sponsored*
Adjustability
Self-adjusting chucks are better than the old chucks, which were adjusted by hand. When buying a chuck, it's essential to know its adjustment range. The adjustments on some chucks are only mild, while on others they are more extensive. Chucks with a wide range of adjustments are more versatile as they can be helpful when handling different projects. Additionally, you will not have to buy other chucks for various purposes.
Chuck Type:
Even though there are many types and brands of lathe chucks, there are two main categories: self-centering and independent. The self-centering chucks are also called "Scroll Chucks." They can hold hexagonal or round objects and are suitable for precise centering. These chucks can go with 2-jaw, 3-jaw, 4-jaw, and 6-jaw chucks. On the other hand, the independent chuck works without the scroll. Their jaws move inside their jaw ways, sitting on top of a rolling screw. They can move on their own to fit materials with odd shapes. The independent chuck also gives the operator more precision and control.
Here is a more detailed article on the different types of wood lathe chucks available.
Wood Lathe Size:
The distance between the center of the spindle and the center of the bed is called the "swing". The size of your chuck will be determined by the swing of your wood lathe. If you're not sure what size your wood lathe is, measure the distance between the centers of the spindle and bed.
To keep things simple, there are three sizes of wood lathes: full-sized, mid-sized, and mini-wood lathe. Full-size have a swing of over 15in and can mount any project. The mid Lathe swing is either 12in or more, while mini lathes usually have a 12-inch or less swing.
See this article for full details on wood turning lathes and their sizes
Durability:
Chucks are not all made of the same material. But the most resilient chucks are made of steel. This is because it doesn't change shape when put under a lot of pressure and can take a lot of hits. Other materials, like cast iron for runoff control, or industrial plastic for smooth adjustment, are also used by some chuck manufacturers. Bear in mind that, chucks made of cast iron or other materials might not last as long as those made of steel.
Cost:
Chucks can cost a few hundred dollars if purchased individually or thousands of dollars if purchased in a set. It is important to set a budget before shopping for a chuck so that you do not overspend.
Best Wood Lathe Chucks for Woodturning
In no particular order, here they are.
PSI Woodworking CSC3000C Barracuda Wood Lathe Key Chuck System
WEN LA4444 4-Inch 4-Jaw Self-Centering Chuck Set
Woodstock D4054 3-Inch 4 Jaw Chuck
Nova TK-48246 Small Wood Turning Chuck Bundle Set
Grizzly Industrial H8049-6″ 4-Jaw Wood Chuck
Delta Industrial 46-461 Reversible Nova G3-D Woodturning Chuck
NOVA 48291 PRO-TEK G3 1″ X 8 TPI Direct Thread Wood Turning Chuck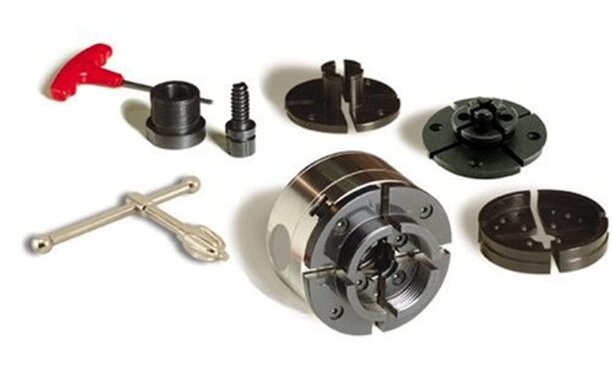 PSI Woodworking may not be a well-known brand, but it has been making woodworking products for over 20 years. The company's CSC3000C Wood Lathe Chuck System is the best chuck system on this list. It gives woodturners a high level of performance and versatility.
The CSC3000C is also the best choice if you want a high-end option. This wood lathe chuck works with all C-series accessories, so you can add more to it to make it even more versatile and all-around practical. The tool also has a chromed metal finish and comes with a carrying case that makes it easy to clean. The wood lathe chuck also has excellent range and a T-handle wrench, making adjustments easy. However, remember that the chuck doesn't work with all lathes.
Key Features
It has four sets of self-centering jaws
One screw chuck for woodworm
3.5″ Diameter
Two round jaws go from 7/8″ to 1-1/2″ and 1-1/4″ to 2."
It has 3/32″ to 1-3/8″ & 11/16″ to 2-3/8″ 1 step jaws
It comes with eight screws
A single Allen wrench
This chuck is durable
Easy to maintain
It has built-in safety features in case you lose the chuck key
Separately sold alligator jaws are included
Several choices for faceplates
Steady while in use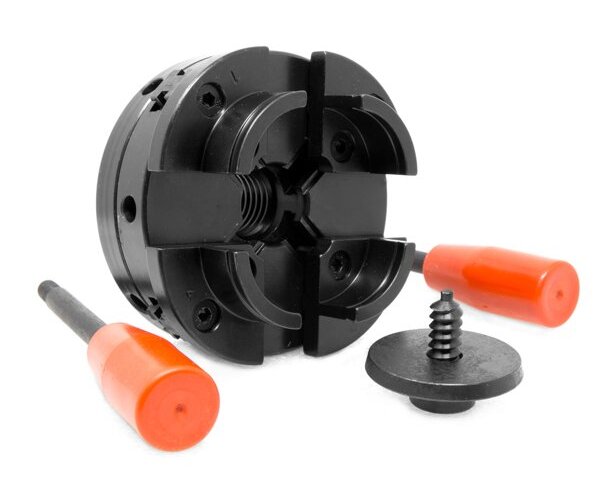 WEN is a well-known and experienced company making woodworking tools for over 50 years. The company caters to consumers and won't satisfy skilled woodworkers unless they need precision.
The WEN LA4444 Chuck Set is more dynamic because it has a woodworm screw to make workpiece insertion easier. Also, this chuck is self-centering, meaning you don't have to adjust each jaw individually.
Key Features
Internal jaws grip 1.6 to 2.8-inch workpieces
Workpieces with 2 to 3.2-inch pilot holes have external jaws
The scroll chuck holds bowls, spindles, and other wood lathe projects
Compatible with most 1″ x 8 TPI wood lathes
The included screw chuck gives you more project options
Self-centering chuck
It has a large capacity.
Made from a strong cast-iron
It's affordable
The Woodstock D4054 3-inch chuck is a self-centering chuck that fits all one-inch x 8 TPI lathes. This is one of those chucks that is compatible with a wide variety of wood lathes.
A set comes with two 4-inch wrenches that allow you to completely tighten the chucks. This is a superb addition since many chucks do not come with extra tools or accessories. The tool automatically finds its center, making it much easier to use.
I have noticed that, the jaws on this chuck don't usually stay tight. It also tends to leave marks on the edges of the wood when used. While the Chuck has these shortcomings, it is still cheap and suitable for the less experienced users.
Key Features
Fits all wooden lathes with 1-inch by 8 TPI spindles
Final tightening uses two 4-inch wrenches
Instead of a key, it has tightening rods
Easy operations
It's affordable
Designed to work with most lathes
Excellent for small jobs
It has interchangeable jaws
It is a self-centering chuck
Leaves marks on the edges of wood stock
Doesn't stay tight
The Nova TK-48246 lathe chuck set weighs 3 pounds, has excellent gripping power, and works on round and square objects. Additionally, the tool has forward and reverse parts, which you'll need depending on your woodturning project.
The auto-stop jaw safety ensures that the jaws don't overstretch, damaging them. This wood lathe chuck has an extra layer of protection from a hard plastic case. This is the one for you if you want a chuck that puts efficiency first.
Key Features
The chuck stays securely attached to the lathe with the reversible anti-release spindle lock
The load on small spindles and bearings is kept to a minimum by their small size and weight
Perfect for making lots of smaller pieces.
One-handed geared action
a strong and positive grip
1-inch x 8TPI dual thread and automatic jaw safety stop
It's simple to use
It can handle a hard-shell case
Appropriate for round and square wood stock
Auto-stop jaw safety makes using it safe
The Grizzly H8049 is a 6-inch, 4-jaw wood lathe chuck made by the well-known Grizzly brand. It comes with a 1-inch x 8 TPI. This chuck system also has movable and adjustable jaws, making it a perfect tool for items with odd shapes.
In addition, the Grizzly H8049-6 also comes with reverse functionality and a chuck wrench.
The major drawback of this chuck is that it requires a little bit of skill to use. It's also made of cast iron, which isn't as durable as the steel used in other chucks.
Key Features
It has jaws that can be adjusted separately to hold work in odd shapes
Jaws can be turned around for different kinds of holdings
Chuck size is 6″, thread size is 1″ x 8 TPI RH, and shipping weight is 6 lbs
The basic chuck mechanism functions well
Excellent if you have alignment experience
Easy to find because there are many sellers
Works with pieces with odd shapes
It includes a chuck wrench
It is not suitable for beginners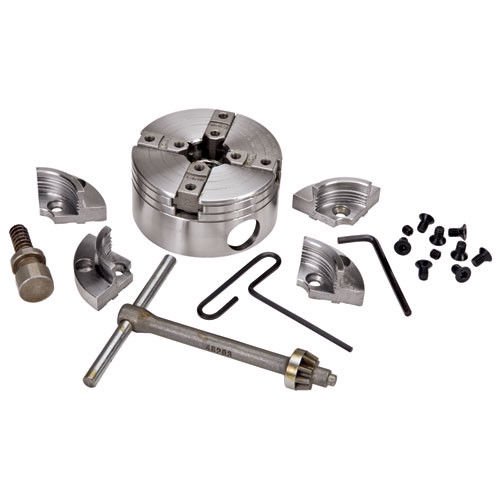 Nova makes the Delta Industrial 46-461 chuck, which has four jaws that can turn wood in either direction. The tool is industrial-grade, which means it works better on large scale projects. The Delta chuck has auto-stop jaw slides, an anti-release spindle lock, better jaw gearing, and threaded chuck jaws for safety. In addition, it has a 1-inch, 8 TPI mount, and standard 2-inch jaws. This key-operated model works best with mini and midi lathes or swings of up to 14 inches.
lastly, the chuck jaws are serrated, easier to hold, and its two-set screws make it a safe mount.
Sponsored*

The only flaw I noticed is that the small Allen wrench doesn't reach the top of the jaw. This makes it hard to use, but once the screws are tight, the process is easy and safe.
Key Features
Auto-Stop Jaw Slides prevent chuck jaws from opening wider than their best clamping range
Delta lathes have an Anti-Release Spindle Lock. It secures the chuck during forward and reverses turning
Improved jaw gearing increases clamping pressure and smooths jaw movement
Threaded jaws on chucks make better material contact, improving clamping
It fits all of the most common mini and midi lathes
Delta's warranty is one of the best in the industry
It fits all standard mini and midi lathes
Jaws and moving arms have proper labels
Allen wrench doesn't reach the top of the jaw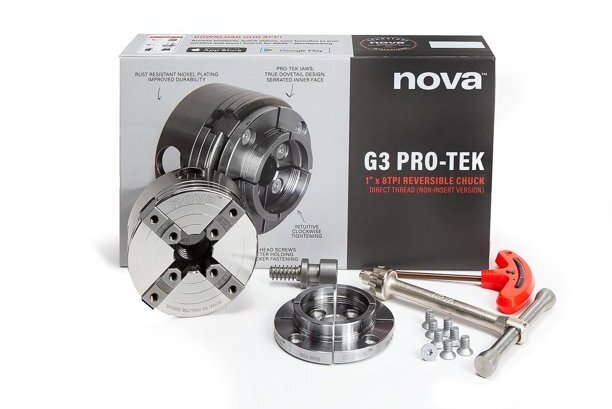 Woodturning has reached the next level of innovation with the new Pro-Tek Series self-centering chucks. The powerful gearing grip gives you a solid, vibration-free turn. The Nova Pro-Tek G3 Chuck uses the same accessories as other NOVA Chucks, making parts accessible. It also has premium upgrades, like a rust-resistant nickel plating that makes it perfect for turning greenwood. New 50mm/2″ Pro-Tek Jaws also make it more versatile and stronger.
Their upgraded 6-point star fasteners can exert more torque with less effort. It also gives them better holding power and keeps them from coming loose, making them last longer. The Jaw fastening wrench was given a T-bar handle to make it less likely to break. The T-bar also makes tightening screws faster and easier on the hands. The Nova 48291 Pro-Tek G3 is one of the best woodturning chucks because of these improvements.
Key Features
It includes a 2-inch jaw, eight 6-point star fasteners, a t-bar wrench, a woodworm screw, and a microfiber workshop towel
Laser-etched jaws help you align and position your slide
Premium nickel plating and fabrication makes it rustproof and easy to repair
Fits all NOVA lathes with 16-inch chucks and 1″ x 8 TPI spindles
Longer life with better holding power and less wear
Easy clockwise scrolling
A powerful geared grip holds the slide tightly
Safe Lock woodworm screws are included for rough mounting
Some users had quality issues
Final Remark
Wood lathe chucks come in different shapes and sizes. Many tools can help with woodturning, but you need the best wood lathe chuck you can get for precision. The chucks listed above are not only durable and cost-effective, but they are also the best wood lathe chucks for your woodturning projects.
Enjoyed this article? Take a look at my review of the best wood lathe tool sharpening systems for woodturners
Enjoy our articles? You can follow us on Pinterest for more woodworking power tools tips and tricks.
Save on selected power tools from top brands - Shop Now on Zoro.