Nailers 101: The Different Types of Nail Guns for Woodworking (Plus Top Recommendations)
Disclosure: If you click on some of the links, we may earn a small referral fee. Please know that we only recommend products that we use and believe will add value to our readers.
Are you having a hard time understanding the world of nail guns, and which one is best for your projects? A high-quality nailer (or two) should be in the toolbox of any DIYer, hobbyist, or professional who likes to work on wood. However, there are a lot of nail guns out there. Before buying anyone, you need to know what each one is used for and which one is the best for your needs. So, whether you're a complete novice or you just want to learn more about the different types of nail guns, you will benefit from this guide.
Do I Need a Nail Gun? Benefits of Using a Nail gun
Nail guns may be used for various tasks, including framing, roofing, flooring, and furniture construction, among others. High-gauge nail guns may be used for delicate tasks like stapling and tacking alongside heavy-duty applications.
It's unnecessary to spend the whole day in the hot heat hammering nails. Further, you may miss the nail head entirely while swinging at it with a hammer, damaging the workpiece. With a nail gun, you don't have to swing and miss; you set the tip straight on the wood, and you can drive the nail exactly where you want it to be pushed. As a result, if you handle the task appropriately, you won't risk damaging it by mistake. Nail guns are all about speed and precision when it comes down to them.
With a nail gun, you need to fill the magazine with nails, position the tip at the desired location, compress it, and pull the trigger to nail it. After only a few seconds, you'll be done nailing the piece of wood. You'll save money, time, and effort in the long run.
Classification of Nail Guns Based on Operation and Power Supply
It's a challenge to figure out which nail gun is best for every job. Therefore, we've categorized nail guns based on their intended use and power source into the following four main types.
Sponsored*
1. Pneumatic or Air-Powered Nail Guns
You can't go wrong with a pneumatic nail gun. The gun gets its power from the compressed air supply, which is why it is also called an air-powered nail gun. When you use this nail gun, the force of a hammer comes from compressed air, which comes from a gas-powered air compressor.
Water is pumped through a pipe with an air compressor. It has one or more piston cylinders in it. Most of the time, the air-powered nail gun operates in two steps. In the first step, the cylinders take air from the air when they move up. In the second step, inhaled air is pushed out towards the air reservoir and then to the hammer at the bottom of a pistol gun.
2. Fuel/Gas Powered Nails Guns
Fuel-powered guns are similar to pneumatic nailers, but the power source is gas. The Paslode Company first made gas nail guns in 1986, and it was called Impulse at that time. Some argue that gas-powered nailers are better than air nail guns because they are not only faster but more efficient.
Butane is stored in a consumable internal cell and a battery in gas nailers. As soon as you press the nail gun, the fuel comes out. The battery starts to fire up and burns the fuel. That spark turns into a lot of power, which sends the nail flying to the material's surface. Another nail is automatically put in after the nail comes out of the gun. A gas nail gun does not have a cord and is called a cordless nail gun most of the time.
3. Electric Corded Nail Guns
Corded electric nailers are the first generation of electric nailers. These guns have lost some of their allure as technology improves. Also, because the cable is so long, this nail gun cannot be taken on the go. However, it has the advantage of not having a time restriction, much like the battery-operated kind. You don't have to worry about recharging the battery all day long if it has a power source. It's a good fit for this small-scale project. Using these guns, short nails, such as brads and staples, are nailed.
4. Electric Cordless Nail Guns
Lithium-ion batteries power these nailers, allowing them to stay charged throughout the day. Having additional batteries on hand is also a good idea. Nail guns that don't need an air compressor are straightforward and may be used for any light nailing. The mobility of cordless nailers is unbeatable, but they can't accomplish as much as Pneumatic guns.
Classification of Nail Guns Based on Application
1. Framing Nail Guns
As the name suggests, framing nails connect huge dimensional timber components utilized in constructing structures. Other woodworking jobs that need you to nail 2x4s and 2x6s, such as constructing a deck, a fence, or even making furniture, may also benefit from this nailer.
Framing nail guns come in handy if you're planning or working on a major project. They can fire nails up to 3.5 inches long and 2.8 millimeters in diameter. As a result, hefty nailing jobs need the use of these nails because of their high holding strength.
Framing nailers come in two categories based on how many nails they can hold. They are, stick and coil framing nailers. Compared to stick nail guns, coil nailers hold a lot more nails.
We have handpicked 6 of the best cordless nail guns for framing available in the market.
Application
Fencing
Framing a house
Building decks
Wooden siding
Heavy construction
Top Recommendation
The best framing nailer in this category is the Metabo HPT 3.5″ plastic frame nailer from Zoro.
2. Palm Nail Guns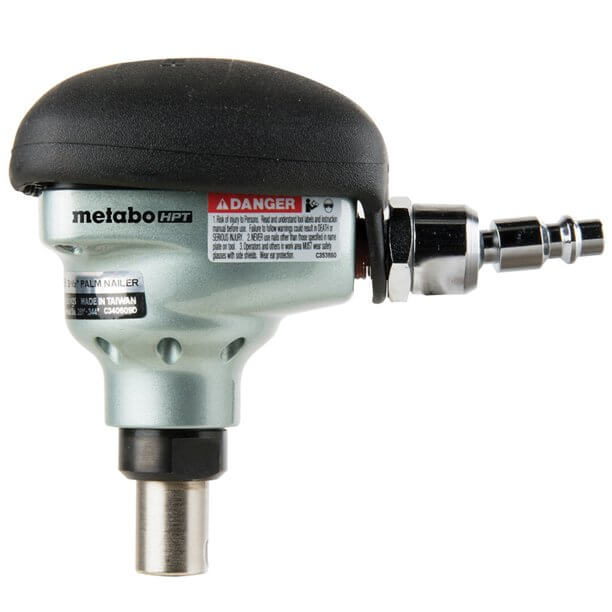 Compared to conventional nail guns, palm nailers have round handles that fit snugly in the palm of your hand. The name is itself a description of what the item is all about. Using an air compressor, it resembles a miniature nail gun, and you may use it to nail in a lightning-fast manner.
Nails range in length from 1.5 to 3.5 inches long. Unlike conventional nail guns, these nailers can get into the tiniest of spaces. When a hammer isn't appropriate for the job, palm guns are the tools of choice.
Palm nail guns do not come with a magazine to retain the nails. You use the palm nailer to drive in a nail one at a time. Furthermore, they help drive nails in tight spaces where conventional nailers would not fit.
There are pneumatic, electric, and cordless versions of these nail guns. The mobility and portability offered by battery-operated cordless models are unmatched.
Application
Fit in tight areas
Fencing
Framing
Remodeling
Crafting
Small tasks
Top Recommendation
The Metabo HPT 3.5 in. Air Powered Palm Nailer is the best in the category of palmer nailers.
3. Brad Nail Guns
Using a Brad nailer is a great way to tackle various DIY tasks. Nails range in length from 0.5 to 2 inches and are made of 18 to 23 gauge. They are mostly used for modest woodworking jobs in the home, and their air-powered nailing is dependable and accurate.
The interior nailer, known as a "brad nailer," is a tool to add trim and build cabinets. Fine 18-gauge nails are used, which are very small and almost undetectable once you hammer them into the wood.
Eighteen-gauge nails are very difficult to drive with a hammer. Hammering nails may cause damage to your workpiece if you bend them during hammering or if you miss them and heat them. Hence the importance of brad nail guns is exemplary in home improvement projects when you need to drive hundreds or thousands of these small nails to add moldings and trim. However, since the small brads are small, they lack the necessary strength for heavy crown molding. You can benefit from them for smaller moldings and trims.
Despite their small size, they provide substantial assistance. Nailers of this sort additionally have a switchable contact, a deep drive adjustment, a cordless setup, and high-quality air connections.
Application
Decorative crown moldings
Casings for doors and windows
Construction of the cabinet
Paneling walls
Repairing furniture
Molding the interior
Top Recommendation
Our team has selected this Arrow Fastener Electric Heavy Duty Nailer as the best brad nailer.
4. Pin Nail Guns
The nails used in pin nailers are 23 gauge. Unlike normal nails, these nails are so small that they resemble pins and do not have a flat head.
If a larger nail is likely to break the wood you're working on, opt for pin nail guns. They are typically utilized for furniture and cabinet manufacturing and adding moldings and trim. Since they are pushed into the wood, they leave no trace or hole that you have to fill with wood putty.
Additionally, you may want to use a pin nailer to secure glued wood pieces together. You should only use these pins for lightweight wood pieces since they are so little and lack the necessary holding power and withdrawal resistance.
The 23-gauge pin nailer is the perfect option if you need to do delicate cutting or molding. You can use these nails to build miniature pet shelters, cages, panels, etc.
Application
The use of small, discrete trim elements
To hold glued wood pieces together
Crafting
Top Recommendation
The best pin nail gun is the Metabo HPT Headless Pin Nailer from Zoro.
5. Roofing Nail Guns
Keeping with the name, roofing nail guns drive nails ranging from 3/8 to 1-3/4 inches long. These are made specifically for nailing various shingles, vinyl, insulation, fiber cement, and waterproof tar paper types and sizes. They can also be used for siding on occasion.
Nail depth is adjustable, and most come with a shingle guide that allows you to fine-tune the spacing between the shingles. You don't have to wait as long to reload your nails since they come with a coil magazine or canister.
Application
Roofing
Siding
Laying out the flooring
Shingles for the roof
Top Recommendation
The best roofing gun is the Metabo HPT Roof Nailer Coil 1-3/4″
6. Flooring Nail Guns
The hardwood flooring nailer does not seem to be a typical nail gun. Both manual and pneumatic versions are available.
It's important to examine what kind of nail or cleat the flooring nailer uses before purchasing one. Depending on the application, this kind of wood fastener has an "L" or a "T"-shaped head.
The manual and pneumatic flooring nailers both need you to use some effort to put nails, unlike other nail guns that do not. In both manual and pneumatic versions, you must use a mallet to heat the drive head to insert a cleat.
Pneumatic devices, in contrast to manual ones, use pressurized air to assist in pushing the cleats into the floor rather than relying only on the user's muscle power.
Application
Top Recommendation
If you are looking for the best flooring gun, try this Freeman Pneumatic 4-in-1 18-Gauge Mini Flooring Nailer.
7. Siding Nail Guns
When it comes to installing siding, only specialty nailers will do. If you perform a lot of siding work, this is a must-have.
In theory, you can use a framing nailer for siding installation, but it's not the best nailer for this job. However, the smaller nails, ranging in length from 1-1/2 inches to 2-1/2 inches, need the use of one of the two nail guns. On the other hand, framing nails might be as long as 3-1/2 inches.
Framing nailers, which have a larger magazine and shorter nails, are heavier than siding nailers, with smaller nails and a smaller magazine. Your process will be less tiring if you use a siding nailer like this.
Application
The use of thin and siding materials in conjunction with timber exteriors
Top Recommendation
As for the siding gun, the best in this category is the Metabo HPT Coil Siding Nailer.
8. Finishing Nail Guns
Finishing nail guns are one of the many nailers you may use for various purposes.
Due to the small size of brad nails, they cannot hold heavy trim or moldings firmly in place. Because of this, finishing nailers exist, and these employ larger and stronger wire or nails of 15 and 16 gauge instead of 18 gauge brad nails.
You can read more about the difference between a brad nailer and a finish nailer here
There is a lot of demand for finish nailers that use lithium-ion batteries, and several of them are also cordless. Depending on their construction and use, angled and flat finish nailers are the two most frequently used varieties.
They are the finest choice for novices or those who regularly work with wood for a short amount of time. As a result, you may use this item for various basic domestic tasks.
Application
Installing cabinets
Furniture assembly
Putting together cabinetry
Top Recommendation
Looking for an effective finishing gun? Try this 2-Inch 18 GA Finish Nailer from Hitachi.
9. Staple Nail Guns
Compared to the hammer tackier, it works better in vertical areas. Although it's short, it's quite versatile and can be used on a wide range of surfaces. The tool's forceful application of staplers helps hold the surfaces firmly.
It features a tool to remove incorrectly set staplers similar to a hammer tacker. Staple guns work better on vertical surfaces, whereas hammer trackers work better on horizontal ones.
Application
Carpeting
Pictures framing
Ceiling tiles
Weatherstripping
Foaming
Padding
Top Recommendation
Sponsored*
You may use the Arrow Fastener Light Duty staple gun for your small DIY project.
Safety Precautions to Take When Using Nail Guns
All power tools, including nailers, need to be handled with care. When using a nail gun, you should follow our comprehensive safety guide here.
We have listed some general safety advice but always refer to your nail gun's user manual for specific instructions on the proper setup, use, and storage.
As a DIYer, How Many Nail Guns Should I Have?
Nailers are a time-saving tool for home improvement jobs in the backyard and around the house. You'll soon discover that having the correct nail gun will simplify your home improvement jobs.
The project you're working on has a big impact on the nailer you should choose. However, you will need
a staple nail gun,
a framing nail gun, and
a brad nail gun.
These are the best solutions for a wide range of applications.
Conclusion
Since most DIYers only require a few nail guns to complete a wide range of jobs around the home and garden, this is not a comprehensive list of nailers. However, we've added a lot of detail for you to nail your DIY job with perfection. We recommend Metabo since it has been around for years and is a reliable brand you can trust to provide a long-lasting nailer at a fair price. Happy nailing!
Enjoy our articles? You can follow us on Pinterest for more woodworking power tools tips and tricks.
Save on selected power tools from top brands - Shop Now on Zoro.