Is a Miter Saw Worth It? a Woodworker's Guide
Disclosure: If you click on some of the links, we may earn a small referral fee. Please know that we only recommend products that we use and believe will add value to our readers.
Want to make 90-degree crosscuts with the utmost precision? Then nothing can be a better tool than a miter saw. If you work in a full-functioning workshop, a miter saw is definitely a must-have power tool for producing quality crafted pieces. But, is a miter saw worth it?
In a miter saw, the blade is attached with a sturdy arm resting on a heavy body. Thus, allowing you to fine-tune the cuts to the blade width.
Nowadays, the most upgraded miter saws can pivot or tilt to make some perfect angle cuts. However, there are also some shortcomings of this tool that might make you question its worth.
To clear all your doubts, here we will discuss everything you need to know about miter saws and tell you which ones will surely be a bang for your bucks! Let's dive right in.
By the way, if you are into furniture making, here are 10 miter saws I recommend.
Sponsored*
First, Understand the Types of Miter Saws Available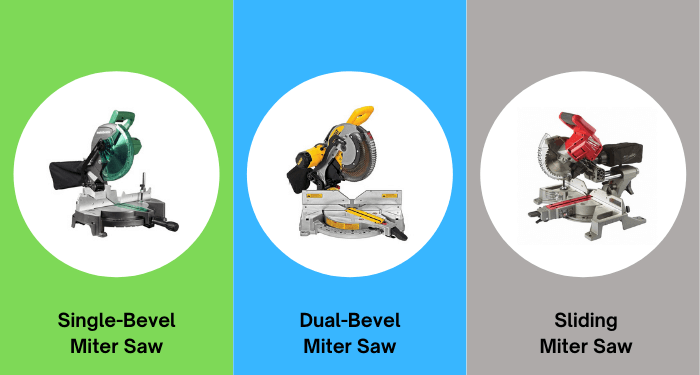 Long gone are those days when basic miter saws were used only to make simple crosscuts at 90° and 45° angles. Naturally, they are no longer recommended.
As of today, we have some better and more versatile options like the compound miter saw we have discussed below. It includes the additional functionality of making bevel cuts along with crosscuts.
The most advanced and versatile types of miter saws include:
Compound Miter Saw (Single Bevel)
With a compound miter saw, you can make all the basic cuts like a standard one and more. It offers more versatility as the tool has the ability to make both bevel cuts and miters.
You can make miters by rotating the saw blade around its base. The base will have a scale that indicates the miter angles. For bevel cuts, the tool can tilt to the left direction.
This way, it's easier to cut a piece at 2 different angles. This feature will save you a lot of hassle while installing crown moldings.
Strengths
Great for crosscuts, miter cuts, bevel cuts, and compound cuts
Easily moves around its base to make various cuts
Includes a scale to maintain accuracy
Weaknesses
Not very good for thick cuts
One-way tilt
When to Use It?
Use it for making miter, bevel, and other compound cuts in only one pass. Compound miter saws are an important tool to have while you're making crown molds, picture frames, or other projects that require compound, angled cuts.
Double Bevel Compound Miter Saw
An upgrade to the single bevel compound miter saw this one can tilt both in right and left directions. With single bevel saws, you have to flip your wooden piece to make a bevel cut on both sides.
However, when you use a double bevel miter saw, you have to flip the saw instead to make bevel cuts in both directions. This is a way better option if you're working with longer pieces.
Strengths
Cuts bevels without having to flip the workpiece
Capable of making crosscuts cuts and bevels at any angle
Saves time
Weaknesses
Requires more working space
When to Use It?
If you want to make a lot of compound cuts at different angles, using a double bevel miter saw is the best option. The tool can make simple crosscuts and compound cuts in the shortest time and most efficiently.
See this article for a full difference between the single bevel miter saw and double bevel.
Sliding Miter Saw
Also known as a sliding compound miter saw, this type is probably the best on the list. That's because it can make basic cuts along with miters and compound cuts while being able to slide forward and backwards.
As the blade has the ability to move, it allows you to cut wider pieces without any hassle. While the typical miter saws feature 6 or 8-inch blades, this one has 12-inch blades suitable for cutting longer pieces.
The main parts of a sliding miter saw include sliding rails, a miter table, and beveling that cut both in right and left directions.
Strengths
Makes both simple and compound cuts
Slides back and forth to save you tons of hassles
Features long blades that cut longer and wider pieces
Quicker than its counterparts
Weaknesses
When to Use It?
You can use the sliding compound miter saw when you have to deal with a large wooden piece. The slide rails allow the tool to make bevels and miter cuts at various angles across the length and width of any standard workpiece.
What Materials Can a Miter Saw Cut?
As we all know, miter saws are mainly used for cutting composites and manufactured wood used in construction and woodworking applications. However, the miter saw is a highly versatile wood. It can cut through a wide array of materials with the right blade.
Below we have listed a few materials that you can cut with a miter saw. Have a look.
Metals
While a miter saw isn't the best choice for cutting metals, it can be equipped with suitable metal cutting blades to do the job with perfection. Luckily, this type of blade is readily available in the marketplace. The blade can be either non-ferrous or ferrous, depending on the metal you're cutting.
For carbon steels, using a ferrous circular saw blade is the best option. On the other hand, metals like aluminum, copper, and brass require non-ferrous miter saw blades. Keep in mind that the saw will produce metal dust, debris, and sparks while working.
Treated & Composite Wood Materials
With a miter saw, you can easily cut lumber and other wooden building materials. It's the saw blade that decides how long the cut will be. The blade size can be anywhere from 7.25-inch to 12-inch.
A typical compound miter saw will feature a 10-inch saw blade. And it can easily cut a 5.5-inch slot. Sliding miter saws come with a rail system allowing you to cut even longer pieces.
Usually, the rail lengths will range from 8 to 10 inches which is enough for most woodworking projects. As for the 12-inch miter saws, they will be able to cut a 6×6 without any problem.
Stone, Brick, Tiles, and Pavers
To cut all these masonry materials, it's better to use an appropriate-sized blade with your miter saw. Typically, a concrete saw is used for such strong materials. However, using masonry blades with your miter saw will be enough to cut stone and other types of rocks.
Masonry blades are diamond blades that share many similarities with abrasive wheels. Cutting stone-type materials will produce a large amount of dust that harms the machine's accuracy.
So, you need to deep clean the saw with an air compressor to avoid problems in the future.
Here is an article on how to setup a dust collection system in your workshop
Plastics & Synthetics
Although it's not recommended, a miter saw can easily cut through both plastic and synthetic materials like vinyl laminate flooring and PVC pipes. Using melamine saw blades is the easiest way to do the job.
However, any standard saw blade would work just fine. Be careful while cutting a PVC pipe, as the heat produced in the process can cause terrible damage. Also, make sure you properly clean the bits and pieces of plastics from the blade to prevent dulling.
Related Article: Guide to choosing between a miter saw or circular saw for woodworking projects
Miter Saw vs Chop Saw: What's the Difference?
A chop saw resembles a miter saw in many ways. Both the tools include a spinning saw blade and a back fence for holding the cutting piece. Also, a chop saw and miter saw are mainly used for crosscuts.
So, if you're buying either of the tools for the first time, then it's important to know the differences between them. Here are the key differences between the tools —
Cut Types
You can distinguish between a miter saw, and a chop saw just from their ability to make angles cuts. As the blade of a miter saw can be angled differently, it can make both basic crosscuts, bevel cuts, and miter cuts. A miter cut is an angled cut made across the width of a wooden piece.
The angle can be any except for 90-degree angles. On the other hand, a 90-degree cut along the length of a piece is called a crosscut.
And the fixed blade design of a chop saw allows it to exclusively make crosscuts only. The blade doesn't miter or bevel. Instead, it cuts the strongest pieces with excessive power.
Saw Blade
Typically, a chop saw features an abrasive metal-cutting blade. Although this type of blade doesn't offer much precision, they are inexpensive and consistent in cutting soft steels. Abrasive blades are designed to easily cut through almost all types of materials, including strong metals.
However, when you use the tool, it will flex and deflect, making it impossible to maintain accuracy. As for the miter saw, it comes with a smaller, circular steel-made blade with teeth. Sometimes, carbide-tipped blades are also used with a miter saw to improve durability.
The blade of a miter saw gains a slower speed. Hence, it can make precise cuts on soft materials like wood.
Usage
A chop saw is a professional-grade tool and it is used to perform brute force cutting. It is used for a wide variety of tough materials. You can use it to easily cut metal bars, metal sheets, and rods.
If you're working on construction projects or in metalworking shops, a chop saw is the best tool to cut any type of metal. On the other hand, miter saws are for your woodworking projects. It can efficiently trim wood pieces with the highest accuracy.
You can use a miter saw for building wooden frames, flooring, chairs, tables, etc.
See this article for a full breakdown of the difference between a miter saw and a chop saw
How Much Do Miter Saws Cost?
As you already know, there are different types of miter saws available today. The price of a miter saw will depend on its type, size, and included accessories.
A miter saw can be priced anywhere from $200 for the most basic ones up to $1500 for professional-grade miter saws. If you're an average woodworker or DIY enthusiast, a $500 miter saw will be enough to fulfill all your needs.
Related article: Where is the Best Place to Buy Power Tools | 14 Top Power Tool Stores
Our Top Picks of Miter Saws for Woodworking
Now it's time to introduce you to the best miter saws for woodworking. Our top picks include all types of miter saws, from compound to dual bevel miter saws. Go through all our picks and choose one as per your needs.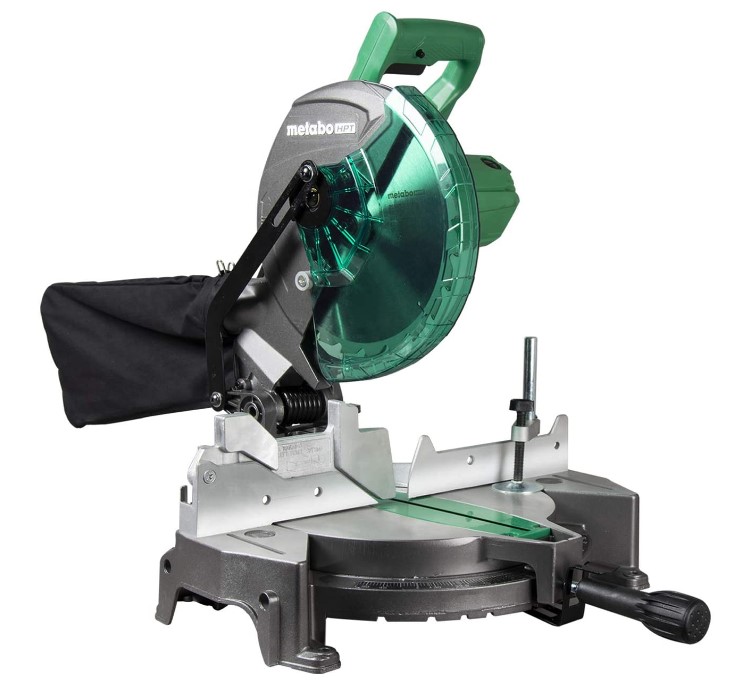 This single-bevel compound miter saw by Metabo is cheap, lightweight, and easy to use. With this 10-inch miter saw, you'll be able to make compound cuts on various angles without discounting your comfort.
If you want to make flexible cuts, this miter saw with a 0-52 degrees miter angle range can be an ideal choice. The tool features a vice clamping system to provide better material support. This way, you'll be able to secure your workpiece and make your cuts accurately.
For quicker miter adjustments, the positive stops are thumb actuated. The tool can bevel 0-45 degrees to its left. Plus, the adjustable bevel stops help you to maintain precision. As the miter saw features a 15 Amp motor, cutting the toughest wooden pieces will be a breeze for you.
The motor can generate up to 5,000 rpm! Lastly, you don't have to worry about moving the machine while handling larger woodworking projects since the machine is lightweight, weighing only 24.2 lbs.
Pros
Makes 0-52 degrees compound cuts
Features vice clamping system for better hold and stability
Powerful 15 Amp motor cuts even the strongest wood pieces
Lightweight, easy to work with
Cons
Bevels only to the left side
Get the Metabo HPT C10FCGS Miter Saw available at: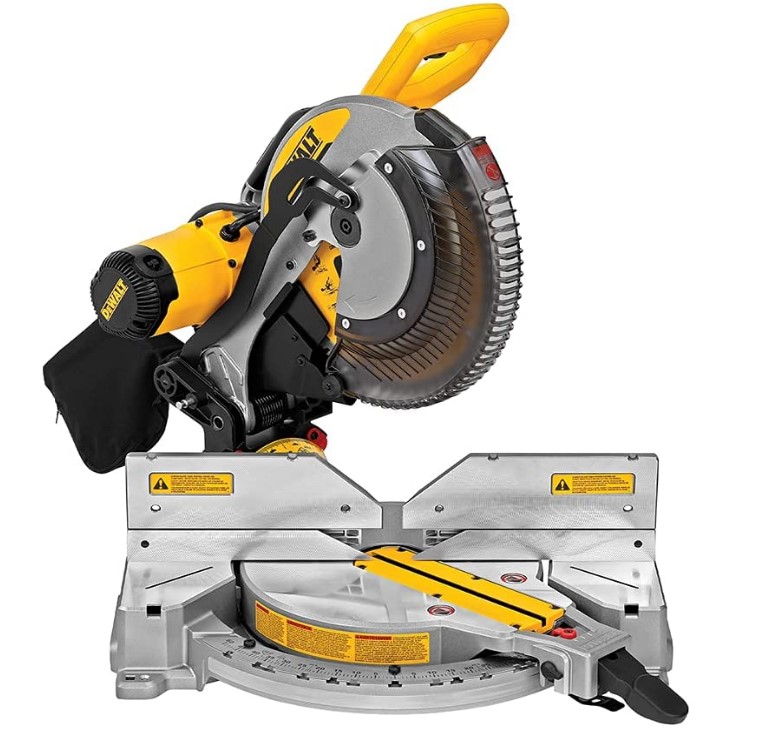 With its 15 Amp motor and an excellent miter detent plate, the Dewalt DWS716 is powerful and incredibly accurate. The motor drives at 3,800 rpm to provide you with enough power to cut through your workpiece in a very short time.
The miter detent plate is made of stainless steel and features 14 positive stops allowing you to make each cut precisely. What makes this feature handier is the cam lock system. The lock system along with the detent plate serves for repeatable accuracy and maximum durability.
Thanks to the dual-bevel design, the 12-inch miter saw can bevel from 0 degrees to 48 degrees left and right. The lightweight design and carry handle make it easier to move and transport the miter saw. Overall, this tool is all you need for crowning molds, installing picture frames and other woodworking needs.
Pros
A powerful 15 Amp motor generates sufficient power to drive 3,800 rpm
Steel-made detent plate provides accuracy and durability
Capable of beveling from 0 to 48 degrees
Easy to carry
Cons
Get the DEWALT DWS716 Miter Saw available at:
Our last pick, the DEWALT DWS780 sliding saw, comes fully assembled, allowing you to use it right out of the box! Offering 0 to 48 degrees bevels, the tool provides you with many versatile cutting angles for professional woodworking.
You can use the 10 integrated positive stops to select your desired sawing direction without wasting any downtime. The efficient dust collecting system includes a rear-mounted dust collecting sack that collects over 75% of produced dust.
Sponsored*
Hence, your workplace remains clean from harmful waste. To handle larger workpieces, the tool features ball-bearing driven rails. The sliding rails allow you to make larger cuts with accuracy and precision.
With its 15 Amp powerful motor, the 12-inch blade cuts through even the sturdiest pieces. The cam-lock handle offers maximum stability while driving. Altogether, this miter saw is surely a bang for your bucks.
Pros
Offers 0 to 48-degree bevels
Efficient dust collection system keeps the machine clean
Dual horizontal steel-made rails for smooth sliding
Features a 12-inch saw blade with ten positive stops
Cons
Get the DEWALT DWS780 Miter Saw available at:
Conclusion
So there you have it all. We have covered everything you need to know about a miter saw. Now let's get back to the question, is a miter saw worth it? The answer is yes, a miter saw is worth it whether you're a professional woodworker or DIY enthusiast.
A miter saw is an essential tool if you want to make intricate pieces with maximum accuracy. Also, the tool is available in various price ranges. In case you want a cheaper and simpler one, go for the Metabo HPT C10FCGS single bevel miter saw. For everyday professional uses, you need to spend more money to get a more advanced sliding or dual-bevel miter saw.
Enjoy our articles? You can follow us on Pinterest for more woodworking power tools tips and tricks.
Save on selected power tools from top brands - Shop Now on Zoro.