3 Reliable Japanese Power Tool Brands for Woodworkers and DIYers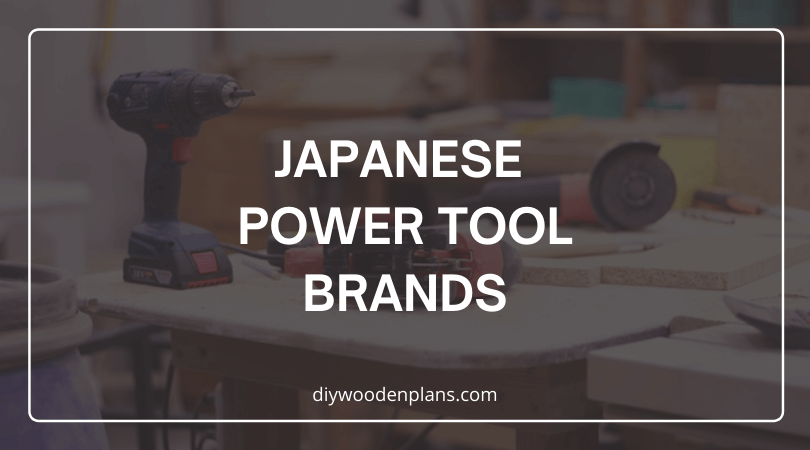 Disclosure: If you click on some of the links, we may earn a small referral fee. Please know that we only recommend products that we use or believe will add value to our readers.
As a woodworker, I'm always looking for the best power tools out there. Japanese brands have a reputation for making quality tools, and so I decided to do some research on the best Japanese power tool brands. After much deliberation, I narrowed it down to three brands that I think are the most reliable for woodworkers and DIYers.
In this blog post, I'll be discussing why these three brands are worth considering, as well as showcasing some of their most popular products.
Top Japanese Power Tool Brands
Just like some other countries, when it comes to power tools, Japan is a powerhouse. Brands like Milwaukee and Dewalt may be household names in the U.S., but don't downplay Japanese brands when it comes to quality and reliability.
If you're a woodworker or DIYer looking for a new power tool, you should definitely check out some of these top Japanese brands. Even if you're already familiar with the big American names, I promise you won't be disappointed with the quality of these tools.
Read on for my list of three top Japanese power tool brands that are sure to exceed your expectations!
Note: The general rule I have followed to list a brand here is that the brand must have started in Japan.
Note: Metabo HPT is not the same as Metabo. They are two distinct brands, despite being owned by the same investment company, KKR.
Hitachi (now Metabo HPT) has a long and rich history, dating back to 1910 when the company was founded as Japan's first manufacturer of electric motors. Hitachi soon began producing power tools, and by the 1960s had become a leading supplier of portable electric power tools to the global market.
They rebranded since then and had their name changed from Hitachi to Metabo HPT in 2018.
Currently, the Metabo HPT has a wide range of power tools that are perfect for both personal and commercial use. Some of their most popular tools include the drills, table saws, and sanders, Miter Saw and Impact Drill.
The Metabo HPT is a great choice for anyone looking for high quality power tools. Not only are their tools durable and reliable, but they also come with a wide range of features that make them perfect for any application.
Top Products:
Shop for more Metabo HPT Power Tools at:
Ryobi initially started as a Japanese brand that specializes in making products and equipment that are used for electronics, telecommunication services, automobiles, printing equipment and hardware.
Ryobi was established by Yutaka Urakami in 1943, in Fuchu, Hiroshima, his hometown. In 1968 they expanded into power tools. Since then, Ryobi has taken a large step in growing its market.
Fast forward to today, Ryobi is currently owned by Techtronic Industries, the same company that owns Milwaukee Tools. Even though the latter is designed for professional use, Ryobi products fit the needs of DIYers better.
Ryobi's line of power tools features over 225 different types of innovative tools designed for plumbing, fastening, drilling, cutting, trimming, edging, and many more.
Top Products:
Shop for more Ryobi Power Tools at
Check out my complete review of the Makita power tool brand here
Although sold in many parts of USA, Makita originally came from Nagoya, Japan.
Makita, which was before known as Makita Electric Works, was founded in 1915 by Mosaburo Makita.
He began retailing lighting equipment and transformers while also repairing them. The first product in his business was an electric hand planer. As years passed, Makita evolved its product line by adding portable power tools, which later on they exported globally.
Today Makita Power tools can be found in several locations including France, the United Kingdom, Australia, Canada, USA, Switzerland, Russia, China, Thailand, Hong Kong, and many other countries.
Makita's power tool collection consists of sanders, hammers, routers, cutting saws, angle grinders, impact drivers, and many others which are all power tools designed for carpentry and woodworking. Among all these, Makita highlights its cordless tool choices featuring the 18V single voltage power tools.
Top Products:
Shop for more Makita Power Tools at:
Final Words
So there you have it, three of the best power tool brands from Japan. Have you used any of them before? Let me know in the comments below. And if you're looking for a little more information on German brands, be sure to check out my other posts on the top German tool brands for DIYers
Enjoy our articles? You can follow us on Pinterest for more woodworking power tools tips and tricks.
Save on selected power tools from top brands - Shop Now on Zoro.