Jigsaw Or Circular Saw: Which Is More Important For Woodworkers?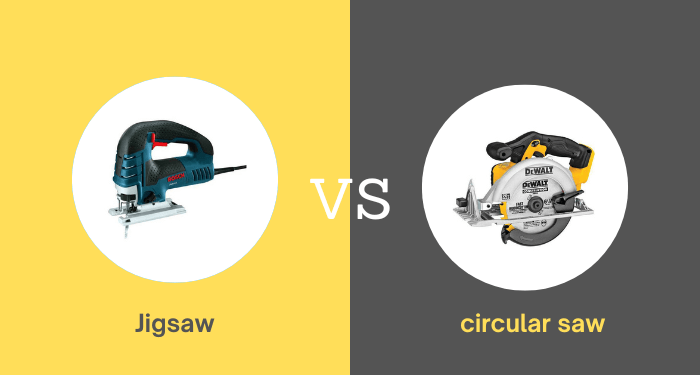 Disclosure: If you click on some of the links, we may earn a small referral fee. Please know that we only recommend products that we use or believe will add value to our readers.
Jigsaw and circular saw look different, but the way they function may lead a lot of people to ask whether they're any different or not. If you've ever questioned the same, this article may be for you as it'll help you conclude.
Both circular saws and jigsaws are important for woodworking. In fact, one can't be replaced with the other. So, as a beginner, should you choose a jigsaw or circular saw?
We believe jigsaws are more important for woodworkers who're starting. Jigsaws let you make various types of cuts that are both straight and angular. These not only offer variety, but they also let you train your hands better.
In this article, we'll discuss the topic further, and we'll also explore various aspects such as the strengths and weaknesses of both saws, discuss factors you need to consider beforehand, and compare them side-by-side.
So, let's get started!
Sponsored*

Overview of The Jigsaw
There are more than 16 types of power saws for woodworking, but Jigsaw is one of the most widely used.
The Jigsaw is a professional woodworking tool that lets you make complex cuts at different angles. It's very versatile and will let you work on different kinds of projects.
The Jigsaw comes with a blade vertically installed on its metal housing. There's a blade guard that'll prevent injuries and accidents. It has a shoe made of high-quality metal that'll help you guide the blade.
Due to the vertical orientation of the blade, the saw lets users make creative cuts. Whereas the blades of a circular saw spin, one of the jigsaws moves up and down, also known as pendulum motion.
This is because, while the blade moves upwards, it actually cuts the wood. However, when it moves downwards, it strays backward and doesn't chip the wood.
Click here for our top 10 jigsaw recommendations.
Strengths And Weaknesses of The Jigsaw
Jigsaws have a ton of advantages, but there are certain disadvantages to them as well. Let's discuss these in detail.
Strengths
Jigsaws Are Versatile. Thanks to the way they function, you can use jigsaws for making different kinds of cuts, even those of compound angles. This is why jigsaws are highly used by professional woodworkers and sculptors.
These are one of the few woodworking tools that let us create internal patterns. If you need to cut internal shapes from a material, all you need to do is bore a hole into it. Enter the blade through the hole, and you'll be able to cut all sorts of patterns.
You'll be able to cut more kinds of materials and even certain metals with jigsaws. While circular saws have better motors, jigsaws are actually more powerful as circular blades take up a lot of the power for spinning. With appropriate blades, you'll be able to cut through aluminum too.
Jigsaws are best for making plunge cuts. While you can make a plunge cut with a circular saw with some effort, it'll have to be straight only. With a jigsaw, it can be at an angle or curved too.
Scribe cuts are important as they allow you to shape wall fittings into the shape of crooked walls. Scribe cuts can be done with jigsaws only.
Last but not least, jigsaws are quite clean to work with. As mentioned previously, they don't leave much dust behind. So, they're easy to work with and don't require much cleanup.
Weaknesses
Jigsaws produce one of the cleanest and most precise cuts. However, you'll need quite some experience to handle it accurately.
Making long and straight cuts can be tough with jigsaws as these tend to bounce often. So, we wouldn't recommend these for making straight cuts.
My Top Jigsaw Recommendations
The JS470e is a powerful jigsaw from Bosch. Although it's a high-quality jigsaw, its low price range makes it affordable for hobbyists and DIYers as well. It's equipped with a 7-amp motor that's capable of juicing out sufficient power.
You'll get variable speed options, and there's also a pressure-sensitive trigger that lets you fine-tune the speed on the fly. You can change the blades of this jigsaw without any tool.
Unlike most jigsaws, this produces a very low vibration, thanks to the built-in vibration dampeners.
Very powerful despite the low price point
Variable speed buttons
It's very steady as it doesn't vibrate much
Lets you change blades without any tools
You can't equip U-shank blades on it
Hard to use in dim-lit spaces as it doesn't have lights
2. Dewalt 20v Max XR Jig Saw (DCS334B)
Equipped with a brushless motor, the DCS334b from Dewalt remains one of the most efficient jigsaws on the market. It's equipped with all the fancy features such as an LED light, variable speed, trigger lock-off, built-in blower, and 3 orbital modes.
This should be your choice if you want something professional, intuitive, and easy to use. The only major drawback of this tool is that it doesn't offer a cutline indicator. So, it can be a bit confusing for beginners.
Efficient, brushless motor
Ergonomic build
Doesn't produce much vibration
Lets you change the blades and adjust bevels without any tool
The stroke rate of this tool is a bit low compared to industry standard
Overview of The Circular Saw
Unlike Jigsaws, circular saws come equipped with a huge blade that spins very fast. The blade of a jigsaw can have a diameter ranging anywhere from 85mm to 235mm. So, due to the higher coverage, these aren't as good as jigsaws at making curved cuts.
That being said, these are considered superior for making straight cuts. The main reason behind this is their speed. These blades spin super-fast and are capable of cutting boards of wood in minutes.
Also, due to the unique way these function, the blades can help you make precise and clean cuts.
Find how circular saws and reciprocating saws differ from each other here.
Strengths And Weaknesses of The Circular Saw
The circular saw is a very balanced tool. It's not perfect, but it gets some basic things done in the best possible manner. Taking a look at its strengths and weaknesses will explain further.
See my top 10 best circular saws for beginners
Strengths
Circular saws are equipped with powerful motors. While these motors don't convert to high power, they do offer a very high speed. This allows the circular saw to cut through wooden boards in minutes.
If you need straight cuts, circular saws are the best way to go. They facilitate straight and precise cuts across entire boards. In fact, with some experience, you'll be able to make straight cuts even without guidelines. Still, using a rail will help you get a precision cut.
You can cut different materials with circular saws. However, you'll require different blades depending on the material you're cutting.
With circular saws, you can perform a perfect miter cut. It can also perform good bevel cuts, rough rips, and 90-degree cuts.
The blade is one of the best strengths of the circular saw. These blades are very durable and can last a long time.
Weaknesses
These usually get very loud, so they're tough to use in dense neighborhoods.
Circular saws are very heavy and hard to carry or set up. So, expect to use them in your workshops only.
There's a chance of leaving a rough cut with circular saws. These are essentially straight cuts but not as precise or smooth.
The design of circular saws won't let you make curved or angular cuts.
My Top Circular Saw Recommendations
1. Skil 15 Amp 7-1/4 Inch Circular Saw
This circular saw from Skil is a tool packed with tons of quality features. Its design is ergonomic. Thanks to the rubberized grip, it's easy to use and hold. There's also a laser on it that'll help you figure out what you're cutting.
It's also equipped with a dust blower that can make cleaning a lot easy after each operation. Sadly, it comes with a traditional brake system. We would prefer an electronic one for this price range.
Lets you cut accurately with an integrated laser
The design is compact and ergonomic
Comes with a carrying bag
Very lightweight
Doesn't have an electric brake
2. Dewalt 6-1/2-Inch 20v Max Circular Saw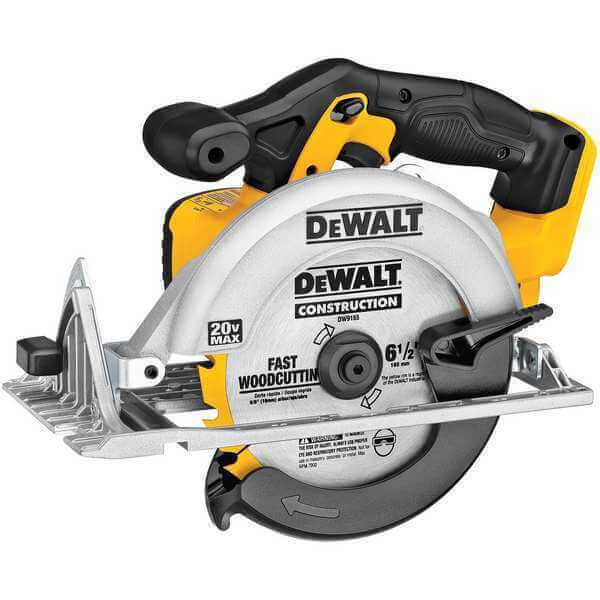 We also recommend the Dewalt DCS391B. It's equipped with a 5250 RPM motor that isn't only powerful but precise and fast as well. We're dubious that you'll find a more power-packed circular saw in its price range.
It has a quality build as well. The shoes are made of magnesium, so they offer durability as well as speed. Also, there's a rubber molded grip that'll let you rip through woods aggressively.
This is perfect for those who're used to old-school design. It comes in the same design, the only difference being the upgraded line of sight. Also, a break blade feature will let you stop the saw fast.
Old school design revamped with some enhancements
Break blade feature for stopping the saw instantly
The magnesium shoe is light, durable, and fast
A rubberized grip lets you handle it easily
The 16-tooth blade limits certain functions
Jigsaw vs Circular Saw: Side-By-Side Comparison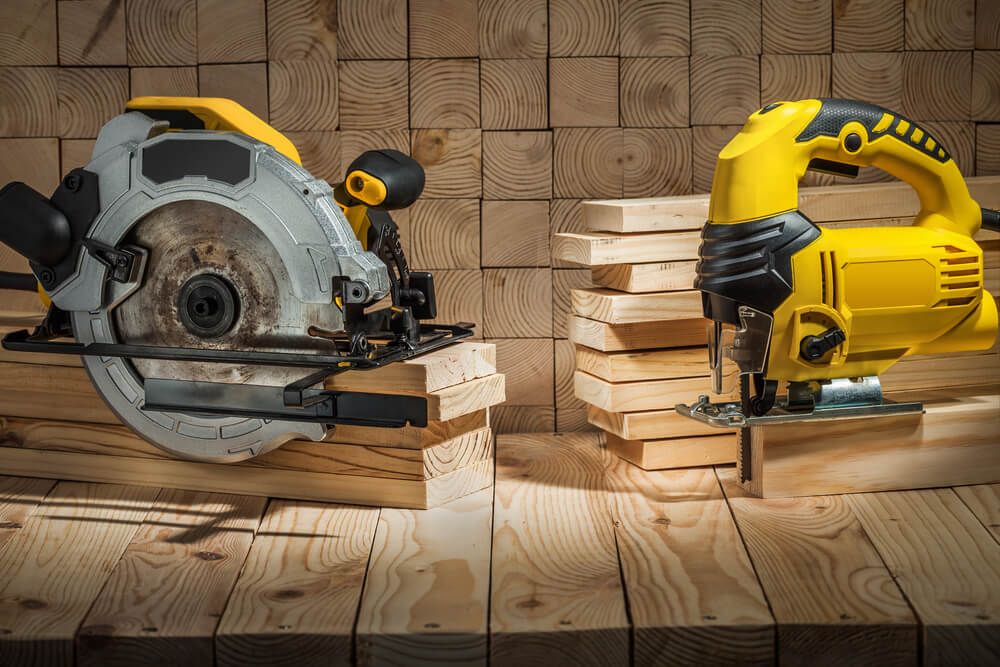 Should you get Jigsaw or circular saw? Here's a side-by-side comparison so you can find out what's right for you.
Blade Types
Circular saws have large blades. The diameter of the blades can range anywhere from 85mm to 235mm. On the other hand, jigsaw blades are around 100mm long.
Also, circular saws and jigsaw blades are completely different in their designs. The jigsaw blades are straight and thin. Also, they have teeth only on the front end. This makes the blade suitable for vertical mounting.
On the other hand, circular saw blades are round and have blades all across their perimeter. Circular saw blades are much more durable than jigsaw blades.
Cutting Ability
Circular saws are capable of cutting through wood, plywood, acrylic paste, plastic, MDF, and in some cases, even aluminum bars with the right blade.
Jigsaw can cut wood, ceramic tiles, and even metals. Just like circular saw blades, there are different kinds of blades, and each blade is appropriate for cutting a different material.
Shape And Form
There's a striking difference between the body shapes of the jigsaw and circular saws. Jigsaws come with a top handle, and this provides much better control over the tool. Also, the handle makes it comfortable to hold, no matter how you're using it.
On the other hand, circular saws have a handle on the front. This handle lets you push the circular saw but controlling the speed is tougher with this. So, making any cut other than straight ones with the circular saw is hard.
Jigsaws aren't very heavy as they weigh anywhere between one and a half to two and a half kg without the battery. The battery itself can weigh around 3 kg. However, circular saws can be much heavier. These saws weigh around 10kg. Due to their weight, they're much harder to carry around.
Usage/Learning Curve
Circular saws are extremely easy to work with. Even if you are a complete beginner, you'll be able to make precise cuts with these as long as you have guide rails. With some experience, you'll also be able to make quality cuts without the rails.
On the other hand, jigsaws are comparatively tougher to work with. This is because jigsaws aren't made for making straight cuts. You must use these for compound angle cuts, which are complicated for beginners. So, using jigsaws does require some intensive training.
Also, these saws can't be used interchangeably. So, depending on the type of cut you want to make, you'll need to get either the circular saw or the jigsaw.
Cutting Capacity And Speed
Circular saws have a greater cutting speed and depth than jigsaws. The cutting depth is greater as the radius of the circular saw blade is greater than the length of the jigsaw blade. So, the cutting depth of circular saws is 2.5 inches compared to the 1.5 inches of Jigsaws.
Also, the cutting speed of circular saws is much higher than jigsaws. This is mainly due to the difference in their motions. While circular saws rotate, jigsaws oscillate in a pendulum motion. This is why jigsaws are a bit slower.
Cost
The cost of circular saws and jigsaws is close. The price of circular saws can range anywhere from $50 to $200. On the other hand, jigsaws can cost you anywhere from $30 to $300. So, the price shouldn't be a factor when picking one or the other.
Safety
Both circular and jigsaws come equipped with blade guards and emergency switches. So, both are considered equally safe as long as you maintain the basic safety regulations of using a workbench.
Table of Differences
| | | | |
| --- | --- | --- | --- |
| | Jigsaw | | Circular Saw |
| Cutting Ability | Wood, metal, ceramic tile, particleboard | | Wood, masonry, ceramic |
| Learning Curve | Steep | | Gentle |
| Cutting Depth | 1.5 inches | | 2.5 inches |
| Blade Type | Straight blade with teeth on one side | | Round blades with teeth on the sides |
| Price | Affordable | | Affordable |
Jigsaw Or Circular Saw: Which Should I Buy First?
As a woodworker, you should buy a jigsaw first. Circular saws are great for chopping up a lot of wood as these are faster. However, these will also limit you as they won't let you perform different sorts of tasks.
On the other hand, jigsaws offer more versatility in terms of how you can cut. So, these will not only cover a greater range of tasks but also let you train yourself in the art of woodworking. Also, jigsaws are much more portable, so you can carry them with you.
Therefore, you should buy a jigsaw first.
Here is how the circular saw compares with a miter saw
Frequently Asked Questions (FAQs)
Can I use a jigsaw in place of a circular saw?
Sponsored*
No, you can't because a jigsaw can't cut as precisely as a circular saw. Also, jigsaws aren't particularly good at cutting straight lines.
Why can't I cut straight lines with a jigsaw?
Jigsaws aren't really good for making straight cuts. For that, you'll need a circular saw as these are much more precise.
Are cordless circular saws worth it?
Yes, They is worth it. One of the major flaws of a regular circular saw is its portability. The cordless version solves this problem. These are lightweight and can be used without a cord, so they're great for portability.
Final Verdict
So, jigsaw or circular saw, which one should you get? In our opinion, you should get the jigsaw first. This one is not only more versatile, but it'll help you hone your skills as well.
Circular saws can be used easily with a guided rail. However, these won't help improve your woodworking skill much. This is where a jigsaw truly shines. So, we believe the jigsaw is more important.
Enjoy our articles? You can follow us on Pinterest for more woodworking power tools tips and tricks.
Save on selected power tools from top brands - Shop Now on Zoro.