Lathe Power Tool For Woodworking| Beginner's Guide | Woodturning Basics
Disclosure: If you click on some of the links, we may earn a small referral fee. Please know that we only recommend products that we use or believe will add value to our readers.
Do you want to take your woodworking game to the next level?
Are you looking to learn woodturning?
Do you want to be able to take on projects like making a spoon, bottle stopper, pen or even a chess piece?
If you answered yes to any of these questions, then you will need to add a lathe woodworking power tool to your workshop.
In this article, I will walk you through everything you need to know about lathes woodworking power tools and how they can be used for woodturning. If you follow me till the end, you should become familiar with the lathe woodworking machine even if you haven't used one before.
Overview of Wood Lathes
Often, woodworking involves cutting down a solid piece of wood to come up with a custom-shaped finished product. With precise cutting tools, just about any wood can be shaped without losing its mechanical strength.
The lathe woodworking machine is one of the oldest woodworking tools that can be used for shaping down wood stock. It rotates a piece of wood around a horizontal axis so that you can sand, drill, face, cut and turn the wood into a finished shape.
The science of using a woodworking lathe together with hand tools to cut symmetrical shapes on wood stocks is what has popularly been known as woodturning.
While this article isn't exactly going to teach you woodturning, it is more focused on the lathe power tool. If you can fully understand how the wood lathe works and consistently practice with it, then, of course, your woodturning skills improve quickly.
How To Use A Woodworking Lathe
You must first secure the wood piece in the lathe and ensure that it is tight enough so that it doesn't fly off when you begin work.
Position the tool rest so that you are at a comfortable distance between the wood stock and the cutting tool.
Turn on the wood lathe, starting with the lowest speed and increase it gradually.
Once the lathe is rotating at your desired speed, you can use your cutting tool to begin cutting the wood stock into the shape you want.
When you are satisfied with the result, drop the cutting material and turn off the lathe machine.
Do not touch the wood piece until the lathe machine has stopped completely.
Tip: If you are a beginner, always test with small pieces before attempting full projects.
Types/Sizes of Woodworking Lathe
Although woodworking lathes come in various sizes, we can group them into three categories; mini, midi and full-size lathes. Below is a table summarizing the three categories.
Distance Between Centers (DBC): This determines the maximum length of wood that can be used in the lathe. It is the distance between the lathe's headstock and the tailstock.
Swing Over Board (SOB): This is the maximum diameter of wood that can rotate in the lathe. The bigger the SOB the larger the wood piece the lathe can take.
1. Mini Lathes
They are sometimes called benchtop lathes. A lathe is called a mini lathe if its DBC is 20in or less and its SOB is 12in or less.
Related: Here is my review of the 8 top mini wood lathes for woodturning
This represents the smallest size of lathes, hence it is a great option for woodworkers with small workshops. It is also the most affordable option, making it suitable for woodworkers who are new to woodturning.
Recommended Mini Lathe: WEN 3.2-Amp 8-Inch by 12-Inch Variable Speed Mini Wood Lathe
2. Midi Lathes
The midi lathes fall somewhere in between the mini and full-size lathes. They were designed to be compact like the mini-lathes while having the power potential of a full-size lathe. This gives you the flexibility of taking on larger projects without sacrificing workshop space.
See our review of the top 6 midi lathes in the market.
Its DBC ranges between 20in and below, while its SOB is either 12in or above
Midi lathes are more expensive than mini-lathes, but they are still very affordable compared to full-size lathes.
Recommended Midi Lathe: Delta 46-460 12-1/2 In. Variable-Speed Midi Lathe
3. Full-Size Lathes
As the name implies, this represents the biggest and most powerful category of lathes. What this also means is that they the most of expensive of the pack.
They feature a DBC of over 45in and an SOB that exceeds 15in, allowing you to take on larger varieties of woodturning projects (baseball bats, chair, table legs etc)
I will only recommend full-size lathes if you are an experienced woodturner and you have the workshop space to accommodate it
Recommended Full-Size Lathe: Jet 719500 JWL-1640EVS 16″ X 40″ Variable Speed Wood Lathe
Woodworking Lathe Accessories
Lathe accessories enable you to get the best results when working with lathes. They also refine your experience and open you up to a whole new window of exciting woodturning ideas.
There are so many woodworking lathe accessories. Some of them come bundled with the lathe machine, the others you have to get them separately.
Nevertheless, from my experience, the most important lathe accessories are a lathe stand, chisels, gouge, spring calipers, hones, chucks, grinding systems and a safety power tool switch.
Here is a more detailed article on the essential lathe accessories for woodturning
Safety Precautions To Take When Using a Lathe To Turn Wood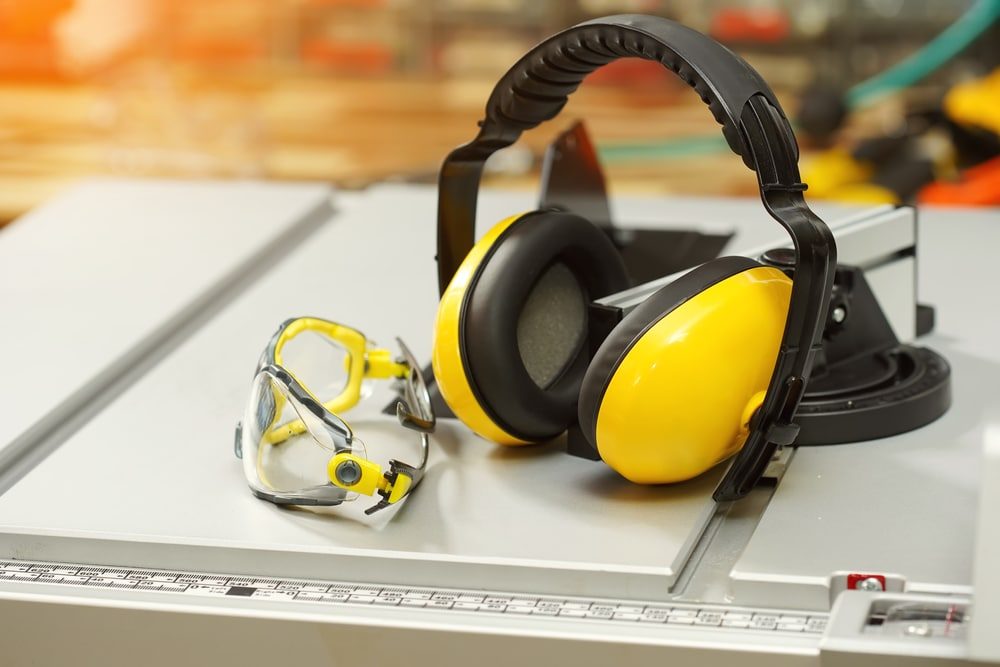 Although the woodworking lathe is relatively safe to handle, if you don't use it properly it can still harm you.
Apart from the general safety precautions to take when using power tools, here are specific safety precautions you must observe when using a lathe.
Before turning on the lathe, make sure all the fittings and clamps are tight and that the wood piece is free to turn.
Always put on safety glasses or face shield to protect your face from flying wood chips.
Use earplugs to keep your eardrums safe from the damaging sound the machine produces.
Do not turn stocks that have defects (cracks, splits, knots or foreign objects).
Make sure to use only tools that are meant for woodturning with lathes.
Make sure the tool rests are parallel, while also being as close to the stock as possible.
Do not operate the lathe at speeds beyond the manufacturer's recommendation. Also bear in mind that the actual speed of the lathe will depend on the diameter of the stock, type of wood, type of tool used and nature of work being done.
When polishing or sanding, remove the tool rest.
Use suitable tools to hold the sandpaper when possible. For example, you could fix the sandpaper to a piece of flat wood.
When you have to use your hands, hold the paper in such a way that the stock cannot grab, pull or entangle with it.
To make a faceplate turning, use one hand to steady the tip of the chisel (this keeps the edge against the tool rests) and the other hand to guide the tool. Try to hold the tip of the chisel higher than the handle.
Always turn off the lathe and lock the machine when making adjustments to the setup.
Note: The location of the lathe's power switch may be hard to reach or even inaccessible. I will recommend you use a safety power tool switch. This makes the shutdown process extremely easy and quick.
Factors To Consider When Choosing A Woodworking Lathe
To enable you select a high-quality wood lathe that will perform as expected and pay off itself, the following factors must be considered.
Tool Rest:
This is a feature of convenience and safety. This tool rest is a bar where you can position your cutting tools so that they remain fixed while you use them to shape the rotating wood.
Benchtop and midi lathes usually come with a tool rest that fastens directly to the lathe, while full-sized lathes come with extended tool rests that fold out from the lathe.
Headstock and Tailstock:
The headstock of a wood lathe usually has a spindle that extends to the center of the wood and pierces the wood piece. While, the tailstock, on the other hand, needs to be adjusted to fit the length of the wood that you are placing in the center.
The headstock and tailstock combine to give the wood piece a pincer-like grip and ensures the cutting is symmetric.
Capacity:
The capacity of a wood lathe is determined by the DBC and SOB (explained earlier).
Power and speed:
The speed of the lathe is directly proportional to its power. The higher the horsepower rating of the lathe's motor, the faster the speed of the lathe and the bigger the projects you can work on. Mini-lathes usually have the slowest speed, while full-sized lathes have the fastest.
Base:
The base of a wood lathe shouldn't be overlooked as it provides a solid foundation and absorbs vibration when working. I will recommend a wood lathe with a cast iron base.
Which is The Best Lathe For Woodworking?
Below are the best-selected lathes for each category.
The type of woodworking lathe you will need will depend on the power output/speed you need, the amount of space you have, and the type of projects you want to create.
Generally, you should go for a mini or benchtop lathe if you are a newbie, have a small workspace and you build small projects.
Full-size woodworking lathes are a little bit advanced, they consume a lot of space, but can turn projects of large diameter.
Midi Lathes are for those that fall somewhere in the middle of a mini and a full-size lathe.
If you are serious about woodturning, I will suggest that you go for the full-sized lathe as it gives you room for expansion. Remember, with the full-sized lathes you can turn both small and large pieces of wood.
FAQs About Woodworking Lathe
Before I round off this article, here are some frequently asked questions by other readers.
Q. Are all types of wood suitable for use in a Lathe?
No. Hardwood is the best wood to turn in a lathe. Some examples are; beech, ebony, rosewood, hickory, mesquite. European yew is a softwood, but it is still ok, especially if you are turning cabinets or furniture parts.
Q. What can I make with a woodworking lathe?
You can make a wide range of wood projects, including; bangles, bottle stoppers, pens, bowls, chess piece, goblets, spoons, baseball bats, rings etc.
Final Words
I must say that there is this satisfaction derived from watching wood parts take shape on a spinning lathe.
I usually look at woodturning as a sub-niche within woodworking. It is not a must-have skill, but it can supplement your overall woodworking skill.
Woodturning in a lathe has a steep learning curve. The only way you can get better at it is by constant practice. If you are an advanced woodturner, I would love to have your opinion added to this article. Please drop a comment below.
You might also want to see our article on the 9 must-have woodworking power tools for every workshop.
Enjoy our articles? You can follow us on Pinterest for more woodworking power tools tips and tricks.
Save on selected power tools from top brands - Shop Now on Zoro.