Mini Wood Lathe Reviews: The 8 Best Options on the Market
Disclosure: If you click on some of the links, we may earn a small referral fee. Please know that we only recommend products that we use or believe will add value to our readers.
If you're in the market for a mini wood lathe you will notice that there are plenty of options out there. With all these options and models from different brands, it can be hard to decide which one is right for you.
That's where we come in. In this post, we've gathered the best mini wood lathes to help you decide which one perfectly fits your needs.
Although this review is tailored for those new to woodturning, if you a seasoned pro don't cancel out. There's still a chance you'll pick up a few new ideas.
Below are my best 8 mini wood lathe reviews.
A Brief Overview of Mini Wood Lathes
Mini wood lathe represents the smallest size of lathes. Some call them benchtop lathes. It is the most affordable and the most suitable option for woodworkers who are new to woodturning, have a small workspace and build small projects.
Sponsored*

A mini wood lathe can also come in handy for DIYers, who like to experiment with designing multiple household items, including table, chair legs, boxes, plaques, and fancy wood spindles for the staircase. Not to mention, some enthusiasts also use the tool to carve out kitchen utensils, bowls and frames.
For full details on the lathe power tool see our beginner's guide to wood lathe for woodturning.
Best Mini Wood Lathes—Recommended Options
Here is a list of the best mini wood lathes available on the market. These lathes offer excellent value for money.
| Mini wood Lathe | Image | Power rating | Variable speed | Remark | Price |
| --- | --- | --- | --- | --- | --- |
| JET JWL-1221VS Wood Lathe | | 1hp | Yes | Best Overall | Check Price |
| SHOP FOX W1704 Benchtop Lathe | | 1/3 hp | Yes | Most affordable option | Check Price |
| WEN 3421 Benchtop Wood Lathe | | 3.2A | Yes | Good for beginners | Check Price |
| Excelsior Mini Lathe | | 1/2 hp | Belt Pulley | Best for heavy-duty use | Check Price |
| NOVA 46300 Comet II Mini Lathe | | 3/4 hp | Yes | Most compact in size | Check Price |
| Grizzly H8259 Benchtop Wood Lathe | | 1/2 hp | 5 speed ranges | Most firmly built | Check Price |
| RIKON 70-105 Mini Lathe | | 1/2 hp | 5 speed ranges | Designed for pen turners | Check Price |
| Delta 46-460 Midi Lathe | | 1 hp | Yes | For advanced users | Check Price |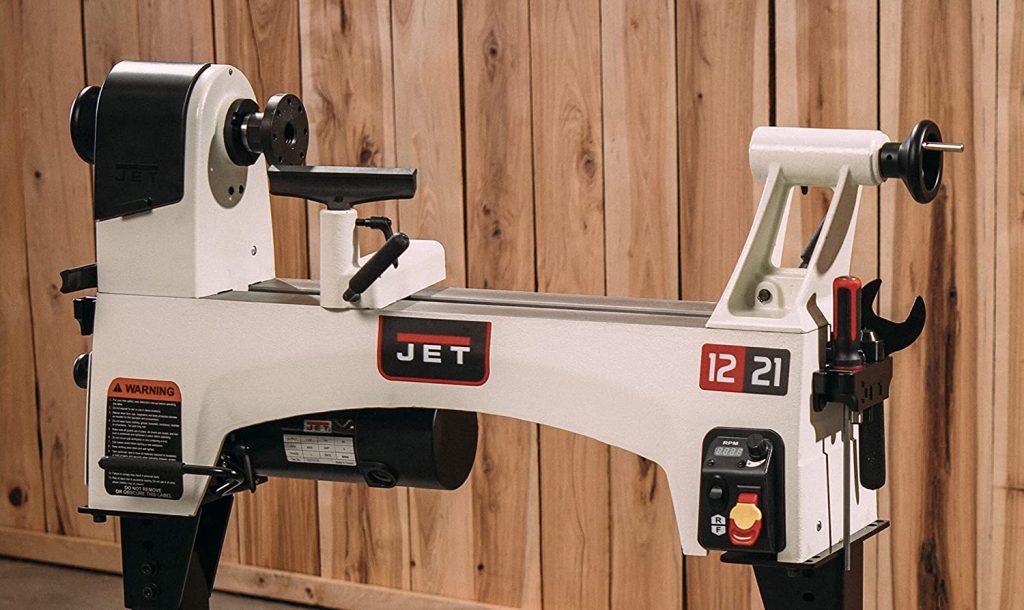 This JET woodworking Lathe is designed for ease, gives control to the woodworker, and makes the turning experience smooth.
The JET wood lathe is designed with a ratchet-styled tension belt system and allows speeds ranging from 60 to 3,600 RPM. This speed range gives woodturners more control over their projects.
Additionally, the motor in this wood lathe offers 1hp and an amperage 10 amps. Its 121-pound weight and cast iron composition allow it to reduce vibrations. In addition, it has 24 workpiece positions that a woodworker can use at their convenience.
It features a powerful 1hp motor for turning small to medium scale projects
The controls are convenient and easy to use
It features forward to reverse transitions
It comes with a variable speed control feature
It gives a clear digital display
It is slightly expensive for a mini wood lathe
It is not very portable
Shop Fox is known for being budget-friendly and offers a discounted W1704 benchtop lathe, making it one of the cheaper options. This wood lathe by Shop Fox is made of cast iron and explicitly designed, making it convenient to keep on any workbench.
The motor of W1704 offers 1/3 horsepower along with a variable speed motor that enables the speed to range from 700 to 3200 RPM, which proves to be convenient when dealing with hardwood or softwood.
Moreover, the benchtop faceplate is 5-3/4 inches and can be threaded onto the headstock spindle, making it easier to carve round objects. It has two tool rests that are 4-12 and 7 inches, which makes handling the carving tools easier.
Also, the 8-inch swing-over bed and 13-inch distance between centers make it suitable for projects that demand a lot of turning.
It is very affordable
Its cast-iron composition makes the lathe stable with less vibrations
The 5-3/4 inches faceplate means it is ideal for turning bowls
It comes with variable speed controls
It comes with two tool rest
The 1/3hp is not powerful enough for large scale projects
The WEN 3421 Wood Lathe offers a speed that ranges from 750 to 3,200 RPM that gets controlled with the help of a knob. This wood lathe comes with an MT1 spindle, providing a beginner with the best experience in learning their craft.
Furthermore, its light weight allows it to move from one place to the other quickly. The motor runs on 3.2 amps and starts steadily to prevent any harm.
It also comprises a flat wrench, tail-stock cup center, a knockout round, a headstock spur center, and a 5-inch faceplate used to move non-spindle objects. The lever clamping system is very convenient to use.
This is a compact and light-weight lathe
It is affordable for newbie woodturners
It has variable speed change controls
It comes with a 5″ integrated faceplate for turning non-spindle pieces
It has dual tool rests
The motor is not very powerful
It is not suitable for turning bowls
The Excelsior Mini Lathe is made of cast iron and is worth its price as it offers heavy-duty 1/2 horsepower at 370 W and 83 lbs. It can turn 10-inch-diameter bowls and spindles up to 17-3/4 inches in length.
Excelsior Mini Lathe comprises a convenient door that enables access to the belt and offers a speed ranging from 760 to 3200 RPM. It consists of a spur center on its headstock and a tailstock center that is ball-bearing. The safety switch is removable. It has a rubber base and is stable at high pressures.
Its motor is quite powerful for a mini lathe
A solid cast iron build means it doesn't vibrate
It has a convenient belt access door.
It is capable of running for long periods without overheating.
This lathe is pretty tough and can withstand harsh environments
It's not very portable like the other options
This NOVA Mini Lathe comprises a 3/4 horsepower electric variable speed motor that offers a range of speeds from 250 to 4,000 RPM. Its forward and reverse switches provide extra flexibility for a top-notch finish.
In addition, the 12-inch swing over the bed and the 16.5-inch swing between centers make it capable of turning projects of a wide variety.
The 3-Pulley System provides it with flexibility over different ranges of speed. Its solid iron cast composition gives it strength and absorbs vibrations. The overall experience is smooth, requiring the minimum time for the finishing process.
It features an improved ¾ horsepower motor
Good speed range from 250 to 4000 rpm
The 3 Step Pulley System allows a smooth experience over different ranges of speed.
It has a 12" x 16 ½" capacity which is suitable for most small scale projects
The lathe is lightweight and compact
It is a little bit expensive
This Grizzly Bench-Top Wood Lathe offers a 1/2 horsepower motor that is single-phased and runs on 110 V. This motor is kept in a solid cast-iron frame, ensuring the lathe does not vibrate during work.
Moreover, it has an easy-to-use belt system that offers speed at 826, 1205, 1713, 2422, and 3337 RPM. The wood lathe features an 18-inch swing between centres and a 10-inch swing over the bed. The frame includes a tool rest for keeping turning tools handy.
It has a live rolling centre that adjusts the centre variation without damaging the workpiece.
It runs on a ½ Hp motor which is fairly powerful
It has a solid build which means there is little to no vibration
Its tool rest gives you flexibility with your turning tools
The live rolling center reduce any chance of damaging the workpiece
It comes with wrenches for maintenance and adjustments.
The motor gets hot easily
The price is a little bit on the high side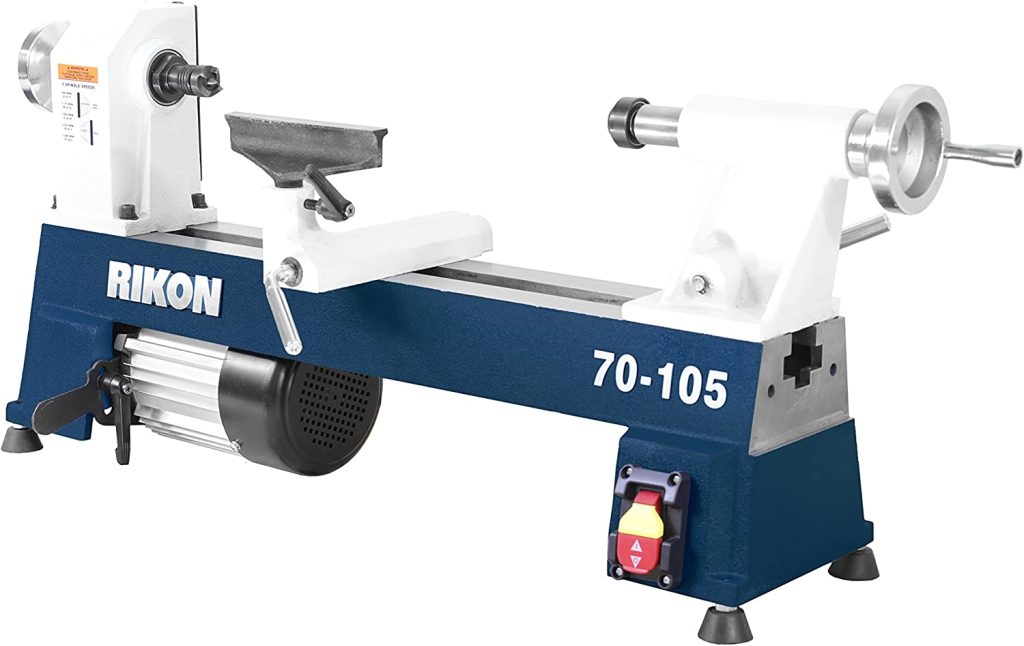 The Rikon 70-105 mini lathe functions from a 1/2 horsepower motor that runs on 120 V and 375 W. It comprises of cast iron and weighs around 74 lbs, which absorbs vibration.
This wooden lathe has a 10-inch swing and an 18-inch swing between centers, making it suited for turning objects of various kinds. It also offers a self-ejecting tailstock and allows easy access to speed changes.
This wood lathe was manufactured for pen turners who demand a machine suited to their craft. The wood lathe has a pulley system to adjust to different speeds that are 500, 1,175, 1,850, 2,225, and 3,200 RPM.
It is easy to setup
It has a pulley system to adjust to different speeds.
It is designed for pen turners
It is very stable and doesn't vibrate during operation
It is affordable for beginners
Technically, this lathe is a notch above a typical mini lathe, but permit me to include it for the advanced newbies (if there is a word like that) out there.
Sponsored*
The Delta Industrial 46-460 Variable-Speed Midi Lathe runs on a one-horsepower motor, and 110 V. The variable-speed motor has a 3-pulley system, providing the speed range needed to turn the workpiece without meddling with the belt.
It has a belt comprising six grooves that can generate enough power to turn large objects. It is made of cast iron, providing a stable position and making it durable. The wood lathe has an on/off switch on the headstock that is easily accessible.
The speed ranges are 250-700, 600-1,800, and 1,350-4,000 RPM. It has a live ball-bearing center to reduce the chances of damaging the workpiece.
It is very easy to setup
It features a heavy-duty 1hp motor
Its large swing capacity makes it suitable for small, medium and large scale projects
It uses a 3-pulley system for optimal speed selection
It comes with forward and reverse function.
It doesn't have a digital display
Final Thoughts
We have provided you with the pros and cons of each mini wooden lathe. most of them are budget-friendly and offer a smooth experience.
It will help you if you buy a wood lathe that fulfils your present needs while offering you room for expansion. That is why, overall, we recommend the JET JWL-1221VS Wood Lathe.
Remember to prioritize your safety as you use the wood lathe by wearing safety goggles, gloves, and a mask.
Also, see our article on the top midi lathes for beginner & intermediate woodturners.
Enjoy our articles? You can follow us on Pinterest for more woodworking power tools tips and tricks.
Save on selected power tools from top brands - Shop Now on Zoro.