9 Must-Have Woodworking Power Tools To Power Up Your Workshop
Disclosure: If you click on some of the links, we may earn a small referral fee. Please know that we only recommend products that we use and believe will add value to our readers.
The importance of power tools cannot be overemphasized. They make woodworking easy and generate cleaner results that may not be achievable with hand tools.
The problem is that most woodworkers are under the impression that they need to spend thousands of dollars on power tools to fully set up their workshop and start building decent projects. Unfortunately, this is not true. You don't have to spend a fortune on power tools because you don't need all the power tools.
There are only 9 essential woodworking power tools, any other power tool outside of these can be done without or improvised. Once you have all these 9 power tools, you can tackle almost any woodworking project as you like.
I am going to reveal those power tools to you and why they are a must-have for every woodworker.
Related Article: 14 Good Stores To Buy Power Tools
Sponsored*
Few Things To Keep In Mind
This list is not meant to be a recommendation for a specific brand or model of power tool. The brand and model are only stated to represent a certain level of quality and capability.
Also, this woodworking power tools list is in no definite order. No one is more important than the other. They are all very essential.
Without wasting much of your time let us dive straight into the 9 must-have woodworking power tools that every woodworker should have in their workshop.
(Because of its portability, the jigsaw is favoured over the band saw and scroll saw.)
Nothing beats the jigsaw when it comes to cutting intricate curves or complex shapes out of wood. With it, you will be able to make cuts within tight curves and follow patterns. You will never have to struggle to make precise cuts again. A jigsaw takes your woodworking game to a whole new level.
Newer models now come with a foot-plate that you can adjust to provide a bevel as you cut your curves.
A practical example where a jigsaw comes in handy is in enlarging an opening in a room work surface that is designed to fit an air vent or tap.
Keep it in mind that jigsaws perform best on thin materials and will become less effective as the wood you are working on becomes thicker.
Recommended: Bosch JS470E Jigsaw
Estimated price: $180
The belt sander shouldn't be overlooked as this is an incredibly versatile power tool for your woodworking shop. Almost all woodworking projects need some form of sanding. The belt sander provides a great way to quickly sand down projects and rough stock.
Tip: you would want to sand your projects before applying finish or polishing it.
Related: Belt Sander vs Orbital Sander: Choosing The Best For Your Sanding Needs
Apart from sanding operations, this tool also excels in other areas such as:
Removing topcoats such as varnishes and paints from projects.
Fixing a misaligned joint by quickly levelling the two surfaces.
Round the corners and shape the edges of projects.
A practical situation where the belt sander can be put to great use is when working on projects that involve floors and when removing stock from rough sawn lumber.
Recommended: Makita belt sander 3 x 24, 9920
Estimated price: $300
The orbital sander performs almost the same function as the belt sander explained above with little differences.
The orbital sander operates in a circular motion, so you don't have to worry about the direction of grains.
When there is a level of sanding needed on a project, orbital sanders are preferred because it saves times.
Recommended: Makita 5″ Random Orbit Sander
Estimated price: $120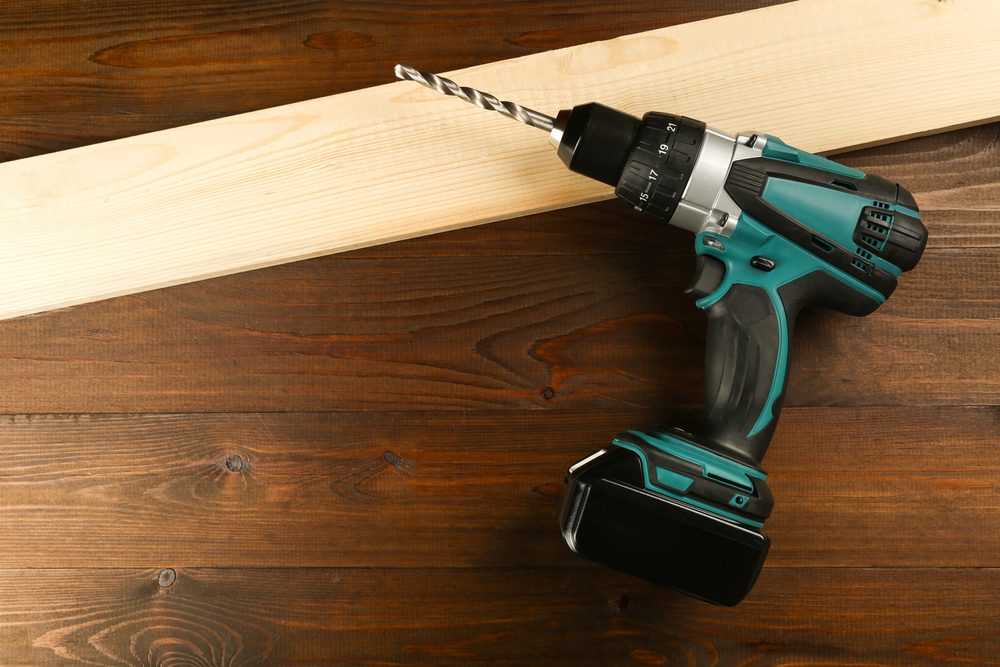 The drill is probably the most common tool on this list. This is because drilling is an indispensable activity carried out on any woodworking project.
Since you are already familiar with this tool, there isn't much to say here.
Apart from drilling holes, the electric drill can also be used as a driver for fasteners, to trim wood, create curved contours, create decorative moulding and cut holes in lumber.
There is always the option of going for either a cordless or corded drill. From my experience, corded drills are more powerful and less expensive.
Recommended: Dewalt, electric drill 3/8″ DWD112
Estimated price: $60
This list will not be complete without a router.
The router uses a bit to cut out hollow portions in wood projects. It also allows you to make cuts and do some kind of trimmings that would either not be possible or consume a large amount of time.
The different kind of bits for a router can be used to perform many jobs really fast. e.g. beveling edges and making dovetail joints
Generally speaking, the router gives shape and edges to your projects. In skilled hands, it can produce truly beautiful crafts.
Since the router is a powerful tool, you shouldn't be afraid to get one as it will pay itself off in no time.
Recommended: Router, Bosch 1617EVS
Estimated price: $200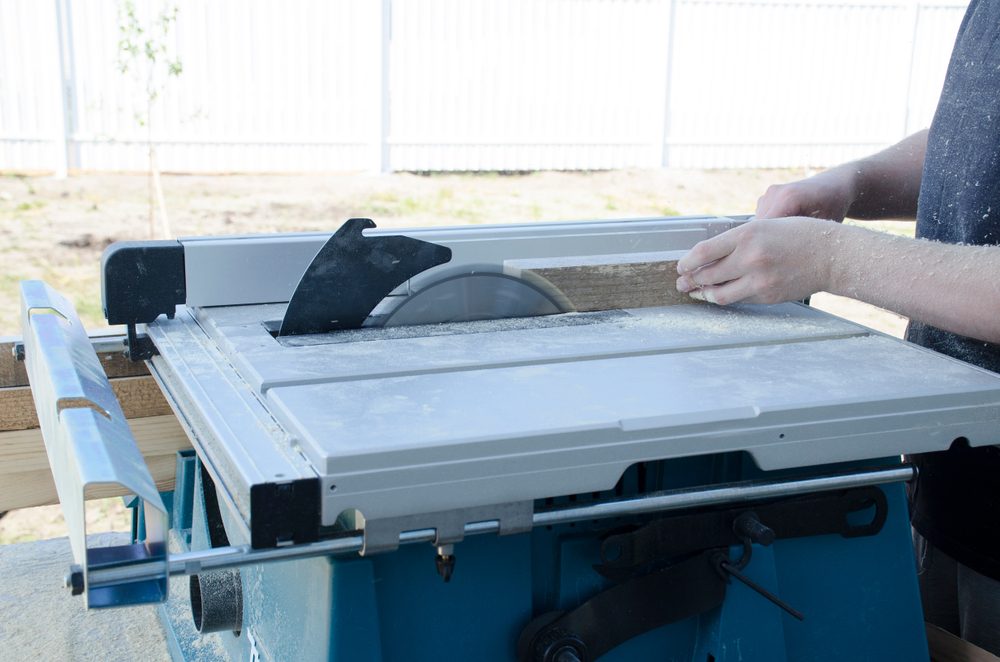 My apologies. This should be the first tool on the list.
I guess that you most likely already have a table saw in your workshop. If you don't then how do you do your cutting?
Related Article: 4 Types of Table Saw Power Tools Woodworking | Which is The Best For DIYers?
The table saw is designed to meet a lot of your cutting needs (especially cross and rip cuts) easily.
The only drawback I see in this tool is that some designs are not portable and they take up a lot of space in the workshop. Nevertheless, this is a must-have woodworking power tool for every workshop
I will advice you to set aside some $$$ for a good quality table saw as it is going to be the primary tool in your workshop.
Recommended: Bosch 10 in. Worksite Table Saw (4100XC-10)
Estimated price: $600
The planer works just like a hand plane, only that it is a hundred times quicker.
The planer derives its major importance in milling rough sawn lumber into usable boards. The amount of time and money you could save doing this alone will justify the cost of this power tool
The planner can also be used in combination with the jointer to flatten any set of wood so that the wood piece can have a similar thickness on all sides.
Tip: Wood projects that use consistent wood thickness always look better, and in some cases, will fit better as well.
Stools, cabinets, chairs, tables and other kinds of building furniture will go a lot faster and better with a planer in the workshop.
Recommended: Milwaukee 3-1/4″ Cordless Planer Kit – 2623-21
Estimated price: $360
What the jointer does is very crucial to woodworking. It is used to create a flat edge along the length of any lumber.
Since it makes edge joinery fits together seamlessly, it finds its major application in furniture and cabinet making.
Also, as mentioned previously, the jointer can be used in conjunction with a planer to mill wood.
Recommended: WEN 10 Amp 6 in. Spiral Benchtop Jointer (JT630H)
Estimated price: $250
Last but not least, we have the drill press.
Sponsored*
The drill press also called a drilling machine is a power tool designed to bore precise holes on hard substances.
Due to the multitude of drilling options available out there, I contemplated leaving out this tool. At the end of the day, I decided to include it for a couple of reasons:
Accuracy: This is the major reason why you need a drill press. You can make holes in wood with standard hand-drills, but can you make identical holes?
Speed: Not only can you recreate identical holes, but you will also do it faster compared to when you do it with a hand drill.
Tip: You will need more space to accommodate this machine, but it is going to be well worth it.
Recommended: DAYTON 16N196 Bench Drill Press
Estimated price: $310
Final Thoughts
The power tools listed above will not only make your time in the workshop more productive, but it will also save you time, especially for those of us that have limited time in our shops due to other life commitments.
I have also created a list of the most essential woodworking tools (hand tools and power tools included) you need to create any woodworking project.
Pinterest Image
Enjoy our articles? You can follow us on Pinterest for more woodworking power tools tips and tricks.
Save on selected power tools from top brands - Shop Now on Zoro.