9 Best Portable Dust Collector Systems For Small Wood Shops
Disclosure: If you click on some of the links, we may earn a small referral fee. Please know that we only recommend products that we use or believe will add value to our readers.
Are you planning to buy a dust collector system for your factory or workspace? If yes, you may be wondering which brands to even consider. Well, you've come to the right place.
In this article, we explore 9 different brands that are at the top of their game, when it comes to portable dust collector systems. We start this article, by identifying key elements that you need to check before investing in a dust collector system. Next, we look at each of the 9 brands individually and understand what makes them shine and what doesn't. Finally, we offer our suggestion for the best portable dust collector systems (according to us), that you should choose.
Need more filtration efficiency? See our review of the 7 best cyclone dust collectors for small shops
Factors To Consider when purchasing a Portable Dust Collector System?
When it comes to choosing a portable dust collector system, you need to consider the following elements –
1. Your bespoke dust collection needs
Sponsored*
The type of dust you generate will require different operational capabilities in your dust collector. For example, a woodworking dust collection system is very different from systems that are designed to collect and filter out any other type of pollutant or material. You need to take a look at the type of operations you are doing and then decide on what type of system to actually purchase.
2. Ease of installation, usage and training needs
Your dust system needs to be quick and easy to install. If it takes a lot of time or a lot of renovation of your own facilities to actually use it, then it may be more expensive than it's worth.
Secondly, it should not require too much training. It should be similar to your current system – or very easy to train yourself or your employees on. That way, you can put your new purchase to work.
One way to ensure that your dust system is easy to install and use is to make sure that the product you buy is designed to be used in your type of facility and for your application. To do this, you need to understand the principle on which a particular type of dust collector system works.
3. Safety
Every power tool is dangerous in its own way, and this includes a dust collector. Your system should come with handy safety mechanisms that allow you to use it without worry, knowing that you can quickly control it or stop it, as needed. The brand should also include safety tips and helpline numbers should you need them.
Here are the safety precautions to consider before using any power tool
4. Cost
The cost of your dust collector system should bring you value for money. Ultimately, you shouldn't have to spend on changing/revamping your facilities and workspaces to fit the equipment. Plus, your maintenance charges and service call fees should also be affordable. Consider the cost of replacement parts as well. All of this should justify what you are spending to acquire the power tool.
5. Space in your workshop
Finally, consider how much space you have to spare in your workshop or facility. Your chosen equipment needs to fit in easily, while not sacrificing your personal mobility and safety.
9 Top Portable Dust Collector Systems You Should Consider
Now that you know how to evaluate your dust collector choices, let's take a look at the 9 contenders on our list –
| Product | Image | Remark | Price |
| --- | --- | --- | --- |
| Shop Fox W1666 Dust Collector | | Best maneuverability | Check Price |
| WEN 3401 Dust Collector | | Most affordable | Check Price |
| JET DC-1200VX-CK1 Dust Collector | | Best warranty | Check Price |
| SHOP FOX W1727 1 HP Dust Collector | | Most compact | Check Price |
| Festool 574831 Dust Extractor | | Best accessory kit | Check Price |
| Grizzly G8027 1 HP Dust Collector | | Lowest sound | Check Price |
| Grizzly G1028Z2 1-1/2 HP Dust Collector | | Best overall | Check Price |
| Delta Power Equipment 50-723T2 1 hp Dust Collector | | Best filtration | Check Price |
| Rousseau 5000 Dust Collector For Miter Saws | | Best for Miter saws | Check Price |
The Shop Fox W1666 2 HP 1550 CFM Dust Collector is a compact piece of equipment that is perfect for small businesses and in-house operations. It has a 2-horsepower motor, a 6-inch intake port, and a 12-inch steel impeller that operates at a whopping 1550cuft per minute.
Highly durable.
Inexpensive compared to other brands.
Long pipe length for easy maneuverability.
Very quiet.
Two years warranty.
Difficult to install.
Packaging is a little weak.
The WEN 12-Gallon Dust Collector is a portable dust collection system, that moves 660cuft of air per minute. The 6-inch impeller, with a 5.7-amp motor, 4-inch dust port inlet, and 1-3/4-inch swivel casters make it a dependable product.
Compact design, easy to store and use in tight places.
Comes with a 12-gallon zippered collection bag and an optional wall mount.
Two years warranty.
Very affordable.
Not as portable as some of the brands on this list.
Pipe is not very long.
Not ideal for large businesses with heavy-duty requirements.
The JET Dust Collector DC-1200VX is a single-phase, 230 volts, 2HP portable dust collector. It is a powerful dust collector system, which is ergonomic in design and easy to use. It has an 11″ cast-iron impeller, 4″ dust collection hose and is a very industrial quality product, perfect for large and busy workplaces.
Aerodynamically designed.
Can capture 86% of 1-micron dust particles and 8% of 2 microns dust particles.
Discounts are available often.
Very portable with 4 canisters.
5 years warranty.
Very loud.
Motor has a comparatively short lifespan.
Sometimes package misses certain hardware.
The SHOP FOX W1727 1 HP Dust Collector is a UL and CSA-certified equipment operating on a 9A/4.5A motor. It has an air suction capacity of 800 CFM and a 9″ balanced steel impeller.
Sponsored*
It is lightweight compared to other brands, making it easy to move around.
It can filter dust particles sized up to 2.5 microns.
There is a safety switch with a removable key that keeps the dust collector safe from unauthorized use.
It is of compact size and perfect for narrow spaces.
Not powerful enough for large-scale factories and workspaces.
Construction is not as durable as some of the other brands.
Cannot handle larger dust particles.
The Festool 574831 Dust Extractor offers tremendous value for money because of its budget-friendliness. The portable dust collector is HEPA Certified and is very easy to use and store. Its small size and high power make it perfect for a variety of workplaces.
Comes with a 3.96-gallon (15L) container, making it perfect for extensive usage.
Has a 3-year comprehensive warranty, including for wear & tear.
Comes with an upholstery nozzle and crevice cleaning accessory kit.
Offers intuitive touch control features.
The design of the body is not ergonomic and can be sometimes challenging to use with one hand.
Hose clogs very frequently and needs regular servicing.
The bag needs extra securing after attachment.
The Grizzly G8027 – 1 HP Dust Collector operates on a 110V single-phase motor and has an airflow capacity of 500 CFM. The 9" impeller fits in a body that's 63" long and 67 lbs heavy. The dust collector is perfect for router tables, sanders, shaping equipment, and more.
Can filter dust particles of 2.5 Microns.
Has an 83 dB sound.
Offers a 1-year warranty for parts and free unit for factory defects.
All parts and customer service is from within the US, making this a local brand.
It is a single machine, point-of-use collector that cannot be used in bigger operations.
The power isn't sufficient for medium-to-large-sized operations.
Cost of replacement parts is high.
Another Grizzly portable dust collector system on our list is the Grizzly G1028Z2 – 1-1/2 HP Portable Dust Collector. This is a more powerful tool compared to the previous Grizzly dust collector on our list and is CSA certified. It comes with a filtration bag that's19-1/2" x 33". The tool has a sound rating lower than 85 dB.
Can filter dust particles that are 2.5 microns in size.
It has a one-year warranty for parts and free unit replacement for any factory defects.
Customer service team is very robust, with a dedicated office in the US.
All Grizzly parts are available to purchase online, making repairs and replacement very easy.
The design is not very aesthetically pleasing.
Switching the equipment on/off is cumbersome because of the place the button is located.
The duct is made of a rubber material that can puncture due to large and sharp dust particles.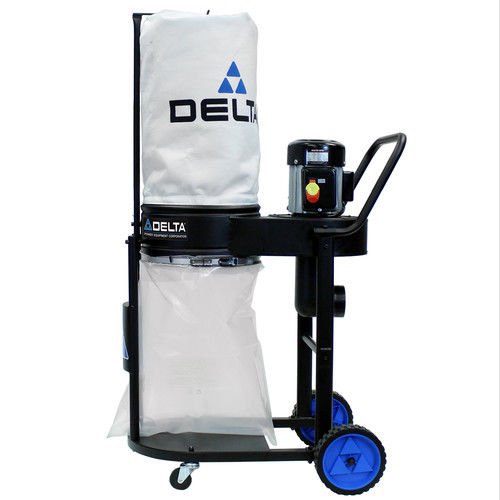 The Delta 50-723T2 1HP Dust Collector has an airflow capacity of 750 CFM. It comes with a powerful TEFC induction motor. It's a single-phase 120/240V, 60 Hz dust collector, with a 9.5″ impeller and 35" in length.
Capable of filtration of 1 micron.
Highly durable construction with reliable materials.
Comes with a 5 years warranty.
Has a smart 6 mil plastic chip collection bag that indicates when the bag is full.
Dust collection bag is small compared to other brands.
Assembly instructions are not clear.
Suction is not powerful enough for heavy-duty use.
The Rousseau 5000 Dust Solution for Miter Saws is a USA-made portable dust collector, with a 4″ vacuum port and a 4" hose length. The hood is designed to fold into a storage and transport bag that's really durable. It's made of 100% nylon.
Perfect for catching both heavy and fine dust of different microns.
Designed to reduce dust allergies and reactions.
Supports 10" miter saws, with zero hood assembly needed.
Mounting stanchions are included with this kit.
Cannot be used as effectively for anything other than Miter Saws.
Not compact and takes up a lot of space.
Final Verdict: Which Dust Collector System Should You Choose?
Considering the above brands, our recommendation for the best portable dust collector system goes to the Grizzly G1028Z2 – 1-1/2 HP Portable Dust Collector. This is a powerful system that more than makes up for its plain aesthetics, with superior dust collection performance.
If you need something more suited for miter saws, the you should go for the Rousseau 5000 Dust collector. Although it's not very compact and needs more space, it certainly is better at suctioning dust particles of various sizes. Plus, as a US brand, you can get customer service and replacement parts much more easily.
Enjoy our articles? You can follow us on Pinterest for more woodworking power tools tips and tricks.
Save on selected power tools from top brands - Shop Now on Zoro.