8 Power Tool Storage Systems to Keep Your Workshop Organized
Disclosure: If you click on some of the links, we may earn a small referral fee. Please know that we only recommend products that we use or believe will add value to our readers.
As DIYers, it's in our nature to long for the highest quality and most innovative power tools. But when you have many of them, it can be tricky to keep them organized. This issue can turn your beloved workshop into a messy area, which doesn't look good and can be dangerous as well.
Luckily, there are different systems that can help you keep your essential power tools organized. From storage boxes to mobile tool carts, each of these solutions can adapt to your circumstances perfectly. As a result, you won't have to deal with tools or accessories lying around.
Passion is all you need to build a proper storage system for your power tools. So, do you have your tools ready? Then, let's review some of the most useful power tool storage systems that could make your life easier.
Top 8 Power Tool Storage Systems to Organize your Workshop
We've compiled a list of ideas to hopefully inspire you into designing and creating an effective storage system. We loved all of these solutions due to their simplicity and because they can kick-start your creativity.
Plus, working on these projects guarantees that you'll have a customized system to keep your tools organized efficiently.
Sponsored*
1. Create a Docking and Charging Station for Cordless Tools
Imagine having your power tools neatly organized while also charging their batteries. That's precisely what you get with this system—a unit to accommodate power tools and have them ready to go at a moment's notice. For this project, you will need power strips to provide the energy.
Also, adding a convenient drawer is another excellent idea to keep your drills, bits, screws, and other smaller accessories. We all know how easy it's to lose those!
This organizer idea comes from Hertoolbelt, and you can find all of the guidelines to complete the project from scratch in the included link.
2. Carry Your Tools Wherever You Go Using a Mobile Cart or Workbench
Working on house projects is always fun, but going back and forth looking for tools can be frustrating at times. More so when you're working outside or in a room far away from the workshop. It's tiring, time-consuming, and a hassle.
But what if you didn't have to walk around the house to get your tools? With this fantastic idea, you can take your tools and accessories with you everywhere you go.
Whether it's to save time or to carry heavy tools, this mobile tool carts can make your DIY experience more satisfying. This cart also helps you be more efficient, giving you an effective method to keep a bunch of your preferred tools in a compact unit.
3. Store Your Tools on Pallets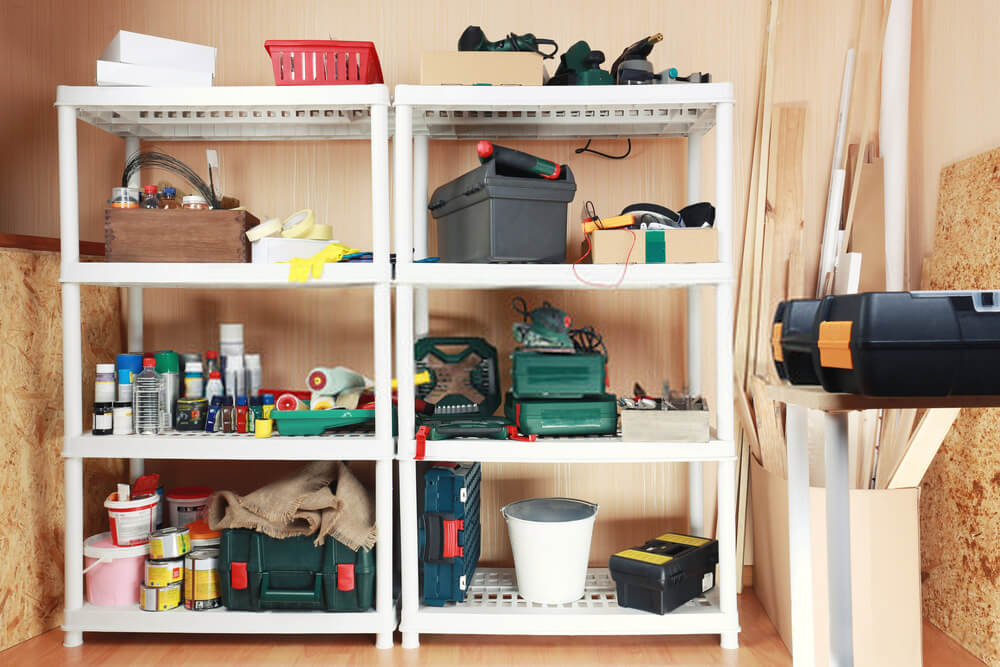 Pallets are among the most versatile items any carpenter can have. They help you move heavy stuff around, organize boxes, or even for decoration. You can also turn a pallet into a system to organize your tools.
The possibilities are endless when you use a pallet for this purpose. Customizing it is super easy, meaning that you can add shelves, drawers, or build them just above your pegboard hangers.
Besides, the pallet looks terrific! It definitely gives your workshop a rustic look worthy of experienced woodworkers, carpenters, and homeowners in general.
4. Use Pegboard Tool Hangers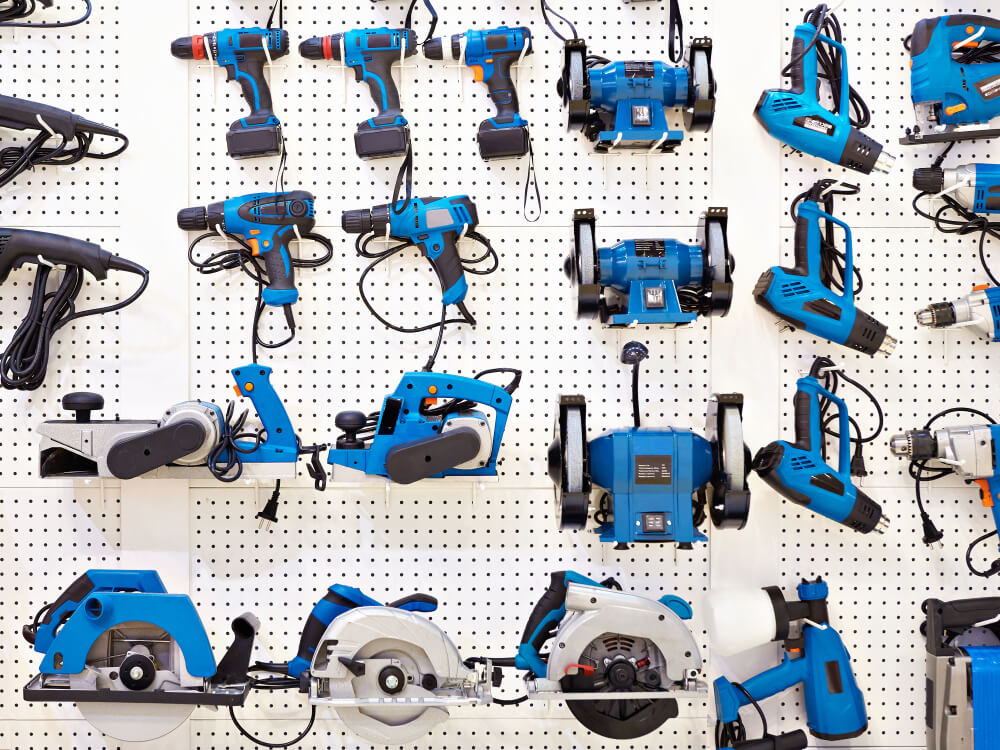 If you have large walls, why not try pegboard tool hangers? This system may not be as stylish as a wall cabinet or pallets, but it gets the job done, and that's more than enough in many cases. We can even argue that it's much better than those two systems due to all the space it provides.
Furthermore, pegboard tool hangers make it easy to organize your tools on the walls based on their functionality and sizes. Use this system to organize your saws, drills, accessories, and much more. Check out this tool organizer idea and give it a try.
5. Get a Power Tool Storage Box or Build Your Own Tool Chest
Power tool storage boxes are arguably the easiest solutions to keep your tools properly organized. It's easy to find companies that sell these units if you're in a hurry or don't have the time to work on it yourself.
However, creating your own storage box or tool chest is a much better solution. Furthermore, you can also customize the tool storage box with as many dividers as needed to fit all of your tools.
Another reason to consider this system is that you can take it up a notch and create folding workshops. These require more work and money, but the result is mind-blowing. Here are some decent storage boxes you should look at.
6. Store Them Inside Wall Cabinets
Wall cabinets—useful in the kitchen and even more helpful at the workshop. Designing and building your own wall cabinet to keep your tools safe and organized is perhaps among the easiest projects on this list.
Plus, the functionality of this organizer is top-notch. Use it to store handheld power tools, nail guns, and smaller jigs at a convenient location. Furthermore, adding movable dividers give you more room for customization.
Our friends at FixThisBuildThat have a complete guideline on how to turn this idea into reality. They also included the materials you will need, how to work on the cabinet, and other helpful tips.
7. Use French Cleats for Saw Blade Storage
French cleats are lifesavers for many DIY projects that need strong support, and it's no different in this case. What we like about using these accessories is that you can be as creative as possible.
There's no need to spend a large amount of money either, as you can use scrap wood leftovers from other projects.
This system works for almost anything. Whether you want to store power drills or saw blades, French cleats are highly customizable and adapt to any tool. If you want to go the extra mile, adding quality hooks will make the storage system look more professional.
Find out more about building French cleats system and how to pull it off.
8. Build a PVC Power Tools Storage for Power Drills
This organizer solution requires you to use your creativity to the fullest. It involves using materials that you probably already have and giving them a brand new purpose. In this case, the required materials will be PVC pipe cut in a specific way to accommodate power tools at a convenient location.
After notching the PVC pipes, securing the organizer system on the wall or under a shelf is easy cake. Then, you'll have a more organized workshop with more space than ever before.
Keep in mind that the pipes needed vary depending on the tools. If you have larger tools such as circular saws, larger diameter pipes will be necessary.
It sounds interesting, doesn't it? Head over to this tutorial from Tool Box Buzz to start working on this project.
Why Are Power Tool Storage Systems Necessary?
Tools Are Easier to Find
An effective power tool storage system will keep your essentials at a convenient place for you to find them easily. Forget about putting your tools in a drawer and potentially forgetting where they are. With these solutions, you don't have to worry about that anymore.
Look More Professional
Having an organized workshop is inspiring and gives woodworkers confidence. It's a morale booster that makes you feel like a true professional, even when you're just starting as a DIYer.
Avoid Losing Accessories
Let's face it: it's pretty easy to lose accessories even when you try your hardest to avoid them. Even though these organizers are for larger tools, there's also plenty of room to protect your smallest but essential accessories as well.
Sponsored*
Skill Improvement
Even if you don't need it, working on a power tool storage system is an excellent method to take your DIY skills to the next level. Some of the solutions shared here encourage you to use leftover materials from other projects, improving your efficiency and resourcefulness.
Don't shy away from a challenge, and try your best to pull through it. The experience learned from it will for sure be useful in future projects.
Final Verdict
And there you have it! Eight different systems to organize your tools efficiently. Some of these systems are easy, while others require more skills and materials you may need to buy.
Therefore, you must find a solution that better adapts to your circumstances. Storage boxes and tool chests are perfect for entry-level DIYers, so you may want to start with that.
However, if you're feeling confident and want a true challenge, building your own mobile cart or wall cabinet may be exactly what you need.
The possibilities are there, so now it's your turn to decide how you want to organize your tools. Each solution is fun and interesting, meaning that you'll have a blast regardless of which one you choose.
Enjoy our articles? You can follow us on Pinterest for more woodworking power tools tips and tricks.
Save on selected power tools from top brands - Shop Now on Zoro.