7 Types of Power Tools for Carving Wood (Ultimate Guide)
Disclosure: If you click on some of the links, we may earn a small referral fee. Please know that we only recommend products that we use or believe will add value to our readers.
Carving wood has been a form of art in several parts of the world. If you would like to dive into it, then you will have to begin by getting the best power tools for carving wood.
For starters, you should know that there are about 7 different types of such power tools. They are all great, but they all have different Applications and are suitable for different types of projects.
Hence, you should make your choice after knowing more about their Features and Applications. Here, we will discuss exactly that, but we will also include their shortcomings and a recommendation for each type of power tool.
7 Types of Power Carving Tools
There are seven different types of power carving tools. And although all of them make wood carving much easier, they have their perks and differences, which we will discuss here.
1. Rotary Power Tools
Rotary tools for wood carving are not just powerful – they are versatile, consistent, and handy as well. You can use these tools for various purposes, this includes polishing, shaping, sanding, and obviously carving wood.
Sponsored*

Sometimes these power carvers come with a flexible shaft to make it even more convenient for you.
Features
Speed Control: Variable speed control for carving different types of wood
Power Source: Rotary power tools can be both corded and cordless
Attachments: You can use it with different attachments, including grinding stones, sanding discs, etc.
Ergonomic Design: Comfortable grip with lightweight construction
Applications
You can easily carve and shape surfaced wood using rotary power tools.
These power carving tools can be used to smoothen the wood surfaces as well – by sanding them.
Drilling is another application this tool excels at, allowing you to create intricate designs.
You can also create channels or make dado cuts by routing with this tool.
Shortcomings
Collects excessive dust when woodworking.
Produces a lot of noise when carving or shaping wood.
It might be a little too overpriced – given what is being offered.
It can be used effectively by professionals or highly skilled individuals only.
My Recommended Rotary Power Tool: Dremel 8220-1/28 12V Cordless Rotary Tool Kit
The Dremel 8220-1/28 is a powerful electric rotary tool with a lot of useful features. It's a great choice for wood carving because you can change the speed, and it's comfortable to use.
For more options, see our article on the 12 Best Rotary Tools for Wood Carving
2. Flexible Shaft Grinders
Flexible shaft grinders are power carving tools for wood. They have a motor and a flexible shaft that is connected to a handpiece. The carving attachment is held by the handpiece, which gives precise control, allowing it to reach nooks and corners.
Woodcarvers and other artists often use these tools for detailed work.
Features
Flexible Shaft: Greater control and precision.
Comfortable Handpiece: Reduces fatigue and ensures convenience.
Adjustable Speed: The speed of the motor is adjustable.
Attachments: Can be used with different attachments.
Applications
The best use of this tool is wood carving.
Can be used to polish and finish wood surfaces.
Other than being a wood carving machine, this can be used to cut and grind metals as well.
Shortcomings
You may not be able to transport it easily.
Produces a lot of noise and dust during usage.
Might not be suited for beginners.
My Recommended flexible shaft grinders: Foredom K.5240 Woodcarving Kit
Now, why do I recommend the Foredom K-5240? Well, that is because it is a flexible shaft grinder that can be used for woodcarving and other detailed work.
It is both versatile and of good quality. Moreover, it is a great choice for beginners as well as professionals.
3. Micro Motor Machines
Micromotor machines for carving wood are small, light, and powered by a compact, high-speed motor. These wood carving machines are made for precise work, and they are often used to make jewelry, for dentistry, and to carve wood.
It comes with various features and applications, but just like any other tool, it has its shortcomings too.
Features
Lightweight Design: Compact, lightweight, and easy to handle.
High-Speed Motor: Fast and precise wood carving.
Variable Speed: You can easily adjust the speed according to your application.
Various Attachments: These machines often contain a range of attachments.
Applications
You can use these electric wood carving tools to shape, grind and design wood.
Can be used for dental purposes as well (shaping teeth).
Good for jewelry making (drilling metal, polishing, etc.).
Shortcomings
Not as powerful as other wood carving power tools.
Not easily controllable for beginners.
Can produce too much dust when wood carving.
It might not have a long lifespan.
My Recommended micro motor machine: MASTERCARVER micro-motor carver/grinder set
The MASTERCARVER Micro-Pro Champion is a powerful and versatile motor machine that can be used for various applications.
Moreover, you will be getting it within an affordable price range as well – making it totally worth it. Hence, I highly recommend it.
4. Angle Grinders
Angle grinders are small power tools that are often used to cut, grind, and polish a wide range of materials, including wood. These power carvers can be really handy and efficient when it comes to shaping and carving wood.
You can use them effectively for bigger projects, and they will surely exceed your expectations. However, it is better to know about their features, applications, and shortcomings before making a decision.
Features
Variability in Size: Angle grinders typically come in different sizes.
Power: Can be powered by electricity, gasoline, or compressed air.
Versatile Motor: The motor drives a spinning disc.
Use of Attachments: Different attachments can be used (blades, chainsaws, etc.)
Applications
These power carving tools are particularly useful for larger projects.
Mostly used for hardwoods that cannot be carved by hand.
Removes material, contours, and shape details.
Shortcomings
Difficult to control intricate work.
Causes unintended damage at times.
Generates a lot of dust and debris.
More expensive than other wood carving power tools.
My Recommended Angle Grinder: Makita 9557PBX1 Angle Grinder
The Makita 9557PBX1 Angle Grinder is a strong and reliable tool that can be used for a wide range of woodworking jobs.
It is easy to use and gives accurate results because of how it is made and the safety features that it has. Overall, I would recommend it to you, but you can also choose according to your preferences.
5. Reciprocating Carvers
Reciprocating carvers are powered tools for cutting wood that move a blade back and forth in a straight line. They are easy to use, don't weigh much, and can be used to make intricate patterns.
However, they may make noise and vibrations and can't be used for bigger projects.
Features
Lightweight Design: Easy to handle and carry.
Variable Speed Settings: Some models will let you adjust the speed.
The Complete Package: Includes a motor, a blade, and a handle.
Suitable for Different Materials: Not limited to one type of wood only.
Applications
This wood carving machine can carve foam, stone, and rubber.
Useful for creating shapes and intricate designs on wood and other materials.
Can carve bowls, spoons, and other functional items.
Primarily used for wood carving.
Shortcomings
Can produce vibrations – causing discomfort.
Cannot make deep cuts on large pieces of wood.
May require more maintenance than other types of wood carving power tools.
My Recommended Reciprocating Carver: AUTOMACH Power Carver (HCT 30A)
The AUTOMACH Power Carver (HCT 30A) is a reliable and flexible reciprocating carver that can be used for wood carving and other tasks.
It's great for both beginners and more experienced woodworkers because the speed can be changed, and it's not too heavy. I would recommend this tool to anyone who wants a good reciprocating cutter.
6. Power Routers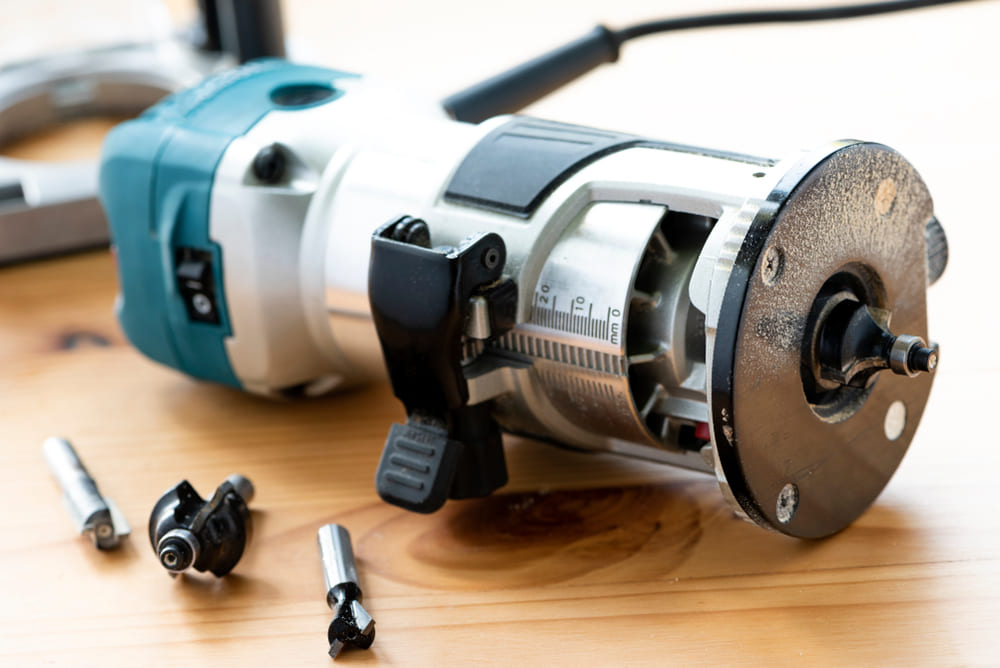 Power routers are electric wood carving tools used in woodworking to make shapes like edge profiles, mortises, and dovetails that are both pretty and useful. They have a motor, a collet for keeping the router bits, and a base or platform.
They can be useful in many ways, but they can also be heavy, loud, and make a lot of dust.
Related Article: Here is how a wood shaper compares with a router
Features
Base/Platform: Provides stability during usage.
A Collet: Usually holds the different router bits when carving.
Variety in Sizes: You can get large or small routers according to your preferences.
Variable Speed Settings: The speed can be adjusted in some models for different cutting techniques.
Applications
This wood carving machine is an expert in making functional and decorative designs.
Can carve intricate designs and patterns in the wood.
Can be used for furniture-making and cabinetry.
Shortcomings
Relatively heavier than other power carving tools.
Produces a lot of noise and dust when woodworking.
Requires more maintenance than other types.
My Recommended Wood Router: BOSCH 1617EVSPK Wood 12A Router Tool Combo Kit
The BOSCH 1617EVSPK Wood 12A Router Tool Combo Kit is a high-quality and flexible power router that can be used by both beginners and professionals.
It is a great choice for people who want a reliable and flexible power router because it has a strong motor, variable speed settings, and a comfortable grip. I would highly recommend this tool for any kind of woodworking or carving.
Want more options? Here are 7 budget-friendly wood routers to kick start your wood carving journey.
7. Laser Engravers
Laser engravers are computer-controlled wood carving machines that use a laser beam to cut exact designs and patterns into wood. They can make intricate patterns that would be hard to make with traditional carving tools.
However, they can be expensive and hard to use if you don't know how they work. It is also important to have good ventilation and wear personal protective equipment when using them.
Features
Software Program: It can control the wood carving machine's movements.
Precision: Can ensure a high level of detail and precision.
Adjustable Power Settings: Some models will allow you to adjust the power settings.
Laser Module: They usually contain a laser module and a control board.
Applications
Can create custom designs on furniture and other decorative pieces.
Can be used to engrave patterns and designs.
Logos, texts, and other designs can easily be carved.
Shortcomings
More expensive than other power tools for wood carving.
May require more technical expertise.
Can produce toxic fumes and smoke.
My Recommended Laser Engraver: xTool D1 Pro 10W
The xTool D1 Pro 10W is a strong and flexible laser engraver that can be used for wood cutting and other tasks. It's great for making detailed designs and patterns on wood because you can change the power settings, and the laser beam is very accurate.
I strongly recommend this power carver to woodworkers who want a high-quality and dependable laser engraver.
Read our full xTool D1 Pro review here
Frequently Asked Questions
Can chainsaws be used for wood carving?
Yes, you can use a chainsaw to carve wood. They are great for rough, large-scale carving jobs and can make a wide range of shapes and textures in wood. However, they are not suited for smaller projects and may not be very precise.
What safety precautions should I take when using power tools for wood carving?
Sponsored*
When cutting wood with power tools, you should always wear the right safety gear, make sure the tools are in good shape, and work in a well-ventilated area. It is always necessary to keep safety precautions in mind.
What is the difference between rotary tools and reciprocating carvers?
The way their cutting heads move is the main difference between rotary tools and carvers that move back and forth. Rotary tools spin in a circle while reciprocating carvers move back and forth in a straight line. This makes reciprocating carvers better for cutting and working on small details.
Which wood is preferred for carving?
For cutting, the best kinds of wood are hardwoods like cherry, maple, and walnut and softwoods like pine and cedar. These woods are easy to cut and have a fine grain, which makes them perfect for a wide range of carving projects.
Final Verdict
After analyzing all the 7 types of power tools for carving wood mentioned here, my final recommendation would be the reciprocating carver. They are the absolute best when it comes to intricate designs – making them unmatched in terms of wood carving.
But you can choose among the others as well. They all contain their fair share of benefits but do not overlook their drawbacks in the process.
Enjoy our articles? You can follow us on Pinterest for more woodworking power tools tips and tricks.
Save on selected power tools from top brands - Shop Now on Zoro.