The New Ridgid 18V Tool Lineup: A Review For Woodworkers
Disclosure: If you click on some of the links, we may earn a small referral fee. Please know that we only recommend products that we use or believe will add value to our readers.
From making the first modern pipe wrench to brushless subcompact saws, Ridgid has been the go-to tool for craftsmen. Since their launch, Ridgid tools have been helping shape both professional and DIY projects.
And in this article, we'll go through the Ridgid 18V tool lineup. Once you read this, you'll learn what products are in store for you, how they function, and whether you can benefit from them or not.
Highlights of Some Woodworking Power Tools within The Ridgid's 18V Lineup
We've listed all of the 18V woodworking tools Ridgid offers in the following sections and their various characteristics. Let's dive right into it!
Impact Wrenches & Drills
If you want a compact impact wrench, then the 18v Sub-Compact impact wrench from Ridgid might be a great addition to your arsenal. With sufficient power and lower weight than most other cordless impact wrenches, this tool offers the best characteristics of 12v and 18v tools.
This one can be operated in four modes and up to three-speed settings. There's also an auto-tightening feature. It delivers a breakaway torque of 650 ft-lbs, so it can be used on jobs such as changing car tires effortlessly.
As mentioned previously, the tool is extremely lightweight, capping at 3.5 pounds only. It's also a very ergonomic tool, but there's a catch to it. The bottom of the tool is where most of the weight is concentrated, so it might be a bummer for some.
Despite that, most people come back to this impact wrench as it's the best in the price bracket. Plus, you can opt for different combo kits to enjoy additional features.
Offers up to three-speed settings and four modes
Auto-tightening can make your workflow seamless
Very lightweight, weighs only 3.5 pounds
Convenient to hold, and the small head can fit into narrow spaces
The center of gravity is at its bottom, and it'll take some time to get used to
The 18V R8711B hammer drill from Ridgid is an absolute beast. It's a high-torque hammer drill that's capable of providing a much higher performance of 1,250 in-lb., compared to most of its competitors, which cap around 1,200 in-lb.
It's equipped with a gearbox that lets you switch between two-speed settings. Plus, the clutch offers up to 24 positions, which is standard for woodworking. Like every other Sub-Compact pro tool, this tool utilizes a brushless motor for the extra juice.
The closest competitor of this tool would be the Gen5x Hammer Drill from Ridgid. If you're confused between the two, find out more about the Ridgid Gen5x Hammer Drill here and make an informed decision!
Lightweight and compact, so you can work with it longer
A Brushless motor offers higher efficiency and power
Delivers up to 1,250 in-lb. power can be used for changing tires
Lets you get the right power with a customizable gearbox and position clutch
There could've been more clutch positions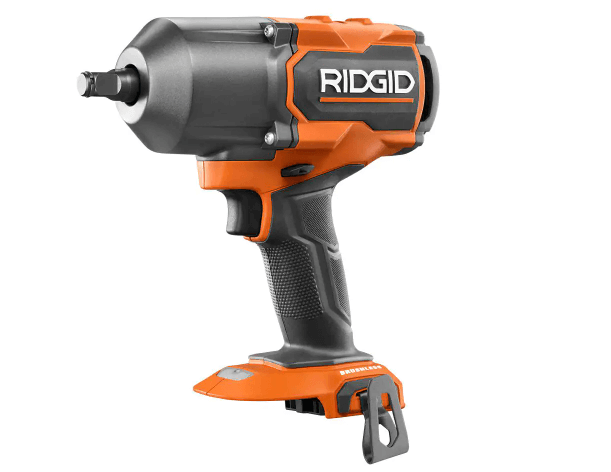 The R86211B high torque impact wrench is a decent upgrade over the R87208B that we discussed earlier. This, too, is equipped with Ridgid's brushless motor technology, offering 50% more efficiency.
However, this one does a lot of things better than the previous one. For starters, it offers up to six modes, so you can fine-tune the speed and power at which the tool operates. Plus, there are three auto-tightening modes.
It also offers a 1,100 ft-lb. of fastening torque and 1,500 ft-lb. of breakaway torque for taking care of heavy workloads.
As you can see, this one's much fancier, but it would be overkill for DIYers. So, we believe paying the extra cash would be justified only for professionals.
3 auto tightening modes to prevent overtightening
Up to six power and speed modes for better adjustability
Offers a maximum breakaway torque of 1,500 ft-lbs., making it suitable for professionals
Equipped with an LED light for better vision
The weight distribution is uneven
Ridgid first launched its smart tools with its Octane lineup. These tools combined long-lasting batteries with a brushless motor for maximum performance. After thorough scrutiny, we can surely say that the Brushless R8657 is a decent upgrade over the previous Octane R8654.
The R8657 is more powerful, as this tool is found to fare better when put under a high workload. However, the engine may stall if pushed too hard. Still, it keeps up better than most other pro tools on the market.
This one can handle bevel, miter, cross, and compound cut very well. One of the most challenging things to do with a circular saw is perform a rip cut on a three-stack of OSB sub-floor.
While it can complete one or two rip cuts, we must say that the tool struggles after a while.
However, we saw this coming as this isn't very high-powered. If you want something more powerful, you should go for a corded tool instead.
But if you want to switch to a cordless, this is highly recommended. This cordless tool can easily beat or at least be on par with a 15v corded tool.
Cuts fast and precise
Weighs only 8.8 pounds, so it's comparatively lightweight
The unique construction offers better guard action
The blade sightline is amazing and will let you monitor your work
Should've used a metal blade guard instead of a plastic one
The all-new angle grinder from Ridgid comes with some cool new features. One of the features that we love the most is the paddle switch. It makes the tool much more convenient to use.
Another decent upgrade over the previous Octane models is the design. It's slenderer and easier to hold. Plus, despite the smaller size, it can provide up to 25% more power.
At max power, this angle grinder can reach up to 9,000 RPM. However, it must be mentioned that you need to use the MAX output batteries from Ridgid to get the best performance.
Moreover, the wheels and guard can be swapped or adjusted without any tool. This is a great addition as it can make your workflow smoother.
Lets you remove material fast with 9,000 RPM performance
The paddle switch makes it easier to use and more comfortable
Thanks to the brushless motor, this lasts longer
Ergonomic and lightweight build
Must be equipped with the MAX batteries for best performance
This is one of the unique cordless tools in the Ridgid 18V tool lineup and a must-have. Although it's not a tool that can be used for all the basic woodwork, it can perform delicate tasks where most others will fail.
It is great for cutting and sanding and can be used on different types of materials. Multi-tools are usually very shaky, but this one's got the vibration control right. So, no matter what surface you're working on, you'll get a steady performance.
Ridgid got the ergonomics on point as well. There's this rubbery material around the neck of the tool, and this offers great grip. The design also lets you cut from all sorts of angles with equal comfort and confidence.
Can be used to cut and sand multiple surfaces
The vibration is well controlled, and it doesn't chatter
Great grip and lets you cut from different angles
Light and ergonomic, so you won't feel any fatigue from long use
Changing the blades can be a bit of a hassle
When we review a new saw, we first look at its speed and stroke length. This one-handed reciprocating saw from Ridgid offers a standard stroke length of 7/8-inch. While that isn't impressive, the 3200 RPM speed is. You won't get such a high speed out of most full-size saws.
The speed is impressive, but what helps you control the tool is the speed trigger with variable settings. You can comfortably grind through thin materials such as PVC and EMT with it. However, thanks to the high-speed performance, the saw can cut 2×4 planks too.
Moreover, the tool also comes equipped with a LED light, tool-free adjustability, and trigger lock.
Despite the high power, it must be noted that it's still a compact saw that has limitations. If you want something more full-size, you can take a look at the Ridgid table saw R4514.
Offers 3200 RPM speed which is rare in this price bracket
Despite the impressive performance, it's very compact and light
You can use the trigger lock for extra safety
Lets you switch between different speed settings with variable trigger
Equipped with an LED light for better vision in the dark
The finger choil can sit uncomfortably against your index finger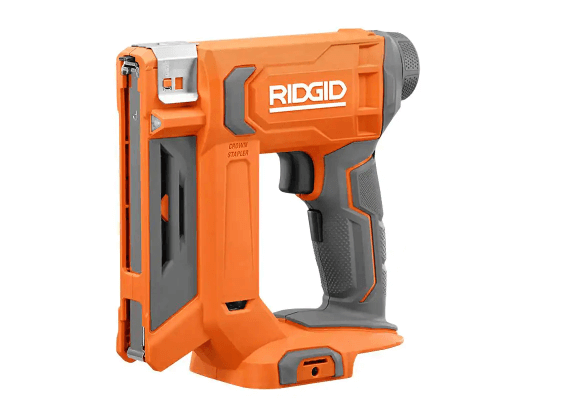 Got a job that requires stapling? The Ridgid's crown stapler has got you covered. This stapler isn't built for power only but for efficiency as well. With a single charge, this cordless stapler can be used up to 6,800 times. It's also very fast, letting you staple up to 108 times a minute.
One of the unique features of this stapler is the dry-fire lockout. Thanks to this, the tool won't damage any surface if no stapler is loaded into it. There's also an adjustment knob at the back of it. This will let you control the depth of the staple without having to change the angle of the tool.
Can be used up to 6,800 times with a single charge
Lets you staple more than 108 times a minute
The dry-fire lockout can prevent unnecessary damage
Lets you control the depth of the staple easily
The wire attachment must be purchased separately
With variable speed settings, ergonomic handle and pommel, a rafter hook, and smooth operation, the Cordless bandsaw from Ridgid stands as one of the best Band saws the market has to offer.
This saw is packed with features that make it friendly to beginners. The main handle of this band saw is contoured for a better grip. Also, the pommel is large enough to provide a solid grip.
There's this trigger lock that'll provide a safer experience. The shoe of the saw can also be adjusted. However, you need a hex wrench to do that, and it can be a hassle.
Trigger-lock for an easy yet secure experience
Contoured handle and large pommel for a solid grip
The shoe of this saw can be adjusted in two positions
Doesn't require any tool for changing the blades
Changing the position of the shoe can be challenging
This 18V hand vacuum is for those who take cleaning seriously. The 18v battery provides sufficient power to drive this at 40 CFM airflow. Furthermore, the company claims the vacuum to be able to lift 24.6 inches of water.
There are two filters in the vacuum. The filters can be removed and washed to be used repeatedly. Cleaning the filters can ensure max performance out of this vacuum.
The high suction power of 24.6 IOW
40 CFM of airflow that can clean even the most stubborn dust particles
Easy to handle, and comes with multiple attachments for more convenience
Equipped with a washable filter for long-lasting use
Not suitable for cleaning concrete dust
Batteries & Chargers
If you want the best performance out of the latest Ridgid 18V cordless tool lineup, you must use their MAX batteries. These batteries are the most powerful and efficient that Ridgid has ever launched.
Specially made for the brushless motors of the new tools, these batteries come in 8, 6, 4, and 2Ah. Ridgid claims that using these batteries can crank the performance of their tools up to 20%. Plus, they also offer a 4-LED charge indicator, which is very convenient.
To charge these, you can use their dual-port or six-port charging docks. These are compatible with all 18v batteries from Ridgid, including those for Octane.
The chargers will diagnose the batteries while charging them and provide appropriate feedback. Furthermore, they can enter a save mode to prevent overcharging.
Final Words
As you can see, the latest Ridgid 18v tool lineup offers every tool you may possibly require for basic or advanced woodworking. In fact, some even have multiple variations that are an affordable pick for DIYers and more advanced tools for professionals.
Check out my complete review of the Ridgid power tool brand here.
Enjoy our articles? You can follow us on Pinterest for more woodworking power tools tips and tricks.
Save on selected power tools from top brands - Shop Now on Zoro.