Ridgid Woodworking Power Tools | Review | Pros & Cons | Are They Worth It?
Disclosure: If you click on some of the links, we may earn a small referral fee. Please know that we only recommend products that we use or believe will add value to our readers.
Ridgid unveiled a number of new 18V cordless power tools for 2022, significantly expanding their lineup with modernized tools. Learn more about the new Ridgid 18V tools here
Ridgid Woodworking Power Tools
Ridgid makes some of the most reliable and durable tools on the market. I have been a huge fan for many years, and I recently had the chance to use their R4514 table saw.
Budget friendly
Best warranty in the industry
Durable and high performing
Corded and cordless options
Perfect for woodworkers
Average battery life
Small portfolio of power tools
Are you looking for a power tool brand for woodworking that is high-preforming, durable and gets the job done?
If you do a quick search online, you might not see many Ridgid power tools reviews. The reason for this is because they are not a major power tool manufacturer and they don't release as many power tools as the other brands, hence curiosity among readers is low.
This does not in any way undermine the quality of power tools produce. They just tend to compete differently from other brands.
In this review, I will not cover all the Ridgid woodworking power tools, because obviously, I haven't used them all. But I will try to touch key areas within their power tool profile so that you get to decide whether they are a good fit for you.
Sponsored*

I will also not go into the historical details behind their power tools. So if you are a historian, stay away.
Note: selecting a brand is one thing, knowing the most important power tools to buy is another thing. I have drawn up a list of the must-have woodworking power tools for every workshop.
Ridgid is a famous American brand that was established in 1923. They were mainly known for manufacturing plumbing and HVAC equipment before they incorporated power tools into their arsenal.
Oops! I said I wasn't going to delve into any history.
Back to the juicy stuff…
Ridgid power tools appeal to consumers in product ranges that are simply overlooked by the other brands. For example, how many of the other brands offer a benchtop sander or an oscillating multi-tool (more on this later)?
If you ask me, the cordless and benchtop tools they produce already make up for the fact that they don't have a vast power tool portfolio.
Ridgid's quality can also be seen in the other tools within its portfolio such as their; reciprocating saws, circular saws, hammer drills, electric drills, impact drivers, table saws, miter saws, saw blades and drill presses. I have used their circular saw before, and I can tell you it was designed to withstand the wear and tear of the job.
Aha! before I forget, COST. Besides, who cares about quality if their tools are expensive?
It will amaze you to know that despite making their power tools highly durable, they are also affordable. They will not cost you an arm and a leg unlike some other mainstream brands out there.
Related Article: Where is the Best Place to Buy Power Tools | 14 Top Power Tool Stores
And yes! the best part…
All Ridgid power tools come with a lifetime product warranty. What this means is that there's limited risk involved in purchasing any of their products because Ridgid will immediately offer a free replacement if there's a defect in the product (regardless of when it's discovered).
To key into this warranty, all you have to do is register your tool on their official website, and you will get free lifetime parts and service.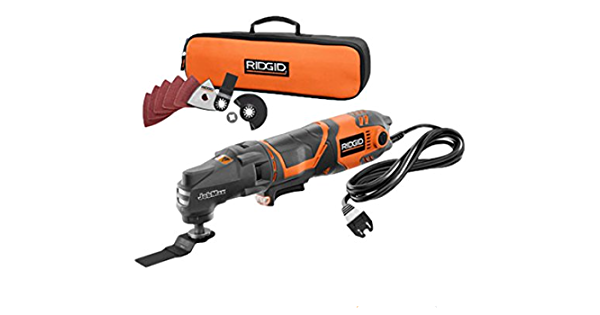 One of Ridgid's most promising release in recent times has been their Jobmax multi-tool.
When we talk of a versatile woodworking power tool, this tool comes to mind. It is basically a 2 in 1 power tool. It can act as a sander or a cutting tool depending on the head you attach to it.
If you are on a limited budget and you can't afford to get a sander and a power saw separately, you should consider getting Ridgid's Jobmax Multi-Tool for the price of one.
This tool runs on an 18V battery just like their GEN5X tool line.
Get the Ridgid Jobmax Multi-Tool available at: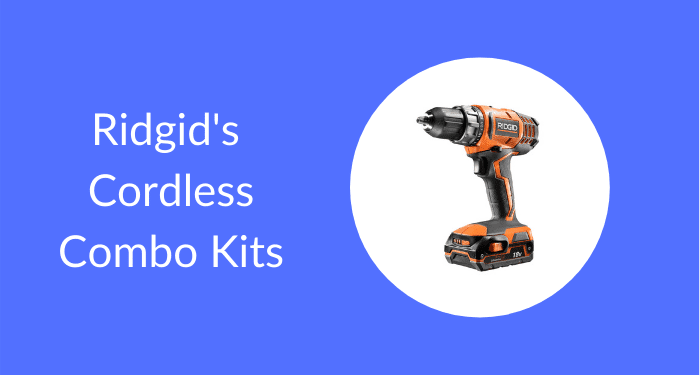 If you are just getting started with woodworking, cordless combo kits are a perfect way to get into the cordless bandwagon.
Some people may say that purchasing combos don't leave you with the best option for each tool. I consider this advice a bit silly. With cordless combo kits, you get to use the same battery and charging platform for all your tools. Compare this with having four or five different sets of batteries for each specific tool.
Anyways, that's just my opinion.
Another good thing about Ridgid's cordless combo kits is that you get more tools in bulk, which means that you get to pay less than what they cost if you were buying them separately. Batteries are often included in the combo kit you won't have to spend extra for them.
Most combo kits will also come with handy storage bags for easy portability.
Shop Ridgid cordless combo kits available at: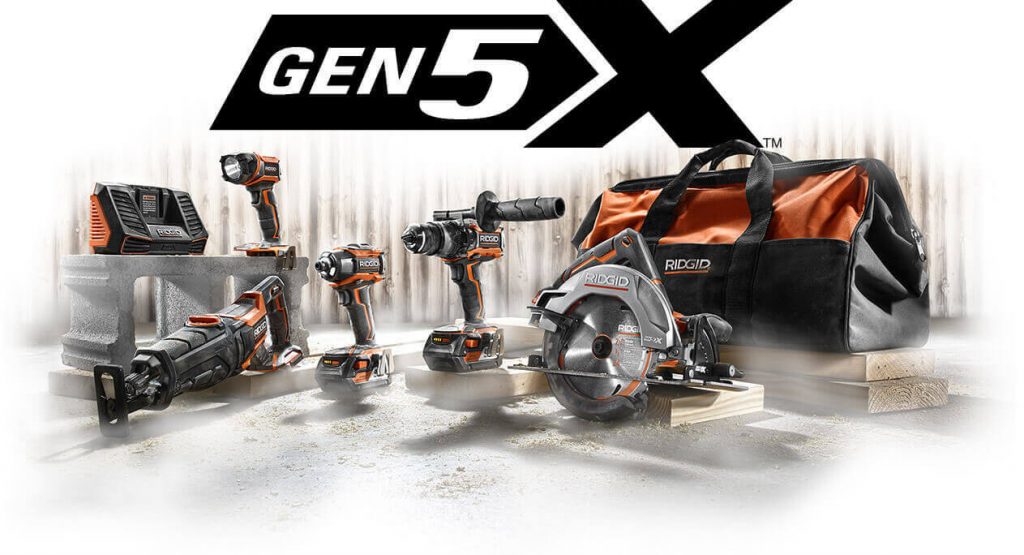 This review will not be complete without talking about their latest and most popular line of power tools named GEN5X. I can't help but say; their tools in this line outperforms most of their competitors.
The GEN5X tools feature an improvement in ruggedness as these tools are strong enough to cope with heavy-duty appliances.
All the GEN5X tools are designed to be powered by the same 18V batteries. So you can finally say bye-bye to the headache that comes with having to worry about different batteries and chargers for your tools.
Sponsored*

The GEN5X tools are sold individually, but some of them are sold together as a combo kit.
Shop Ridgid GEN5X tools available at:
Should I Go Corded or Cordless?
This depends on how often you use your tools.
A slight limitation of the Ridgid power tools is that their cordless tools don't have super battery life, meaning they were not designed to work 24hrs a day.
However, Ridgid has improved on this with the launch of their new Octane battery platform that now powers their latest tools.
Final Thoughts
As a DIY enthusiast, even if you have never used a power tool before, you will find rigid power tools user-friendly and easy to master.
Related Article: German Power Tool Brands constitute a fairly large percentage of the power tool industry. I have done a quick overview of them.
Enjoy our articles? You can follow us on Pinterest for more woodworking power tools tips and tricks.
Save on selected power tools from top brands - Shop Now on Zoro.