Safety Precautions When Using Power Tools | Your Woodworking Safety Checklist
Disclosure: If you click on some of the links, we may earn a small referral fee. Please know that we only recommend products that we use or believe will add value to our readers.
Thousands of people usually end up in hospitals every year due to power tool injuries. According to Power Tool Institute, these injuries are caused by three major reasons:
Lack of experience or overconfidence: On one end of the scale, this involves newbies who lack the necessary safety knowledge about the power tool in question. On the other end, experience could make some DIYers feel overconfident, hence they begin to take unnecessary risks.
Unforeseen occurrences: Most power tools run at high speed. This leaves the user with little time to react when things turn sour. Unforeseen events are more likely to occur when the power tool operator doesn't understand how the tool works, plans poorly or is simply inexperienced.
Hurrying or carelessness: Rushing increases the chances of accidents. No matter how in a hurry you are, always remember that once you get careless with power tools, you will be punished.
For DIYers, power tools present a ton of potential hazards. From flying objects to electrical shock to lacerations to even punctures.
Sponsored*

Whether you are a beginner or an expert, this article is a complete guide to safety precautions when using power tools for woodworking.
General Power Tool Safety Tips
Buy Quality Power Tools:
Quality power tools are not only reliable, but they will also save you a lot of headache in the long run. I usually recommend you buy from top power tool stores like Zoro, Walmart, Toolbarn etc.
Also, take a look at the best power tool brand for woodworking.
Perform Regular Maintenance:
Always perform regular maintenance on your tools to ensure that they are in good shape and fit to use. Power tools with bearing and rolling belts should be lubricated often. The procedure for lubrication should be in its instruction manual.
Use Toolboxes to Carry Your Tools:
Never carry pointed power tools in your pocket, neither should you carry it by its cord. You should use a toolbox or cart instead.
Unplug When Not In Use:
Never leave your power tools plugged in when it's not in use or when making adjustments such as replacing bits, blades, cutters, loading fasteners or changing accessories.
Don't Alter Your Power Tools:
Do not disable safety devices, remove guards or paint any of your power tools. Painting your tools could prevent you from noticing chips or cracks on the tool.
Store Your Tools in a Safe Place:
After each use, unplug, clean and store your power tools in a safe and dry place. You can store it in its original casing or you can build a power tool hanger. Also, make sure they are stored out of children's reach. Here are 8 ways to safely store your power tools and keep your workshop organized
Keep Your Workshop Clean and Dry Always:
Always make sure that the floor of your workshop is dry, clean and clutter-free to avoid slipping while working with or around dangerous tools.
Use a Safety Power Tool Switch:
If you own any of the following benchtop/stationary tools; wood lathe, router table, table saw, jointer, wood shaper, scroll saw or miter saw etc, one thing you will notice is that their power buttons may not be easily accessible, especially during operation. This make shut down process difficult. Luckily for you, this problem can be solved by installing a safety power tool switch.
Here is an article on how to install and use a safety power tool switch.
Ensure Proper Workspace Lighting:
Do not work in dark workshops. Make sure that your work area is well illuminated and bright so that the workpiece, cutting blades, and machine controls can be seen clearly.
Use Dust Collection Systems:
Your woodworking machines should be fitted with an efficient dust collection system to remove chips and fine dust as they are produced.
Handle Your Power Tools With Care:
Never toss your tool in the direction of a coworker. Do not yank its cord to disconnect it from the socket-outlet. Never use its cord to lower or lift the power tool. Keep all cords away from heat, oil, and sharp edges and arrange them properly when working so that they don't trip you over.
Do Not Handle a Power Tool If You Are Tired:
Stay away from power tools if you are sick, tired, distracted or under the influence of drugs or alcohol.
Do Not Overcrowd Your Workshop:
While setting up your shop, ensure enough floor space. Do not try to fit in too many power tools in a small shop to the extent that you start bumping into them
Take a look at the 9 essential power tools for every woodworking shop
Create an Emergency Area:
While taking adequate safety precautions will go a long way towards reducing the risks of accidents, you should still be prepared in the event an accident occurs. Designate part of your workshop as an emergency center. Equip it with a fully stocked First aid kit, fire extinguisher and telephone with emergency numbers clearly posted.
Things To Do Before Using Power Tools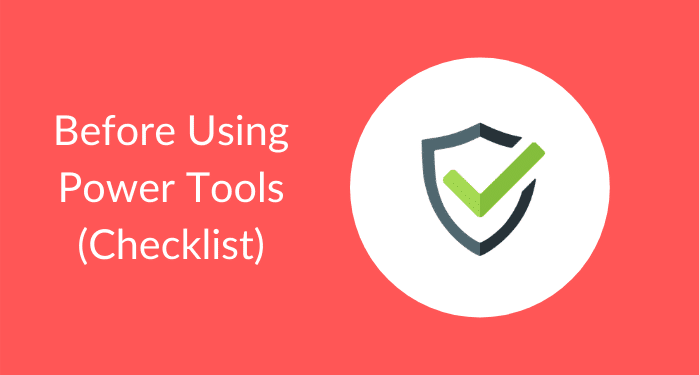 Study The Tool's Instruction Manual Carefully
Always read and understand the tool's instruction manual before attempting to use it. Also, check the tool's nameplate for any useful information or warning labels.
Wear Personal Protective Equipment (PPE)
If you can't stop a threat, at least you can protect yourself against it by putting on personal protective equipment. When I say personal protective equipment, I mean:
Coverall clothes – to protect your skin from wood chips
Safety goggles or face shield – to protect your face from dust and debris
Hand gloves – to protect your hand from splinters
Hearing protection – to prevent loud noise from damaging your eardrums.
Protective footwear – to protect your feet from sharp objects
Never wear loose-fitting clothes, necklaces, jewelry when using power tools
Inspect Your Tools Before Each Use:
Always make sure they are in good working condition before each use. Never use a damaged or malfunctioning power tool.
Use The Right Tool For The Right Job:
Make sure you are using the right tool for the task at hand. This also means using the right blades, bits, and accessories on your power tools.
Use Heavy Duty Extension Cord:
If you need to use an extension cord, make sure it's a heavy-duty cord. Do not use a power tool on indoor rated extension cords.
Ensure Your Work Area is Distraction-Free:
Before you handle any tool, make sure you are not being distracted. Also, do not rush or talk while working.
Safety Precautions When Using Power Tools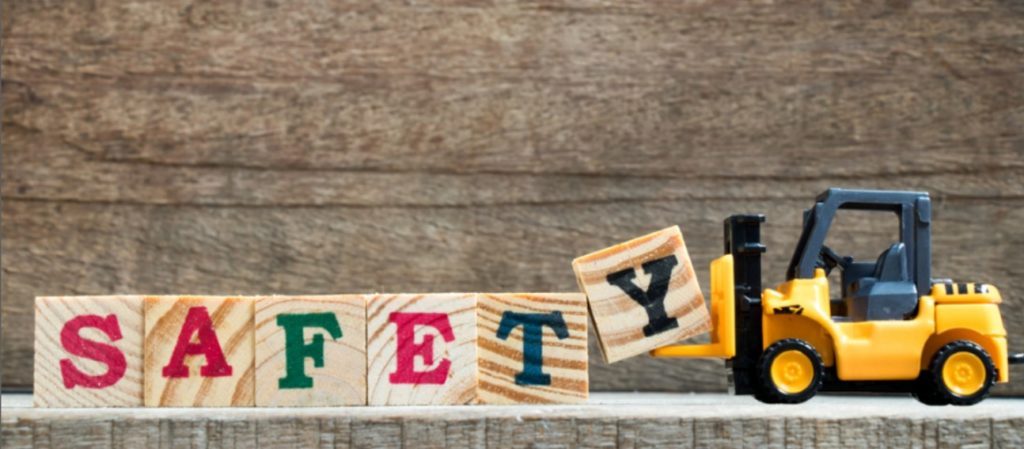 Always Keep The Guards in Position:
The tool guard should be in place and in good working condition when operating any power tool or machine. Also, make sure that adjusting wrenches are removed from the machine before hitting the ON button.
Avoid Wood Stocks With Defects:
If possible, avoid using power tools on stocks that have staples, nails, knots, or other defects
Use Jigs To Push Stock into Cutting Area:
You should use a stick or jig to push the workpiece into the cutting area. Your hands should be out of the line of the cutting blades.
Clamp Down Wood Stock:
When drilling, sanding, milling or cutting, the wood stock should be clamped down firmly.
Use Extendable Tables:
When working on large workpieces you should use extension rollers or tables and make sure support is placed on both sides (infeed and outfeed).
Avoid Awkward Operations:
You know those situations where you hand is positioned in such a way that a sudden slip can cause them to move into the cutting blade. Don't take the risk.
Sponsored*

Do Not Stand Directly Behind The Stock:
Try not to stand behind the workpiece when you are cutting or planing. This is to avoid kick-back
Do Not Remove Sawdust:
Never use your hand to remove sawdust or chips from the cutting head when the machine is running. Do not also try to free a stalled blade. Instead, switch off power and then use a brush or a stick.
Do Not Leave Your Power Tool on Standby:
This may cause serious problems for people who do not know that the instrument is powered. When you switch off the power tool, do not leave, until the machine comes to a complete stop.
Only Use Sharp Blades and Cutters:
Ensure that your blades and cutters are clean, sharp and well secured so that they will cut freely. Never use bent, broken or warped ones.
Stay Firmly Planted On Both Feet:
As the name implies, power tools are powerful. So it is paramount to stay in control of them at all times. Besides wearing non-slip footwear, you also need to make sure your feet are planted on a stable surface.
Keep A Firm Grip:
This is especially useful for hand-held power tools. Always hold them firmly with both hands. Never use a tool that is too heavy for you to handle.
Final Thoughts
It doesn't matter if you have been guilty of flouting one or more of these safety rules in the past. You can start today and commit to them. This way, you will be reducing the number of workshop accidents that occur each year.
Enjoy our articles? You can follow us on Pinterest for more woodworking power tools tips and tricks.
Save on selected power tools from top brands - Shop Now on Zoro.