4 Types of Table Saws For Woodworking (+ Top Recommendations)
Disclosure: If you click on some of the links, we may earn a small referral fee. Please know that we only recommend products that we use or believe will add value to our readers.
The table saw, regardless of its shape and size, retains its position as an essential workshop power tool, despite the growing number of woodworkers and DIYers alike, who have discovered one or more table saw alternatives.
The table saw can not only cut large pieces of wood, but it can also cut other materials like plastic and aluminium sheeting. In fact, it does this more accurately than the radial arm saw and circular saw.
With the right table saw, you can make cross-cuts, angled cuts, rip cuts and even bevelled edges. Whatever woodworking projects you create, adding this tool to your power tool portfolio will go a long way to speed up your workflow.
Looking to maximize your table saw's capability? These 14 essential table saw accessories will bring out the best of your tool.
In this article, I am going to walk you through the 4 types of table saws you will find in today's market so that you can make the right choice as regards the type that suits your woodworking needs.
Related Article: Band Saw Woodworking Power Tools | Types | Comparison With The Jigsaw
Categories of Table Saws For Woodworking
There are so many table saw choices within different categories. Since the table saw is going to take a huge place in your woodworking activities, being completely aware of what type is suitable for you is a priority that you can't avoid.
Here is a summary of the 4 categories of table saws under the following headings; price range, power supply, design and rip capacity.
If you want more details, feel free to continue reading or use the quick links below to navigate the article.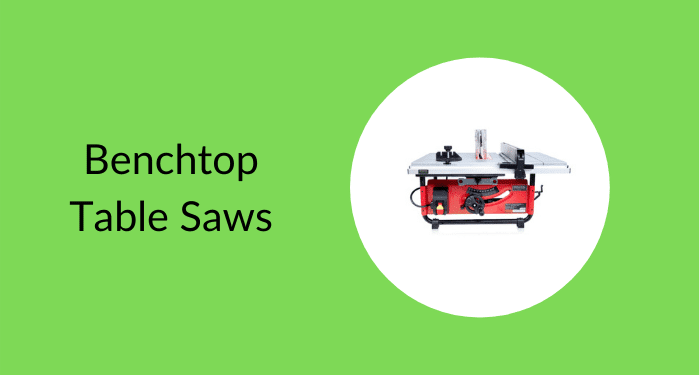 They are designed to be attached to a workbench or stand.
They are portable, lightweight and compact.
Weigh an average weight of 45 to 60 pounds.
They are very affordable compared to other types of table saws.
Best for cutting sheet materials such as oriented strand board, plywood, aluminium panelling or plastic.
They have a limited rip capacity of about 18 to 24 inches.
They usually lack dust collection ports.
What to look out for: Built-in extendable fence for handling sheet goods and screws to fine-tune the fence.
Recommended: Sirocco Benchtop Table Saw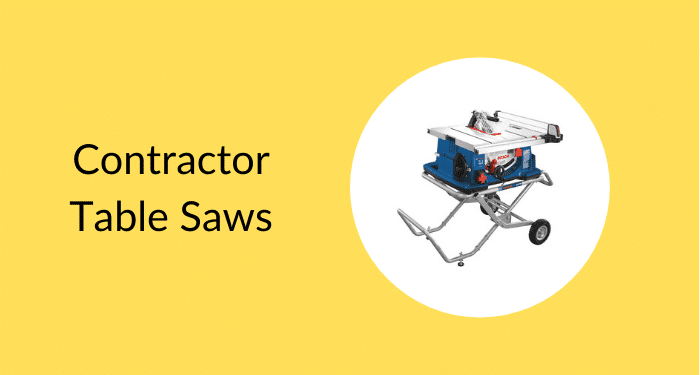 Sometimes called Jobsite table saws.
Their motors are rated 15amps and 120V.
Just like the benchtop type, they are also portable.
Unlike the benchtop, they come with a stand or rolling wheels.
Weigh an average of 75 to 150 pounds.
Their prices vary depending on the quality and power.
They have a rip capacity of about 24 to 36 inches.
They bog down if fed thick hardwood quickly.
What to look out for: Folding stand with wheels and adjustable feet; built-in telescoping fence that extends and accommodate wider cutting materials; screws to fine-tune the fence and a dust collector port.
Recommended: Bosch 10″ Contractor Table Saw
This type of saw combine features from the cabinet and contractor saw types.
They are heavier than the contractor type, averaging between 250 to 400 pounds.
They are quite expensive.
They also offer more power than the contractor table saws.
Some models run on 120V while others run on 240V.
They have a rip capacity of about 30 to 50 inches.
They mimic the cabinet type saws in the sense that they feature enclosed, hefty steel cabinets.
They are not as portable as they can only be moved with a hand-truck.
What to look out for: wheels with adjustable height; bump on/off switch; port for dust collection; adjustable trunnions and fence; cast-iron table extension.
Recommended: Powermatic 30″ Table Saw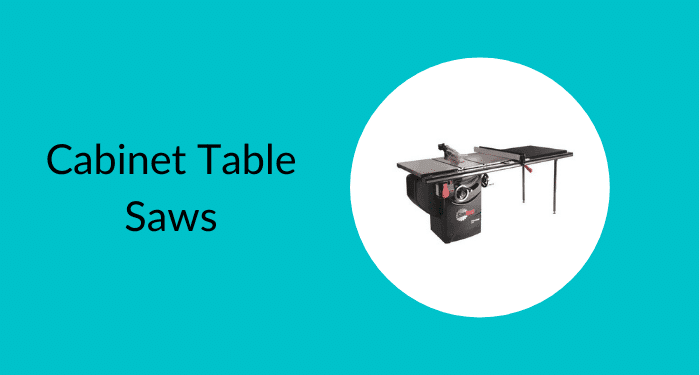 This is the most powerful and accurate of all the table saw types.
They are also the most expensive option.
They are extremely heavy, weighing more than 600pounds.
They have a rip capacity between 30 to 52in.
Their motors are fully enclosed in a cabinet below the table.
They can cut through the hardest stock all day long without bogging down.
Tough woods like; composite wood, hardwood, plywood, pressure-treated lumber etc., are no match for them.
They require a dedicated 220V AC power supply system to run.
Their tables surfaces are fully extendable to support large sheet materials.
Some come with two dust collection ports.
What to look out for: Precision-glide fence made of high-quality steel, wheels with adjustable height; bump on/off switch; port for dust collection.
Recommended: SawStop 3HP Cabinet Saw 52"
Which Table Saw Type Is The Best For Woodworking?
The contractor table saw is the best choice for beginner woodworkers or DIYers who have small workshops. They perform well on medium and some large scale woodworking projects.
Hybrid table saws can handle woodworking jobs of all shapes and sizes. They are more suited for experienced woodworkers who want more accuracy and don't mind spending a little over the top to get it.
The cabinet table saws are for highly advanced woodworkers who will trade nothing for accuracy. Also, if you are into cabinet making you wouldn't want to miss out on the precision the cabinet saw has to offer you.
Generally, I do not recommend benchtop table saws because of their highly limited capacity. But if you need something simple for building small furniture projects (coffee tables, chairs, dog house), arts and crafts, and decorative woodworking you can go for them.
Please note that these suggestions are not totally exclusive, especially when it comes to portability. If you are one of those woodworkers that don't work from a fixed workshop, you may be better off getting one of the portable table saws, and vice versa.
Related Article: 16 Types of Power Saws For Woodworking | Strengths | Weakness | Uses
Final Thoughts
Generally, the classification of table saws can be quite sketchy. Depending on the brand, there may be a thin line between two different types. Some brands classify both their benchtop and contractor type under one name – portable table saws.
On the contrary, it is sometimes difficult to ascertain which type you are actually using because some manufacturers don't classify them based on the types stated here.
I hope this article has enabled you to make the right choice as regards the type of table saw that fits your woodworking needs. You should take a look at my review of another useful woodworking tool – The Jointer Power Tool
Enjoy our articles? You can follow us on Pinterest for more woodworking power tools tips and tricks.
Save on selected power tools from top brands - Shop Now on Zoro.