16 Types of Power Saws For Woodworking | Strengths | Weaknesses | Uses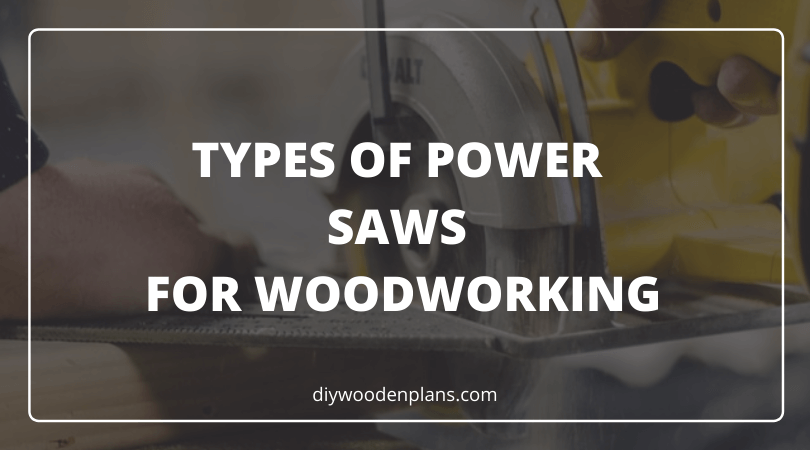 Disclosure: If you click on some of the links, we may earn a small referral fee. Please know that we only recommend products that we use or believe will add value to our readers.
Power saws are versatile tools that can be used for almost any project. From building furniture to cutting down trees, these tools do it all! Their power and speed are what make them so useful. With one in hand, you'll have your task completed in seconds instead of hours.
There are various types of power saws. You may find a simple style of a cutting tool or even a complex piece of a power saw. Each saw differs in its purpose and method of operation.
It is important that you know which type of power saw perfectly suits a specific task. Aside from yielding effective results, this will also avoid the misuse of power saws. Furthermore, knowing these types of wood saws and their proper use is a prerequisite to being an efficient woodworker.
Presented in this list are 16 types of power saws for woodworking, their strengths, weakness and common use cases when woodworking.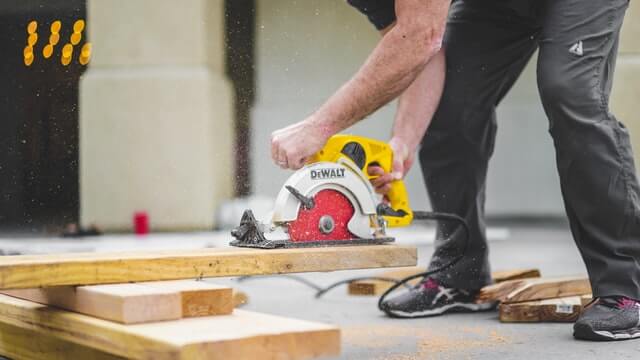 Circular saws are one of the most commonly used power saws in professional or even DIY woodworking. As the name suggests, a circular saw has a blade that is circular in shape. To cut a wood piece, the material should be held firmly in place beneath the circular saw. The blade then operates and spins at a very high speed while being directed through the surface by the operator.
Sponsored*

Good circular saws offer a high level of portability and versatility to the user. It can be mounted and fixed on a table or can also be used as a handheld tool. In addition, it is also a lightweight cutting tool that can provide convenience when being transported to other locations and places. Ultimately, circular saws are also compatible with various types of blades suited for cutting various types of materials, such as stone, steel, plastic, and even ceramics.
Strengths

It is versatile and portable, which allows you to make various types of woodcuts.

It is lightweight and would require less space for storage.

It can easily be transported to a different location.

It allows you to cut through lengthy wood pieces that cannot be accommodated on a table saw.

Weaknesses

In using Circular Saws, you would still need to set up guide-rails or straight edges to cut precisely.

Blades for circular saws are more expensive.

They are limited to cutting straight lines only.

They can't be used to cut curved lines on wood pieces.

Common Uses

Wood pieces for stairs and deck building

Trimming and Finishing Carpentry works
Shop Circular Saws Available At:
Want to find out how the circular saw compares with the reciprocating saw? Check out this article
Jigsaw is the first power tool that most people get. This is because they are easy to handle as compared to other large and aggressive power saws that are used in woodworking. This makes Jigsaws the most appropriate and convenient power saw for those who are new to woodworking.
When it comes to versatility, jigsaws are included in the list. It can be utilized for cutting both straight and curved cuts of any complexity. More so, it can also be used in materials other than wood such as tiles, metal, plastics, and granite. This type of power saw is commonly used in households for tasks such as installing countertops, simple furniture making, and some repair tasks.
Jigsaws may also be corded or cordless. They are also lightweight and easy to handle, which makes them suitable for cutting at a 45-degree angle.
See the Top 10 Best Jigsaw for Woodworking (+Types of Jigsaws)
Strengths

It is a versatile tool for cutting straight and curved lines on different wood materials.

It can be used to cut internal profiles. You just need to drill a hole for the jigsaw blade to enter, and you are now set up to make straight, curved, and angled cuts.

It is a lot safer than other power saws.

It produces less dust than circular saws.

Blades are less expensive than other saw blades.

Weaknesses

Because they have less power as compared to circular saws, jigsaws are not intended for extreme cutting tasks.

The blades are also weaker and tend to break more often.

They are not as accurate as circular saws in making straight cuts.

It is difficult to repair jigsaws. People often complain that they have a hard time finding parts for the jigsaw in the event that it gets defective.

Common Uses

Making curved cuts and cutting complex shapes into wood pieces.

Wood pieces for countertop installation

Making inside profile or inside corner cuts
Shop Jigsaws Available At:
Related Article: Find out between the Jigsaw and Circular saw which is more important for woodworkers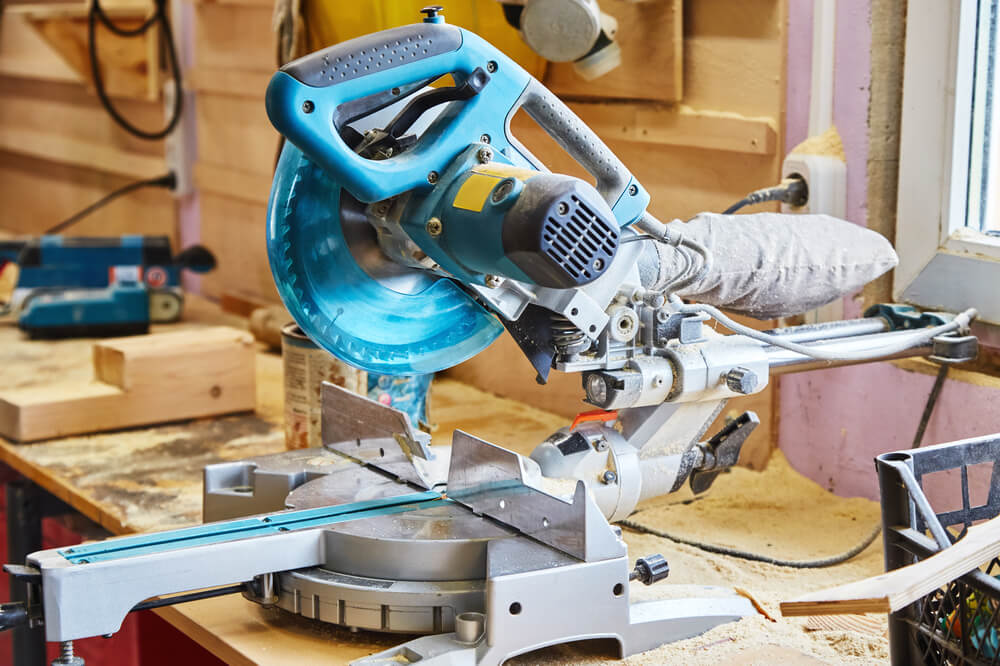 Although the miter saw looks like a circular saw, it is designed to make a specific type of cut known as a miter cut. Miter saws usually cut at angles other than 90 degrees.
Most miter saws come with a dial pad that allows the operator to dial in the angle of cut needed for the wood cutting. Additionally, some miter saws are equipped with a laser light that serves as a guide system to achieve a high degree of accuracy.
Generally, miter saws are considered specialised power saws.
Strengths

They are perfect for making precise cuts at varying degrees

Safe power tool since it has almost no kickback

Weaknesses

It can only be used in making angled and beveled cuts

A miter saw is quite expensive.

Requires a stable and level surface when being used

Cannot be used and operated handheld.

Common Uses

Making cuts at a variety of angles

Making cuts for crown molding

Making cuts for door and picture frames and window casings

Cutting wood pieces for baseboard installation
Shop Miter Saws Available At:
A compound miter saw is a more complex type of miter saw. The blade can be fixed at side angles, as well as up and down. It also provides the user with a more convenient space for adjustment when doing more complex cutting.
Another variation is the sliding compound saw, which is considered the most sophisticated type of miter saw. The sliding arm of this saw provides greater mobility for its attached blade.
Strengths

Has the ability to cut wider workpieces

Makes different cutting tasks easier

It will save you more time because of its ability to make wider cuts

Weaknesses

It is a bit more expensive than the typical miter saw.

It requires more clearance space since the sliding arm has to move backwards and forward.

Because of some extra parts, this type of miter saw would take a lot of effort when being transported to another location.
Shop Compound Miter Saws Available At:
A band saw is a stationary power saw that is popular among safety-conscious woodworkers. It has a sharp blade with varying degrees of saw teeth making it a perfect fit for cutting different types of materials. This power saw is one of the most precise cutting tools for making both curved and straight cuts.
There are different types of band saws – stationary and portable band saws. Stationary ones are bulky and aren't able to be moved around once they are installed. On the other hand, portable ones are mobile and only accommodate small pieces of material.
Band saws also come in two different models – vertical and horizontal. In a vertical band saw, the wood piece to be cut is continuously fed against the running blade. While, in a horizontal bandsaw, the rotating blade is attached to the swingarm, which will be brought down into the material's surface to cut through it.
Check out our article on band saw woodworking power tools and how they compare with jigsaws
Strengths

Waste and dust produced are minimal

One of the safest power tools

Weaknesses

It is not recommended for making simple cuts.

Common Uses

It can be used instead of a jigsaw
Squaring framing timbers
Shop Band Saws Available At: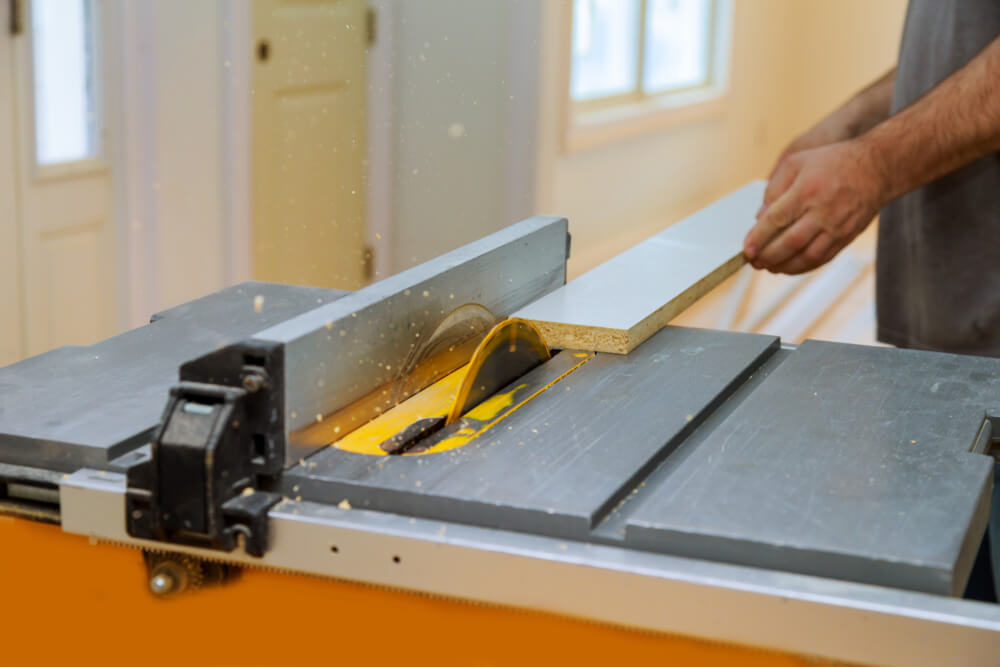 As its name suggests, a table saw is a power saw attached to a table. It has become one of the fundamental cutting tools that can be found in a workshop. Unlike other power saws, a table saw has a very simple mechanism. A circular blade is attached at a stationary position on the table. Instead of directing the blade down to the surface of the material (like how circular saws work), you need to push the material towards the blade to cut it.
See our article on the 4 types of table saws for woodworking
Some customizations can also be made on table saws, especially on the blade. For example, the blade can be changed or adjusted depending on the nature of the work to be done.
The table saw when combined with suitable accessories, is perfect for making rip cuts, crosscuts, and dado cuts.
Strengths

It has a very simple mechanism

Can accommodate various types of cuts

It can have safety features such as blade guards, magnetic and push switches, and anti-kickback pawls.

It is a flexible cutting tool. With the right type of blade, it can accommodate different types of materials.

Weaknesses

Not a portable cutting tool

Not suitable for making miter cuts and for resawing

Despite the safety features available, numerous accidents involving table saws are still being reported.

Common Uses

Can be used to cut wood and plywood

Ripping of wide boards and lumbers

Cross sectioning of materials
Furniture making
Shop Table Saws Available At: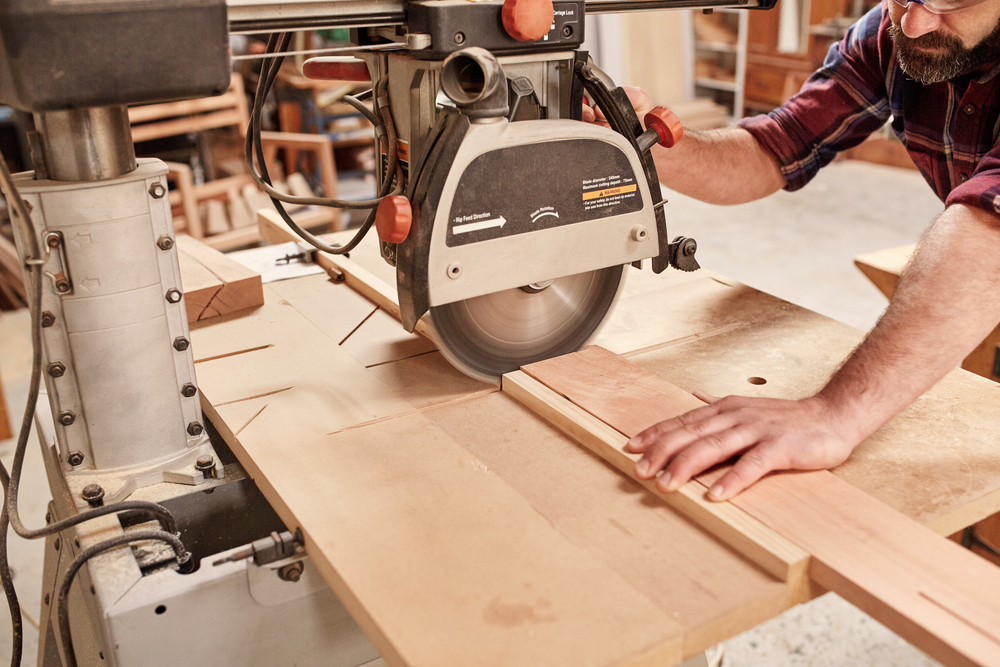 A radial arm saw is a type of power saw in which the blade is attached to a radial arm. The workpiece itself is installed at a stationary position on a table, while the arm is movable horizontally at different angles. This mechanism makes the radial arm saw an all-in-one power saw that is suitable for making all kinds of straight, miter, and compound cuts.
See our article on why the radial arm saw is hardly being used by woodworkers today.
Strengths

It can be used in making different types of cuts

Produces accurate cross cuts

Weaknesses

It is more expensive than table saws.

Requires more effort for maintenance

It is a bulky cutting machine that needs more space.

Comes with safety issues, and can be dangerous to inexperienced users

Common Uses

Woodworks for DIY and home projects
Shop Radial Arm Saws Available At:
If you are looking for a power saw suitable for making intricate and extremely accurate cuts such as patterns and scrolls, a scroll saw is the best tool for you. This is a specialized portable tool having two wheels that operate a band of continuous thin blades. This reciprocating blade moves up and down when the pedal is stepped on. It is usually 5 inches long and ¼ inch thick, and is like a double-ended jigsaw that is vertically arranged.
Related Article: Band Saw or Scroll Saw: Which Is Best for Woodworkers?
Strengths

One of the safest power-cutting tools. It has a safety feature in which the foot pedal stops in a matter of seconds if necessary.

Many scroll saw models have dust blowers attached to them to maintain clean works.

Can cut intricate shapes and patterns

It requires lesser floor space.

Weaknesses

Can only cut a limited depth and width of material

It has no side guide railings. This makes cutting straight lines quite a challenge to some.

Common Uses

Used for cutting patterns, wooden puzzles, and decorations

Cutting details for furniture, doors, and windows
Shop Scroll Saws Available At:
An oscillating saw, also called "multitool," is a grinder-like tool attached to a blade. With this multitool, performing different types of work is possible. In fact, with the right skills, the oscillating saw can replace almost every power saw available on the market.
It is suitable not only for cutting, but also for grinding, scraping, and grout removal. Lastly, given its very compact size, it is convenient to use even in limited spaces.
Strengths

High portability and versatility

Can be used for different types of tasks

It can also cut through other types of materials with ease

Weaknesses

Some parts of an oscillating saw are expensive

Blades can also be fragile

They cut slower as compared to other power saws.

Common Uses

Cutting of pipes and tubes

Cutting of wood, tiles, and metals

Cleaning of tile grout and grinding of tile adhesives
Shop Oscillating Saws Available At: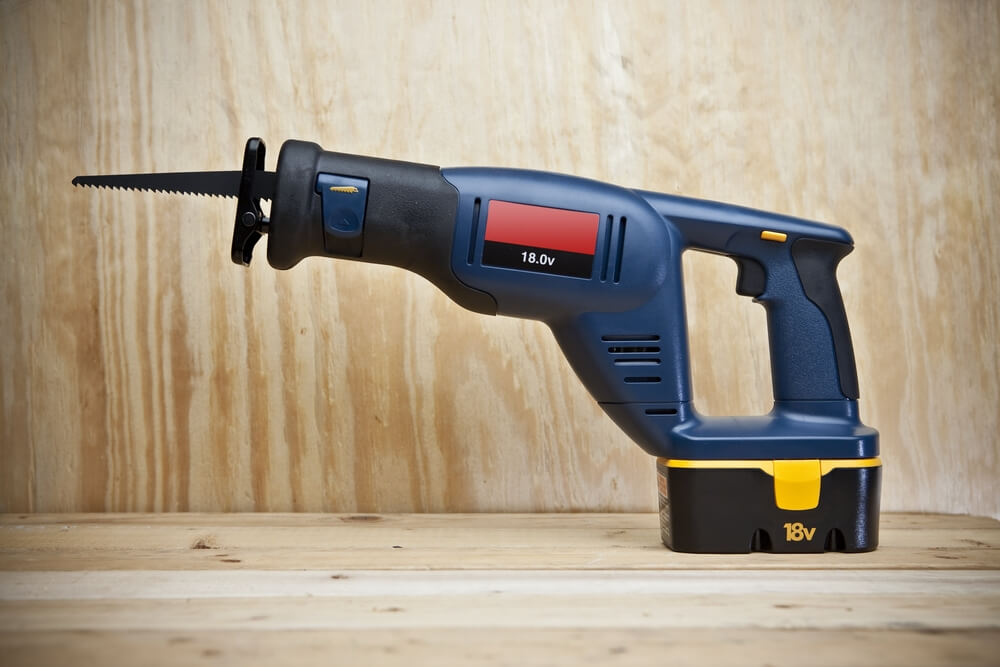 A reciprocating saw functions the same way as a jigsaw, and operates similar to a hacksaw. It resembles a drill with an attached blade. The blade pushes forward and backwards repeatedly and at a very fast pace. This constant sawing motion cuts through the material surface.
The precision of cuts produced by a reciprocating saw depends on the pressure applied by the operator on the saw. More so, the blade's speed and the geometry of the cutting edges is a factor to consider when achieving a quality cut using a reciprocating saw.
Reciprocating saws come in both cordless and corded varieties.
Strengths

It is a portable cutting tool.

Reciprocating saws can make both short and long cuts

Can cut a variety of materials including wood, cardboard, and drywall

It is a lot safer than other complex power saws.

Reciprocating saws allow you to cut things located above your head that cannot be reached by other types of saw.

Weaknesses

It is not suitable for cutting complex patterns and shapes.

It does not produce accurate curved cuts.

Common Uses

Pruning of trees and harvesting firewood

Cutting through metals, ceramic tiles, bricks, and drywalls

Demolition and Remodeling Works
Shop Reciprocating Saws Available At:
A flooring saw is another power saw that is designed for a specific purpose. As the name suggests, it is meant to be used for cutting floor coverings. With an approximate rotation speed of 11,000 RPM, it can accommodate floorings made up of different materials such as wood, laminate, bamboo, vinyl, etc.
A flooring saw is compact, which is convenient even in limited spaces. It is also able to make a miter cut, straight cut, rip cut, and cross-cut. To use a flooring saw, lay its metal table on the floor space. Place the wood on top of the metal table and then guide the blade through the floor material.
Strengths

It is easy to transport to another location.

Weaknesses

It has a loud motor and it is advisable to wear ear protection when operating a flooring saw.

It requires to be connected to a shop vacuum to avoid sawdust getting all over the place and keep the workspace clean.

Common Uses
Shop Flooring Saws Available At: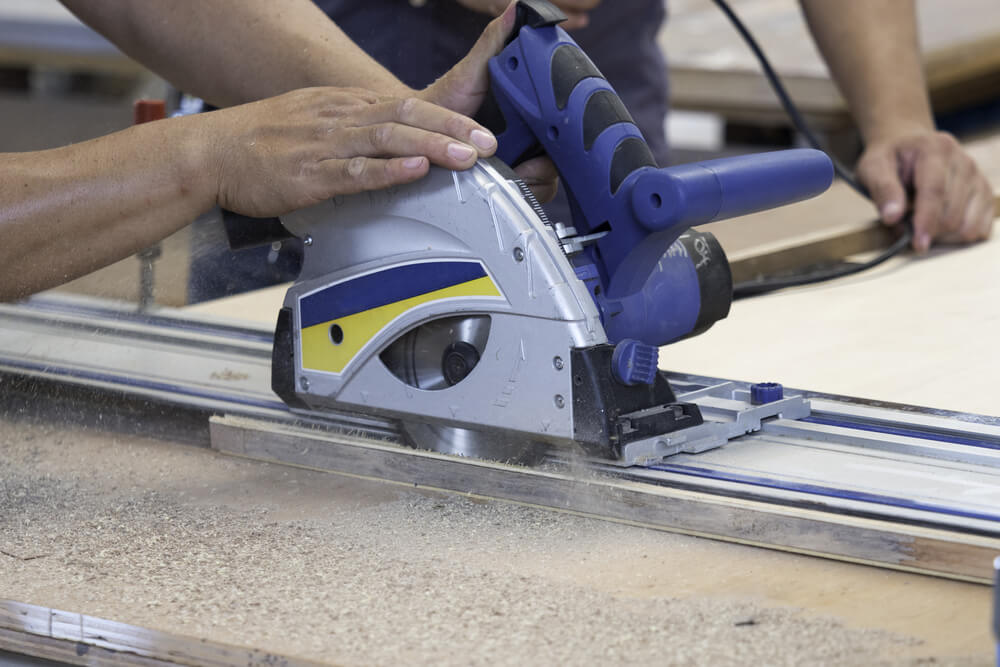 Track saws are a type of circular saws. However, a metal rail or track is attached to a track saw, making it more accurate and stable. The blade is also attached to the metal track of the saw so that it glides along the track to make perfect cuts with minimal effort required.
Track saws are very suitable for works requiring long and extremely accurate straight cuts. Aside from wood, a track saw can also be used in cutting plastic and metals.
Check out our review of 9 budget-friendly track saws available for woodworking
Strengths

Can cut wider and lengthier materials

It has a metal rail or track that helps cut accurately.

Weaknesses

It requires a stiffed workpiece to support the metal track.

Cannot be used for milling operations to make dados and rabbet cuts

Common Uses

Slicing down large material pieces

Cutting of wood, plywood, particle boards, and hardboards

Cutting studs and drywall
Shop Track Saws Available At:
The mechanism of a chain saw lies on a link of chains attached with specialized teeth that rotate around a steel piece at a high speed. A chainsaw is commonly used in trimming and cutting lumber and trees. This power saw can use either gas engines or battery as its power source. Chainsaws powered by gas engines provide the most power.
Strengths

It is easy to refuel or recharge

Can be used on a variety of materials

Weaknesses

It is a dangerous power tool. Hence it is advisable to use a safety helmet and a sun visor when using a chainsaw.

Requires effort for maintenance.

Not suitable for intricate cutting

Common Uses

Used in professional logging areas

Used by tree service companies
Shop Chain Saws Available At: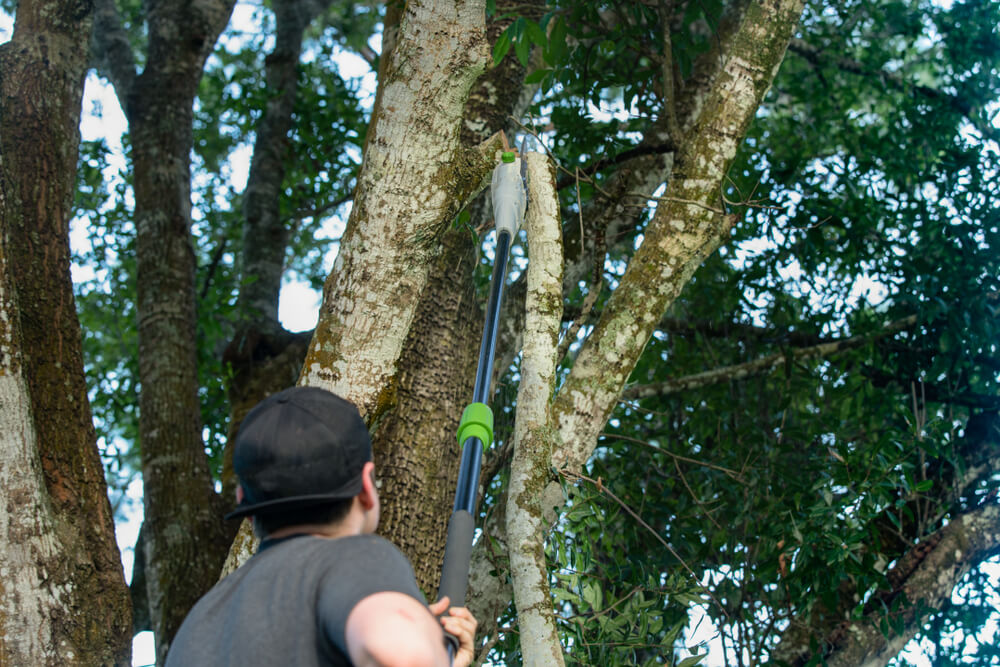 A pole chain saw, also called pole saw, is a type of chain saw that is attached to a telescopic pole. This is ideal for trimming and pruning high trees and hedges without using a ladder. Just like a regular chainsaw, a pole chain saw can be battery-powered, electric-powered, or gas-powered. The use of a pole chain saw is more advisable and a lot safer than using a regular chainsaw when trimming tall trees.
Strengths

The telescoping pole is adjustable

Safer than a regular chainsaw

Weaknesses

Less versatile than a regular chainsaw

Cannot be used for extreme cutting jobs

Common Use

Trimming and pruning of trees and branches
Shop Pole Saws Available At:
Sponsored*

A panel saw is a cutting tool that can cut in both vertical and horizontal directions. The process of operation of a panel saw is similar to a table saw in which materials are being pushed and fed through the blade. However, panel saws are suitable for cutting large panels and boards into smaller pieces.
Panel saws come in two variants – horizontal and vertical panel saws. Vertical panel saws are more popular to users since it requires lesser floor space compared to a horizontal panel saw.
Strengths

Ideal for cutting huge wooden panels

Vertical panel saws require lesser space than table saw or track saw

Weaknesses

Not ideal for making angular cuts

Not ideal for cutting small width panels

Common Uses

Used in making road signs

Cabinet and furniture making
Shop Panel Saws Available At:
Chop saws are similar to circular saws but larger. It has toothless blades that are made up of strong abrasives. This type of power saw is designed to cut even hard material pieces such as metals, concrete, and bricks. Chop saws are commonly found in professional workshops where cutting of hard materials are more regular. They can be connected to a water line to reduce sawdust produced when in use.
Strengths

Suitable for hard materials

Weaknesses

Can be dangerous when not properly used

Can be difficult to control

Not intended for intricate and angled cuts

Common Uses

Cutting of steel bars and pipes

Cutting of solid metal bars and other rigid materials

Chopping of stones and concrete

Used more for metalworking
Shop Chop Saws Available At:
REMINDER:
Power saws are very dangerous. You should always handle them with care. For more information check out our article on the Safety Precautions To Take When Using Power Tools
Final Words
Every woodworker should own at least one power saw. From simple woodcutting to professional cabinet making, power saws provide an experience that is faster, more convenient, and safer than the use of traditional hand saws. Also, knowing what appropriate type of power saw is suitable for a particular task will help you produce more accurate and satisfying output.
Enjoy our articles? You can follow us on Pinterest for more woodworking power tools tips and tricks.
Save on selected power tools from top brands - Shop Now on Zoro.