The Wen 4214 Drill Press Review: Here's Why I Love It
Disclosure: If you click on some of the links, we may earn a small referral fee. Please know that we only recommend products that we use or believe will add value to our readers.
Wen 4214 Drill Press
There is no valid reason why we can't recommend the Wen 4214 drill press to you. Starting from its power, and design to even small extra features, this press manages to tick the boxes in every category.
Variable speed option offers you flexibility
Precise laser guiding system makes drilling very accurate
Sliding extension makes working on large pieces easy
The work table is spacious
It comes with a versatile 5/8″ chuck
Can be bulky for small workshops
Not an industrial grade drill press
On the market for a new drill press? You might want to check out the Wen 4214. This powerful machine can handle a variety of drilling tasks, and it's built to last.
In our Wen 4214 drill press review, we'll take a closer look at what this drill press has to offer. You'll know what really sets the Wen 4214 apart from other drill presses as we'll talk about its unique features.
So, read on to learn more about it.
Related Article: WEN Power Tools Review: Are They Worth the Investment?
Complete Features and Specifications
Take a look at all the features that the Wen 4214 drill press boasts, and all of its excellent specifications below:
Sponsored*
Manufacturer: WEN
Model: 4214 drill press
Motor: 120VAC, 5A, induction, and ball bearings
Motor Horsepower: 2/3
Speed Range: 530 to 3100
Guiding System: Laser
Size of Work Table: 9 ½ inches by 9 ½ inches
Adjustable: Yes
Table Tilt Angle: 45 degrees left/right
Height of Item: 37 inches
Package Weight: 95lbs
Package Dimensions: 29.5 x 20 x 11.75 inches
Maximum Chuck: 5/8 of an inch, cannot accept a higher sized shank
Maximum Drilling Capacity: 3 1/8inches
My Review
You have to purchase all of your tools only after doing thorough research about them. This is because the quality of your tools can also vastly impact the final outcome of your wooden project.
We will be talking about the setup, design, performance, and price of this Wen 4214 drill press in detail below, so you can understand whether or not it's good for your workstation.
A. Setup
Assembling power tools like drill presses can get very difficult because of unclear instruction manuals. However, WEN provides very clear assembly instructions in the manual, so it should take you just about 10 minutes to assemble it.
For this job, you need 3 tools an adjustable wrench, screwdriver, and hammer.
At first, you will have to place the common tube, labeled 1 in the manual, with the base labeled 2.
Then, you will have to align the holes and install hex head bolts in each of the holes with an adjustable wrench and make sure to tighten them well.
Keep the crank handle on the shaft of the table bracket in a way that the flat side of the shaft is below the set screw.
Then, you want to tighten the set screws using your wrench.
Thread the table lock handle into the front of the table support bracket, and do the same with the rear of the table support bracket.
Install the table facing it in the same way as the base, and don't forget to tighten the table lock and support lock handle to fix it in place.
Ask someone to help you out to lift the heavy drill press head over the column. After that, place the mounting opening on the drill press head above the column.
Turn the drill press head in the same direction as the table and the base, and fix it down with the set screws.
Put the 3-speed handles into the threaded openings on the feed hub, and tighten the handles using your hands. Similarly, take the feed handle and insert it into the threaded opening of the feed hub, then tighten it.
Clean the taper hole of the chuck and the spindle with a clean cloth.
After opening the chuck jaws by twisting the chuck barrel in a clockwise direction, you will have to insert the chuck arbor into the opening at the top of the chuck.
Position the chuck and chuck arbor on the spindle. You will have to do this by taping a block of wood below the chuck and hitting it with a hammer.
After completing everything, you will have extra screws, which you will have to use to set the sliding extension.
Finally, use a level to ensure that the drill press is properly leveled and you don't get crooked drills.
B. Design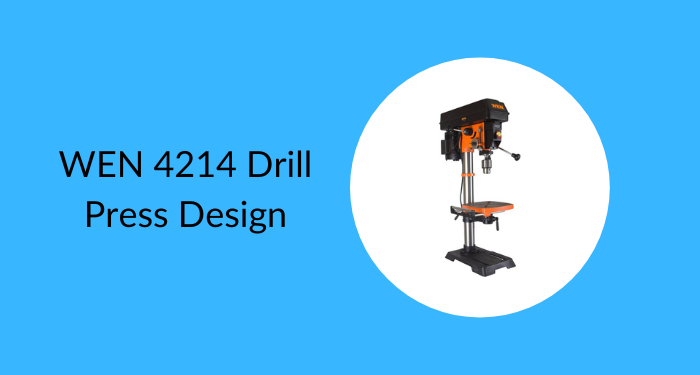 We are fairly satisfied with the design that WEN has made with this 4214 model. It includes a spacious work table which will let you comfortably do all your projects.
In addition to that, it also has a roller sliding extension for when you have long planks of wood or metal, that you need to set in place. The table also tilts to about 45 degrees on both left and right sides.
We love the addition of the LED light bulb above the work table, it helps in making the working experience much more comfortable and will prevent you from making mistakes.
The laser guiding system is extremely precise and helps tremendously when trying to drill a very precise hole. Although this drill press is not really huge, it is still quite bulky, and the item weighs almost 90 pounds.
C. Performance
There are hundreds of drill presses, and if we had to make a list of ones with the best performance, then the WEN 4214 would definitely have a spot on it.
Its 2/3 horsepower motor is powerful enough to do any sort of DIY project or woodwork that you throw at it. The rating of this item is 120V/60Hz with 5 amps. While this may not be as powerful as the huge drill presses, it is good enough for regular woodworkers and DIYers.
With this drill press, you will be able to drill centerline holes into 24 inches wide stuck. Furthermore, this model has an improved 5/8" capacity. It can drill holes that are 3 1/8 inches deep, which is way more than the capacity of other similar models in the market.
This is a drill press with 12 inches swing, meaning it can accept a maximum of 12 inches stock. WEN has gone for variable speed with this model, and it ranges from 530 to 3100 RPMs (although they claim it to be 580-3100 RPMs).
We don't have much of a problem with it, but our only complaint is that we wish it had lower RPM as well. The main problem with the lack of low RPM speeds is that it doesn't drill holes into metal as well as it does in wood.
D. Pros and Cons (Detailed)
Spacious Work Table which can also be tilted
LED light bulb makes it easy while working
Precise laser guiding system makes drilling very accurate
Sliding extension makes handling large pieces easy
2/3 horsepower motor is powerful enough for woodwork
Variable speed option so you have flexibility
You will get versatility because of the 5/8" chuck capacity
Very heavy and bulky for regular workstations
Lack of low RPM settings makes it slightly difficult to work with metal.
E. Price
Compared to its competitors, the WEN 4214 comes at quite a reasonable price. It is priced at about $500 with everything, and just the drill alone will cost you about $300. This may sound a lot to you if you're a beginner, but it is a good price for such a high-quality power tool. So, in terms of value, this item is 100% worth it.
Get the WEN 4214 Drill Press available at:
F. Who Is This Drill Press for?
The Wen 4214 drill press is perfect for woodworkers who work independently to create projects. This drill press is undoubtedly one of the best for working with wood.
With smooth and easy operation, even DIYers who are working on a lot of home improvement projects will also love the Wen 4214.
The clear assembly instructions also make setting up this drill press very simple, and the laser guiding system will be very beneficial for those of you who don't have enough experience. However, the performance and design of this item are definitely professional grades.
It will be the perfect addition to your workstation if you frequently work with wood. However, this medium-sized drill press is not very suitable for large scale manufacturers. For large scale production, you will need to use larger drill press models.
Although this medium-sized drill press can be a bit big, you can still fit it into your workshop if you know all the tips and tricks on organizing power tools.
Frequently Asked Questions
Can I use MT2 and remove the chuck of the Wen 4214?
Yes, you can do this. Beginners shouldn't be doing this because it probably won't be necessary. However, if you're more professional, then using any MT2 taper tool instead of the chuck may open more options for what you can do with this press.
Sponsored*

Does this drill press have a belt system?
Yes, this drill press is belt-driven, and to make it durable, it uses very robust metal pulleys. The noise from the belt system may be a little annoying, but it's not a deal-breaker.
How is the Table height adjusted?
Near the work table, you will find a hand crank that you can use to adjust the height of the table.
Final Verdict
There is no valid reason why we can't recommend the Wen 4214 drill press to you. Starting from its power, and design to even small extra features, this press manages to tick the boxes in every category. For woodworkers, DIY enthusiasts, and longtime homeowners this product will be the perfect purchase.
When it comes to value for money, we can almost certainly say that you will not be finding anything close to the Wen 4214 drill press. We would even say that small businesses and contractors will also be satisfied with this product.
If you have found this item suitable for you after reading this Wen 4214 drill press review, then don't make any more delays, and get your hands on it while it is available!
Enjoy our articles? You can follow us on Pinterest for more woodworking power tools tips and tricks.
Save on selected power tools from top brands - Shop Now on Zoro.