7 Wood Lathe Chuck Types (Explained with Images)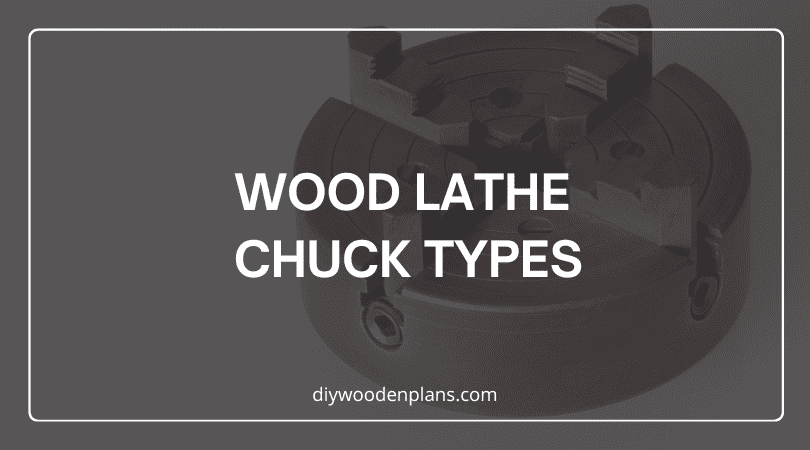 Disclosure: If you click on some of the links, we may earn a small referral fee. Please know that we only recommend products that we use or believe will add value to our readers.
Don't know what types of wood lathe chuck you can get? Neither did I, till I had to buy one for myself. Back then, I had to scourge through dozens of forums to get the information I needed.
Woodturning requires a ton of precision. This is where the chucks come in. Each type of chuck is designed to handle a different object or tool. Should you fail to pick the right chuck, you'll only make the process tougher for yourself. Worst case scenario, you'll ruin the workpiece.
To make sure you don't suffer as I did, I've listed all the major wood lathe chuck types in this article. We'll start with a brief introduction to lathe chucks. So, let's get started.
New to woodturning? See this beginners article on using the wood lathe tool for woodturning
What are Wood Lathe Chucks
The wood lathe chuck is a must-have component in the process of woodturning. To put it simply, a wood lathe chuck is used to hold the piece you're working on stably. This allows the user to make accurate changes to the workpiece.
Sponsored*

Now, you may question the necessity of different types of chucks for woodturning. Well, if you work with simple structures, you won't need many types of lathe chucks.
However, things get much more complicated where workpieces of complicated structures and shapes, such as bowls, eggcups, etc., are involved. Sooner or later, every artisan works with complex shapes, so everyone buys different types of wood lathe chucks eventually.
There are other wood lathe tools and accessories that can simplify your workflow and help you work on complex projects. Click here to learn more about the essential wood lathe tools and accessories.
Categories of Wood Lathe Chucks
There are three main styles of wood lathe chucks. No matter which jaw type you go for, the chuck will fall into any of these three types. So, let's take a quick look at the different styles of wood lathe chucks.
A. Self-Centering Chuck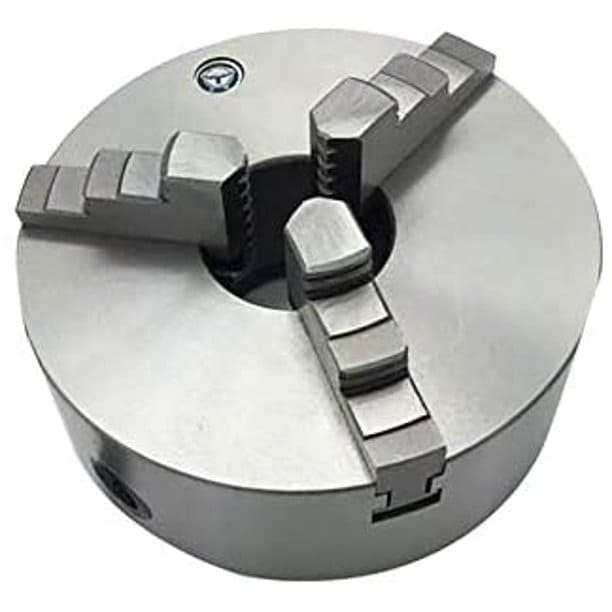 At first, we have self-centering chucks that are often called scroll chucks. These wood lathe chucks come with jaws that are connected with a scroll. These chucks can house two, three, four, or even six jaws.
As the number of jaws can be increased or decreased freely, these are called universal chucks. Self-centering chucks are mostly used when the aim is to center the workpiece accurately. As they can house up to six jaws, they're perfect for holding hexagonal and circular objects.
Even simpler objects will benefit from self-centering chucks in certain use cases. If the object is thin-walled, it won't be wise to apply a lot of pressure to it. In these cases, self-centering chucks with four or six jaws can help as the pressure is equally distributed.
B. Independent Chuck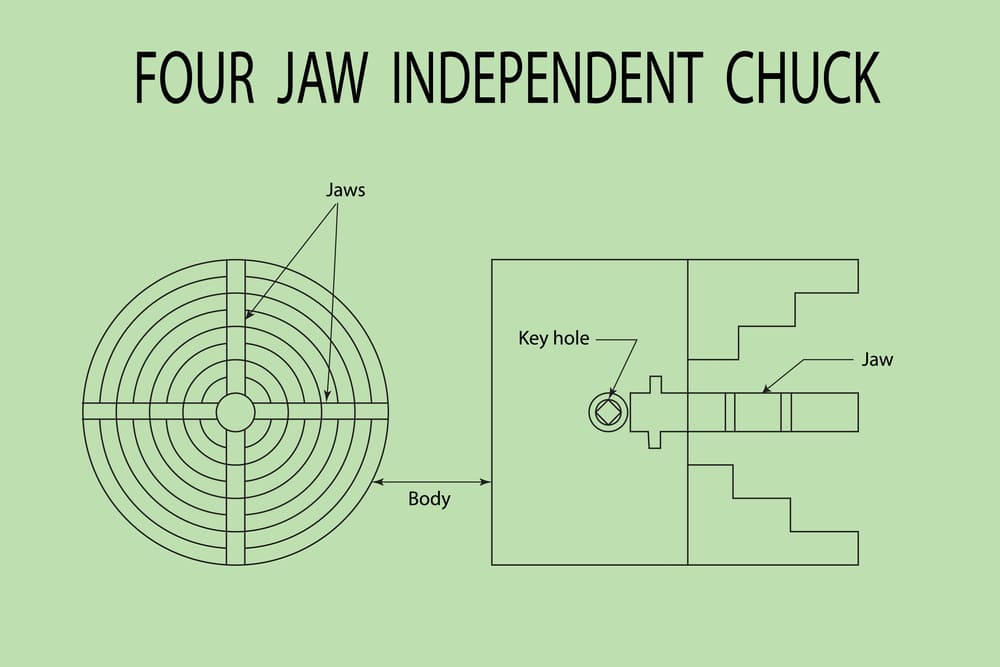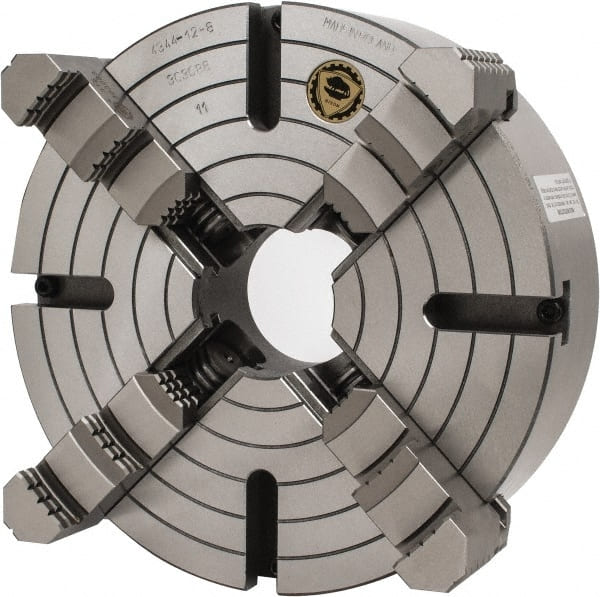 While self-centering chucks come with interconnected jaws, the independent jaws have no such scroll. Each jaw can be moved individually and independently, hence the name.
While independent chucks offer more value in terms of flexibility and customizability, they're very tough to set. New users might even need a pair of extra hands for setting these chucks up.
However, independent chucks are required to hold irregularly shaped objects. They are also used for holding objects made of heavy-duty materials often.
C. Combination Chucks
If you want the ease of use of a self-centering lathe chuck but also the flexibility of an independent chuck, then you should get yourself a combination chuck.
These chucks come with jaws that can be moved independently. However, after you position them to follow a certain pattern, you can turn the scroll that connects them all. This will let you open or close all the jaws at once, but it'll give you the flexibility to position them beforehand.
Despite being the most featureful alternative, the combination chuck isn't the fastest. It's faster than an independent chuck, but it's also slower than a self-centering chuck.
So, if you work with evenly shaped objects only, you should get a self-centering chuck. However, you'll need either an independent or a combination chuck. Between the two, combination chucks are considered superior.
Types of Wood Lathe Chucks Based on Number and Types of Jaw
In this section, we'll be discussing different types of wood lathe chucks based on their jaw number and type.
1. 2-Jaw Chuck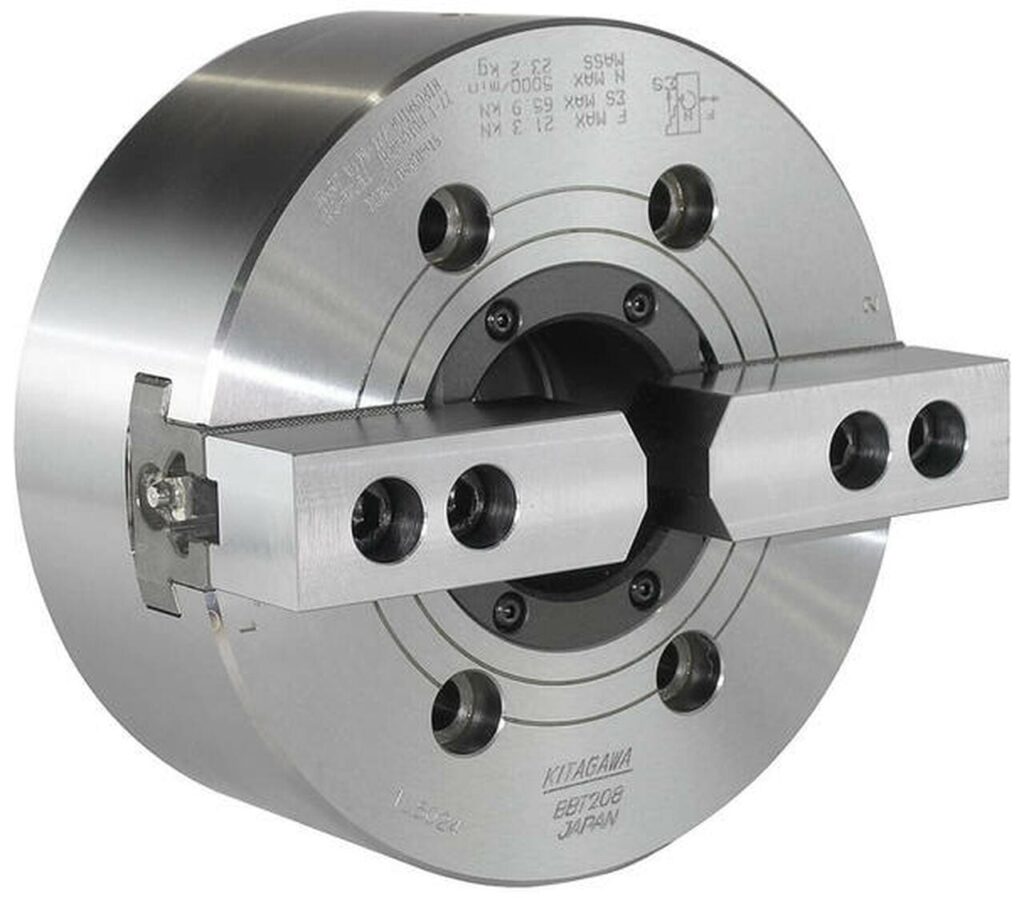 2-jaw chucks can be used to clamp and hold various shapes. However, two jaws won't be enough to hold any object firmly during woodturning.
To setup the 2-jaw chuck, the jaws must be placed on the rectangular sides of the pipe joints. Certain factors, like clamping force, speed, the material of the workpiece, etc, must also be considered.
Generally, we do not recommend the 2-jaw chuck as they are hard to work with and aren't as accurate as the other options.
2. 3-Jaw Chuck
3-jaw chucks are great for holding hexagonal and triangular workpieces in place. These are best for triangular workpieces as the jaws can put equal pressure from all sides.
For triangles that are even on all three sides, you can go for a self-centering wood lathe chuck. These chucks come with a scroll plate that makes the jaws move simultaneously. In the case of irregular triangles, one or two jaws may apply additional pressure. Thus, the workpiece may break. If the workpiece is made of heavy-duty material, it won't break but might damage the chuck.
So, it's important to choose the chuck based on the type of workpiece you'll be working with.
If you're looking for a 3-jaw lathe chuck, we'd recommend the VEVOR K11-100 Self-centering 3 Jaw, Lathe Chuck
This chuck will provide both flexibility and ease of use. You can clamp the workpiece both internally and externally with it. The quality and precision of this tool is also unparalleled.
3. 4-Jaw Chuck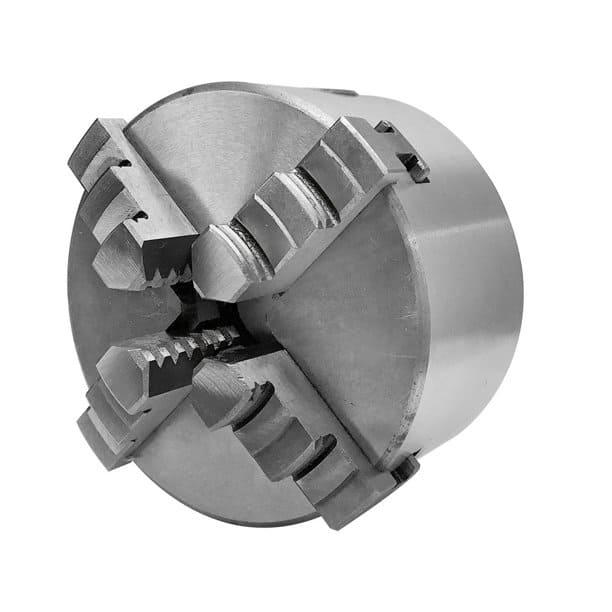 The 4-jaw chucks are perfect for two types of workpieces. Firstly, they're the best option for holding square blocks firmly. If it's a square block, a self-centering chuck will serve you the best.
On the other hand, combination or independent chucks will be a better fit for rectangular blocks.
Other than this obvious use, 4-jaw chucks can also be used on round workpieces. These are better than three-jaw chucks for holding round objects. The extra jaw distributes weight more evenly, which lets the user fit even thin workpieces.
However, be advised not to use these with any elliptical objects. Although they work fine with round workpieces, they don't perform stably with elliptical objects.
If you're looking for a self-centering 4-jaw chuck, you can go for the WEN LA4444 4-Inch 4-Jaw Self-Centering Lathe Chuck Set. It was very cheap, and the jaws are quite soft. So, you can work with intricate workpieces with this tool.
For those in need of something more professional, you can go for the NOVA 48291 PRO-TEK G3 1″ x 8 TPI Reversible Chuck and Jaw Set. This chuck is fast, secure, and efficient, and as a bonus, it reduces the load projected on the spindles and small bearings.
We believe this one's perfect for consumers looking for a chuck with tons of features. It comes at a high price bracket, but it's worth paying for.
Check out this article for reviews of the 7 best lathe chucks for woodturning projects
4. 6-Jaw Chuck
Six-jaw chucks are one of the most popular chucks. These let you work with some unique shapes, such as pipes and tubes. There aren't many other chucks that'll let you work with these shapes.
You'll also get the best results if you use these for holding hexagons or spheres. As the six jaws distribute the pressure much better than 3 or 4-jaw chucks, the 6-jaw chucks can be used for delicate workpieces too.
If you get yourself an independent or combination 6-jaw chuck, you'll be able to center ellipses as well. As you can see, this is a truly versatile chuck and a must-have for professionals.
Sadly, these chucks can't be used with most regular-shaped objects such as squares or triangles.
My recommended 6-Jaw chuck: OUKANING 8″ 6 Jaw 200mm Self Centering Lathe Chuck
5. Longworth Chuck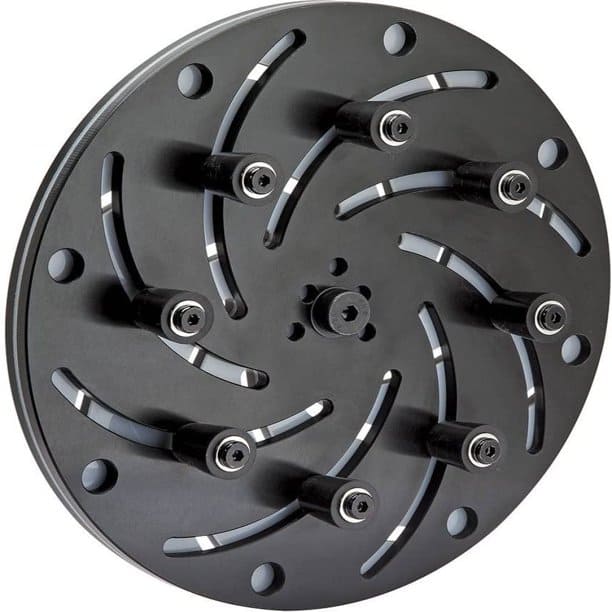 Longworth chucks are specially manufactured in the US. The prime features of these chucks are their adjusting mechanism and strong yet smooth jaws.
These aren't standalone chucks. You need to attach this to an existing self-centering lathe chuck. Thankfully, you won't have to remove the self-centering chuck to install this.
You can use the Longworth chuck with either 2- or 3-jaw chucks. These are designed for use with processes that involve low-speed cutting. If rotated at high speed, these chucks may go off-center.
For mini lathes or midi lathes, you can get 10″ or 12″ Longworth chucks. For larger swings, you'll get 16″ options.
Recommended Longworth Chuck: Rockler 16 Longworth Style Chuck
6. Stronghold Chuck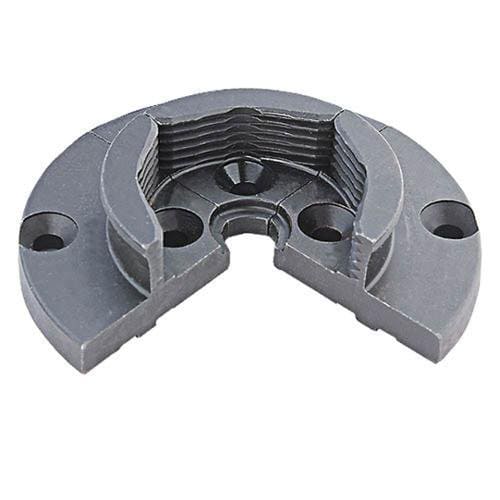 If your lathe has a 16″ swing, then the Stronghold chuck will be perfect for you. The specialty of these chucks is their amazing gripping power. These chucks usually have a four-and-a-half-inch body diameter, making them the largest wood lathe chuck types you can buy.
After you assemble them, you'll end up with a tool that weighs around 8 pounds. Two other chuck types are considered heavy, the Talon chuck and Oneway chuck. These weigh 3.5 pounds and 4.5 pounds consecutively, and this comparison shows how heavy the Stronghold chuck is.
While the Stronghold chuck isn't compatible with smaller lathes, they are must-haves for large ones. Thanks to their size and grip, these chucks let you work with huge workpieces with absolute accuracy.
Despite all these features, the Stronghold chuck can be used one-handed. This makes it an even better deal.
Recommended Stronghold Chuck: Oneway 2103 #2 Profiled Jaws for Stronghold Chuck
7. Drill Chuck or Jacob Chuck
As the name suggests these chucks are mainly used for holding a drill, tap, or reamer. But that doesn't mean that you can't use them with wood lathes.
To use a drill chuck with a lathe, you'll need to install it on the tailstock of the lathe. For making things more convenient, it comes with a rotating key that can be used to center the jaws. This provides greater accuracy while performing spindle operations or drilling pen blank.
Take note that drill chucks are also referred to as Jacob chucks
My Recommended Drill Chuck: Jacobs 34-33C Plain Bearing Heavy Duty 1/2″ Chuck
Which Wood Lathe Chuck Type Is Recommended For Woodturning?
If you ask me, I'd recommend you start with the 4-jaw chuck. These chucks are very versatile and can be used with almost most shapes, with some exceptions such as ellipses.
If you're only starting with woodturning, you should get a self-centering chuck. These are much easier to work with and will give you more time to focus on the craft.
A combination 4-jaw chuck will be a great option too. It'll prepare you from the very beginning, and you'll be able to center the workpiece accurately later on.
Frequently Asked Questions
Is there a universal 3- or 4-jaw chuck, or does it depend on the lathe?
Sponsored*
Yes, you can find tons of universal or self-centering 3 or 4 jaw chucks on the market. For example, the WEN LA4444 4-Jaw Self-Centering Lathe Chuck features a 1" x 8 TPI thread that makes it compatible with the majority of wood lathes. At the end of the day, whether you'll go for this or not depends on the shape of the object.
Can I use a 3-jaw chuck on my wood lathe?
Yes, you can use a 3-jaw chuck on your wood lathe. 3-jaw chucks are compatible with triangular, hexagonal, and round wooden blocks.
Final Thoughts
As you're reading this, it's safe to assume that you've gone through this article in its entirety. If so, you've learned about different wood lathe chuck types. Note that these aren't the only types of lathe chucks.
There are some other chucks such as hydraulic chuck, collet chuck, etc. However, the ones listed above are used more frequently with wooden workpieces.
Hopefully, you'll be able to find the right wood lathe chuck for yourself now. Share this with your friends and family, so they find their way around too!
Enjoyed this post? Check out my 6 best wood lathe tool sharpening systems for woodturners
Enjoy our articles? You can follow us on Pinterest for more woodworking power tools tips and tricks.
Save on selected power tools from top brands - Shop Now on Zoro.