6 Wood Lathe Tool Sharpening System For Woodturners (A Beginner's Guide)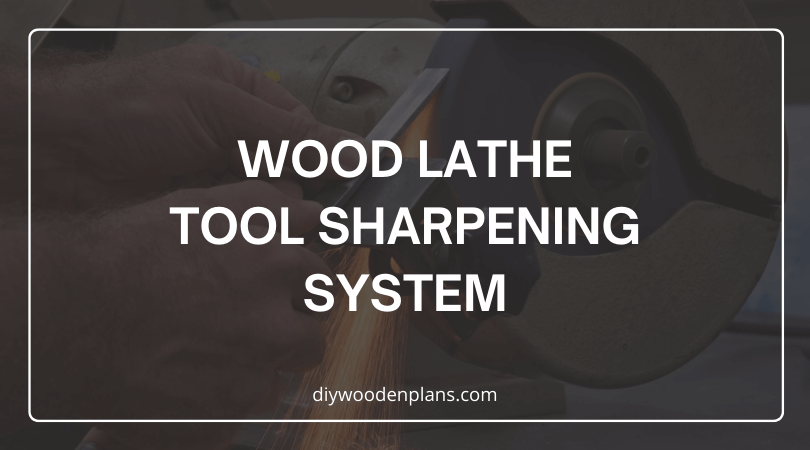 Disclosure: If you click on some of the links, we may earn a small referral fee. Please know that we only recommend products that we use or believe will add value to our readers.
When it comes to achieving success in woodturning, the right sharpening system for your lathe tools can make a huge difference. If you're an avid woodturner or DIY enthusiast looking for the best wood lathe tool sharpening system, you've come to the right place.
Wood lathe work is already a very difficult area of expertise, and without an efficient sharpening system, it can create a lot of barriers. This is why it is very important to maintain the sharpness of your woodturning tools in order to deliver the best performance.
We've compiled a list of 6 competent sharpening systems that can make woodworking easy and effortless for you.
In the meantime, take a look at my 7 essential wood lathe tools and accessories to begin woodturning
Factors to Consider When Selecting Lathe Tool Sharpening Systems
The right sharpening system can help in smoothing out tool marks, spindle-turning, shaping different blocks, and hollowing end grain. You can carry out a lot of complex tasks if your sharpening system is competent enough.
Since there are so many sharpening systems in the market today, choosing a single one can get tricky. Here are some important factors that you should keep in mind before choosing a lathe tool sharpening system
Sponsored*

Easy Installation
Let's admit it – no one wants to work with a tool sharpening system that takes forever to install. Working with a lathe tool sharpening system is hard already, which is why users prefer a sharpening system with an easy setup.
When searching for a lathe tool sharpening system, make sure you choose something that takes a few seconds to set up. Don't settle for something that takes a long time to install. Remember, if your installation is easy and quick, the next steps will be trouble-free as well.
Slow Speed Grinder
One of the most important features you should look for in a sharpening system is how slow its speed grinder is. The slower the speed grinder, the better will be the sharpening.
Especially if you're working with metal like steel, a slow-speed grinder helps a lot in comparison to traditional faster grinders. Unlike fast grinders, slow speed grinders sharpen lathe tools without inducing the edge-destroying heat. So, make sure you pick a sharpening system with a relatively slow-speed grinder.
Sharpening Jig
Another important feature you should look for in a sharpening system is a sharpening jig. Especially if your tools have steel blades, a sharpening jig can make a big difference.
A sharpening jig is used to hold the blade at the desired angle when honing the bevel. This helps a lot with an accurate and smooth sharpening of the blades or tools. So, before buying a sharpening system, check if it has a sharpening jig or not.
Adjustable Heavy-Duty Tool Rest
An efficient sharpening system needs an adjustable heavy-duty tool rest. A tool rest helps in holding the tools or keeping them steady during grounding. If it's adjustable, the process can become easier for you. So, before choosing a sharpening system for lathe tools, make sure you check if it has an adjustable heavy-duty tool rest or not.
When Should You Sharpen Your Tool?
If you're new to sharpening, there are a lot of things that will seem difficult for you at first. One of them is understanding whether your tool needs sharpening or not.
In order to find out if you should sharpen your tool, check if it's already sharp. When you pull the edge of the tool across your thumbnail, a curl indicates that the tool is sharp. Another way to tell if your tool is already sharp or not is by blackening the bevel.
Usually, when you try dragging a dull-edged tool on your wood, the surface becomes rough and pitted. It can get difficult to sand the surface and burnish it again. So, it is important to check whether the tool needs sharpening before running your tool on the wood piece.
You won't be able to master the tricks of sharpening your carving and turning tools in a fortnight. It will take a lot of practice and time, but eventually, you'll get there.
My Recommended Wood Lathe Tool Sharpening Systems
Now that you've got a clear idea of sharpening, let's have a glance at some of the wood lathe tool sharpening systems you can try. I have divided this list into; complete sharpening systems, sharpening jigs systems and my recommended slow speed bench grinder.
Complete Sharpening Systems
Complete sharpening systems come with a full package of grinders, jigs, and additional accessories. Here are some complete sharpening systems that are worth investing in –
1. Robert Sorby ProEdge Plus Sharpening System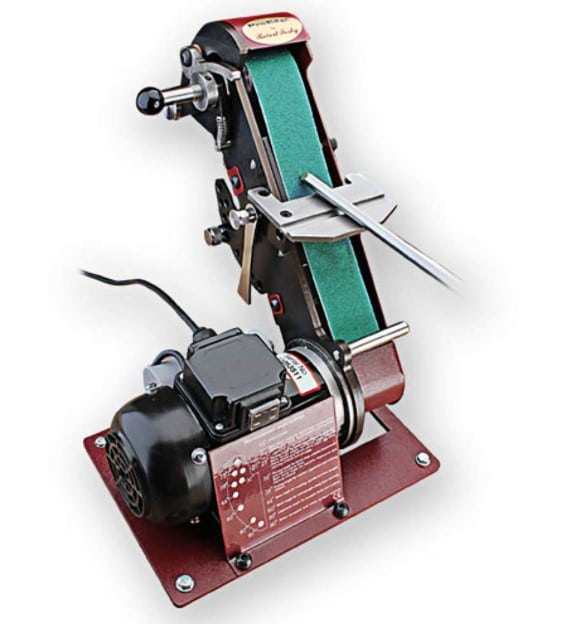 The Robert Sorby ProEdge Plus sharpening system is suitable for woodworkers and homeowners who prefer traditional sharpening. The easy and quick setup, precise sharpening features, and heavy-duty tool rest make this a perfect option for newbies.
If you're a DIY enthusiast looking for something simple yet reliable, this should be your ideal pick.
This sharpening system comes with 60-grit Zirconium belts, which is quite impressive. It is a versatile tool that helps in carving, turning chisels, and framing apart from sharpening smoothly. The factory-indexed settings that come with the system can be used to operate on a wide range of sharpening tools.
Pros
Sturdy construction and built to last long
Offers precise sharpening
It can be used on different types of tools
Quick and easy to setup
Cons
Get the Robert Sorby ProEdge sharpening system available at:
2. Tormek T-4 Compact Water-Cooled Sharpening System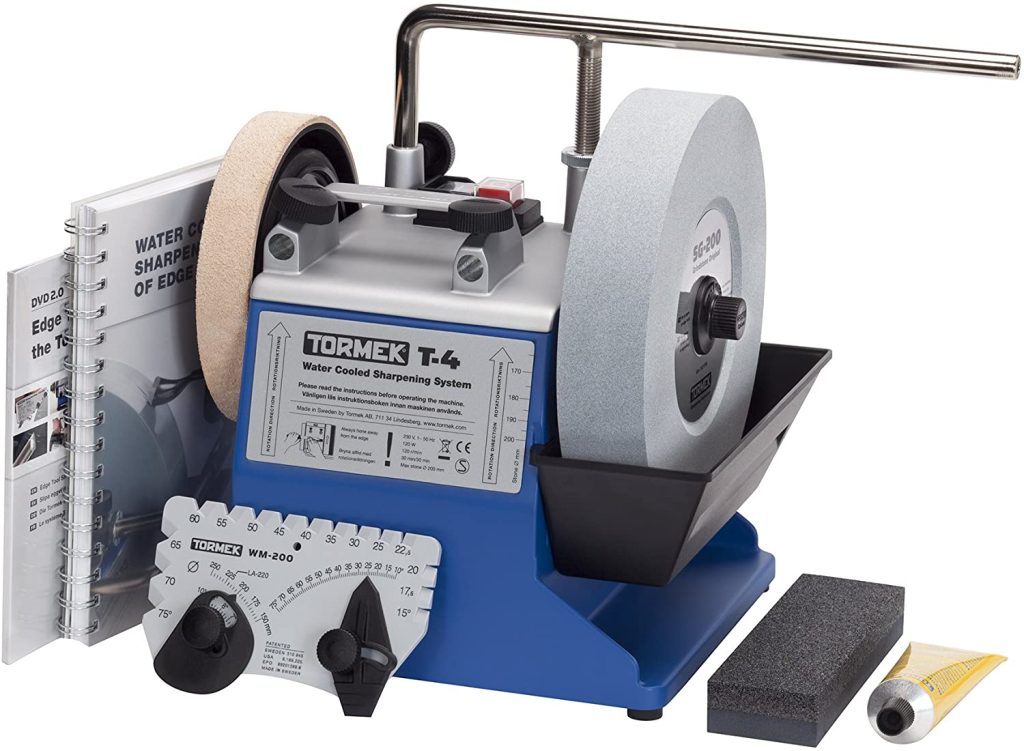 The Water-cooled sharpening system from Tormek is an interesting sharpening system to add to your collection.
This complete sharpening system comprises a sharpening jig, turning setter, honing wheel, and a diamond truing tool. There are multi-jigs, gouge, and angle masers included with the system. With so many additional accessories, woodworkers and hobbyists can save a lot of time and energy.
Moreover, installing the system is pretty easy with no hassles involved. There is no issue with a noisy grinder, and it is pretty compact for use on a frequent basis. Overall, this is an interesting sharpening system that you can get for your workspace.
Pros
Comes with a lot of accessories and multi jigs
Easy and quick setup
The grinder does not make noise
Compact and user-friendly
Cons
Get the Tormek T-4 Sharpening System available at:
3. Rikon Pro Sharpening System
Another complete sharpening system you can try is the pro sharpening system from Rikon. This is a unique sharpening system because it's quite cheap compared to the former tools, yet it delivers an outstanding performance.
There are prior adjustments needed with this system for sharpening. It allows optimum control over the chisels and comes with strong visibility. Apart from sharpening, this system can be used for sanding. The installation is very easy and takes only a few seconds to set up completely.

Pros
Comes in a budget-friendly price range
Lightweight and durable
Comes with powerful visibility
Ideal for sanding purposes
Cons
The grinding platform is a bit poor
Get the Rikon Pro Sharpening System available at:
Sharpening Jigs Systems
Sharpening jigs systems are slightly different from complete sharpening systems. These systems work in alliance with grinders to deliver performance similar to a complete sharpening system.
1. The Pro Grind Sharpening Jig System
Thanks to its versatility and affordable price range, the Pro Grind sharpening system is one of the best sharpening jigs systems out there. If you're on a tight budget and want to work with something that will deliver a good performance, this is the system you should go for.
From chisels and skews to spindle gouges – there's nothing this system can't sharpen. You will find all kinds of accessories and jigs included in the system, so your tasks become easier.
A solid tool rest allows easy handling of the sharpening tools. The construction is top-notch with a magnetic micro-bevel setup block. It is a great tool to possess in your collection.
Pros
Tough and robust construction
High-quality jigs and accessories included
Tool rest for precise edging
It can be used with a wide range of tools
Cons
Assembly is a bit difficult
Get the Pro Grind Sharpening Jig System available at:
2. VEVOR VARI-GRIND Jig Grinding System
Anyone familiar with woodturning has come across the name of VEVOR at some point. This VEVOR grinding system is one of the most popular ones out there.
It has a tilting platform tool rest designed to brace the woodturning and carving tools. There are solid jigs built with high-quality steel as well as durable aluminum bases.
An accessory Vari-grind jig is designed to work on bowl gouges. A ratchet locking lever helps in connecting and disconnecting the adjustments on the bevel angle. Overall, this is one of the most efficient systems that you can work with.

Pros
It can be used to sharpen tools of different types
Heavy-duty steel jigs are present
Bases are built with durable aluminum
Comes with a Vari-grind jig
Cons
Installation is a bit tricky
Get the VEVOR VARI-GRIND Jig Grinding System at:
3. Universal Adjustable Tool Rest Sharpening Jig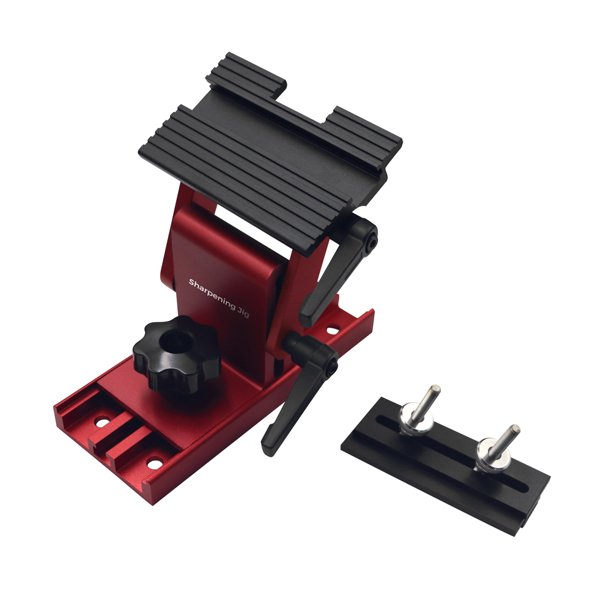 The Adjustable Tool Rest Sharpening Jig is an interesting jig that works with a wide range of bench grinders. Built with a slide tool holder design and strong aluminum construction, this one can be your ultimate savior in wood sharpening and woodturning.
The sharpening jig is pretty flexible and can be adjusted in both forward and backward directions. From 6″-8″ bench grinders to belt sanders – this jig can accommodate different types of tools.
It also comes with an internal lock washer that ensures maximum stability during working. This tool can be your constant companion in woodturning with so many incredible features.
Pros
Completely adjustable
Perfect for flat irons and chisels
Lightweight and compact design
Durable and long-lasting aluminum construction
Cons
Get the Universal Adjustable Tool Rest Sharpening Jig at:
Slow Speed Bench Grinder
WEN BG4286 3-Amp 8-Inch Slow Speed Bench Grinder is an excellent grinder that you can pair with your jig sharpening system. With a two-year guarantee, this grinder is truly one of the best grinders on the market.
Its soft-start 3-amp motor can turn up to a speed of 1750 RPM; this slow speed bench grinder is an ideal option for both newbies and professionals.
With pre-drilled mounting holes and low speed, this grinder can help in minimizing the amount of heat and ensuring incredible precision.
Get the WEN BG4286 8-Inch Slow Speed Bench Grinder available at:
Need more options? Here are 6 top bench grinders for sharpening lathe tools
Diamond Hones for Hand Sharpening
Diamond hones are great tools for hand sharpening as they are quite easy to use and maintain. From sharpening household kitchen knives and cutting tools to wood chisels – diamond hones can be used for everything. For best results, it is recommended to use diamond hones with honing oil or even water.
Washing the knives is necessary before cutting and after sharpening for the best results. These sharpeners are made of strong diamond material that resists abrasion and corrosion. Hence, they tend to be quite durable and long-lasting.
Sponsored*
Get the diamond hones available at:
Safety Precaution to Take When Sharpening Lathe Tools
Any power tool should be handled with utmost safety and precautions. The same goes for sharpening systems for lathe tools as well. Since sharpening is a strenuous job, it requires a lot of precautionary measures to minimize the risk of personal injury.
Here are some safety precautions you should take when sharpening lathe tools –
Go through all the instructions and safety directions on the manual provided with the tools and accessories
Wear proper face and personal protective equipment
Provide adequate support to the wood lathe tool you're working with
Avoid connecting a dust collection system to the grinder
Stick to operating the sharpening system at the approved speed
Do not switch on the grinder without appropriate guards or shields
Check for any defective abrasive materials before operating the tools
With these precautionary measures, you can ensure your own safety as well as the safety of your workspace environment.
See my complete guide on the safety precautions to take when handling power tools
Conclusion
Finding the best wood lathe tool sharpening system can be difficult, but the task becomes easier with the right features to look for. Although all the sharpening systems on our list are incredible, we recommend going for the Robert Sorby ProEdge Sharpening System.
The price may be a little bit on the high side, but I have found it to be the most efficient method for sharpening lathe tools. The quick and easy features, robust construction, additional accessories, and competent performance system – all these characteristics make it a perfect pick for woodturners
Enjoy our articles? You can follow us on Pinterest for more woodworking power tools tips and tricks.
Save on selected power tools from top brands - Shop Now on Zoro.