7 Essential Wood Lathe Tools and Accessories For Woodturners (Infographic)
Disclosure: If you click on some of the links, we may earn a small referral fee. Please know that we only recommend products that we use or believe will add value to our readers.
(Click here to enlarge infographic.)
Share This Infographic On Your Site
Wood lathe tools and accessories broaden and enhance the functionality of your lathe. They also enable you to get the best results when turning wood stock.
The problem is that there are so many wood lathe accessories, most woodworkers who are just getting started with woodturning might not know which one to buy.
In this article, I have created a list of the bare minimum wood lathe tools and accessories you will need to create varieties of woodturning projects.
Sponsored*

Related: You can read my overview of the lathe woodworking power tool here
List of Wood Lathe Tools and Accessories (Things To Note)
Before diving into the list proper keep the following in mind.
This is by no means a complete list of all the wood lathe tools and accessories out there. Depending on the scope of your project, you may need a special tool that is not listed here.
Newer wood lathes may already come with some of the tools listed here.
Some of these tools (especially the cutting tools) come in various sizes. A good rule of thumb will be: The larger the projects you turn, the bigger the size of the cutting tool needed.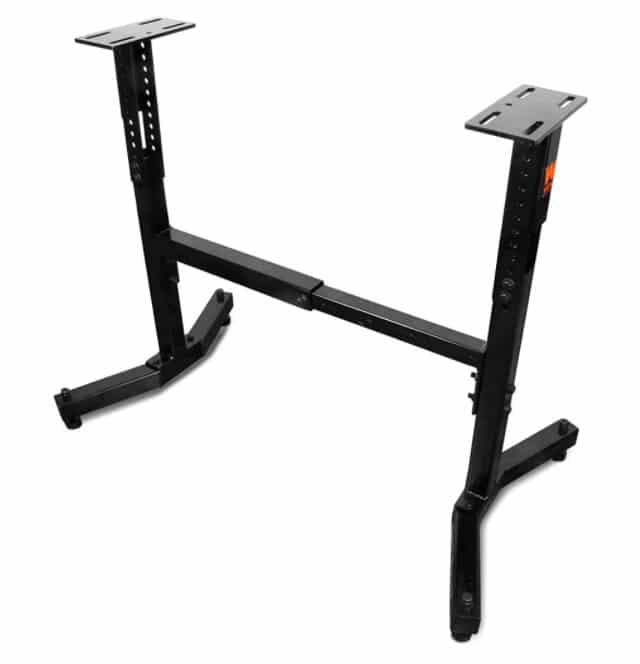 One major problem of having a mini lathe placed on a low workbench is having to curve over to properly angle your cutting tools. Over time, this can lead to body aches.
To solve this problem, I will suggest you get a steel lathe stand to enable you to adjust the height of your lathe based on your preference.
Related Article: 14 Essential Table Saw Accessories To Maximize Your Saw's Capability
The WEN LA8800 lathe stand can be adjusted between 23¼" to 37¼" in length and it can carry up to 225 pounds. Although, this lathe was designed to fit the entire WEN benchtop wood lathe series it is still compatible with most mini/benchtop lathes.
Note: This stand is also suitable for midi lathes.
Get the WEN LA8800 lathe stand available at:
A wood lathe is only as effective as the cutting tools that go along with it. These cutting tools enable you to shape the wood stock as it rotates on the lathe.
Chisels are the major cutting tools used for woodturning. They come in various shapes, but there are four shapes that you will need regularly. They are; a parting tool, a roughing gouge, a spindle gouge and a skew chisel. Let's discuss each shape briefly.
Note: For woodturning, cutting tools made of high-speed steel (HSS) are preferred to high-carbon steel. This is because HSS tools are durable, they last longer between sharpening and do not overheat when grinding.
A. Parting tool
As the name implies, this tool is mainly for parting. It is used for setting the transitions and depths of the different parts of the workpiece. The diamond-shaped edge prevents the tool from binding in the spindle.
B. Roughing Gouge
Among all the woodturning chisels, you will probably use the roughing gouge more. It is used to reduce the wood stock from a square to a round, cylindrical shape.
This tool gives a rough and imprecise finish. For making more precise cuts, the spindle gouge should be used.
C. Spindle Gouge
The spindle gouge is commonly used for creating curved details in beads and coves (coves are rounded scallops or grooves on the surface of the wood). They can also be used to smoothen out transitions where the skew chisel can't be used.
The main difference between the roughing gouge and the spindle gouge is that the roughing gouge has a wide groove while the spindle gouge has a shallow groove.
D. Skew Chisel
The skew chisel is used for producing V-cuts for coves and beads. It is also used to plane and finish the wood after you must have used all the other cutting tools.
To use this tool, it must be laid on the workpiece with its edge forming a 45-degree angle with the axis of the workpiece.
This is the most versatile of the listed chisels, hence it will make an important addition to your wood lathe tools and accessories portfolio.
E. HSS Chisel Set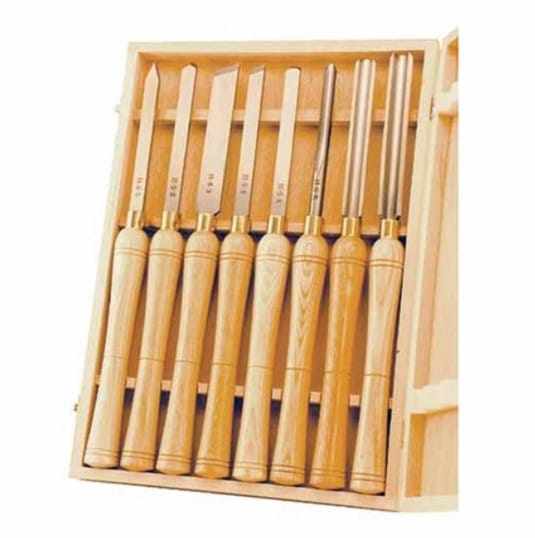 Instead of buying the chisels listed above individually, I will suggest you go for the eight-piece HSS chisel set. This set includes the previously aforementioned chisels (parting tool, 1″ skew chisel, 5/8″ skew chisel, spindle gouge, roughing gouge) and three other necessary chisels (spear scraper, round nose scraper, bowl gouge). It also comes with a wooden case for carrying and storage.
With this set alone you can take on a wide range of woodturning projects.
Get the eight-piece HSS chisel set available at:
These are small accessories that are used to measure the section diameter of the workpiece as you cut so that you can know when you have reached your desired diameter.
It is advisable to get a few of these spring calipers so that you don't have to continually change their diameter for the different sections of your workpiece.
Get the outside spring caliper available at:
It is inevitable for metal burrs to appear after grinding the bevels of cutting tools. Diamond hones provide an inexpensive solution for removing these metal burrs from your cutting tools.
Get the diamond hones available at:
Chucks are used to clamp the workpiece tightly on one end, rather than between two points while it spins. This gives you the ability to cut the workpiece to your desired taste.
Lathe chucks are categorized based on their jaws. The Four-jaw chuck is the most common and has steadily grown to replace the faceplates as the standard way to turn bowls and hollow forms.
Here is why…
With chucks, there is no need to sacrifice bowl-blank thickness to fit the screws needed to fasten it to a faceplate.
When using a chuck, you can remove the wood stock from the lathe and then later remount it with greater ease than with faceplate mounting.
Note: Chucks aren't compatible with all lathes. However, the WEN 4-Inch 4-Jaw Self-Centering Lathe Chuck features a 1″ x 8 TPI mounting thread that is compatible with a wide variety of wood lathes.
See this article for a review of the best wood lathe chucks for woodturning
Get the WEN 4-Inch 4-Jaw Self-Centering Lathe Chuck available at: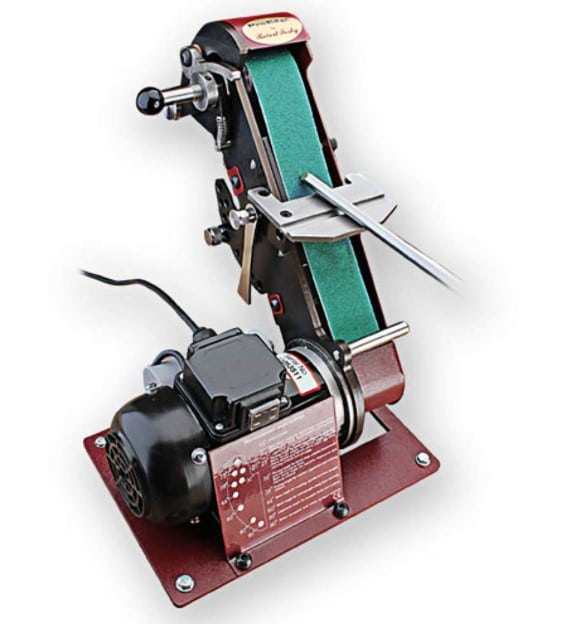 Woodturning tools work hard. Imagine ploughing through wood at 30mph or even more, they will need sharpening.
Normally, a grinder is what's used for sharpening tools, but it is difficult to achieve acceptable results when sharpening woodturning tools with just a freehand grinder. For this reason, a more complete sharpening system with jigs is recommended.
The ProEdge sharpening system introduced by Robert Sorby is the most efficient method I have found for putting a keen edge on woodturning chisels. This sharpening system comes with a skew chisel jig, fingernail gouge profiler, and standard gouge jig that allows you to grind out detailed edges on your chisels easily.
Since sharpening is something you will have to do frequently, it is advisable to invest in this sharpening system and also learn the art of sharpening.
Get the ProEdge sharpening system available at:
Sponsored*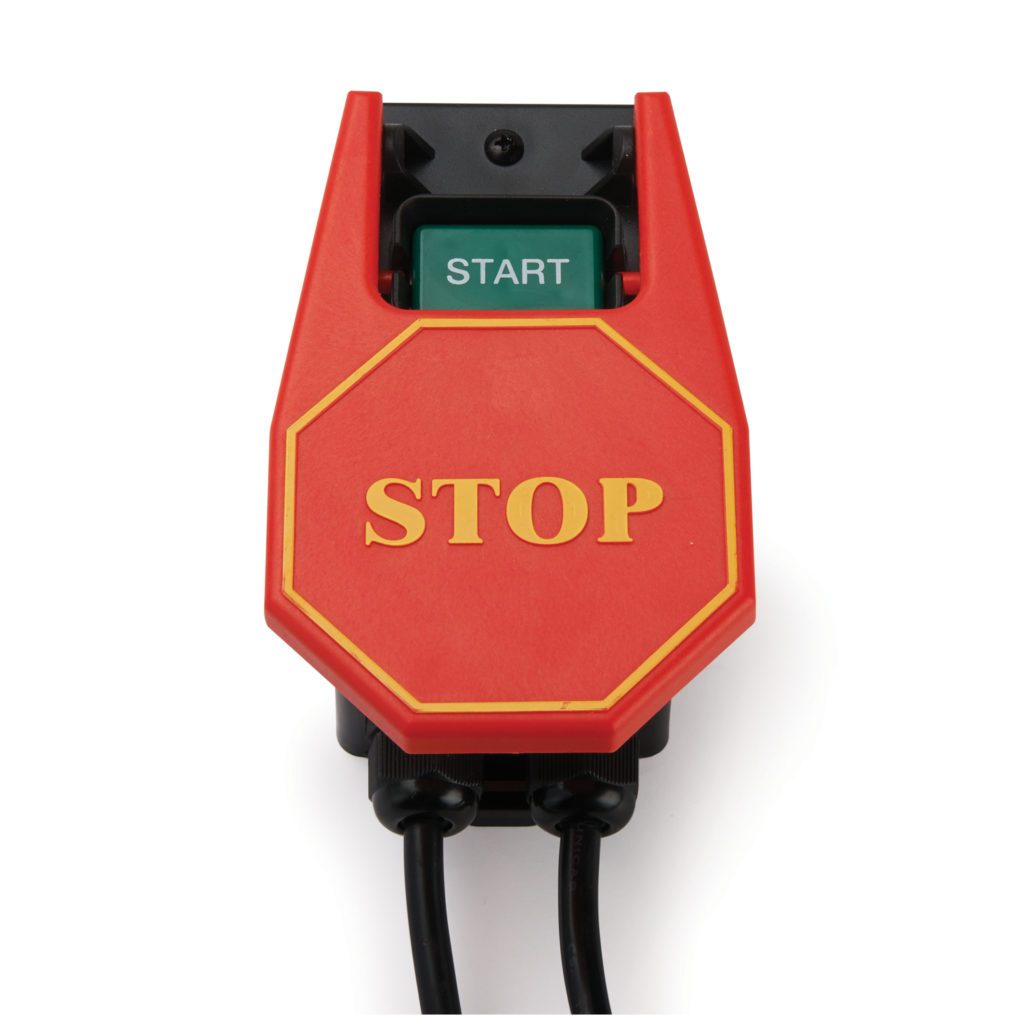 If you have a full-sized lathe, one thing you may notice is that its power switch may not be easily accessible. There should be a quick and easy way to shut down your power tools, especially during emergencies.
This is where a safety power tool switch comes in. With this device, you can shut down your machine by nudging the large red paddle with any part of your body while working.
The good thing is that installing this device is extremely easy. Here is an article on how to set up the safety power tool switch.
Get the Safety Power Tool Switch available at:
Conclusion
Remember to be safety conscious when working with wood lathe tools and accessories. Always put on personal protective equipment to protect your face from large wood chips flying in the air. Here is the full list of safety precautions to take when using woodworking power tools
So these are my essential woodturning tools. I would like to hear from you. Did I omit any important tool? Drop your thoughts in the comment section below.
If you found this article useful, take a look at my 9 must-have woodworking power tools
Enjoy our articles? You can follow us on Pinterest for more woodworking power tools tips and tricks.
Save on selected power tools from top brands - Shop Now on Zoro.