The xTool M1 Laser Engraver and Cutting Machine (An In-depth Review)
Disclosure: If you click on some of the links, we may earn a small referral fee. Please know that we only recommend products that we use or believe will add value to our readers.
xTool M1 Laser and Cutting Machine.
Ideal for business owners, entrepreneurs, and DIY hobbyists – The xTool M1 can greatly enhance your creativity & crafting experience.
Versatile functionality for both laser engraving and cutting.
The match allows for batch processing, enabling you to engrave or cut multiple designs at once.
The xTool M1 has a removable base that allows for expanded capabilities, such as rotary engraving.
xTool Creative Space Software with extensive design elements.
Active and supportive xTool community.
Laser engraving speed is slightly slower compared to higher-powered machines.
Laser module sensors can be cumbersome to clean.
If you're a seasoned crafter aiming to step up your game, you might be exploring advanced machines that offer precision, versatility, and speed. On this list might be the xTool M1 Laser Engraver and Cutting Machine. Deciding to invest in this innovative machine is no small decision, especially when its high-tech features seem daunting.
To assist you, we present this in-depth xTool M1 review to tackle all possible questions, doubts, and dilemmas a maker like you might have when considering a significant equipment upgrade.
We aim to comprehensively cover the features, performance, user-friendliness, and worthiness of the xTool M1 Desktop Laser – a veritable power gadget that can potentially transform your crafting experience. We delve into the specifics of its blade and laser cutting competencies as well as its dedicated software, providing a complete picture of what this tool brings to the table.
The xTool M1 Laser and Blade Cutting Machine – An Overview
Manufactured by the respected xTool brand, the M1 Laser Engraver distinguishes itself from the crowd not only due to its stellar design but also because of its diverse functionalities.
The device functions as an all-in-one machine that offers multiple creative possibilities, enabling you to undertake projects requiring laser cutting, engraving, and blade cutting. Whether you're a passionate hobbyist or a professional maker, the enormous potential of this gadget for creative exploration is certain to impress.
Sponsored*

At the heart of the xTool M1 Laser and Blade Cutting Machine operations are a 5W or 10W laser and a point blade, similar to what you'll find in a Cricut machine. These enable it to perform smooth and effortless engraving and cutting of varied materials.
The design of the xTool M1 is praised for its exceptional aesthetics. It comes in a medium-sized, well-enclosed, and highly safe box that easily assists in office settings or dedicated crafting rooms. It stands a notch above other 10W laser engravers in terms of design, many of which lack the sturdy casing found with the xTool M1.
Features & Hardware Specifications
The xTool M1 Laser and Blade Cutting Machine boast a host of exceptional characteristics and hardware specifications that contribute to its high performance.
Laser Module Output Power: The gadget is available in two power options – 5W and 10W. This diversification lets you select the power that best matches your engraving and cutting demands.
Laser Spot: With a 0.08×0.08mm (0.003×0.003 inch) size, the Laser Spot allows for intricate designs and provides high carving precision.
Carving Precision: With stunning precision of 0.01mm, detailed and clean engravings are a given.
Machine Size: The device measures 557x453x230mm (22x18x9 inch), suitable for various working environments.
Connection Options: The machine connects to your system or device via USB or Wi-Fi, offering a range of convenient connectivity options.
Operating Systems (OS): It is compatible with multiple operating systems, including Windows, macOS, Android, and iOS, ensuring compatibility with a plethora of devices and software.
Engraving Area: With an extensive engraving area of 385x300mm (15×12 inch), you can work on different sizes of materials and projects.
Smart Camera: The device is equipped with a smart camera offering real-time previews, ensuring accurate positioning and adjustments.
AI Auto Focus Adjustment: This feature adjusts focus automatically based on the material's height, ensuring optimal carving results.
Additional Features: The machine includes smart lighting, safety sensors, and intuitive controls for user-friendliness.
xTool M1 vs Glowforge Aura Laser: Here is a tabularized comparison of the features and hardware Specifications of the xTool M1 & Glowforge Aura.
| | | | |
| --- | --- | --- | --- |
| Specifications | xTool M1 | | Glowforge Aura |
| Laser Engraving | | | |
| Laser Cutting | | | |
| Blade Cutting | | | |
| Camera | | | |
| Auto-focus feature | | | |
| Offline Operation | | | |
| Motion Accuracy | 0.01mm | | 0.0254mm |
| Product Weight | 9.8kg | | 40kg |
| Product Size | 557x446x230mm | | 965x527x210mm |
| Working Area | 385x300mm  | |  495x279mm |
| Price | Check Price | | Check Price |
What Materials Can The xTool M1 Machine Engrave and Cut?
The xTool Laser and Blade Cutting Machine offers wide-ranging compatibility with various materials both for laser and blade functionality. See table summary below.
| | | | |
| --- | --- | --- | --- |
| Material | Laser Engraving | | Blade Cutting |
| Cardstock | | | |
| Faux Leather | | | |
| Leather | | | |
| Maple | | | |
| Metal | | | |
| Vinyl | | | |
| Walnut | | | |
| Acrylic | | | |
| Basswood | | |   |
| Paper | | | |
| Foam | | | |
| Fabric | | | |
| Felt | | | |
| Rubber | | | |
| Stone | | | |
Bear in mind that specific parameters might need adjusting for optimal carving or cutting results. Also, the xTool M1 Laser Cutting Machine is incompatible with clear acrylic or specific kinds of food materials. Soft metals like gold, silver, brass, and copper cannot be cut or engraved by this machine, but the xTool 1064nm Infrared Laser Module for D1 Pro is recommended for these materials.
What Accessories are Compatible With The xTool M1 Engraver/Cutting Machine
The gadget is compatible with the following accessories that elevate its functionality.
M1 Air Assist Set: This accessory improves the cutting and engraving performance of the machine by providing a directed air stream to blow away debris and smoke.
M1 Riser Base with Honeycomb Panel: This accessory increases the workspace height, facilitating the handling of thicker materials.
RA2 Pro for M1: The RA2 Pro is a rotary accessory enabling the engraving of cylindrical objects, opening up new arenas for creativity.
Smoke Purifier: This accessory helps filter and purify the smoke and fumes generated during the engraving and cutting process, improving the air quality in your workspace.
Please note that the availability and compatibility of accessories may vary, and it's always recommended to check with the xTool manufacturer or authorized sellers for specific accessory options for the machine.
What Software is Needed To Control This Laser/Cutting Machine?
The xTool M1 machine operates using the xTool Creative Space software. This provides the graphic design interface for the machine, permitting you to create, edit, and prepare your designs for cutting or engraving.
Available as a downloadable application, the software allows offline usage and access to the software anytime, anywhere, without the need for an internet connection. The software accommodates different file formats including SVG, JPG, PNG, BMP, and DXF. You can manipulate and personalize your designs, set laser or blade cutting parameters, and adjust settings for desired results on selected materials.
You can connect your machine to your system using USB or Wi-Fi. The software communicates with the machine, enabling you to implement your designs for cutting or engraving. The real-time synchronization between the software and machine ensures exact and precise execution of your projects.
The user-friendly interface of the software makes it easy to operate the Laser and Blade Cutting Machine effectively, catering to both beginners and advanced users.
Applications of The xTool M1 Engraving Machine
The Laser Cutting and Engraving Machine enables a plethora of creative projects.
Woodworking Crafts: The xTool M1 expands your creative possibilities in various woodworking crafts, including scroll saw patterns, wooden puzzles, intricate carvings, and more. Its versatility and precision make it a valuable tool for all levels of woodworking projects.
See our article on beginner's guide to using laser engravers for woodworking
Toys and Home Decorations: The machine lets you create unique toys and home decor items. From intricate wooden figurines to personalized metal or acrylic ornaments, add a personal touch to your pieces.
Customized T-shirts: Using the blade-cutting function, you can make custom designs for T-shirts using heat transfer vinyl (HTV).
Blade-cut Stickers: The blade-cutting feature allows you to create stickers for scrapbooking, labelling, or adding decorative elements.
Gift Making: Make personalized gifts for special occasions, engrave a heartfelt message on a wooden plaque, or cut custom designs on a card.
See the xTool DIY Projects Guide for a full list of xTool M1 Project applications
Trying out the xTool M1 Machine – Our Thoughts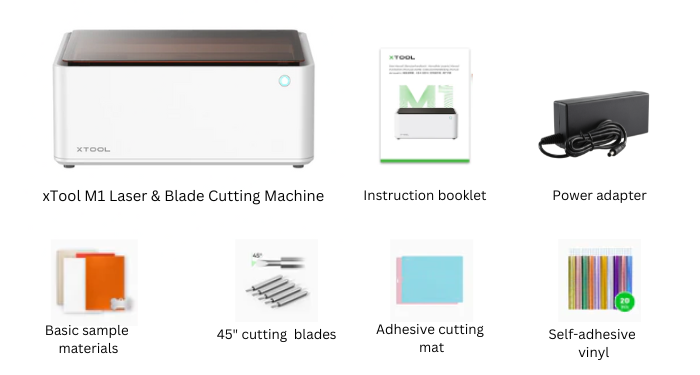 Contents and Specifications: What's In The box?
We got the xTool M1 – 10W Basic Bundle. Our package included:
The M1 Laser & Blade Cutting Machine
5 x 45″cutting blades
2 x adhesive cutting mat
self-adhesive vinyl (20 pieces)
some basic sample materials
a power adapter
an instruction booklet
Note: The accessories included in the package will vary depending on the bundle purchased.
Assembly and Setup
With dimensions of 22 x 18 x 9 inches, we conveniently placed the machine on a small desk. It weighs approximately 10kg, making it easily movable when required. The internal workspace measures 11.8 x 16.8 x 4.7 inches, suitable for materials of about A4 size.
The blade attachment for this gadget slots in easily using a magnet, this eliminated the need to remove the laser capsule for its replacement. The internal metal plate can also be easily removed for cleaning or when adding accessories.
The device only has one button, placed in front of the machine allowing framing and starting the cutting or engraving process. The rear features a USB connection for linking to a laptop or tablet, but Bluetooth connectivity is also available.
Performance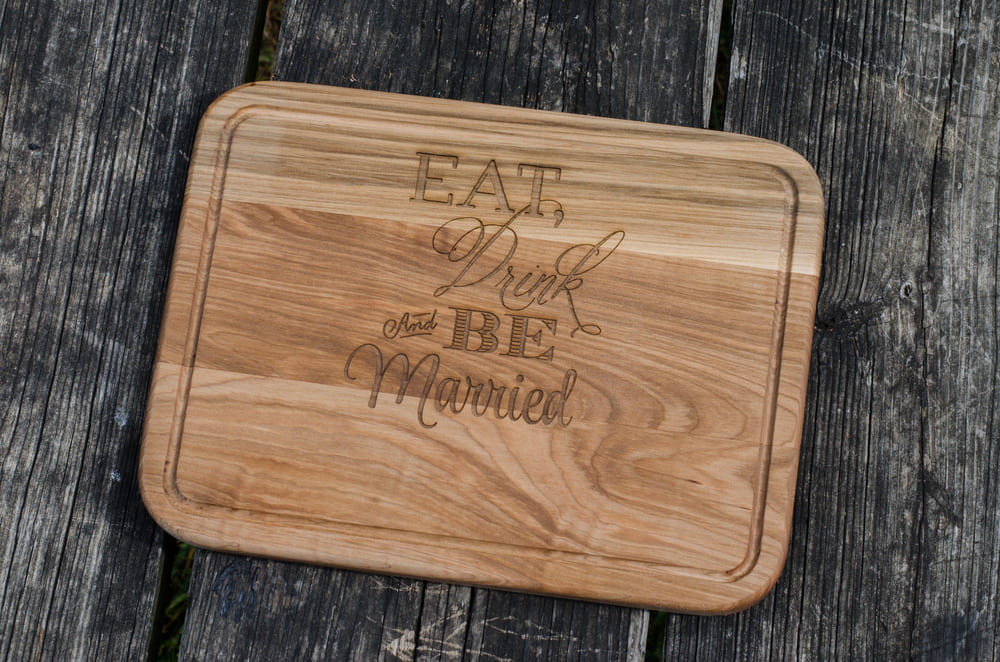 While the machine delivered precise and detailed laser engraving, we found the speed slightly slower with the laser function compared to other machines. However, for blade cutting, the machine managed thinner materials like vinyl and cardstock effortlessly, though heavier materials needed few refinements in the cutting finishes. Fine-tuning the settings and conducting test cuts resulted in optimal outcomes.
The 16MP camera offered live previews of our designs, while the intelligent autofocus (AF) function ensured consistent engraving and cutting performance. The xTool Creative Space software provided an intuitive user interface and numerous design features.
Safety Features
The machine prioritizes safety, with a built-in ventilation system that helps remove smoke and fumes generated during the engraving or cutting process. The device also features blue light filtering, protecting your eyes from potentially harmful laser light. Safety sensors help prevent accidents by auto-pausing the machine in case of any obstructions or irregularities during operation.
It's important to note that while the xTool M1 is designed with safety features in mind, it's still crucial that we follow proper safety precautions when operating the machine. This includes wearing appropriate protective gear, such as safety goggles, when working with the laser function, and ensuring that the workspace is well-ventilated.
Cost and value for money
The xTool M1 offers a balance of affordability and functionality, providing immense value, especially considering other dedicated blade cutters' and laser engravers' prices in the market. While the speed might be slightly slower, given the price and versatile functionality, we believe the machine offers great value for money.
The xTool M1 – 10W Basic bundle costs $850 (as of the time of publishing this review). Other configurations beyond the basic bundle were also available.
Get The xTool M1 10W Machine Available At:
The xTool Community & Support
Connectivity to a vibrant and supportive xTool community online, such as on the Facebook group and Makeblock Forum, is another outstanding perk that comes with this device. This community comprises other users of the xTool M1, willing to share experiences, advice, and inspiration to enhance your user experience.
Moreover, xTool offers a range of resources such as their product support page, how-to tutorials, and learning studio to ensure technical issues are solved promptly and users can effectively understand and maximize the capabilities of the Laser Cutting and Engraving Machine. All these platforms contain valuable information, troubleshooting guides, FAQs, and tips to enhance the user experience.
Applicable Shipping Regions
xTool offers worldwide shipping ensuring you won't be excluded from owning and enjoying this remarkable gadget because of your geographical location. Places they ship to include the United States (except for Alaska, Guam, Hawaii, Puerto Rico, and the Armed Forces regions), various provinces of Canada, Australia, New Zealand, South Africa, Israel, Singapore, China, and Hong Kong.
Please note, the method, delivery period, and cost of transportation could vary depending on your location.
For comprehensive information on shipping regulations, please refer to the xTool's shipping policy page.
Frequently Asked Questions
Is the xTool M1 Laser Cutting and Engraving Machine suitable for beginners?
Absolutely! The device has a user-friendly design, making it accessible to beginners. Specifically, the xTool Creative Space software interface is intuitive and the xTool community is actively supportive, ensuring a smooth learning experience for those new to engraving and cutting.
Can the xTool M1 cut through metal?
While the xTool M1 is designed for engraving a variety of materials, it is not recommended for cutting metal. To cut through metal, the xTool 1064 Infrared Laser Module for D1 Pro would be more appropriate.
Can transparent materials be engraved using the M1?
Yes, the xTool M1 can engrave transparent materials such as acrylic. However, it's important to note that engraving on transparent materials may result in less noticeable or subtle engravings compared to opaque materials.
Which is better, xTool D1 Pro or M1?
Sponsored*
Both the xTool D1 Pro and M1 have their own unique features and advantages. The xTool D1 Pro offers a higher power output, larger working area, and compatibility with a rotary attachment for engraving cylindrical objects. On the other hand, the xTool M1 provides the convenience of hybrid functionality, including both laser engraving and blade-cutting capabilities. The choice between the two ultimately depends on your specific needs and preferences.
Is the xTool M1 worth it?
Certainly, the xTool M1 offers a range of versatile features within its price range, proving high cost-effectiveness. However, the 'worthiness' of its price would depend on individual factors such as budget, usage, and desired outcomes.
Is the xTool M1 better than Glowforge Lasers?
The xTool M1 and Glowforge are both reputable machines in the laser cutting and engraving market. Each machine has its own strengths and considerations. While the xTool M1 offers hybrid functionality with blade cutting and laser engraving capabilities, the Glowforge offers higher-power CO2 lasers and a larger online community.
Final Verdict
In conclusion, the xTool M1 Laser and Blade Cutting Machine is a high-performance device offering an impressive combination of versatility, functionality, safety and affordability. Whether you're a novice or an experienced user, this gadget can greatly enhance your creative crafting experience. Its ease of use, advanced features, dedicated software and supportive community ensure a clever investment for all your crafting and engraving needs.
Also, see our article on choosing an angle grinder for wood carving.
Enjoy our articles? You can follow us on Pinterest for more woodworking power tools tips and tricks.
Save on selected power tools from top brands - Shop Now on Zoro.