Top 10 Best Circular Saw for Beginners [Expert Picks + Buying Guide]
Disclosure: If you click on some of the links, we may earn a small referral fee. Please know that we only recommend products that we use and believe will add value to our readers.
Circular saws are handy, multipurpose, and a must-have tool for any DIY workshop. Adding one to your growing toolbox will increase your productivity and creativity.
This best circular saw for beginners is a go-to article that discusses only professionally picked items.
Here is a quick experts' recommendation with easy-to-handle features – Worx 20V EXACTRACK 6-1/2″ CIRCULAR SAW. It is a combo of durable design and heavy-duty power to deliver a pro finish. And there is no compromising of stability at higher RPM performance either.
However, last-minute clouded judgment is normal with overwhelming details when hundreds of these saws stare back at you. Well, that is what I am here for, so keep reading to choose from less but the bests!
Related: 9 Best Track Saw for the Money (Updated For 2023)
Sponsored*
10 Top-Rated Circular Saws for Beginner Woodworkers
The reviewed products from the most demanding brands feature innovation, performance, affordability, and strength. Take a look and find out which option fits right on your workbench without a fuss.
| | | | |
| --- | --- | --- | --- |
| Image | Product | Verdict | Price |
| 1 | Worx 20V EXACTRACK 6-1/2″ CIRCULAR SAW | Best overall | |
| 2 | DEWALT DWE575SB Circular Saw | Runner up | |
| 3 | The SKIL 5280-01 Circular Saw | Best laser guide | |
| 4 | Makita 5007Mg Circular Saw | Easiest to use | |
| 5 | PORTER-CABLE 7-1/4-In Circular Saw (PCE310) | Most affordable | |
| 6 | Milwaukee M18 (2730-20) Cordless Circular Saw | Best cordless | |
| 7 | DEWALT 6-1/2-In 20V MAX Circular Saw | Best for advanced users | |
| 8 | Bosch CS10 7-1/4 in 15A Circular Saw | Most versatile | |
| 9 | BLACK+DECKER BDCCS20C Circular Saw | Most beginner friendly | |
| 10 | Ryobi One+ P505 5-1/2-in. Circular Saw | Most portable | |
The Worx Tools are widely known for their amazing grade and reliability. So, it is obvious to offer one of their best circular saws to customers.
Homeowners who love getting crafty and do not mind spending extra will love working with this multi-functional tool. Its innovative design is perfect for cutting rip, bevel, and plunge cuts more flawlessly.
The compact unit is only 4.5 lbs., making the saw effortless to port anywhere you like. Additionally, the saw makes straighter cuts with a flush mount blade feature against the guideboard.
Even the bevel angles (0-50 degrees) are just perfect with easy-to-use adjustment levers. And wood is where the unit shines, though it can cut through different materials.
This cordless saw is unique and a cool choice for beginners. While the battery offers versatile Worx tool powering, it may not last more than an hour after charging.
The saw is easy to utilize in light projects
It can cut through wood and other materials with a thin depth
Lightweight design allows ultimate portability
ExacTrack function keeps cuts straighter
Comes with a dust extraction outlet
Battery lasts only 45 minutes
This DeWalt DWE575SB circular saw is another awesome beginner's tool that can cut at a 2 9/16-inch depth capacity of wooden materials. It is corded and weighs about 8.8 lbs. – the lightest among its class.
The bevel capacity is 57 degrees, which stops at 22.5 degrees and 45 degrees. As a result, the 15 amp motor-powered compact saw delivers unwinding power for intricate applications.
DeWalt's saw blade is 7 ¼ -inch, made from sturdy metal to ensure hassle-free accurate cuts. The high-end aluminum smooth base and an integrated dust blower keep the line of sight clear for the user.
If you are okay with spending a little more than a hundred bucks, the DWE575SB can last a long time in your workshop.
Blade changing is very simple with an on-board wrench
Includes electric brake to stop the blade after the trigger
The motor is powerful and durable
Ideal bevel angle capacity with better depth of cut
Tough corded protection prevents sudden pullout
If you want an affordable circular saw with special features that do not hinder your creative flow, this compact unit will become your favorite in no time.
With 15 amps and 5,300 RPM, it is unstoppable unless you take control. It has a 51-degree bevel with positive stops at 45 degrees. The 7¼-inch carbide-tipped saw blade is able to cut wood materials without compromising.
It is another corded item that many users love. The single-beam laser helps maintain straight cuts, whereas the safety lock trigger keeps the blade from accidental rotations.
If you seek speed, power, and precise control within budget, here is your stop.
Includes an indicator light for knowing the power on/off situation
Integrated dust blower maintains a clear line of cut
Includes a guarded trigger to eliminate sudden start-up
Comes with a single-beam laser guide
Offers 2 3/8-inch cutting depth on wood
May not be suitable for other materials
Another beginner circular saw in the group is this Makita 5007Mg with a 7¼-inch blade that offers a 2 to ½-inch depth capacity. The magnesium components ensure lightweight (10.6 lbs.), though not as much for some users.
Nevertheless, its 15 amp motor and 5,800 RPM deliver an incredible power combo, making the tough cutting process easier. It also delivers similar bevel angle positive stops at 22.5 and 45 degrees with up to 56-degree capacity.
Moreover, you can have a better line of cut visibility and accuracy due to the built-in two LED lights. The settings with the large marked line are easy to understand, and the incorporated blade wrench delivers a convenient blade-changing ability.
Lightweight and ideal for ranged applications
Ease of use and ergonomic
Integrates dust blower for a clear line of cut
The attached blade wrench is highly useful
Consistent power for reliable on-site performance
Any newbie would want to own the best budget circular saw that fulfills the demands of DIY projects. Meet PORTER-CABLE PCE310 corded saw with a 7¼-inch carbide-tipped wood cutting blade.
Although it has a low tooth count (18), it still delivers generous power via the 5,500 RPM and 15 amp motor.
Other features that make it suitable for various applications include magnesium shoes, added durability due to upper/lower metal guards, depth adjustment, and a spindle lock.
The saw offers a maximum 55-degree bevel capacity with detents at 45 and 22.5 degrees. It is only 9.0 lbs. with a comfortable AUX handle for improved line of sight.
Excellent speed and power for efficient cuts
Better corded quality at 120V
Ideal for beginners in the DIY/woodworking sector
It is a lightweight circular saw
Offers quick adjustment facilities
The blade guard is a little loose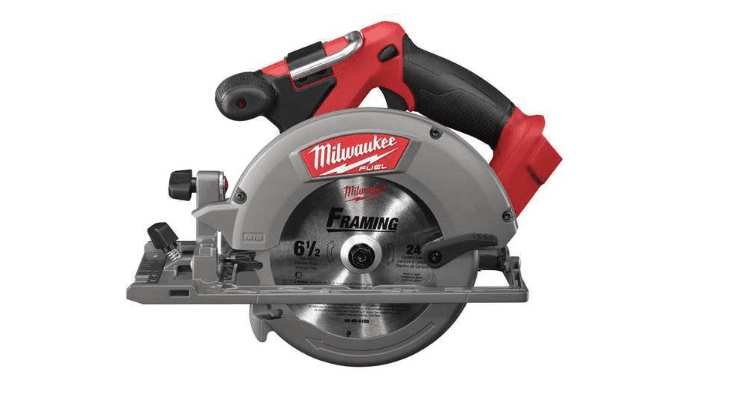 This brand presents the top-rated circular saw within its class. It will not let you down with its brushless motor and aircraft-grade aluminum shoe/guard. The top section even offers a rafter hook to store it conveniently on the job!
It is one of the coolest cordless tools ideal for individuals who are used to handling similar equipment. With the help of the 6½-inch blade and 2½-inch depth capacity, it delivers powerful cutting on dense materials.
The motor provides a longer run time at 5,000 RPM, thanks to the extensive battery life. Plus, Redlink Intelligence defends the components against overloads and overheating during abusive applications.
Let us not forget the attached LED light that enables greater outline visibility for the user.
Includes a wrench for easy blade replacements
Lightweight and durable
Maximum bevel capacity is 50 degrees
40% more power and 30% more run time than brushed saws
Performs well with magnesium upper/lower guards
Requires separate battery purchase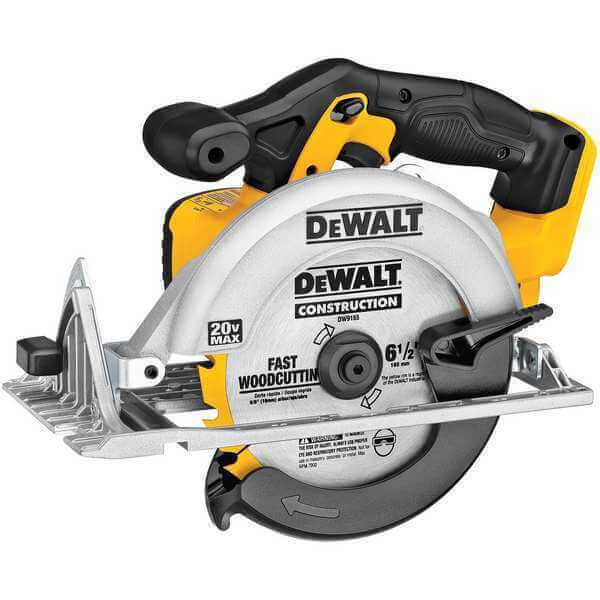 Being a moderately budget-friendly unit, DeWalt DCS391B is one of the supreme cordless circular saws in the market. It has everything a beginner home-improving enthusiast seeks.
From higher tooth count (24) to superior bevel capacity (0-50 degrees), portability, and ergonomics – you got it all covered.
The 6½-inch blade is absolutely one of the cool features, with twice the cuts per charge. Its high-strength magnesium shoe offers greater long-term precision while maintaining durability at a job site.
This unit is capable of empowering aggressive cuts for various applications. And the battery-powered motor with 5,150 RPM makes those demanding cuts a piece of cake.
It does not stall during challenging cuts
Highly powerful with smooth running ability
Best for right dominant hand users
Reliable battery power and speed
Delivers optimal balance and comfortable grip
It does not come with an integrated wrench
Although Bosch tools are suggested for an experienced or professional individual, this circular saw for novice reconstructs that tradition. It is reasonably priced, has a brushless motor, offers versatility at work, and so on.
However, some might find the 10.2 lbs. a little on the heavy side, but the 56 degrees of the cut angles (possible detents at 22.5 and 46 degrees) make it worth the weight. The attached cord is about 10ft. long for better reachability.
Furthermore, you will notice an anti-snag lower guard for small cut-off pieces, better depth scales, and a magnesium upper guard. Aside from the soft grip handle, the unit even offers a spindle lock to change the blade fast and a removable end cap.
Comes with multiple convenient features
Offers sight lines for optimized visibility
Delivers incredible power output with a no-load RPM
Includes a hook for between-cuts storage
Clears away dust during operation with the integrated blower
This brand probably reminds you of home/kitchen appliances at most. However, they also offers high-quality power tools for people currently learning how to use them.
The blade is 5½-inch, ideal for small DIY tasks with a variable speed trigger feature. Plus, it allows you to master the angle cuts at 45 and 90 degrees effortlessly. The tool-free depth adjustments and blade replacement make things further easier.
Since it is a cordless design, you can take advantage of its mobility anywhere. Besides, that pivoting shoe and the electric brake provide additional control for a new user.
Versatile unit for a beginner
Made from sturdy materials
Offers compatible battery system with other power tools
Compact and lightweight saw
Budget-friendly
Not suitable for heavy-duty jobs
Here is another (and the final choice) budget-friendly circular saw by RYOBI that cuts 2×4 and 2×6 like a pro. It is battery-powered and has a transparent lower guard for a clear line of sight.
The bevel adjustability is up to 50 degrees to avail angled cuts in variation. There is also an extra side handle alongside the impressive rubber mold grip. Both allow the user to gain maximum control and balance when working.
It boasts power similar to corded units at 4,700 RPM but with portable features anywhere and anytime.
Includes an on-board wrench
Easy to work with right out of the box
Best as a backup power tool
A better line of cut visibility
It is fast and powerful
Battery and charger not included
Key Features to Look for When Purchasing a Circular Saw
It is necessary to use some key features to purchase the right unit.
Saw Blade: Size and Type
The saw blade is the first thing you inquire about in a circular saw buying guide. It comes in various ranges but in specific sizes based on the equipment model.
Here is what you need to know:
In general, compact saws offer 5⅜-inch blades, whereas 10¼-inch is common in large blades. The range can vary depending on the unit. A 7¼-inch is ideal for DIY and semi-pro users for most Construction and framing jobs.
Saw blade types come in finish, plywood, framing, and all-purpose style.
Fewer teeth count (number of teeth around the blade) results in rougher cuts; best for demolition, framing, etc.
Higher tooth count yields a smoother finish; best for plywood, cabinetmaking, decking, etc.
Blade-Left Vs. Blade-Right
Circular saws typically have left-sided blades since most individuals are right-handed. A left-bladed circular saw indicates better visibility on the cutting line and precise cuts application.
However, many use their left hand to accomplish tasks. So better to choose a model that you can hold with your dominant hand while using the other hand for guidance.
Motor Power and Speed
The statement 'The Higher The Motor Power, The Greater The Speed' doesn't always apply for circular saws. Nearly all of them (corded) these days have 15-amp motors.
However, the blade size influences speed during operation. For example, a 7¼-inch blade with 4,000 to 5,500 RPM (Revolutions Per Minute) will spin faster than a 10¼-inch blade of the same specifications.
Sidewinder Vs. Worm Drive
These comparisons are merely about the motor position and alignment in the saws.
Here is what you need to know:
| Sidewinder Circular Saw Model | Worm Drive Circular Saw Model |
| --- | --- |
| The motor (direct drive) is on one side of the saw blade. | The motor (which incorporates spiraling worm-shaped gears) is behind the saw blade. |
| Better for beginners. | More efficient with professionals. |
| Enables it to run at higher speeds. | Enables higher torque. |
| Easy to maintain and handle. | May require lubrication |
| Convenient for small projects. | Eliminates overheating and bogging during mass production. |
| It is lightweight. | It is heavy-duty. |
Cutting Depth and Bevel capacity
As you read through the circular saw reviews below, pay more attention to this feature. The cutting depth should be about 2½-inch to go through the material. Its range depends on how many thick boards you usually use for projects.
As for the bevel capacity, it allows you to adjust the blade angle via a lever or a knob on the shoe (the metal plate above the blade that rides on the workpiece to apply stability).
Typically, the angles are usually from 0˚ up to 45˚ or over to create desired miter joints or framing.
Related Article: Plunge/track Saw vs Circular Saw: Which is Right For Your Projects?
Size and Weight
Remember that sidewinder circular saws are small and lightweight. They are perfect for a newbie to train without limiting cutting possibilities.
Worm drive models, in contrast, are on the heavy side despite the compact designs. They are suitable for experienced and seasoned operators. Plus, these are ideal for more loads without damaging the piece too.
Corded or Cordless
I Consider corded circular saws to deliver more power than cordless ones. The latter option is tied down to the battery levels, which may run out within a few hours.
However, corded saws offer an unlimited duration of performance. Unfortunately, these models are restricted due to their wire, making cordless an apt choice due to portability.
Ease of Use
Changing the saw blade can be a daunting job for a beginner without an on-board spindle lock and wrench tool. So, try to lean toward the saw models that have these.
The good news is that a user with any level of training can handle the circular saw with its visible guides and cut lines. You can go for units featuring work lights as well!
Even the control adjustments are non-complicated for operators to understand at first glance.
Safety Features
Speed is not everything in a circular saw. You need to know making quick pauses between cuts is necessary for a flawless outcome.
But the tedious wait for the blade to stop spinning afterward increases injury risks or workpiece damage. Therefore, you can rely on the electric brake feature to halt the rotation immediately after turning off the motor.
Besides, equip yourself with safety gear and follow strict safety precautions when operating the power tool.
Price and Warranty
Some circular saws are expensive but not ridiculously over the top to prevent you from buying them. The standard price range can start from $50 to around $250. It can go higher or lower based on quality, brand, and feature counts.
No matter what saw model you purchase, make sure it has a reliable warranty for a defective component refund. Luckily such an opportunity is availed by most manufacturers.
Frequently Asked Questions
Can I use a circular saw to cut metal?
It may not be ideal for all models, but given the specific blades and discs for the purpose, circular saws are capable of cutting metal.
What circular-size saw do I need?
Sponsored*
Go for the standard 7¼-inch saw blade diameter, as it can cut through 3-inch thick wood materials. And it is a good start for the rookie trainees or DIY-ers.
Do I need a workbench to use a circular saw?
Yes, though it does not have to be as spacious as a table saw, which hardly leaves any traffic area. Some other table saw alternatives do not even necessitate a large workbench.
Final Verdict
The best circular saw for beginners presents highly acclaimed units to connect with your woodworking passion.
While it depends on what you create in the workshop or job sites, these three can hail through any project in the field. First, I pick Worx 20V EXACTRACK 6-1/2″ for excellent features with an easy-to-handle-and-maintain advantage.
Next, the Milwaukee M18 takes over the stage with its incredible performance with surprisingly robust quality. I admit that both are over the budget for newcomers. In that case, this all-in-one SKIL 5280-01 can be the ultimate game-changer!
Lastly, if you want to improve your woodworking skills by adding other similar tools to your repertoire, check out these alternatives – jigsaw and reciprocating saw.
Enjoy our articles? You can follow us on Pinterest for more woodworking power tools tips and tricks.
Save on selected power tools from top brands - Shop Now on Zoro.