9 Best Track Saw For The Money (Updated For 2023)
Disclosure: If you click on some of the links, we may earn a small referral fee. Please know that we only recommend products that we use or believe will add value to our readers.
Track saws are one of the essentials that every woodworker should have. And if you are just getting started in the field, then you need the best track saw for the money.
Now, before you purchase one, you should make sure you know what to look for. There are some key features that will help you get a track saw with great value for money – such as the blade size, speed settings, bevel capacity, etc.
On the other hand, setting a budget before getting started is also necessary. Here, I have reviewed 9 track saws within different price ranges – so you can go through the reviews and choose the best one within your budget.
Related: See our article on the different types of power saws for woodworking
9 Budget-Friendly Track Saws for Woodworking
Looking for affordable track saws? Well, look no further – here, you can find track saws under $500 and others within your range.
Sponsored*
| | | | |
| --- | --- | --- | --- |
| Image | Product | Verdict | Price |
| 1 | Bosch GTK13-225 Track Saw | Best overall | |
| 2 | Makita SP6000J1 Track Saw Kit | Runner up | |
| 3 | Dewalt Track Saw (DWS520K) | Best for professionals | |
| 4 | Kreg ACS2000 Adaptive Cutting System | Best for beginners | |
| 5 | Evolution – 027-0004C Circular Track Saw Kit | Good value for money | |
| 6 | WEN CT1065 Sidewinder Track Saw | Most affordable | |
| 7 | Festool Track Saw TS 55 FEQ-F Plus FS w/55 | Best for advanced users | |
| 8 | SHOP FOX W1835 Plunge Cut Track Saw | Best lightweight | |
| 9 | Triton TTS1400 6-1/2 in Plunge Track Saw | Worthy mention | |
Powerful and adaptable, the Bosch GTK13-225 Track Saw is the perfect tool for precise material cutting. You will be able to use it easily – whether you are a professional or a beginner.
Its main features include a strong 13-amp engine, a blade diameter of 6-1/2 inches, and a maximum cutting depth of 2-3/16 inches. Additionally, it has a precise guidance rail system that guarantees precise cuts and minimizes splintering.
The Bosch GTK13-225 Track Saw is one of the more costly saws on the market, costing between $500 and $600. For those who require a high-quality saw for precise cutting, however, its features and adaptability make it a worthy investment.
Guide rail system ensures precise and accurate cuts
Powerful engine ensures efficient cuts
Lightweight and easy to transport
Compact and easy to handle
Can be used for various materials
More expensive than other saws
Might need time to get used to the guide rail system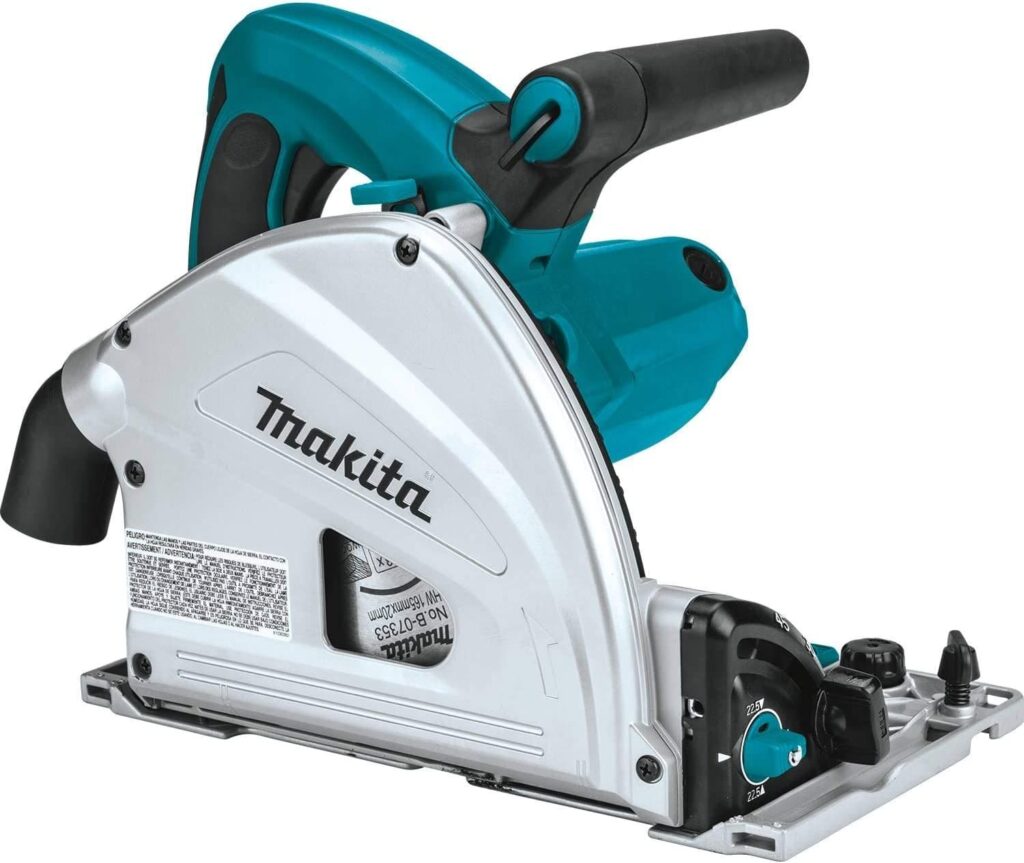 A track saw of the highest caliber for professionals, the Makita SP6000J1 Plunge Cut/Track Saw Kit provides accurate and effective cutting capabilities. It has a strong 12-amp engine that has a maximum speed of 5,200 RPM, enabling swift and precise cuts.
The saw can be used for a variety of tasks thanks to the guide rail, which guarantees straight and precise cuts. Positive stops at 22.5 and 45 degrees and a bevel capacity of -1 to 48 degrees on the saw make changes simple.
It is also lightweight, portable, and equipped with a dust collection port for a cleaner workplace. The kit is pricey, costing between $550 and $600, but its features make up for the cost by enabling extremely exact and precise cutting.
Smooth and efficient operation
Bevel angles are easy to adjust
Includes a dust collection port
Lightweight and portable
Powerful engine
Does not provide good value for money
Not for beginners
The 6-1/2-inch, 48-tooth ATB cross-cutting saw blade that is included with the tool makes precise cuts on a variety of materials, including wood, plywood, and solid surfaces.
It has a zero-clearance track to guarantee straight cuts without splinters or tear-out, an anti-kickback feature to lessen injury risks and guarantee operator safety, and a dust port that can be attached to a vacuum to keep the workspace clean.
But you should still maintain some safety precautions and clean your work table after you are done. On the other hand, it costs between $500 and $600, which is in the middle of the price spectrum for track saws.
Precise and clean cuts
Ensures user safety at all times
The dust port ensures a clean workspace
Can be transported easily
Can be used on different materials
Not sufficient for larger projects
Not as versatile as others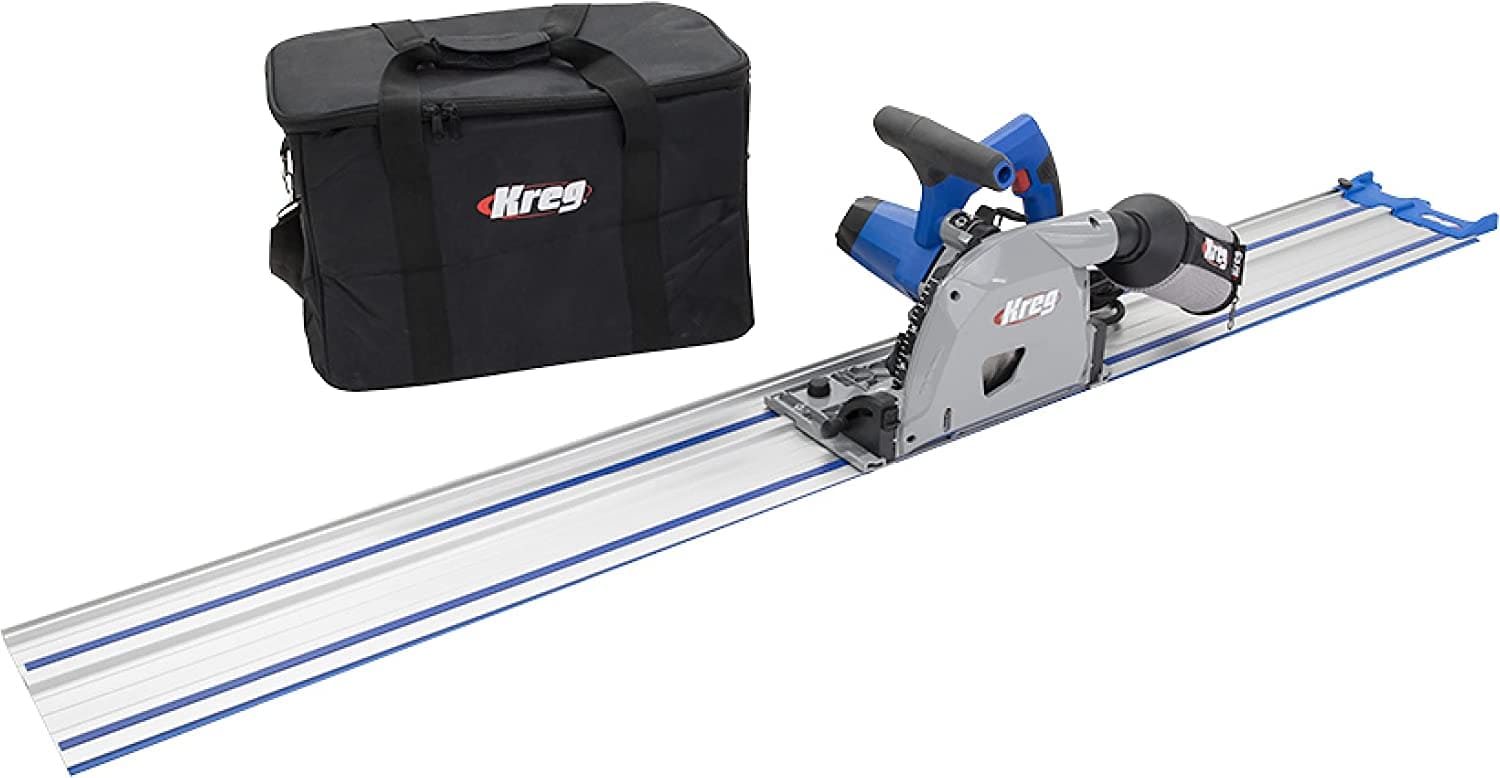 Precision cutting is made easy with the Kreg ACS2000 Adaptive Cutting System, which is ideal for both amateur and expert woodworkers. There is a flexible cutting table with a measuring gauge and movable guides included.
To keep the workspace tidy, the table has a dust gathering port as well. The method offers precise and reliable cuts and is simple to set up and use.
The ACS2000 is a dependable tool for both amateur and expert woodworkers because it is made with longevity in mind. Depending on the retailer, the track saw sells for between $600-$700.
For serious woodworking enthusiasts and professionals, it is a worthy investment even though it is more expensive than some alternatives due to the variety of features and advantages it offers.
Built-in dust collection system for a clean workspace
Easy to use
Convenient to set up
Consists of a versatile cutting table
Compatible with different power saws for woodworking
Not suitable for industrial use
More expensive than other track saws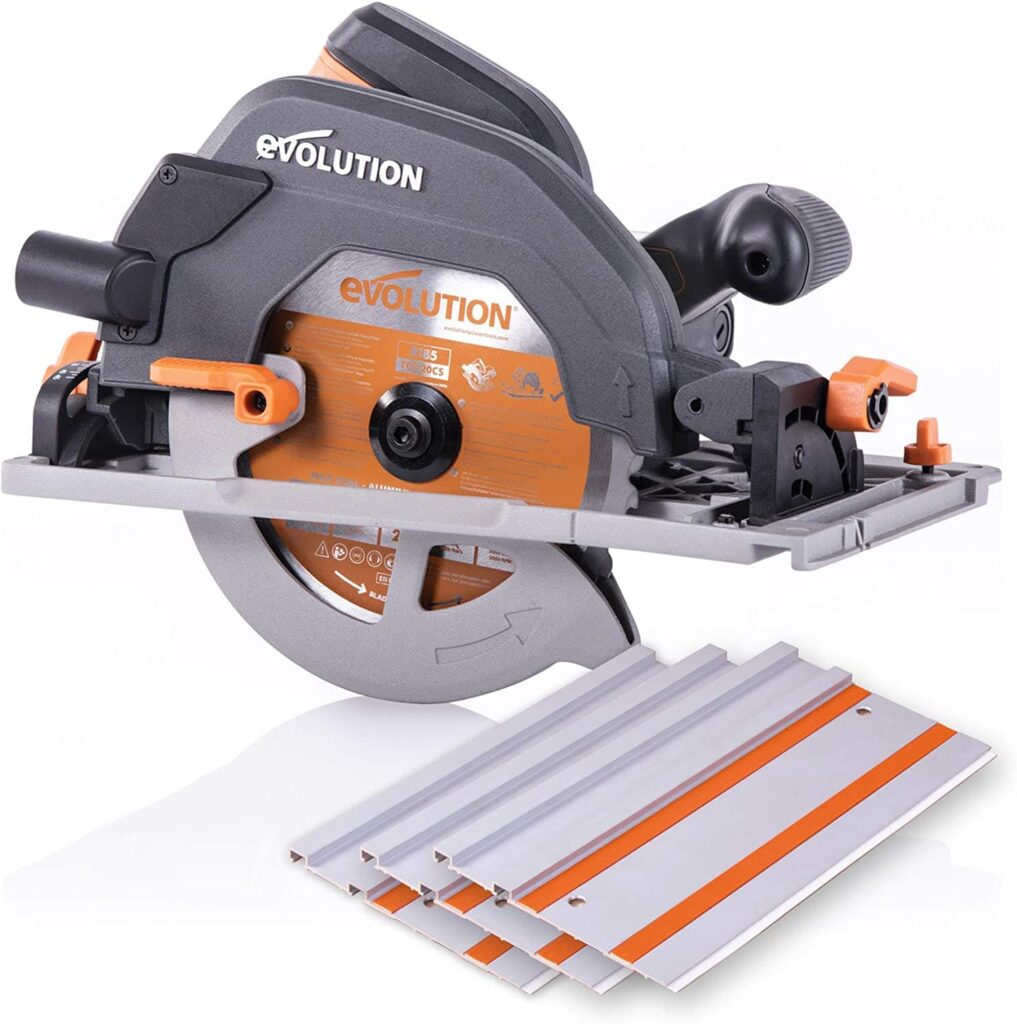 A strong and functional tool for making accurate cuts on a variety of materials, including wood, metal, and plastic, is the Evolution 027-0004C Circular Track Saw Kit.
The saw has an adjustable track system and a 6-1/2-inch blade that enables straight, precise cuts up to 48 inches in length. Moreover, it has a dust port that aids in maintaining a clean work area and a depth adjustment that enables cuts up to 2-1/8 inches deep.
Priced at about $250, the Evolution 027-0004C Circular Track Saw Kit is one of the most affordable track saws for those looking for an efficient track saw within this budget.
Versatile – can be used on different materials
Precise and straight cuts
Keeps the work table clean
Consists of depth adjustment
Affordable and powerful
Blade might not cut smoothly
May require experience to use it
The WEN CT1065 Plunge Cut Sidewinder Track Saw is a flexible and inexpensive saw that can cut precisely through a variety of materials.
The track saw has a 6.5-amp motor that can go up to 5500 RPM, which makes it perfect for cutting through hard materials like metal and lumber. This saw has a 6-1/4-inch blade that can be changed to cut at different depths.
It also has a dust port that helps keep your work area clean. This is one of the budget track saws, which costs about $100. Hence, it is a good choice for people who need a reliable saw for DIY or professional jobs but don't want to spend too much.
Versatile and affordable
Can cut through various materials
Dust port ensures easy clean up
Blade length is easy to adjust
Lightweight and compact
Not as powerful as other track saws
The dust port isn't very effective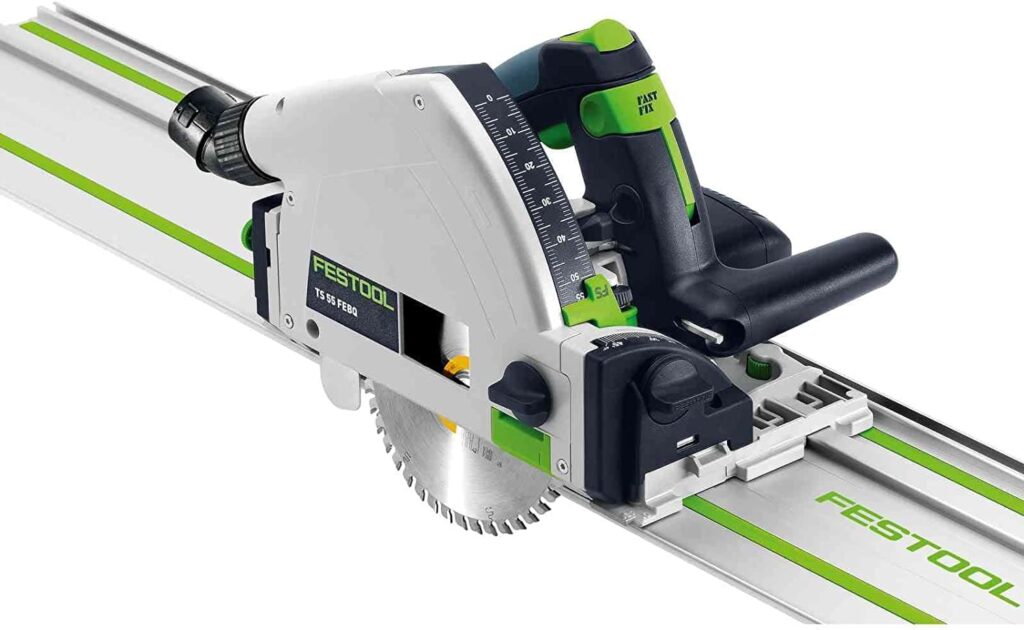 The Festool Plunge Cut Saw TS 55 FEQ-F Plus FS is a strong and flexible saw made for precise cutting jobs.
It has a plunge cut system that works with guide rails, a FastFix system that makes it easy to change blades, and a dust extraction system that makes the area cleaner.
It also has a depth stop that can be changed, a bevel angle that can be changed very slightly, and an anti-kickback feature for extra safety. This track saw costs about $840. Prices can vary, though, based on where you buy it and if you buy any extra accessories.
Ensures precision cutting
Blades can be changed fast
Efficient dust extraction system
Ensures utmost accuracy
Added safety
Too expensive
Might require you to buy additional power tools and accessories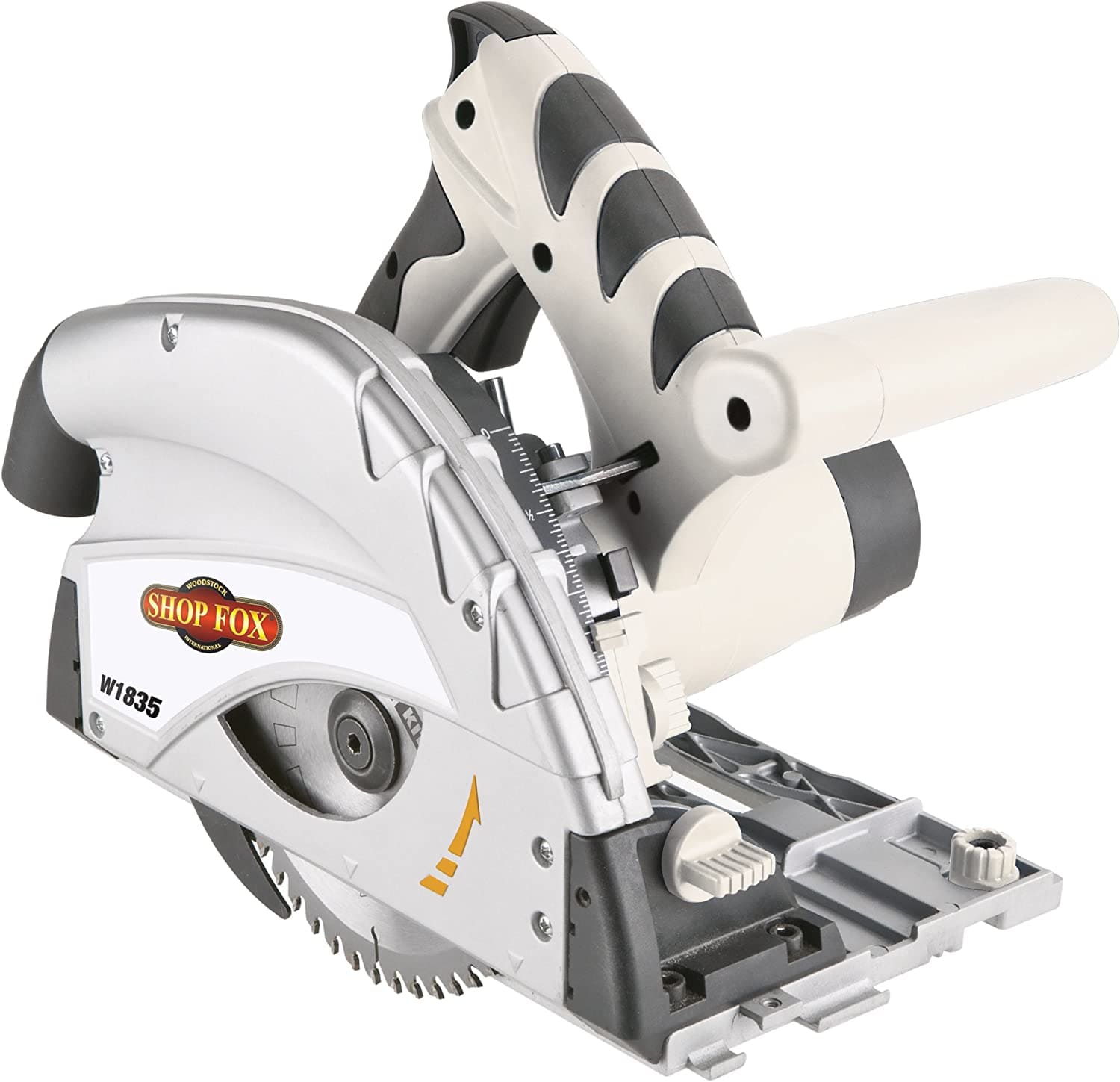 The SHOP FOX W1835 Plunge Track Saw is a flexible cutting tool that is made to make cuts that are accurate and quick.
It has a strong 9-amp motor that makes it easy to cut through a wide range of materials, including wood, metal, and sheet goods. The plunge-cutting feature of the saw makes it easy to start cutting in the middle of a piece of material.
The track that comes with the saw makes sure that the cuts are accurate and consistent. With a price of about $250, this track saw is a good choice for both DIYers and professionals. This is one of the most powerful track saws under $500.
Powerful and efficient motor
Portable and lightweight
Consistent and accurate cuts
Suitable for different materials
Affordable price range
No dust collection system
The track might slip during use
The Triton TTS1400 Track Saw is a strong and versatile cutting tool that can quickly cut through a wide range of materials. Its 1400W motor gives it enough power to cut through wood, plastic, and even metal with precision.
It comes with a plunge mechanism, which lets you make exact cuts from any point on the material, and the included track makes sure that your cuts are straight and accurate.
This track saw costs about $400, which puts it in the middle of the price range for those who need a strong and precise cutting tool. So, if this is your budget, then you should totally consider getting it.
Powerful 1400W motor
The plunge mechanism is easy to use
Track ensures accurate cuts
Can cut through various materials
Suitable for beginners and professionals
Heavier than other track saws
Track might be too short for some projects
Key Features to Look for When Purchasing a Track Saw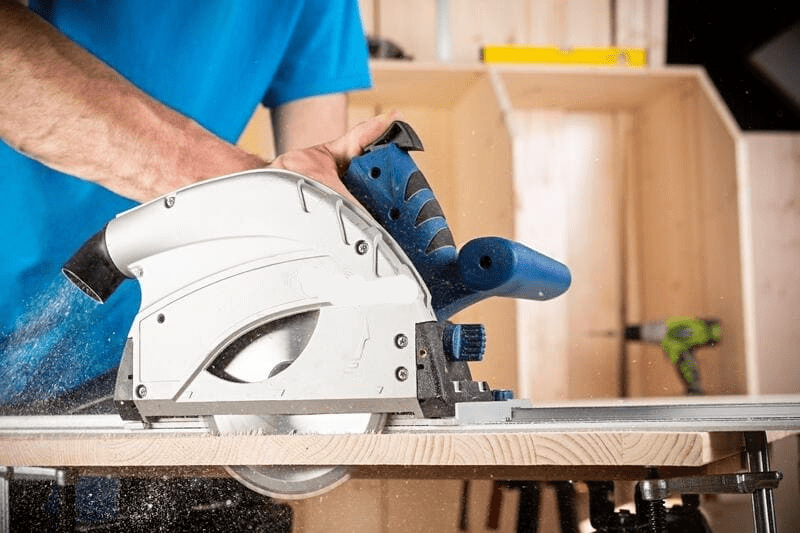 When you are about to purchase a track saw, it is necessary to keep some of the key features in mind. In this track saw buying guide, we will be discussing those features so you will know what to look for and get the top track saws for yourself.
Blade size
The blade size is one of the most important factors to take into account when buying a track saw. Track saws generally employ blades with a diameter between 6-1/2 inches and 8-1/4 inches, which is smaller than that of traditional circular saws.
When making straight cuts, a smaller blade size can provide greater precision and ease of use, particularly when used in conjunction with a track or guide system. This aspect also makes it a good alternative to table saw.
Motor power
When buying a track saw, motor power is an essential feature to take into account. To guarantee it can easily cut through a variety of materials, look for a saw with a strong motor, at least 12 amps.
A stronger engine will aid in maintaining a Constant speed and lessen the possibility of stalling or bogging down while in use.
Speed Settings (RPM)
When buying a track saw, you should also take the speed settings, which are defined in RPM (Revolutions Per Minute) into account. To be able to change the pace depending on the material you're cutting, look for a saw with a variable speed control.
This can lessen the chance of burning or damaging the substance while facilitating cleaner, more accurate cuts.
Cutting Depth
When buying a track saw, cutting depth is an essential factor to take into account. For a saw that can accommodate a variety of materials and thicknesses, look for a saw with a broad range of cutting depth settings.
Accurate and consistent cuts can be made with a saw that has an easy-to-read depth scale and exact depth adjustments.
Bevel Capacity
Another crucial aspect to take into account when buying a track saw is bevel capacity. To handle various cutting angles, look for a saw with a wide range of bevel settings, usually up to 45 degrees.
A saw with simple-to-adjust bevel settings can assist in achieving accurate and exact cuts at various angles.
Ease of Use
When choosing a track saw for woodworking, the convenience of use is crucial. A lightweight, ergonomically designed saw with plush handles and simple settings is what you should seek out.
With the least amount of effort and strain on the user, a saw with simple controls and easy-to-read markings can help guarantee accurate and effective cuts.
Track Length
Another feature to think about when buying a track saw is the track length. Find a track that is both portable and simple to handle and transport and is long enough to accommodate the size of the material you will be cutting.
Even though longer tracks might be more versatile, they can be more difficult to navigate. So, you should be careful about the length when choosing track saws for DIY projects.
Corded or Cordless
Choosing a corded or portable track saw is another thing to think about when making a purchase. While providing more portability and mobility than corded versions, cordless track saws typically have less power and shorter battery life.
Although corded models can be less practical to use in some situations, they are typically more powerful.
Safety Features
When choosing a track saw, the electric brake is a crucial safety element to take into account. Once the trigger is released, it helps to swiftly stop the blade, lowering the possibility of injury or damage to the material being cut.
For the best safety and control, look for a saw with a powerful electric braking mechanism. Other than that, you should always wear your safety gear when using them.
Accessories
Availability and compatibility of accessories like track saw blades, guide rails, dust gathering systems, clamps, T-track, workbenches, and saw horses should be taken into account before buying a track saw.
These add-ons can increase the saw's adaptability and usefulness, making it simpler to make precise, clean cuts and handle heavier or more complicated materials.
See our article on the best places to power tools at great prices
Frequently Asked Questions
How is a track saw different from a circular saw?
A guide rail on a track saw keeps the saw moving in a straight line, while a circular saw doesn't have this feature and needs more human guidance to make straight cuts.
What's the difference between a track saw and a plunge saw?
They operate basically the same way. They have a mechanism for plunging that lets the blade go down into the material, and a guide rail can be used to make accurate cuts.
Can a track saw do everything a table saw can?
A track saw can do many of the same things as a table saw, but there are some things it can't do. It doesn't have as much power and is better for breaking up big sheets of material than making precise cuts or joining pieces together.
Can I use a track saw for cutting other materials besides wood?
Yes, you can use a track saw to cut things other than wood, like metal, plastics, and composites.
Sponsored*

Can I use a track saw without a track?
It's not a good idea to use a track saw without a track since the guide rail makes straight cuts more stable and accurate.
Can a track saw cut angles?
Yes, a track saw can cut angles if it is used with a guide rail that shows the angle or with angle guides or other tools.
Final Verdict
So, which one are you going to get? The best track saw for the money for you will be the one that fits your budget and meets at least 90% of your requirements. Don't settle down for any of them unless that is the case.
Other than that, I would also recommend you understand the range and versatility of your projects before you get one.
Also see our article on the best circular saw for beginners.
Enjoy our articles? You can follow us on Pinterest for more woodworking power tools tips and tricks.
Save on selected power tools from top brands - Shop Now on Zoro.